This Evil Diesel Mercedes Wagon Makes All Other Drift Cars Look Like Stupid Toys
Image source: jonathanbjorkskog.com
Say hello to Black Smoke, the world's most epic drift car. Based on a 1981 W123 Mercedes wagon (already cool in its own right) this
diesel-powered drifting monster
churns out up to 700bhp and 664lb/ft of torque. Under the bonnet lies a 3.0-litre straight six oil-burner from a 1998 car which, as you can imagine, has had
some work done to it
. On top of the massive turbocharger - which runs up to 3.5 bar boost - this engine is also fitted with a
supercharger that feeds the turbocharger
. That means zero lag and maximum boost from the get-go. Anything missing? Ah yes, it's got a
nitrous kit
installed too...
Image source: www.bruze.nu
The standard auto gearbox has also been binned in favour of the beefy unit you get in an E55 AMGand the radiator has now been relocated to the wagon's massive boot. But enough of the details.
Watch Black Smoke in all its sideways glory!
Video
Sours: https://www.carthrottle.com/post/this-evil-diesel-mercedes-wagon-makes-all-other-drift-cars-look-like-stupid-toys/
Building A Diesel-Powered Mercedes Station Wagon Drift Racer
Teemu Peltola is a Finnish drift racer. In his second competitive year he's built one of the most unique cars ever to enter the series, a diesel-powered 1981 Mercedes station wagon. He's also taken time to tell us about it.
When we included video of Peltola doing his thing in a badass Mercedes-Benz Station wagon in our list of Ten Awesome Drift Videos, we didn't think we'd be getting an email from the guy.
However, apparently Jalopnik's kind of a big deal in Finland and he heard about our coverage so now we can tell you all about this mad man and his mad Benz.
G/O Media may get a commission
Peltola likes drifting. He's also quite good at it. 2009 was his first year of racing in the Extreme Drift Challenge — he won his class. In his second year he headed for the Pro class and decided he needed a new car and just another built-up Japanese racer wouldn't do. See, Peltola's a Mercedes man and a bit of a builder. He tells us "First of all, I thought to build a Supra IV with a Mercedes diesel engine, but I didn't want to do that because everyone is driving Japanese cars, of course it would have been easier to build from a Japanese car because you can get much more aftermarket parts for them."
But that didn't stop him, he says, "I really wanted to build a w123 wagon, but is there any sense to build a car where you can't really use anything original? The answer is NO, but I really wanted to do a good drifting car from a w123 wagon, so I decided to do it!!" When he found this unassuming 1981 Mercedes-Benz 300D Estate, the game was on.
Rather than stick with the stock 3.0-liter diesel from 1981, Peltola picked up a 3.0-liter 24-valve diesel from a 1998 Mercedes E-class. With that as a starting point, he fabricated a new intake manifold, installed a much bigger Garrett GT40 turbo from a Scania heavy truck pushing 36 PSI, a new diesel pump and home-made intercooler. A bell housing adapter was made to fit a Tremec TKO 600 transmission to the engine and power was routed to a Mercedes rear axle. Unfortunately that axle didn't survive the first race, so now there's an Toyota Aristo rear axle (Lexus GS to US readers) fitted.

Don't think for a second that's the end of the insane hackery here. The factory suspension was in no way up to the task of drifting, so the rear suspension from a Mazda RX8 modified with coil overs was fitted. According to Peltola, "The hardest was to fit whole Aristo front axle, I think I worked 2 or 3 weeks with it," he said, "Mounting the rear axle was not so hard, but it took some hours too." Steering comes from salvaged Volvo parts and lend a nearly sickening turning angle.
The result is The Diesel Drifter. One of the baddest mad wagons ever. Power? Well "I have not had it on a dyno, but last year I drove a Mercedes Benz 190 (W201) with an OM603, 3.0 12-valve turbodiesel and it made 414-hp and 704Nm (520 lb-ft). So maybe I have like 450Hp and 750Nm (553 lb-ft). But I have plans to build it with two turbos, so I will get more power, I hope it will go to 500hp and 850Nm (626 lb-ft)." We like those plans.
So far Peltola's been competing strong in the Pro class, though it's a fair bit tougher than his last go-round. He's finished well in the middle to the top of the pack, placing as high as 3rd, at the X-treme Pro Drifting Trophy, but for now, he's just sorting his car and getting used to the big leagues. When we asked what his competition thinks of his bitchin' new ride, Peltola only says "I dont know, maybe I'll have to ask!"
Sours: https://jalopnik.com/building-a-diesel-powered-mercedes-station-wagon-drift-5644267
Custom C-Class Wagon Diesel Drift Machine Makes Black Smoke Clouds
In America, they usually put big V8 engines in their professional drift machines. But over in Scandinavia, they do things a little differently.

Meet team Black Smoke Racing. Some of you might be acquainted with them already, since they've been drifting old Mercs for a really long time. Their latest project looks like a C63 AMG Blackwith a locomotive engine. But the build is as interesting as the sideways capacity of the car.

Speaking of which, we highly recommend that you watch the two videos below. It's no wonder that hundreds of Finns gathered in an empty parking lot in the middle of the forest just to check out Black Smoke Racing.

Getting back to the build, we have to mention that this C-Class wagon is not actually a C63 Black Series, and is in fact based on the S203 generation model. The 2001 Mercedes has been equipped with all the cosmetic parts from the W204 Black Edition Coupe body kit.

You have to admire all the work they put into the car so that you would be fooled into thinking it's a 2012 C-Class facelift. We wouldn't have noticed anything were it not for the curvature of the back end, which doesn't match the angular taillights.

As for the engine, it doesn't belong to the C-Class either. It's an OM648, the 3.2-liter inline-6 that used to be offered on the 2002 to 2005 E320 CDI and S320 CDIof those same years. It's made from cast iron and is pretty much indestructible.

Mods include custom pistons, custom injectors, Holset Hx50 Billet + Holset HE221W Billet. The transmission consists of a TEXracing T101 4-speed manual.




Sours: https://www.autoevolution.com/news/custom-c-class-wagon-diesel-drift-machine-makes-black-smoke-clouds-108654.html
Mercedes W124 Drift 2.5 Diesel 💨
This is one car I have been hanging on to for a while now. Shot back at Gatebil in July, very late at night as the midnight sun approached, it remains one of the most memorable drift cars from the event. Why? Well how can I put it; let's just say that a lot of the time cars aren't necessarily judged on sheer performance, looks or the actual budget that was necessary to create them. For a lot of the cars that participated at that insane summer event at Rudskogen, character goes a very long way. At this grassroots level it's the enthusiasm of the owners, car builders and teams that help us form an opinion on a particular car. The guys at Black Smoke Racing were some of the most enthusiastic guys I met there and it really shows on this extremely fresh, unique and straight out crazy car they have built.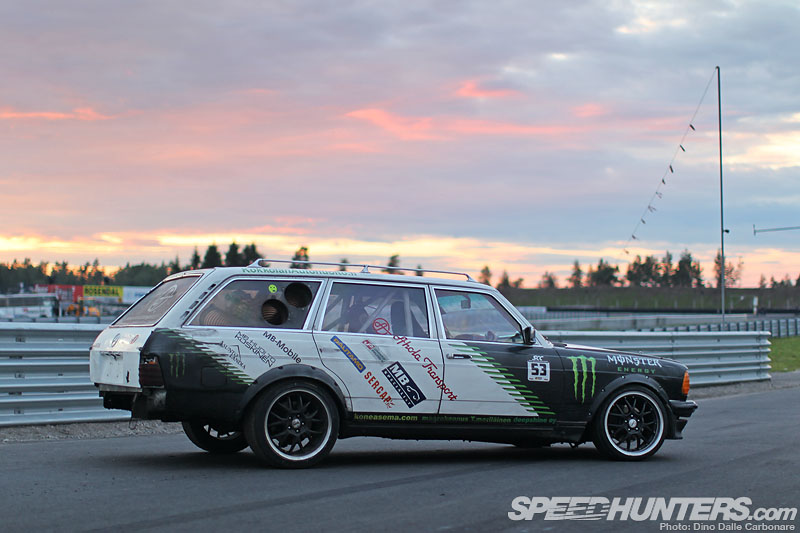 Their 1981 W123 Mercedes Benz 300TD over the last couple of years has become one of the most recognized drift cars in Scandinavia and the Baltic region. Built in Finland…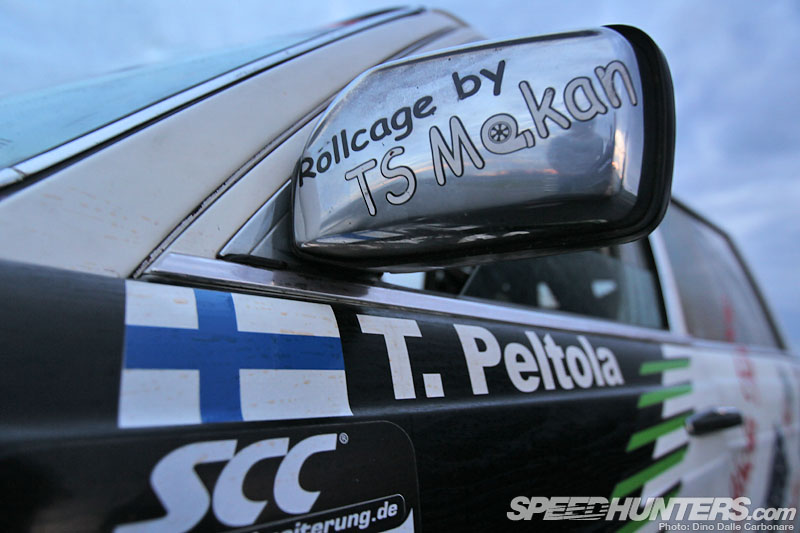 …and driven by Teemu Peltola, what actually makes this car quite a bit different from anything we have seen before, isn't so much the fact that it's a station wagon, or a Mercedes Benz for that matter, but – as the team's name suggests – that it's diesel powered.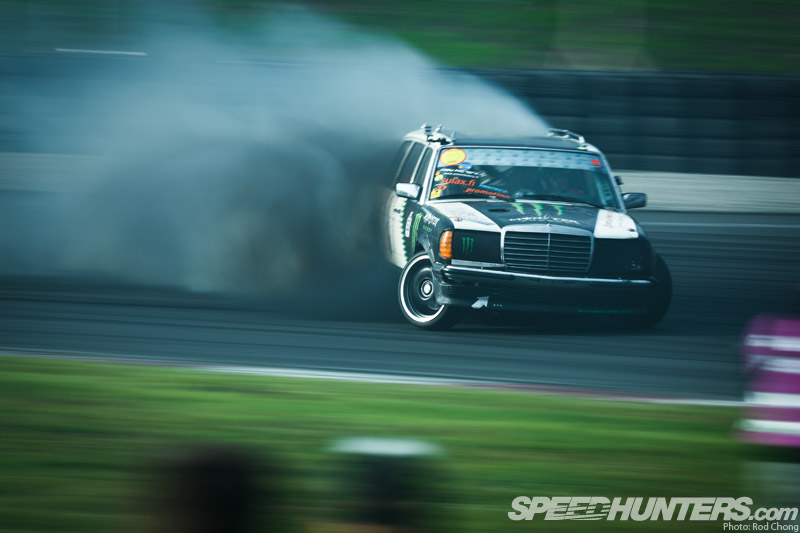 As this image captured by Rod perfectly shows, this beast churns out just as much black soot as it does creamy white smoke from its tires.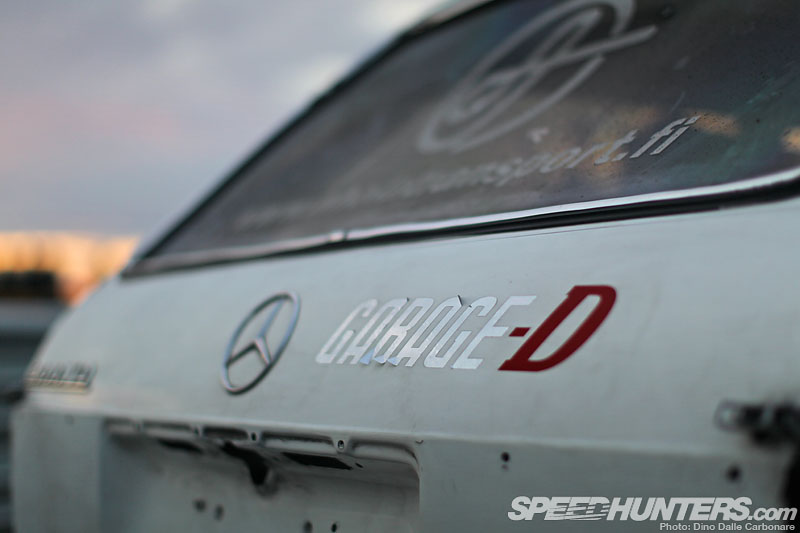 It has developed quite the following too, fans of drifting attracted by its unconventional approach and of course Teemu's aggressive and "pedal to the metal" driving style.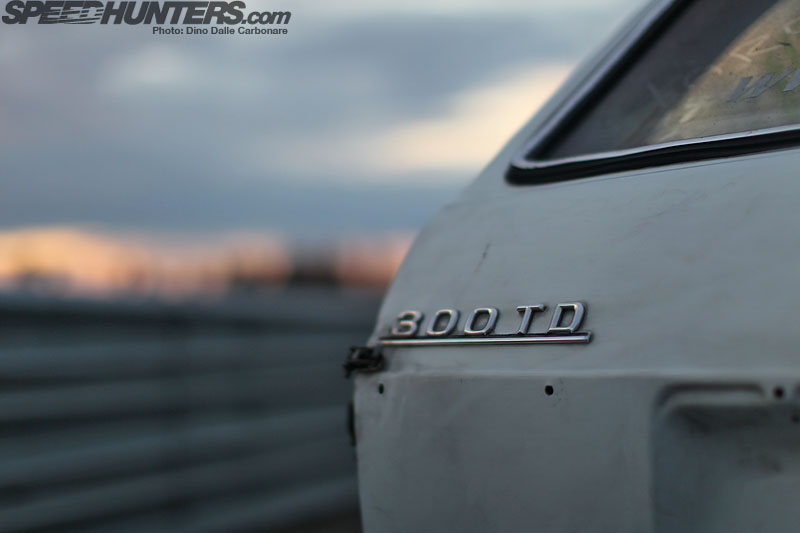 But for me it was the car itself that grabbed my attention. After seeing it in countless videos on You Tube and then there, at Gatebil, in front of my eyes I was very curious to check it out in detail.
As Patrik Wargh of Black Smoke told me, the day before the event the 300TD was involved in a pretty big accident at a Monster Energy event Teemu and his team attended in Gothenburg. The car suffered massive damage to the passenger side wheel/suspension and they spent most of the night repairing it so it could still be entered at Gatebil. They got it mended, but not perfectly, which is why the car sits at a bit of an angle, as you can see in the opening shot. But I was reassured it was no big deal, as it was very much drivable and more important driftable!!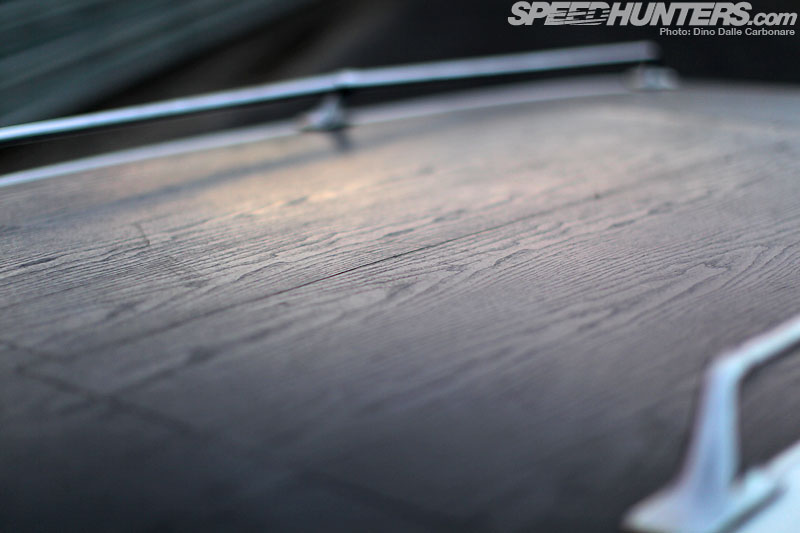 Looks wise this Benz wagon has an interesting feel to it; I'm not sure if it's to do with the wood-grain vinyl that covers the roof, sides…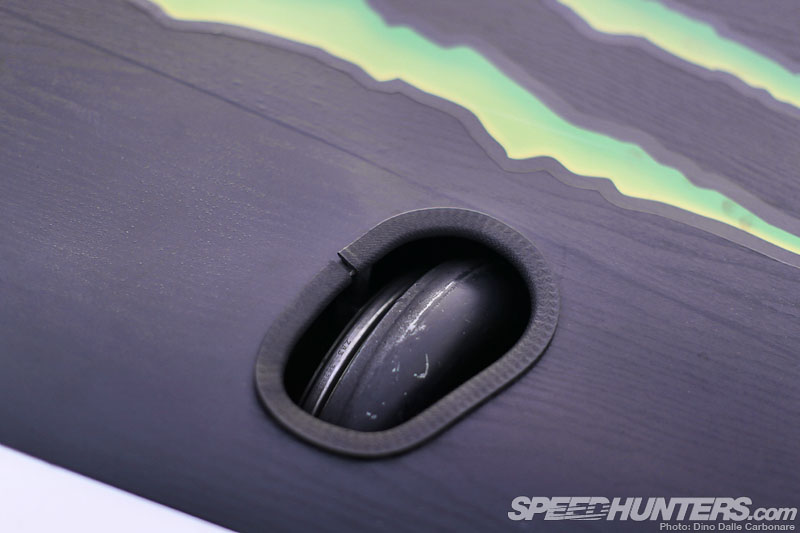 …and hood, but if I had to describe it I'd probably have to say it has some hearse-like "qualities" to it, hearse meets the Addams Family! There are a lot of interesting touches that are observable pretty much everywhere, like the opening cut out so that the hood can clear the rather larger turbo charger.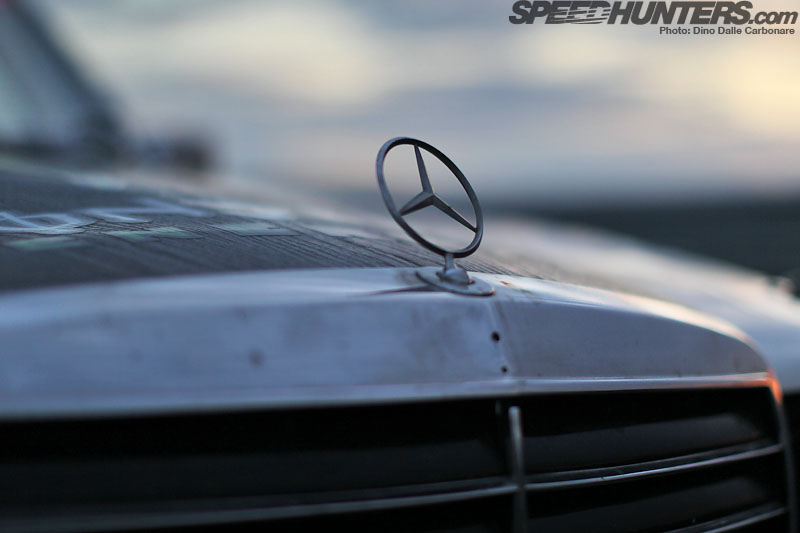 But things, as you can imagine, get a lot more interesting once you lift that big hood and grille section…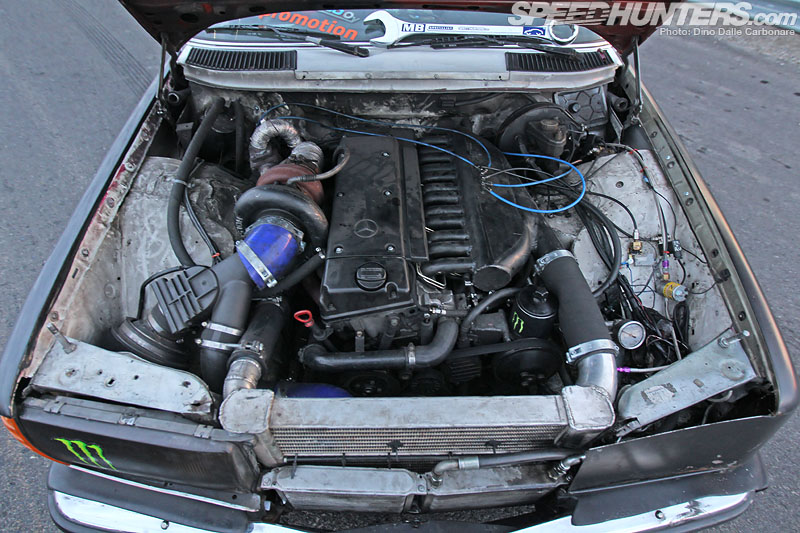 …revealing what can only be described as a very industrial looking power plant.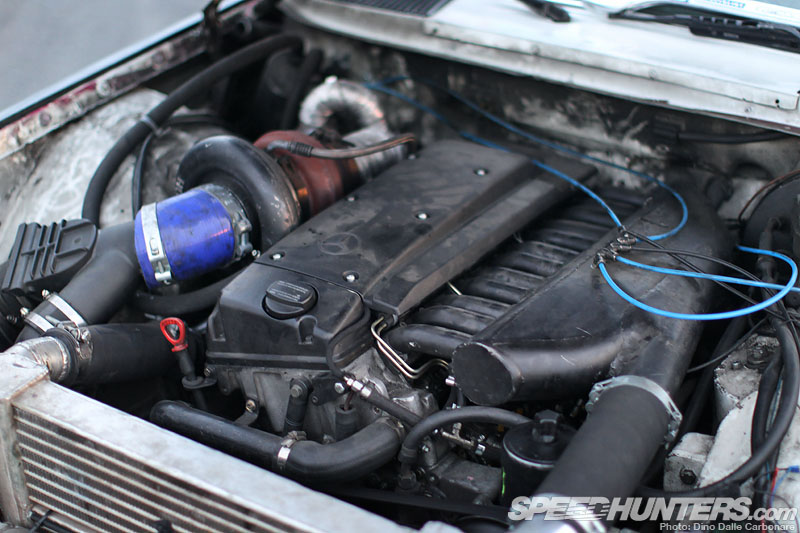 The 1998-model OM606 3L straight-6 has now covered over 400,000 km (just under 250,000 miles) so you could say it's well run in. At its heart are a set of Arrow H-section connecting rods as well as a set of slightly modified stock pistons to help make for a close to bullet-proof bottom end.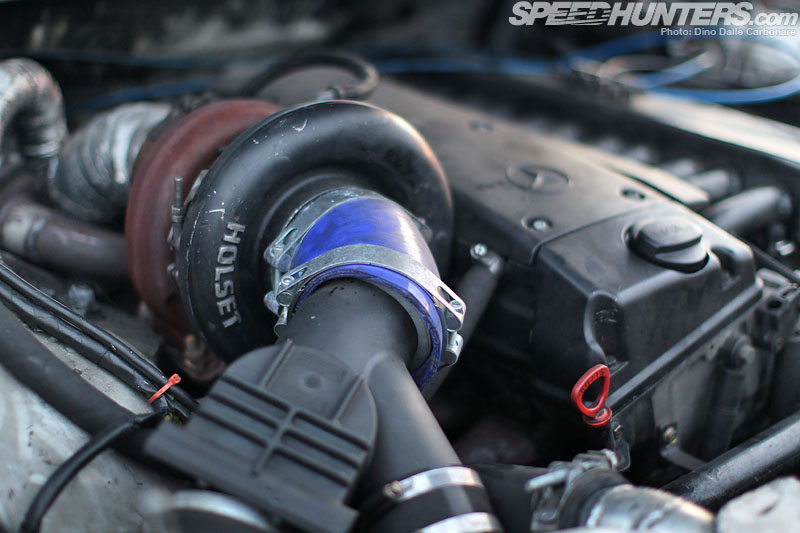 And that is a good thing because the Holset HX52 top mount turbine, sitting atop of a custom fabricated manifold, supplies a massive 3 bar of boost…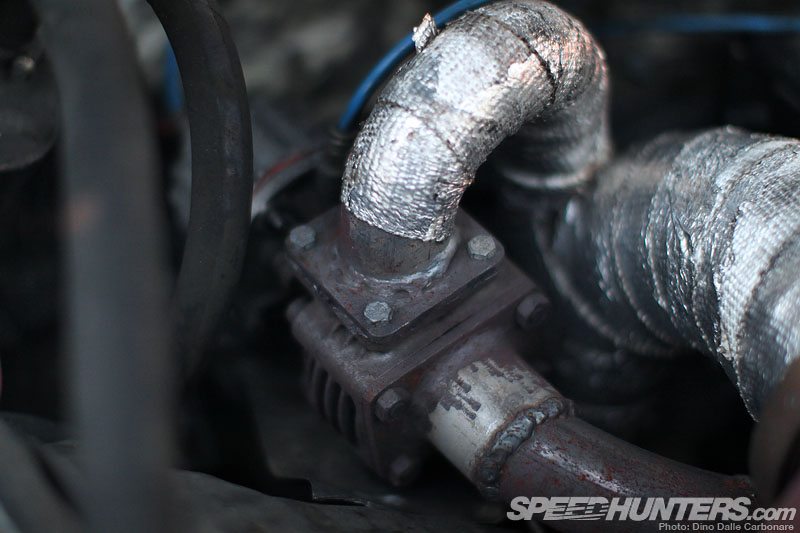 …sometimes, depending on the track and situation, up to a max of 3.5 bar. Boost control is taken care of by an external wastegate, which helps give the Black Smoke Benz a sound all its own.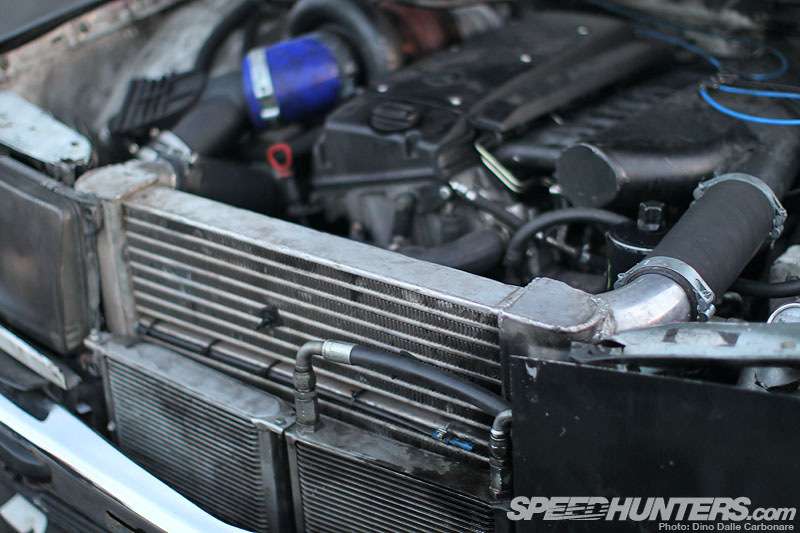 The radiator, as we will see further down, has been repositioned in the rear of the car, freeing up much needed space and allowing the intercooler and oil coolers to get a steady supply of cooling air. Nothing too surprising thus far…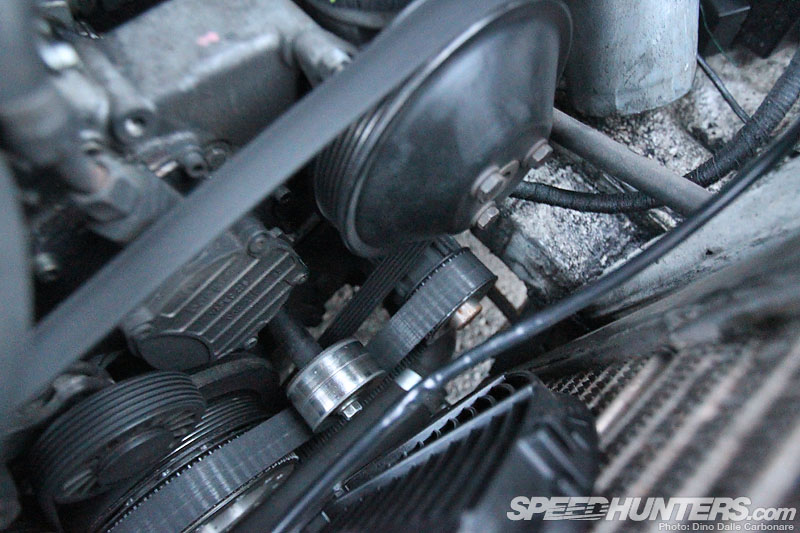 …except there is more. In the pursuit of zero lag and optimal throttle and torque response the team have taken a series of other steps, which includes fitting an Eaton MP90 supercharger, directly feeding the turbo.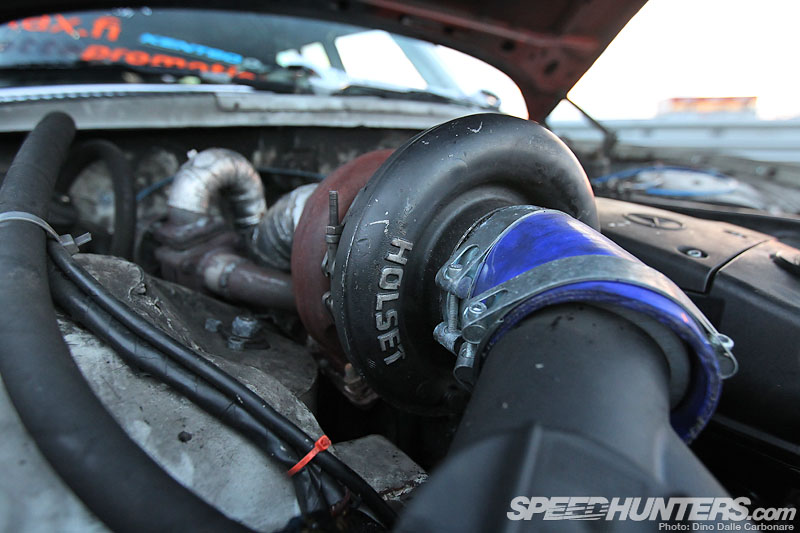 The Holset takes over once it is able to make full use of the exhaust gases, and the supercharger is simply gated to atmosphere via a valve in the system. If that wasn't enough…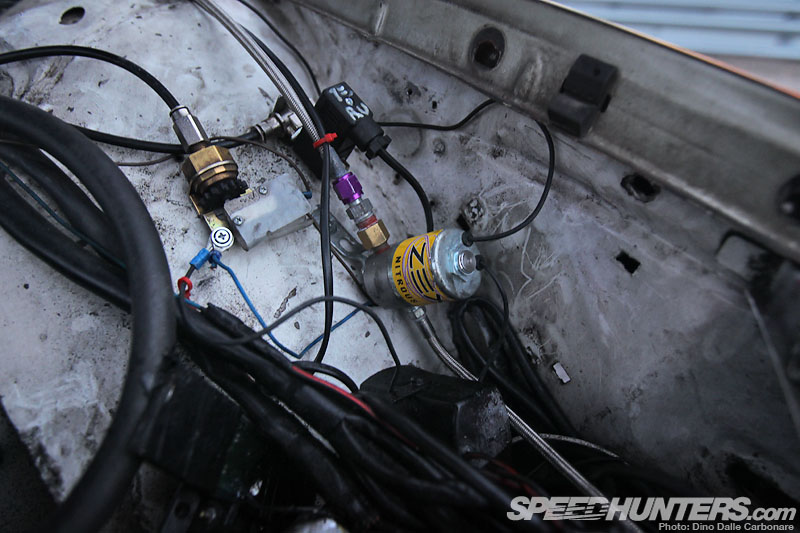 …they have even thrown in a touch of nitrous oxide to help spice it up…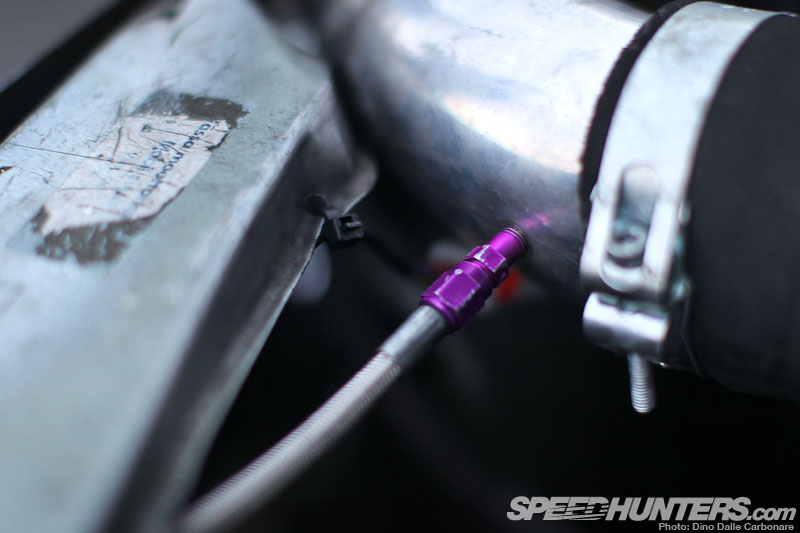 …fitting a single fogger on the intake side. The switch-activated system gives an immediate 100 HP boost in power, on top of the already impressive 600 HP and 664 lb/ft of torque the "twin-charged" motor develops. I guess the nitrous would make it "triple charged!"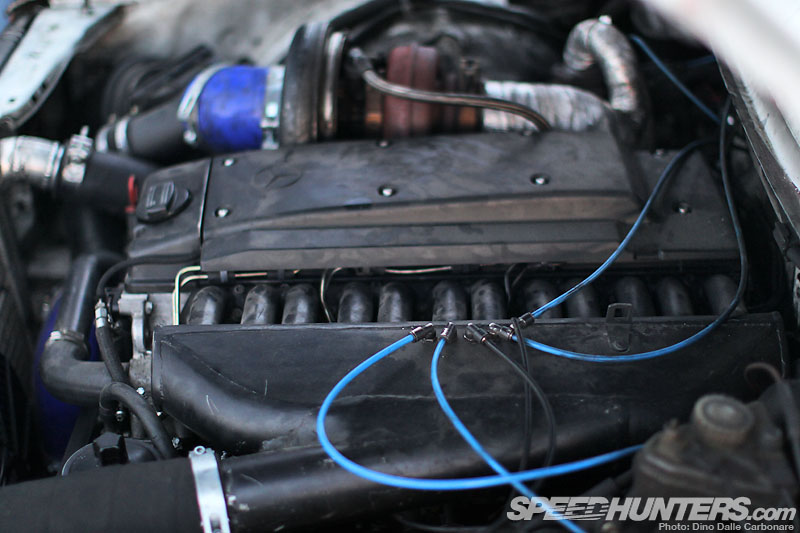 Here is a look at the custom intake manifold that was made up to boost flow to the twin-cam head. Each of the blue lines you see above have a different job for things like water injection, wastegate control, boost read out and diesel pump control which has to pump in a lot more diesel as boost increases.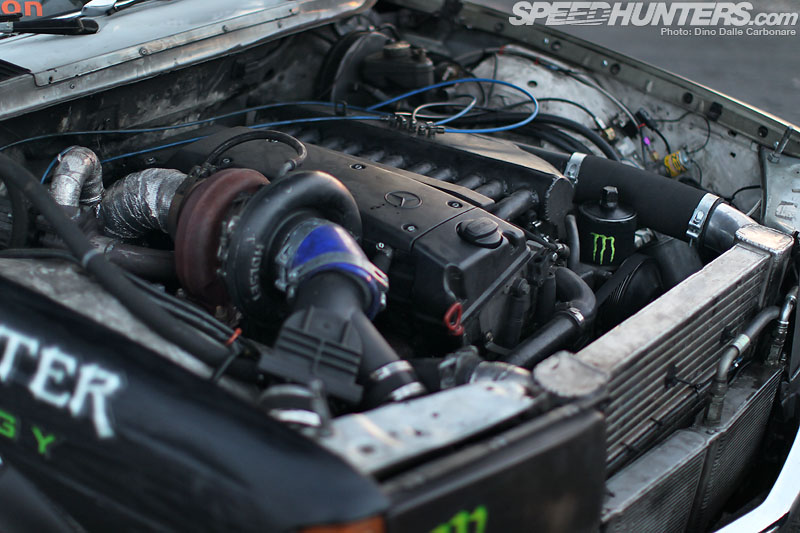 This impressively modified engine is mated to a 5-speed automatic transmission from an E55 AMG, which has been modified with a custom logic box to allow Teemu to manually select the gear. Of course being an auto with torque converter the gears can be shifted while keeping the accelerator pinned to the floor.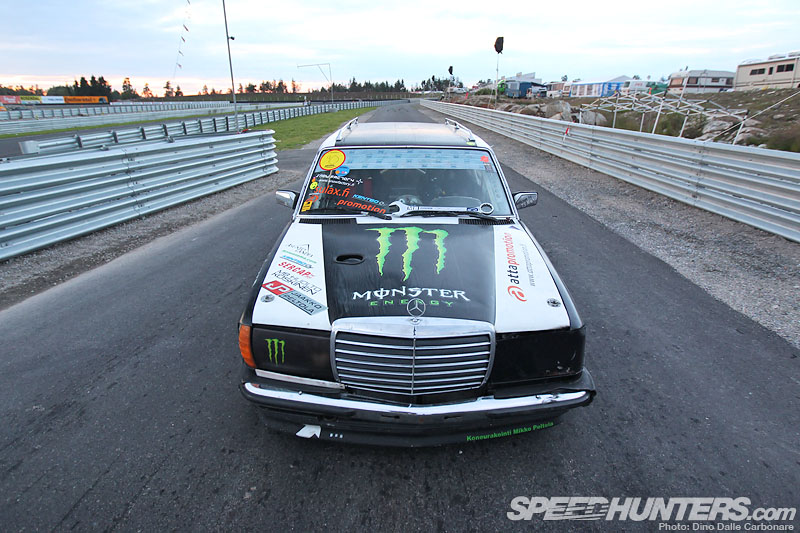 The more time you spend looking at this thing the more impressive and complex it seems to become.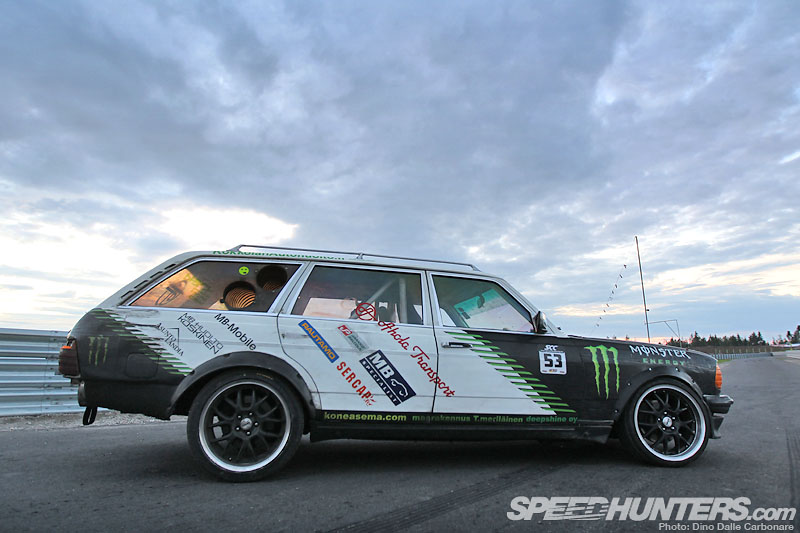 Which takes us to the cooling system…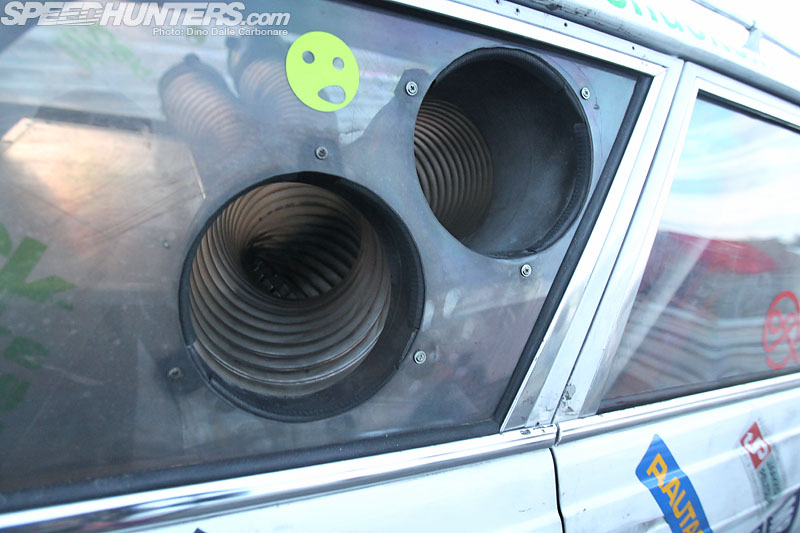 …which is located in the rather large trunk area of the car and fed by a total of four large industrial flexible pipes…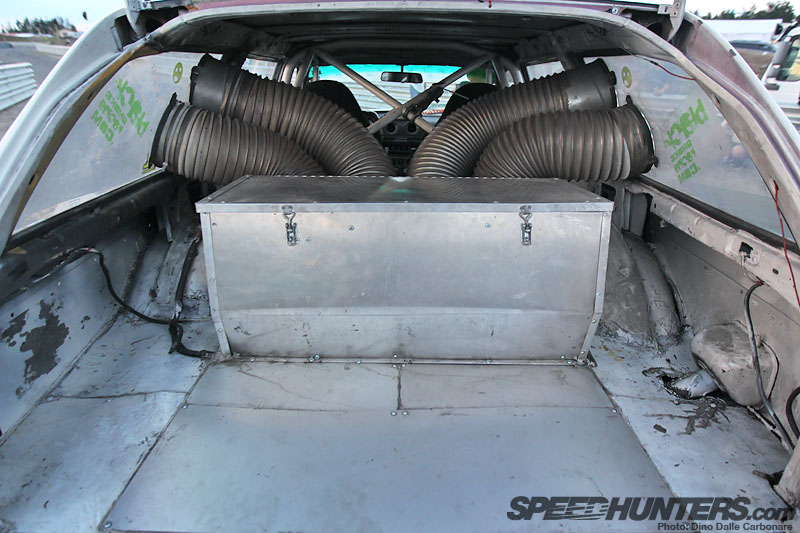 …two on each side. The actual radiator sits inside this aluminum box…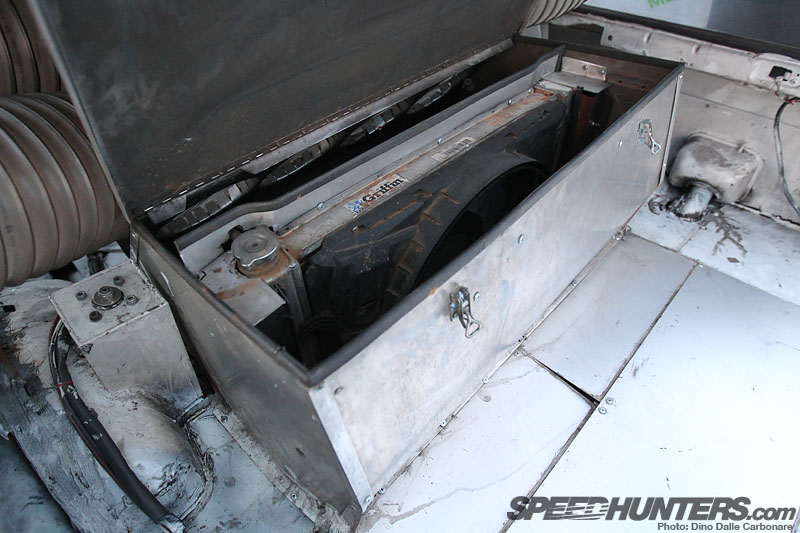 …created to get the best effect out of the channeled airflow. And in case you are wondering if enough air flow can actually be directed towards it…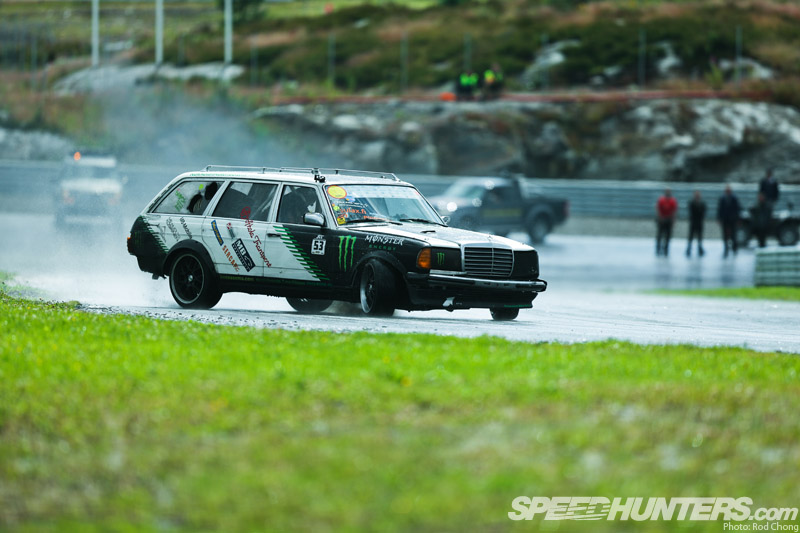 …keep in mind this car spends most of its time travelling sideways so there is potentially a rather large volume of air that can be captured by those four large openings.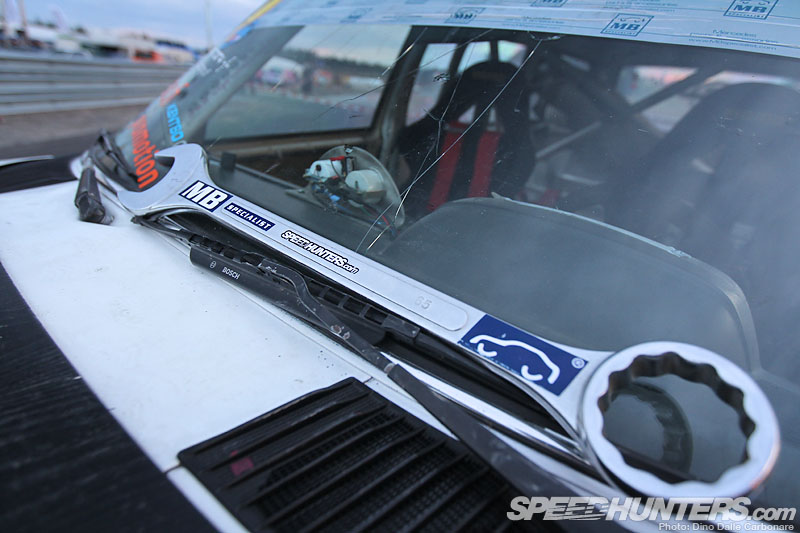 The team's mascot is this big wrench, which they have named Roger, now sporting a Speedhunters sticker for added torquing power!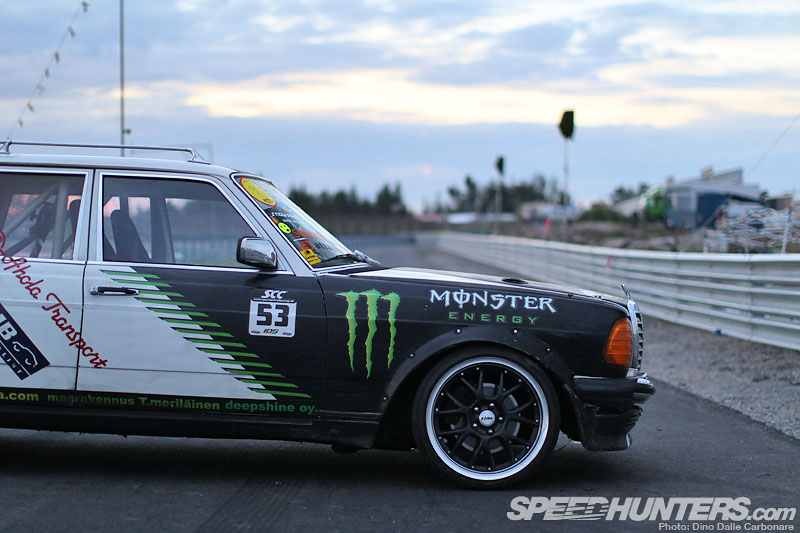 Suspension wise the car sits on RX8 coilovers which have been modified by BIGEM to fit the W123. And that isn't the only JDM addition, the car also runs Toyota Aristo axles.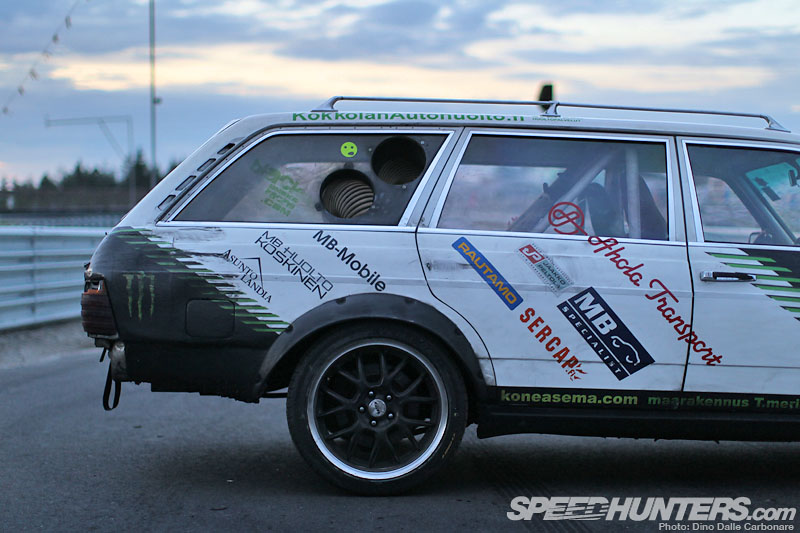 To get a pretty big 60-degrees of lock a combination of Volvo, Toyota and Mercedes components were used in the steering rack, helping Teemu get those extreme angles we all saw at Gatebil.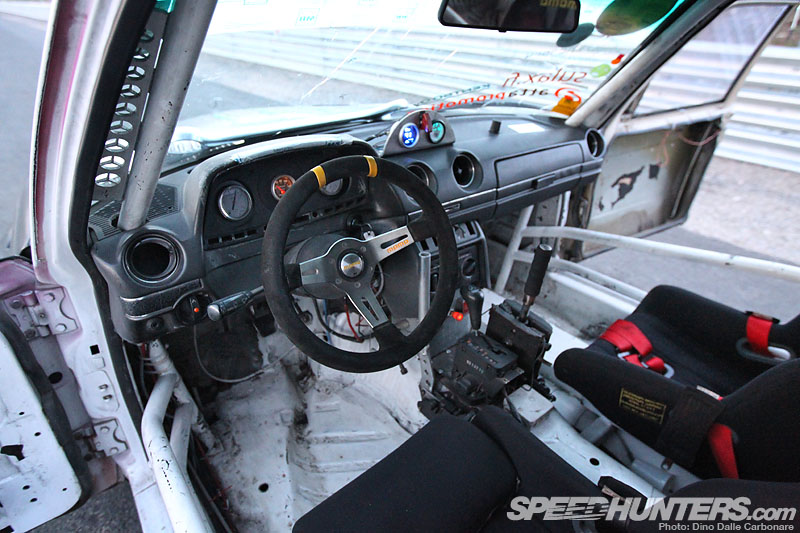 The interior is very driver-focused and functional, with everything that wasn't needed having been stripped out to shave as much weight off the big wagon as possible. A multi-point roll-cage was fabricated, helping to stiffen up the 30+ year old shell.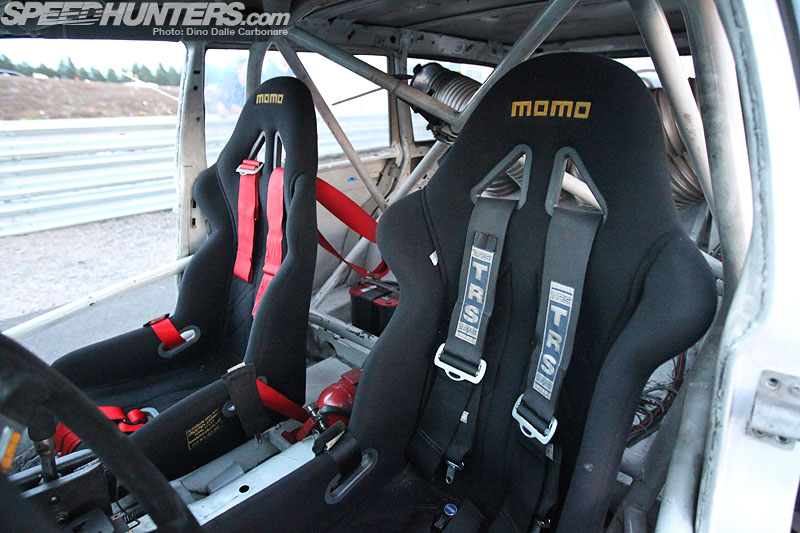 Momo bucket seats followed, along with 5-point harnesses, keeping the driver and occasional passenger nice and snug not to mention safe.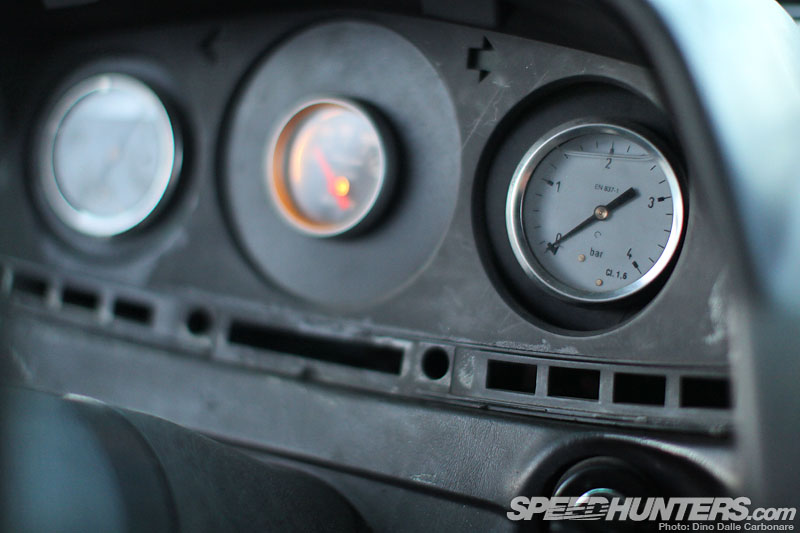 It's not often you see a boost gauge that reads up to 4 bar!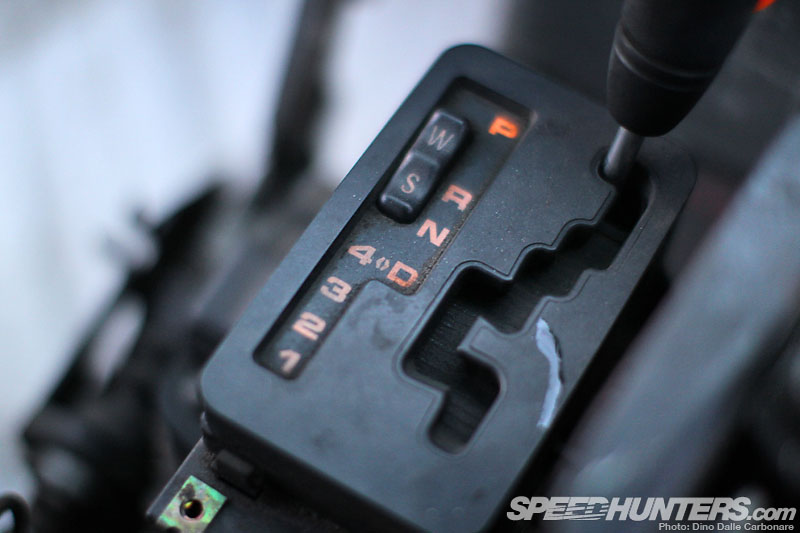 The main shifter has been retained…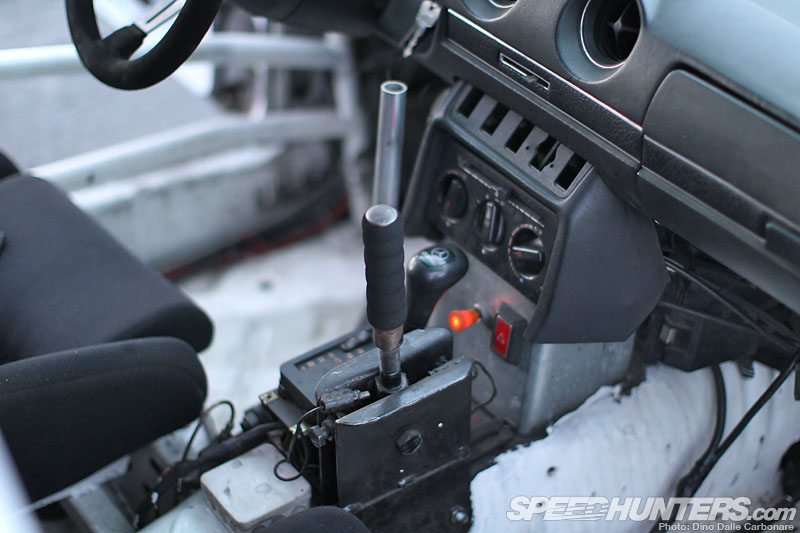 …but as previously mentioned a secondary manual shifter has been added to manually select the gears in the E55 AMG transmission. Like in true sequential pattern you pull back to shift up and push forward to downshift.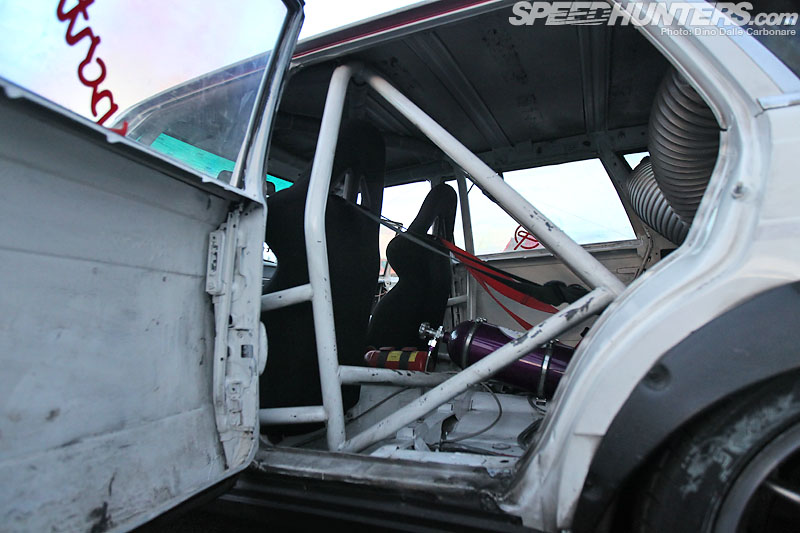 Open the paper-light rear doors and the rest of the roll cage is revealed…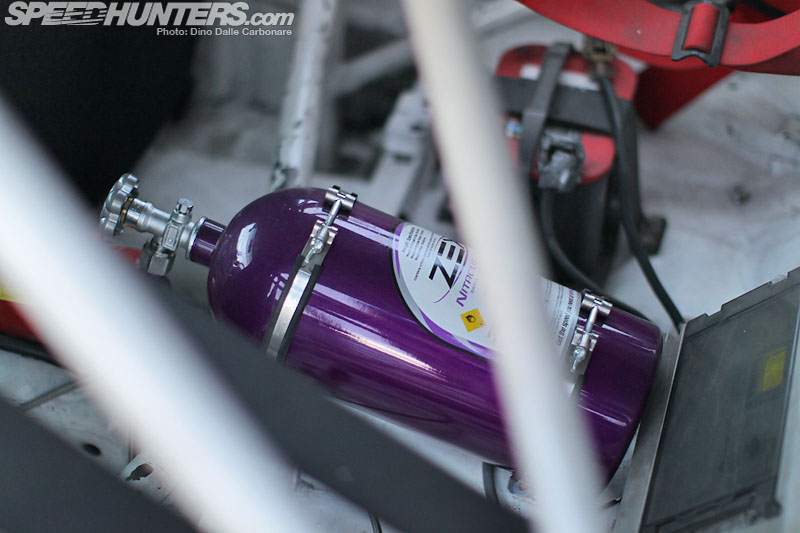 …as well as things like the canister of nitrous oxide and Optima battery.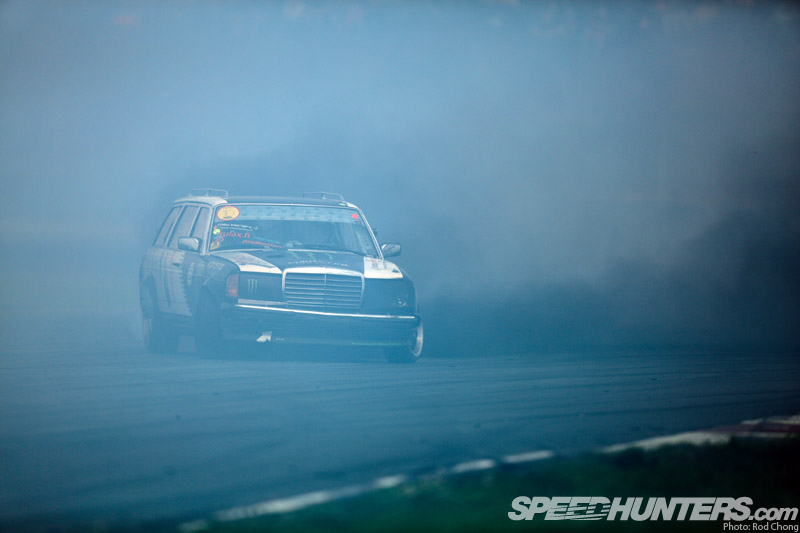 As good as the car looks up close it really is in its element doing this sort of stuff!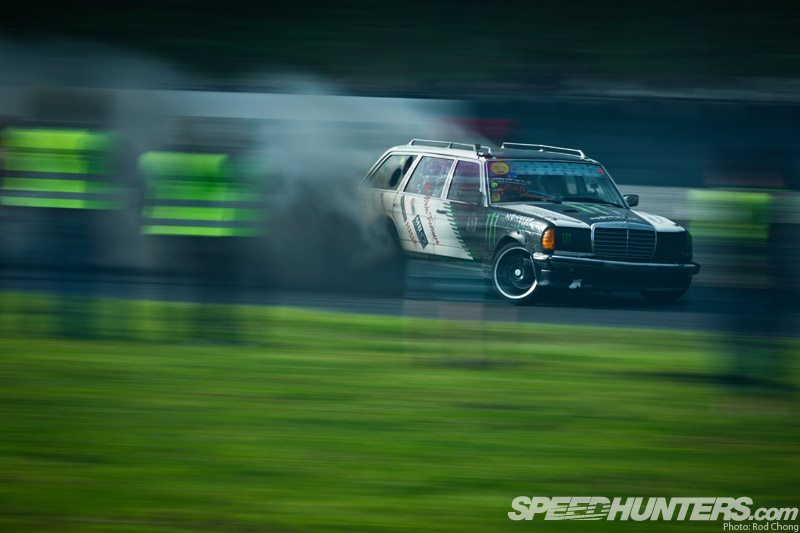 You should check out some of the awesome videos on the Black Smoke Racing You Tube Channel to see the W123 in action. After three years of use however, the time has come to retire it, and the team is already working on its replacement, a W209 CLK. Of course it wouldn't be a Black Smoke creation if it wasn't diesel powered so you can expect a similar engine and transmission combo in the new car. With 400 kg less to play with the CLK is certainly going to be a lot faster and I for one are very excited to see what they will come up with!
Black Smoke You Tube Channel
-Dino Dalle Carbonare
Sours: http://www.speedhunters.com/2012/11/diesel-fury-black-smoke-300td-wagon/
Drift mercedes diesel
.
Best Of Mercedes-Benz W124
.
Now discussing:
.
1133
1134
1135
1136
1137