Complex and intricate designs can be applied to concrete surfaces very accurately using adhesive-backed vinyl stencils. They offer control, precision and, if needed, repeatability. Stenciling is a very old technique from the world of paint, but as it evolves in the concrete world, it's becoming very modern, thanks to people like Rachel Knigge-Bruce.
A former graphic designer, Knigge-Bruce is a pioneer in the decorative concrete industry. Like modern painters' stencils, her specially designed concrete stencils are cut out of sheets of vinyl. adhesive-backed vinyl stencils can be used with several different methods and coloring media, including dyes, microtoppings, epoxy, overlays, etching and acid stains. Through her company, Floormap Stencil Designs, she offers product, training, consulting and even installation.
| | | |
| --- | --- | --- |
| | | |
Registration marks
Knigge-Bruce is one of the first people to incorporate registration marks in her stencils, similar to the ones used in four-color printing that allow multiple layers high precision alignment. Multilayered stencils enable a person with limited skill at painting or drawing to produce highly intricate, artistic works on concrete.
Also, to prevent color bleeding under the edge of the sheets, her concrete stencils (now available exclusively on the Concrete Decor Store) have adhesive on one side, so they can be temporarily sealed to the slab surface. This also makes it possible to block out isolated objects in a pattern.
Stencils were previously available only with all the elements of the design on one stencil, explains Knigge-Bruce. "You would manually pull parts of the design, apply color and remask before continuing the same process to other areas. This really limited what you could do and was very labor-intensive. There were some multilayer stencil sets, but they were hard to align effectively."
Her stencils can be put down on top of each other to make a more complex pattern. "The registration marks are built into the first layer of the design. After applying the color medium to the exposed surface area, you remove the layer — leaving the registration marks in place. All additional layers have a corresponding 'window' that allows the user to accurately align the next layer of the design."
You can repeat this process with three, four, five, or more layers, building up the design with great accuracy.
The artist can execute very tight designs, laying colors right up against each other without gaps or overlaps.
Application techniques
Each stencil is built with three pieces: the adhesive vinyl, with the design cut in place, is sandwiched between backing paper on one side, to protect the adhesive, and transfer paper on the other side to hold all the pieces of the vinyl design in place until it is adhered to the surface area.
Once you place and align the layer where you want it, the user will stabilize the panel with blue painter's tape. Then you remove the backing paper to expose the adhesive side of the vinyl. The stencil is then carefully applied onto the concrete using a specially designed squeegee made for vinyl application. The transfer paper is then stripped from the design, leaving just the vinyl mask and open areas that will receive the color.
Application is speedier than it sounds. According to Knigge-Bruce, stencil-making is the bigger time-consumer. "The Kansas City Chiefs logo, at 20 feet by 17 feet, was only two layers, but it took me about two days to make the stencil. It only took seven or eight hours to apply. That's the beauty of the stencil system. It takes the guesswork out, so you can do something incredibly complex, incredibly cool, on a big scale, in a very timely manner."
How to do 3-D
Three-dimensional illusions often involve multiple shades of a single color of translucent solvent-based dye. These use a unique stencil arrangement to achieve the goal.
Multilayer stencils make it possible to execute intricate work without either drawing or painting skills.
First, areas of each shade have numbers for identification. Then, Knigge-Bruce will start pulling all of the areas that take the darkest shade of the color. The remaining shades of that color are cut into the same layer, but are not removed at first.
After applying the darkest shade, the cut-outs for the next lighter shade are stripped out so the user can apply dye to single areas or small groups of areas according to the numerical order. The varying shades are achieved through different dye dilutions. Overspray onto the darker areas will only enhance them, so they don't have to be remasked.
More tips
Knigge-Bruce advises using her methods on smooth surfaces: polished, ground or tightly troweled concrete, or self-leveling cementitious overlay. Microtoppings are very porous, so you have to be extra careful not to overapply colorant to prevent bleeding, she says. "Troweling microtopping material over the stencil to create embossed or reverse embossed designs can produce a very unique effect."
Broom-finished slabs require the use of a different vinyl employing a much more aggressive adhesive. Likewise, if there are pockmarks or spalls in the concrete, it will be difficult to mask well. "Generally, I'll use a blow-dryer to make the vinyl more pliable. Then I can press it down into the crevice and get good adhesion, preventing bleed."
She cautions beginners to test a slab's acceptance of colorant before laying down the stencil. "The stencil is a one-use item. If you apply colorant, pull up the stencil, and then find out the colorant didn't penetrate, you're stuck."
On a fully polished slab, it is most common to apply the stencil after either the 400-grit or 800-grit polishing steps, she says.
The biggest mistake beginners make in stenciling, she observes, is rushing the stencil application. "Be patient. If you don't apply the material correctly, you'll get creases and folds, and then the registration of other layers won't line up. You have to lay the vinyl down absolutely flat. Take the time to get it right."
---
Adhesive-backed Stencil Patterns Available
Offered by Concrete Decor Store
Got more questions about your project?
Sours: https://www.concretedecor.net/departments/concrete-art/creating-color-designs-with-rachel-knigge-brucee28099s-stencils/
Vinyl Designer GG Stencil for Custom Shoes
Description
About the Vinyl Gucci Stencil:

This pack contains one vinyl stencil sheet precisely machine-cut into a Gucci inspired stencil.
These stencils are ideal for use on custom sneakers like Vans, Jordan 1s, and Air Force 1s due to their durability and size. They were created to stick perfectly to the surface of a shoe.
Although these stencils were created with custom sneakers in mind, our stencils can be used for many other paint, airbrush, drawing, tracing, and DIY craft-related projects.
What's Included:

– 1 8″ x 6″ vinyl stencil sheet
Material and Production:

Stencils are made out of vinyl and will strongly adhere to the surfaces you stick them to. Orders generally ship 1-2 business days after purchase.
About HaveAir:

We have been customizing sneakers since 2012 and our near-decade of experience is reflected in the customizer-tailored products that we create and offer.
Only logged in customers who have purchased this product may leave a review.
Sours: https://haveaircustoms.com/product/vinyl-gucci-stencil/
Hand-painted wood signs have become super popular these days.  Every time you hop on Pinterest, you probably see several wood signs pop up in your feed.  Not only do they look amazing, but if you own a Silhouette machine, they're also easy to make yourself!  In just a few easy steps, you can turn nearly any design into a stencil-ready design. Today, I'd like to show you how to set up and create a vinyl stencil in Silhouette Studio.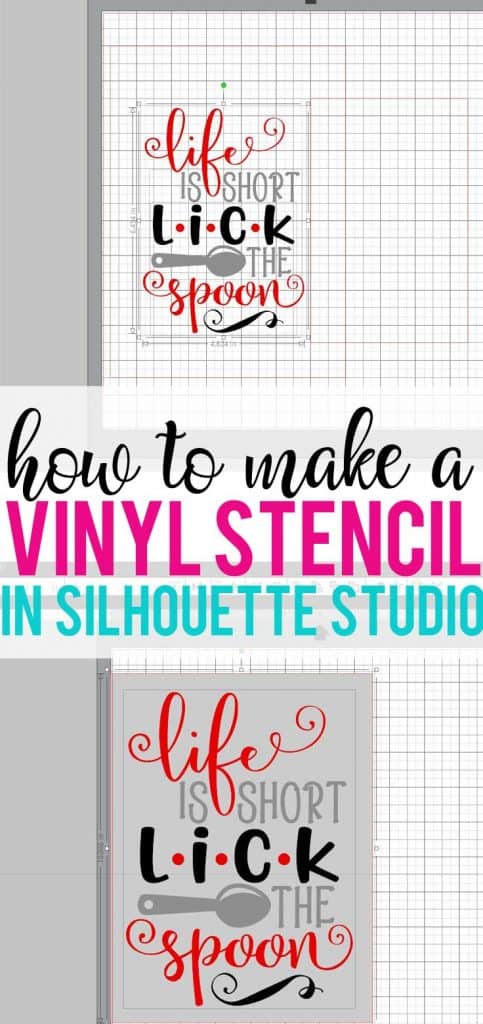 You can use a design you've created yourself or a design you've already downloaded.  I'm going to use this file called Life is Short Lick the Spoon.  You can get it free for personal use by clicking here.  If you need help importing SVG files into Silhouette Studio, this tutorial will walk you step by step through the whole process.  If you don't have the designer edition of Silhouette Studio, you'll need to use DXF files and you can find the tutorial here.
How to Create a Vinyl Stencil in Silhouette Studio
Start by opening the file you want to turn into a stencil. Some designs come grouped.  If your design isn't grouped, you should group all the elements together.  You can do this by selecting the entire design and clicking the group icon in the center of the top of the screen (or right-click and select group).  This will keep everything in place while you're creating the stencil.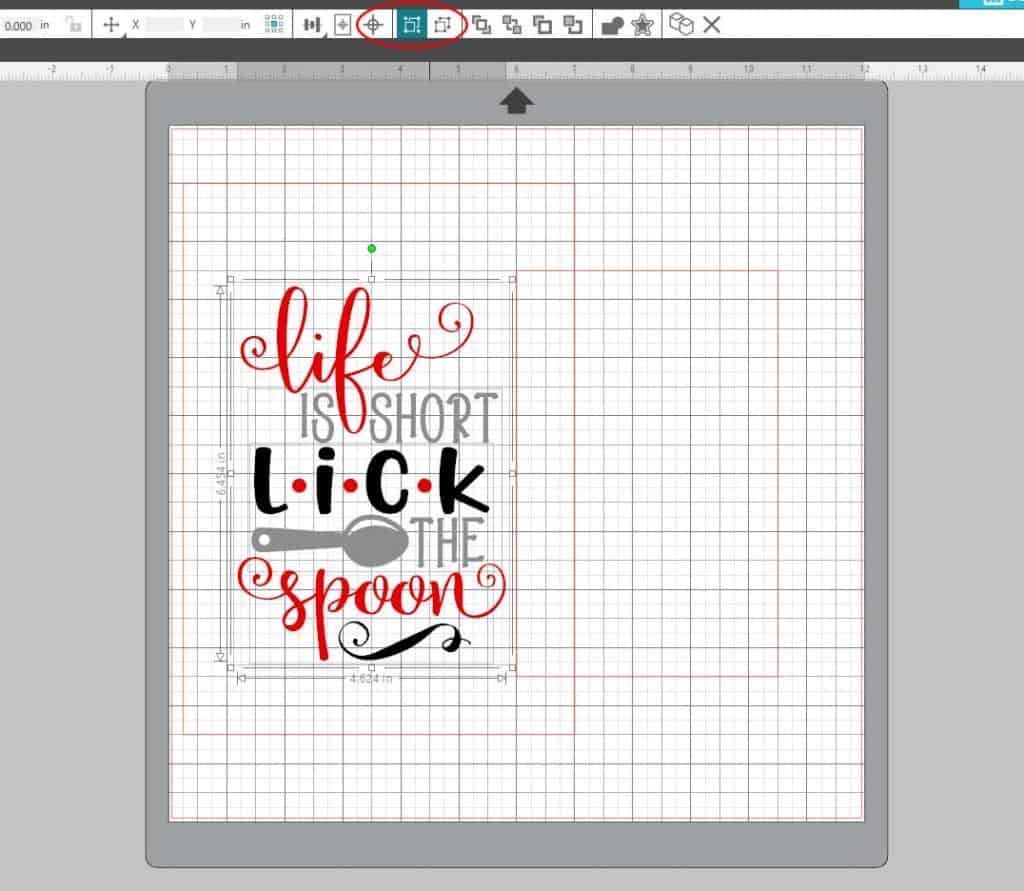 On the left-hand side, click on shapes, then draw a rectangle.  This box will represent the wood you are going to put your stencil on.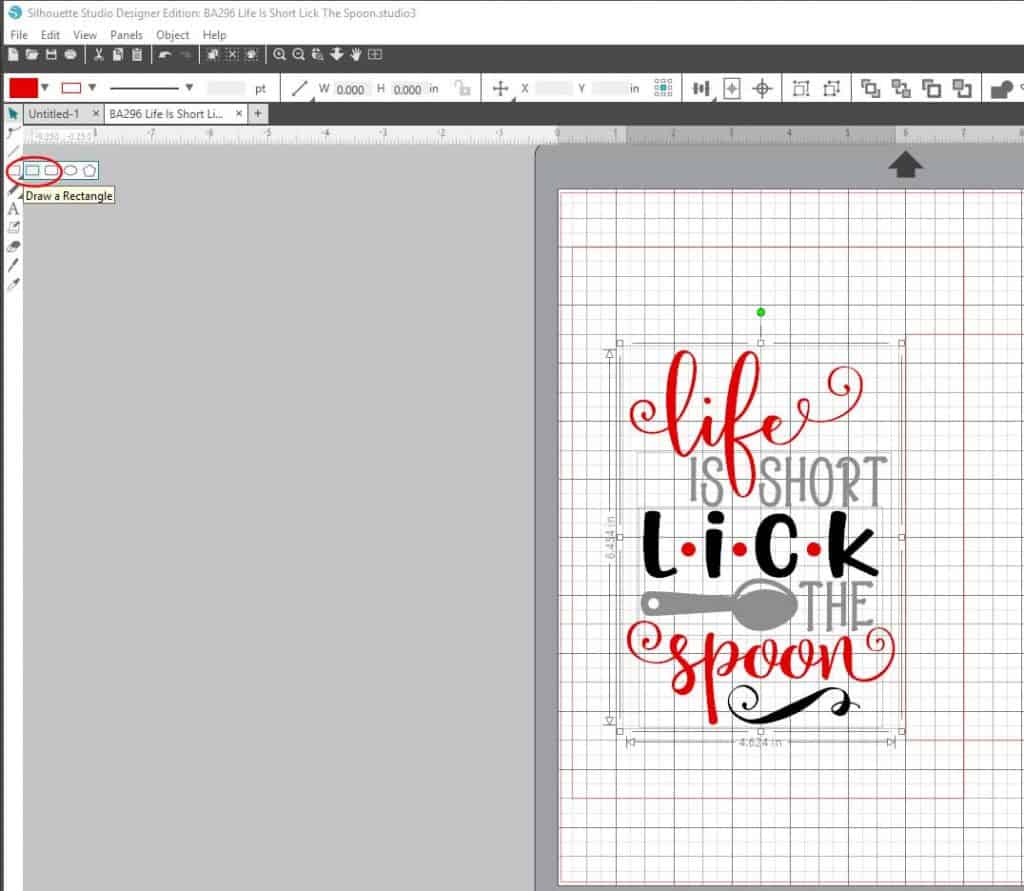 Draw the rectangle so it's the same size as your board.  The board I will be using is 7.5″ x 10″, so I dragged the mouse down until the size of the rectangle was 7.5″ x 10″.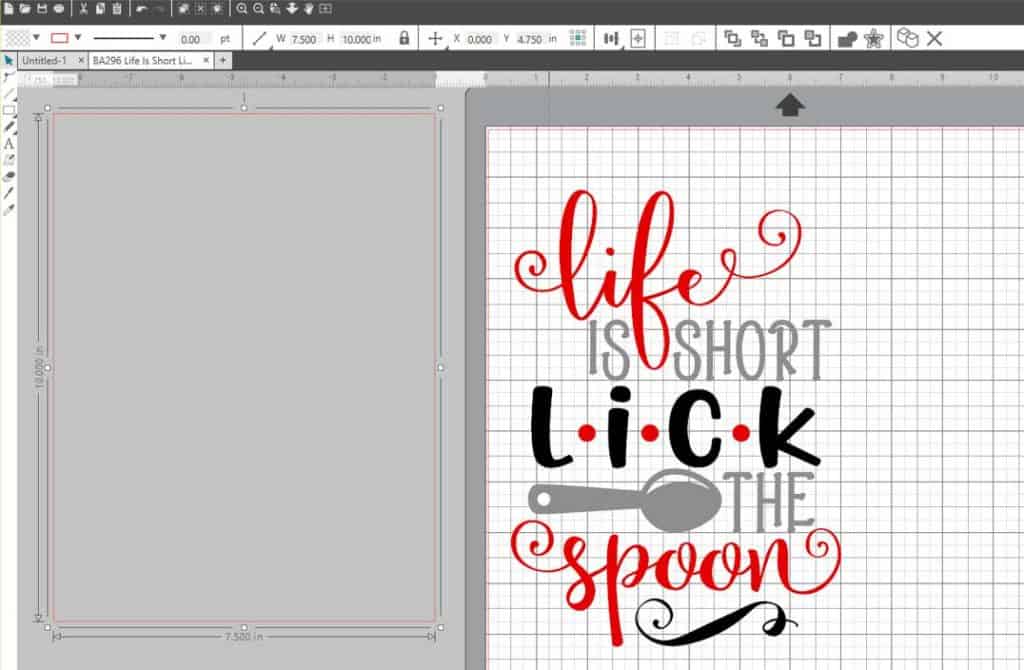 With the rectangle still selected, click on the Fill Panel icon on the right side of the screen.  Then, select a color.  I chose a light gray, but the color really doesn't matter.  It just makes it easier to see the rectangle if it's filled in.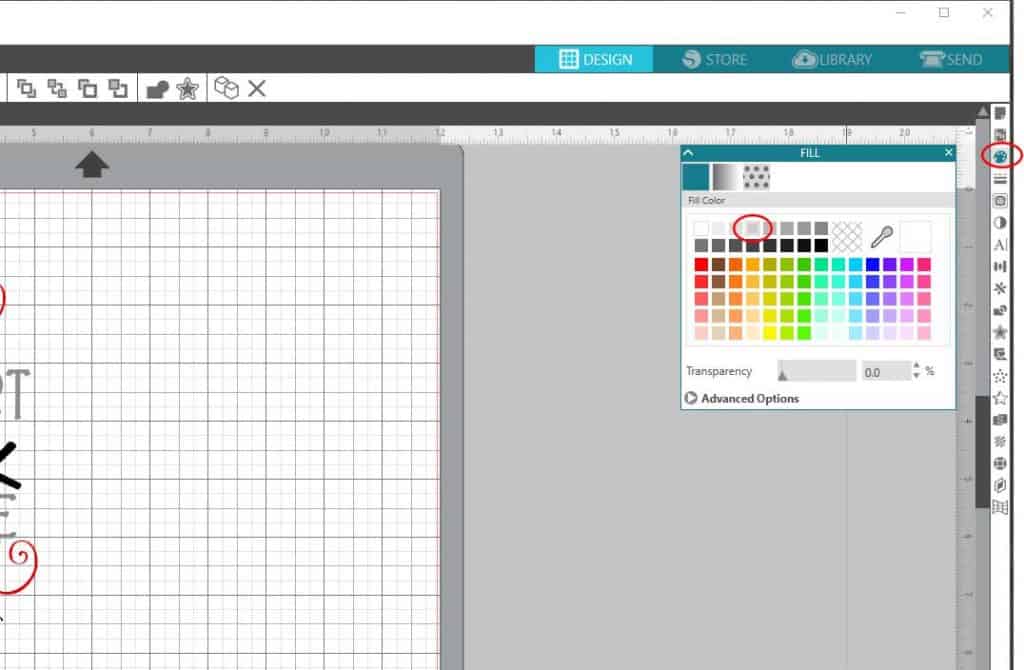 Select your design again and then click the Bring to Front Icon.  This is located at the top in the middle of your screen (you can also right-click and choose Bring to Front).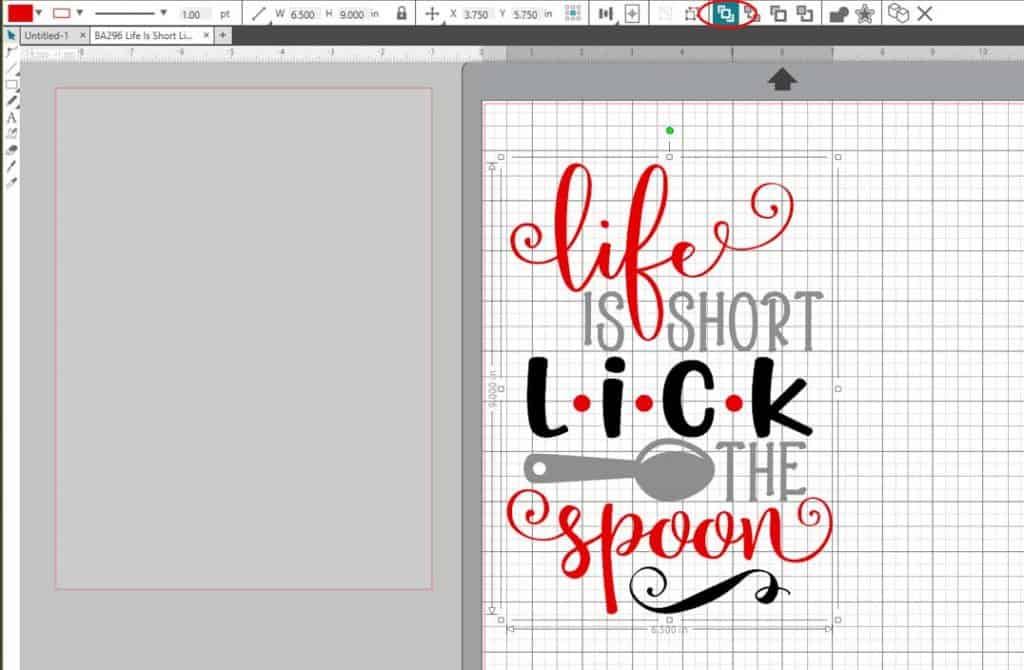 Next, move the rectangle behind the design. Now, you need to resize the design until it fits the space of the rectangle.  Select the design and drag the boxes in the corners or on the sides until the design is the size you want it to be.  I usually make my design about an inch smaller, both width and height, than my board, so I have a .5″ border on all sides.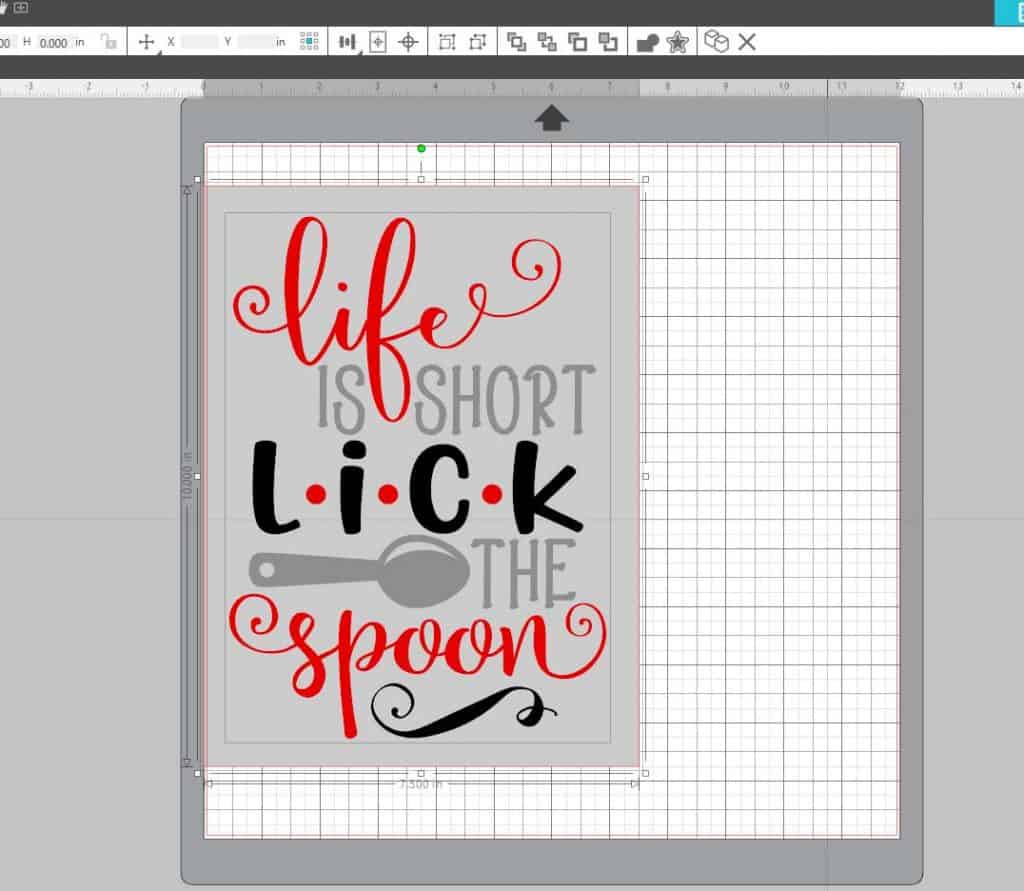 After you have resized the design, select both the design and the box.  From the menu bar, click Object -> Align -> Align Center-Middle.  This will center everything selected both vertically and horizontally.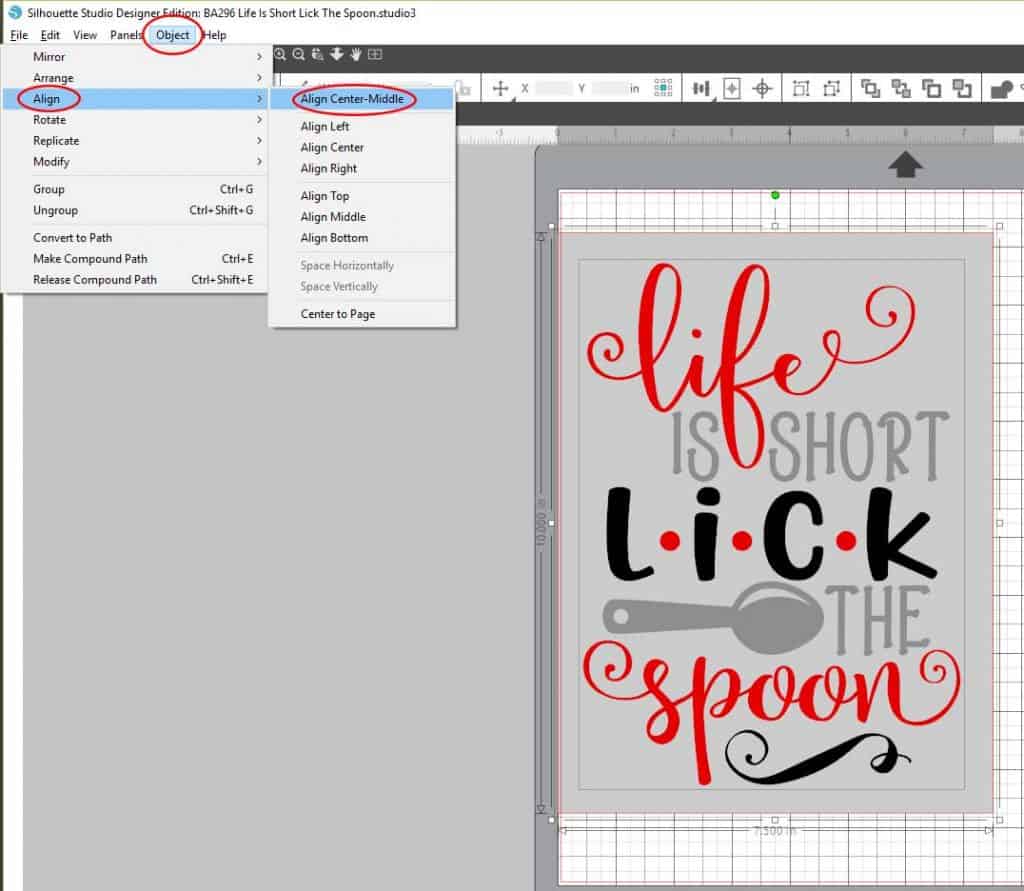 With both the design and the rectangle selected, click on Send in the upper right-hand corner.  Make sure to click Cut to turn on the cut lines.  The design is now ready to cut!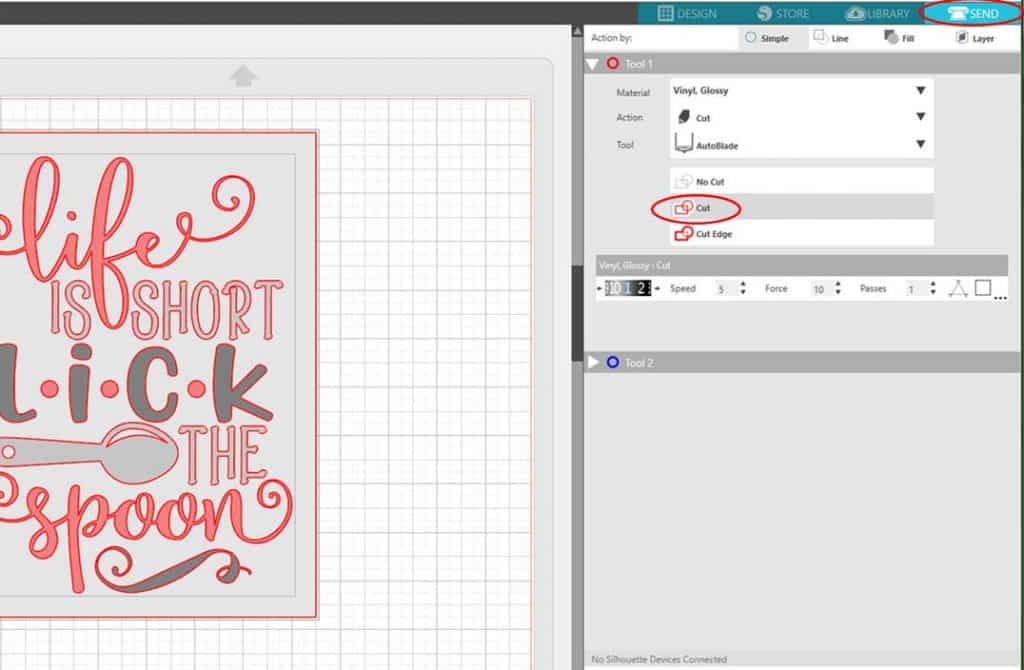 Sours: https://burtonavenue.com/how-to-make-a-vinyl-stencil-in-silhouette-studio/
VINYL 101 (35+ TIPS AND TRICKS) -- NAIL ART 101
Single use Adhesive Vinyl Stencils custom made with your special name or phrase.
A stick on stencil helps minimizes paint bleeding behind the stencil. This single use adhesive letter stencil is different from regular stencils because it does not have bridges in the letters requiring post project touch ups.
These vinyl stencils are precision cut for smooth lines and professional painting results. They are self adhesive and custom made so we can cut just about any font and size, and love helping with special projects
The vinyl letter stencil will arrive on a waxy backing with transfer tape on the face that resembles a big piece of masking tape. To apply, remove the waxy paper backing and apply both the transfer tape and stencil to the surface. Use a flat flexible tool like a squeegee or credit card to secure the stencil. Crease down the corner of the transfer tape and slowly remove it while keeping the stencil stuck to the surface.
Use a little amount to paint and several coats for best results. When ready to remove, the sticker stencil will come off with a slow and strong pull from one corner.
A 3" border on all sides of the lettering is standard unless a different width is specified.
Adhesive Vinyl stencil
Single Use
Precision cut
Self Adhesive stencil reduces paint bleed and touch ups
Vinyl stencils arrive on waxy backing and transfer tape on front
Remove with a strong and slow pull from corner
No residue
3" border on all sides of lettering unless otherwise specified
Sours: https://www.craftcuts.com/adhesive-stencil.html
Vinyl stencil designer
How to Cut Stencils with a Cricut | Everything You Need to Know!
This month's Cricut tutorial is one I've been wanting to write for a while. After years of hating stencil projects because of the mess and sloppy results, I was amazed at what a game-changer Cricut's Stencil Vinyl was. With this thicker, sturdier, tougher vinyl-like material, I was able to cut custom adhesive-backed stencils that could be used over and over again with great results every time! Today, I want to show you how to cut stencils with a Cricut, and share my best practices, tips, and tricks so your projects turn out great too!
What are Stencils and Why Use Them?
Stencils are essentially designs (shapes, patterns, words, phrases, etc) cut into a plastic material that is then overlaid onto paintable/stainable surfaces such as wood, walls, etc. Paint or stain is then applied over the stencil; and when the stencil is pulled away, the relief of the design (the cut-out part) is revealed on the surface. In the picture below, my hands are holding a small stencil of an abstract design. When placed on the wood, painted over and then removed, the blue design (shown to the right) is revealed….
Stencils are a really fun way to get crisp, clean, precise designs onto walls, trays, art, fabric, and so much more! But with so many adhesive-like products on the market today (most of which can be removed), why use a stencil to decorate an object?
For one, adding designs to an object with vinyl is certainly easy and looks great…but it's also very temporary, meaning it can be easily peeled off. Additionally, vinyl designs will have a raised surface, and it can be difficult to seal or waterproof your designs to protect them from elements or wear-and-tear.
On the other hand, by stenciling a design onto a surface with either paint or stain, your design becomes permanent and will be harder to remove (you'll either need to sand it off or paint over it). Your surface will remain more flat and smooth (since paint and stain tend to soak into wood), and your surfaces can be sealed to protect them. Stenciled designs also have a more polished/professional appearance (especially when it comes to home decor) compared to decorations made from plastic-like vinyl.
A Stencil Project From Start-to-Finish
Before I dive into some nitty-gritty nuances related to cutting stencils and working with Stencil Vinyl, I first want to show you how to do a stencil project from start-to-finish. Let me show you how I dressed up this simple IKEA FROSTA stool (discontinued in the U.S.) with a custom stencil I made myself!
To do this (or any) stencil project, you will need:
A surface to stencil – walls or unfinished wooden objects work best. This project uses the IKEA FROSTA stool (discontinued in the U.S.).
Stencil Vinyl – you can certainly cut stencils from "traditional" plastic sheets designed for stenciling, but Cricut's Stencil Vinyl is not only sturdy and easy to work with, but its adhesive backing prevents a lot of the mess and paint bleeding associated with stencils.
Paint or stain of your choice – I find that simple acrylic paint works awesome on unfinished wood surfaces, is budget-friendly, and easy to use!
Brushes or sponges
Cricut machine such as an Explore or Maker
The first step is to design your stencil in Cricut Design Space. I will share a bunch of design tips and tricks at the end of this post; but for this project, I chose Floral Inlay Tile Square (#M23D2FB0). Since my stool measured about 14″ and the widest I can cut with the Cricut is 11.5," I used the Slice Tool to cut my design into 2 parts. Once cut and placed together side-by-side, the pattern continues perfectly.
NOTE: I could have just used the left-sided/bigger stencil over and over again across the surface of my stool since the pattern repeats, but I wanted to be able to paint my entire stool at once.
Once you have your stencil design finalized, your next step is to cut it out of Stencil Vinyl. Load the Stencil Vinyl onto either a blue (light grip) or green (standard grip) mat, and then cut out your design with your machine set to Stencil Vinyl.
NOTE: If you are using an Explore, set your dial to "Custom" and then choose Stencil Vinyl from the drop-down menu.
With your design cut out, it's time to remove the Stencil Vinyl design from the white paper backing.
Now…when working with traditional vinyl, I always recommend weeding first (the process by which you remove all the unwanted parts of your design) and then using transfer paper to move your vinyl design to your project. Here is the wonderful thing about Stencil Vinyl: you don't necessarily need to weed (more on that in a minute) and you most-often don't need to use transfer paper (as long as your design isn't too flimsy)! The Cricut Stencil Vinyl is sturdy enough that you can (carefully) peel it right off the paper backing…
…and place it right down onto your project (sticky side down). In fact, if you place down your stencil and you don't like the placement…you can peel it up and place it down again…and your design won't warp or tear (seriously!!!!)
Although the adhesive on the back of the Stencil Vinyl is pretty tacky, I do recommend taking the time to reeeeaaally secure it to your surface to minimize any paint or stain seeping below the edges of your design. My trusty craft brayer worked perfectly for this, but you can also use your fingers. Just do your best to make sure the Stencil Vinyl is laying flat and there are no puckers or bubbles.
Next, it's time to paint or stain your design! Here, you want to keep basic stenciling techniques in mind:
Use as little paint as possible – it's better to do 3 light coats than 1 thick coat.
Sponges work better than brushes – do as I say not as I do…since I clearly used a brush on this project!
Adding paint in a straight-down motion (like dabbing with a sponge) is better than sweeping it side to side (as it will be more likely to seep under edges).
When you are satisfied with your paint/stain coverage, go ahead and remove the stencil (this is the most exciting part!) to reveal your design! A few things to keep in mind here:
Be sure you have everything painted/coated to your satisfaction BEFORE you remove the stencil because you will never be able to re-place the stencil in the exact same spot once you remove it.
Whether you remove the stencil while the paint is wet or dry is really up to you. However, if you're going to use the stencil again (either on a new surface or to continue a pattern), I recommend letting the stencil fully dry before using it again so you don't risk carrying wet paint over to the fresh surface.
If your stencil rips and you need to keep using it, no worries. You can simply cut another one from more Stencil Vinyl!
It's pretty difficult to "fix" stenciled designs; once the paint is on, you're mostly stuck with it, which is the main reason stenciling can be a bit stressful! Although you may be able to remove small amounts of paint with paint thinner or even chipping it off once it's dry, the only way to fix big mistakes or really bad bleeding is to sand off the design and start over. This is why it's REALLY important to use as little paint as possible when stenciling!
With your design complete, you can apply a clear coat as desired or call your project done!
Now that you understand the basic process of stenciling a project, let me dive into some nitty-gritty questions you might have!
Do You Have to Weed Stencil Vinyl?
The short answer to this question is: it depends.
But here's the long answer:
As I mentioned before, Stencil Vinyl is stronger and thicker than your typical crafting vinyl. As such, it tends to pull up really, really nicely from the paper backing without warping or ripping. I have found that really simple patterns and designs (no curvy edges, no teeny, tiny details, etc) can be pulled right up without any weeding. In the example below, I was able to pull off my grid stencil, perfectly, without any weeding!
In fact, I was able to remove the entire stencil without disrupting the negative (unwanted) parts of the image at all! This is not only a huge time-saver, but it also means you can save/use the negative parts of the design as well, but you'll need to use transfer paper (more on that below!)
On the other hand, when I first tried to simply lift up this (below) really complex, intricate design without weeding, all those little petal pieces came right up with the outline. Additionally, the pattern was so irregular and "loose," that I noticed it was ripping and warping as I tried to wiggle it all free. As such, weeding this complex design first was worth the time in order to keep my design perfectly intact.
Do You Have to Use Transfer Paper with Stencil Vinyl?
The short answer? In most cases, no, you do not need to use transfer paper with Stencil Vinyl. It is strong enough, as I've shown, to transfer nicely from the paper backing to your project without much warping or tearing. This is especially true with simple, sturdy designs where there are no loose, flowing, or tiny details.
Even in the case when you need to add back in non-connected elements (like the middle of letters), you can simply place these by hand. Just use those printed gridlines to help you line them up just right.
However, you may find yourself wanting to stencil a design that is just a bit too…ummm…whimsical…to transfer on its own. I will admit, I first tried to transfer this very loose flower design (with lots of non-connected elements) by hand. Although I was eventually able to get it up off the paper backing, getting each and every part of the design to lay back down nice and smooth proved impossible. As such, I resorted to cutting the design again, and transferring it to my project with transfer paper.
NOTE: Getting the transfer paper to "let go" of Stencil Vinyl is a little trickier compared to standard vinyl. Just work slowly and you'll eventually be able to get your transfer paper off with your Stencil Vinyl design still on your project!
Can the Stencil Be Used Over and Over Again?
Yep! Even after you paint over your stencil and (carefully) pull it off, you will most likely be able to lay it down onto another surface and use it again. Now…eventually you might find that the adhesive backing isn't as tight as it first was and is allowing too much paint to seep under the edges. At that point (or if your stencil rips), it's time to cut a fresh stencil and keep going!
Cutting Good Stencil Designs
Okay, friends. This one is kind of a doozy and one I could probably write a whole separate post on, but I want to cover some nuances of stencil design here.
First, when looking for good designs to cut into stencils, I recommend searching "Pattern" in the Design Space Image Library search box. This will yield all sorts of patterns that will make awesome stencils! The Edge to Edge Cartridges are my favorite!
Next, let's chat about the concept of the POSITIVE and NEGATIVE aspects of a design:
The POSITIVE aspect(s) of the design:

Are the line(s) that make up the design as you see it
This is usually the part of the design you keep/use for your project

The NEGATIVE aspect(s) of the design:

Are the white space(s) that exist between/inside the POSITIVE aspects of the design
These are usually the parts of the design that you want to remove (via weeding) or discard when assembling your projects.
NOTE: Whenever you cut ANY design from any material, there is always a POSITIVE and NEGATIVE part of the design and you can decide which to use for your project.
When it comes to selecting a "good" pattern to cut for a stenciling project, it is easiest if the POSITIVE aspect of the design is one, continuous piece. This not only means you will likely be able to apply your stencil in one step without transfer paper, but it also means it will be removable and reusable. If your stencil design is instead made up of non-continuous pieces, you will HAVE to use transfer paper to lay it down, and it will be a one-time use stencil since you will have to remove each element individually.
Although a continuous design is not absolutely necessary for a stencil, it's always my preference since the entire design is one solid unit. Here are some other examples of continuous designs that would make for great stencils!
Finally, the last thing you need to think about when you are creating your stencils is how it will look once painted. Remember, the stencil design itself (the POSITIVE aspect of the design) serves as a mask, and it's the NEGATIVE parts of the design that receive the paint. Therefore, you need to visualize how each pattern will look in reverse once painted.
TIP! The easiest way to do this is to use the Contour Tool to turn OFF the continuous design (the POSITIVE part of the design) to reveal all the NEGATIVE parts of the design. Just be sure to switch it back before you cut out your stencil!
In the example above, if you use the lefthand design as your stencil, your object will be mostly painted with green scallops (as shown on the right). Should you want the scallop outlines painted instead (as shown on the left), you will need to use the right-hand design as your stencil (via transfer paper).
I know…it will be a little bit of a mind game as you design your project, but it's important to think this all through so your project turns out just the way you want it!
Almost any design you can come up with in Cricut Design Space can be made into a stencil. However, be sure to take into account the positive and negative aspects of the design, as well as if it's continuous or not, to determine what your final project will look like as well as how much work it will be!
Phew! I know this tutorial was a doozy! Although cutting stencils with a Cricut machine is actually pretty easy (I promise!), there are lots of things to consider in order to make your projects turn out just right. I hope this comprehensive overview gives you the confidence to try a stencil project, and if there's anything that is unclear or comes up while you're working with Stencil Vinyl, don't hesitate to let me know and I'll help you out the best I can!
Ready to Create More with Your Cricut?
Explore these other helpful resources by clicking below!
See You Soon!
Megan
Sours: https://thehomesihavemade.com/how-to-cut-stencils-with-a-cricut/
DIY personalized doormat using cricut stencil vinyl Cricut explore air 2
.
Now discussing:
.
1137
1138
1139
1140
1141