Almost 12% of households in the US own a recreational vehicle, which indicates how popular camping has become over the course of the last decade.
However, if you already own a vehicle, then getting a travel trailer may be a more affordable option than buying an RV. Casita vs Scamp is one of the most common dilemmas camping enthusiasts have during the process of selecting their new travel trailer.
The so-called teardrop trailers come in a variety of shapes and sizes, while their prices can vary from $5,000 to over $16,000 depending on the model and its features.
Furthermore, choosing between different brands of travel trailers such as Gulf Stream, Casita or Jayco can be difficult, because each of these companies has a long tradition of producing high-quality travel trailers.
So, in this article, we've compared Casita VS Scamp in order to help you find the model that has everything you are going to need while you are on the road.
Recommended Marketplace
Find Trailers Near You | RVT.com
We love our travel trailers, but don't necessarily love paying sticker price. We personally use RVT.com to search for and compare local and regional travel trailer inventory for the best deals (literally 1000s of models).
Check Availability
We earn a commission if you click this link and make a purchase at no additional cost to you.
Main Differences Between Scamp vs Casita Travel Trailers
The main differences between Casita vs Scamp travel trailers are:
Scamp trailers are available in 13′, 16′ and 19′ versions, whereas Casita models can either be 16′ or 17′ long.
Scamp trailers can only have 13" and 14"tires, whereas Casita trailer models have 14" and 15" tires.
Scamp provides only basic safety features, whereas Casita trailers have advanced safety features.
Scamp has trailers that don't have water pressure regulators, whereas Casita has trailers that have them.
Scamp is equipped with tables that can be converted to beds, whereas Casita owner's trailers cannot convert tables to beds.
How Many Different Models of Casita and Scamp Travel Trailers Are There?
Trailers produced by both of these brands are lightweight, which means that you don't need a powerful pickup truck or an SUV that has huge towing capacity in order to travel with a Casita or Scamp trailer.
Scamp and Casita trailers are available in standard and deluxe versions, and their sizes can vary from 13′ and 19′. However, Casita doesn't offer a 19′ version of their trailer models, so you can only choose between 16′ and 17′ options.
In addition, the manufacturer offers the following models of travel trailers:
Each of these trailer models has a standard set of features that include appliances like the stove or city water hook-up with a water heater.
Moreover, add-ons such as the microwave, a video entertainment package or a trailer cover are also available, which enables you to customize the trailer you want to purchase.
Deluxe models of Casita's trailers also include roomy toilets and showers as well as more than 50 cubic feet of storage space.
Unlike Casita, Scamp doesn't offer different trailer models as you can only choose between 13′, 16′ and 19′ versions of Scamp travel trailers.
Even so, you can choose from a variety of add-ons and customize your trailers so that it fits your demands.
Although you are going to have more versatility while considering Casita's models, Scamp can still be a perfect option for couples or entire families that are on the road often.
Comparing Scamp vs Casita Features
All Casita's and Scamp's models come with a standard set of features, although the standard features can vary depending on the model and its size.
These travel trailers are made from lightweight materials, and they have aerodynamic designs that provide excellent wind resistance.
Some of Casita's standard features include:
Two-piece custom marine-grade fiberglass body
12V battery pack
City water connection
Custom wall material insulation side overhead
Two burner cooktop
Water pressure regulator
16-gallon freshwater tank
LP gas detector
Safety chains
All deluxe models of Casita's trailers have lavatories, but whether or not the standard version of the model you are interested in will have a toilet depends on the model.
Moreover, features like Friction Anti Sway Control, Electric Tongue Jack or bunk beds are optional and you can specify which features you would like to add to the travel trailer model you're considering while ordering your Casita trailer.
Casita Travel Trailers | RVT.com
Casita travel trailers are smaller, easy to tow yet fully equipped pull behind RVs. This is a fun way to go camping with SUVs and lightweight trucks. Towing your Casita is easy, just like your camping experience! Find your own new and used Casita for sale here at RVT.com.
Check Price
We earn a commission if you click this link and make a purchase at no additional cost to you.
Scamp trailers come with the following set of features:
Fiberglass construction
12V lighting
Two burner propane stove
Rear side cabinets
A cabinet above the sink
Clothes closet
Porchlight
Silverware drawer
Curtains
Scamp's travel trailers, regardless of their dimensions, provide enough room to accommodate up to four persons. Some of the Casita's trailers are designed to accommodate up to six sleepers because they offer additional space for a bunk bed.
Bunk beds are not included in the standard offers and they are only available upon request. Casita's travel trailers are better equipped than those produced by Scamp, which makes them a better option for all camping enthusiasts.
How Much Do Casita and Scamp Travel Trailers Cost?
The exact cost of a Casita or Scamp travel trailer depends on its dimensions and additional features. For instance, all Casita's deluxe models are more expensive than the standard models, while their prices also differ for 16 ft and 17 ft options.
Casita Trailer Price
However, the starting price for Spirit, Independence, Heritage, Freedom and Liberty models is the same and you can get a 16 ft standard Casita travel trailer for $17,225 regardless of the model you choose. In case you opt for a custom made Casita model, you will have to contact the manufacturer.
The starting price for 17ft standard travel trailers is set at $18,320, while the deluxe models can be purchased for $20,289. Follow this ordering to find more pick up and delivery information. Keep in mind that it is important to arrive at the pickup location at least 20 minutes before the scheduled time.
Scamp Trailer Price
Scamp doesn't release the prices of their travel trailers and you must contact the manufacturer in order to find the exact price of the model you're interested in.
Moreover, there are only two ways to pick up a new Scamp trailer, since the manufacturer can either deliver it to you personally or you can visit their factory based Backus, Minnesota.
The company delivers its trailers anywhere within the continental United States, although the shipping fees vary depending on how far you are from Minnesota.
What's more, the prices of 13′, 16′ and 19′ are not the same, and according to the available information they vary between $11,500 and $23,095. Click here if you want to learn more about how you can order a Scamp trailer or different delivery zones, you can check out their website.
Even though the starting price for Casita trailers is higher than the price you would have to pay for a standard 13 ft Scamp trailer, the Casita's deluxe models are less expensive than a 19 ft Scamp trailer with a wooden interior.
Exploring Scamp's and Casita's Layout
The layout of Scamp and Casita models isn't the same since the model's size determines which features or appliances the travel trailer is going to have.
For instance, only the deluxe trailers have showers, which makes their layout different from standard models. In most cases, the bed is located on the left side of the trailer while the kitchen can be either positioned next to the entrance or directly across the entrance.
All standard Casita models have a double bed, but Scamp trailers only have tables and sofas that convert to beds. The only exception is the 19 ft standard and deluxe trailers that are equipped with loft queen size beds.
Whether or not a trailer has a refrigerator, counter space or sink impacts its layout significantly. Even the least spacious options offer plenty of storage space and the storage compartments are commonly located below the seats.
Deluxe models also have clothes storages, which makes these travel trailers perfectly suited for long road trips. Both Casita and Scamp trailers are designed functionally and provide more than enough space for several passengers.
You can choose from a number of different layouts for both Casita and Scamp models, which enables you to find the option that provides you with enough space to accommodate up to six sleepers.
Even so, it is important to check the layout of the model you are considering in order to make sure that lavatory or the kitchen counter is included in the offer.
Which Appliances Ao Scamp and Casita Travel Trailers Have?
Different types of accessories and appliances can make a world of difference while you are on the road, which is the reason why you should pay close attention to them while selecting your new travel trailer.
All of the Casita's models are equipped with the following appliances:
Two burner cooktop
Range cover
Silverware drawer
Microwave ready package
Power range hood with light
Sink cover
Blow out plug
Hitch lock
Water hose
Water pressure regulator
The Casita's 16 ft standard and deluxe models have 3-way 1.9 cu ft refrigerators, while the refrigerators on 17ft standard and deluxe models have 4.0 cu ft.
Microwave or the video entertainment package that includes a NAXA 22'' widescreen HD LED TV with a DVD player are available upon request. Optionally, you can get a Zamp 230W suitcase solar panel that comes with a 25-year output warranty if you want to ensure that you always have enough power for all of your appliances.
The standard Scamp travel trailers aren't as well equipped as the standard Casita models since appliances like the water hose or the blowout plug are not available. However, you can choose if you want your Scamp travel trailer to have dual gas tanks, a furnace or an electric water heater.
The price of a Scamp or Casita travel trailer model depends on the number of appliances you want to add to standard features.
Follow this link if you would like to find out which appliances you can get from the Scamp's website. Casita's travel trailers offer more standard appliances and provide you with more add-on options, as Scamp trailers don't include solar panels or video entertainment options.
Recommended Marketplace
Find Trailers Near You | RVT.com
We love our travel trailers, but don't necessarily love paying sticker price. We personally use RVT.com to search for and compare local and regional travel trailer inventory for the best deals (literally 1000s of models).
Check Availability
We earn a commission if you click this link and make a purchase at no additional cost to you.
Pros and Cons
Casita Advantages and Disadvantages
Pros
Heavy-duty steel frame
Lightweight fiberglass furniture
Offers a variety of sleeping options
Provides 50 cubic feet of storage space
Cons
Standard models don't have lavatories
Friction anti-sway control is only available upon request
Scamp Advantages and Disadvantages
Pros
19 ft travel trailer options are available
Towable by small cars
Models with different layouts are available
All Scamp travel trailers are equipped with 1.9 cubic foot refrigerators
Cons
Standard options include only basic appliances
Delivery costs vary from state to state
The Verdict: Which Travel Trailer Has More To Offer, Scamp Or Casita?
Both Scamp and Casita's trailers have standard sets of features that come with all models, although optional features are available regardless of the model you're considering.
The materials used to build Casita's travel trailers are more durable than those used on Scamp's models and Casita's standard options offer a broader range of appliances.
That is the reason why we recommend choosing a Casitatravel trailer over Scamp since you will get more value for a similar price. Moreover, both manufacturers offer only a one-year warranty for all of their models, and you'll also get a warranty for all the appliances the trailer features.
Click here if you would like to get more information about pick up and delivery of Casita's travel trailers or follow this link if you want to find out how you can order a Scamp travel trailer.
Casita Travel Trailers | RVT.com
Casita travel trailers are smaller, easy to tow yet fully equipped pull behind RVs. This is a fun way to go camping with SUVs and lightweight trucks. Towing your Casita is easy, just like your camping experience! Find your own new and used Casita for sale here at RVT.com.
Check Price
We earn a commission if you click this link and make a purchase at no additional cost to you.
Frequently Asked Questions About Casita and Scamp RV
How much does a Scamp trailer cost?
The cost of a Scamp trailer can vary from $11,500 to $23,000, but you must contact the company in order to find out the exact cost of the model you're considering.
Do Scamp travel trailers have lavatories?
The answer to this question depends on the Scamp model since some standard models don't have this feature.
What is the expected delivery time for Scamp travel trailers?
It can take anywhere between a few days and a few weeks until the trailer you order is delivered, depending on how far you are from the company's headquarters.
Do Casita's travel trailers have a warranty?
Yes, you will receive a one-year warranty for the travel trailer you purchase as well as warranties for all the appliances that are installed in the trailer.
How many people can Casita's travel trailers accommodate?
Casita's travel trailers can accommodate between one and six sleepers, depending on the model you select.
Conclusion: Scamp or Casita?
Having a travel trailer you can take with you along your journey can make your life on the road much easier.
Scamp and Casita travel trailers grant you all the comfort you're going to need while camping with your friends and family, but Casita's models are equipped with more features that can be useful during long rides. Which travel trailer are you going to choose?
Leave a comment and share your opinions with us.
Recommended Marketplace
Find Trailers Near You | RVT.com
We love our travel trailers, but don't necessarily love paying sticker price. We personally use RVT.com to search for and compare local and regional travel trailer inventory for the best deals (literally 1000s of models).
Check Availability
We earn a commission if you click this link and make a purchase at no additional cost to you.
Further Reading on Travel Trailers
You Might Also Like
Sours: https://rvpioneers.com/rv-model-guides/casita-vs-scamp-compared/
20 Best Small Travel Trailers Under 20 Feet
Lightweight, affordable travel trailers have ushered in a new era of RVing, particularly for young travelers eager to hit the road. Here's how to make the most of your camper's weight and space.
Forget your grandpa's clunky behemoth: today's trailer manufacturers know there's a growing mass of travelers that don't want to spend a fortune on a bulky trailer or the gas-guzzling truck you'll need to pull it.
As a result, there's never been a better selection of lightweight travel trailers that can be pulled with mid-sized SUVs, and in many cases, large cars. The simplest of them are affordable for folks with limited recreational budgets, and many hold their resale value better than larger trailers.
Here's a look at 20 of our favorite small travel trailers and campers, from compact fiberglass teardrops under 2,000 pounds to more built-out, spacious models under 3,500 pounds. And if you're looking for something even smaller, check out our favorite DIY teardrop trailers.
Understanding Trailer Weights
A note about weight: we've organized trailers by their dry weight, or base weight, which doesn't include water and equipment you'll add for your trip.
The dry weight is typically much lower than the actual weight you'll travel with, as cargo can add up fast. When shopping for a trailer, it's important to consider the Gross Vehicle Weight Rating (GVWR), which is the maximum towing weight rating for your vehicle.
For example, the MeerKat below weights less than 1,000 pounds, but the GVWR is 2,000 pounds, which means your vehicle must be rated to tow 2,000 pounds in order to tow the trailer.
Even if the actual (wet) weight of your MeerKat ends up around 1,500 pounds after water and cargo's added, the trailer manufacturer still recommends the higher 2,000-pound GVWR. Visit Changin' Gears to learn more about various RV weights.
Under 2,000 Pounds
1. The MeerKat
Dry weight: 920 lbs / Length: 13′
The MeerKat's 920-pound body is easy to move by hand and tow with nearly any 4-cyclinder vehicle. Standard features include a camp stove, cushions, sink, closet, icebox and more. Equipment like a fridge, awning or front storage box is optional but can add more weight.
Even with its small frame, the MeerKat offers plenty of standing and sitting space, and the table that transitions into a bed sleeps two comfortably. You'd be hard-pressed to find this much packaged in a smaller trailer.
Learn More
2. Happier Camper HC1
Dry weight: 1,100 lbs / Length: 13′
This fiberglass trailer is a social media influencer's wet dream. It's small, capable of getting into all those parks, cities and nooks where larger trailers can't, and maintains the retro vibe that made travel trailers cool to begin with.
Its Adaptiv™ modular interior setup makes it easy to customize based on your travel needs, and practical features make this trailer more than just a vintage-lookin' novelty.
Learn More
3. Taxa Outdoors Cricket
Dry weight: 1,732 lbs / Length: 15′
We had the opportunity to explore the Cricket in person and its body is as unique as the photos let on. Its alternative design makes a great use of the limited space inside, and the pop up roof really opens things up once you've hit camp.
The thoughtfully designed interior offers stellar organization and all the conveniences of home, all packed in an easy-to-tow trailer built for any adventure.
Learn More
4. Scamp 16′ Camper
Dry weight: 1,750-2,000 lbs / Length: 16′ 
Before new trailers like the Cricket popped up, small, lightweight options were generally limited to the Scamp, the Casita and similar models. Though you have more options on the market than ever, the Scamp still holds its place as a solid vintage investment.
It's available in 13-, 16- or 19-foot models, but we dig the 16-foot version for its balance of space and weight. The smallest model can feel cramped, and the 19-foot model is a fifth-wheel design that doesn't have the same convenience or aesthetic appeal.
Learn More
5. Safari Condo Alto R Series
Dry weight: 1,825 to 1,867 lbs / Length: 17′ 3″
Safari Condo's goal with the Alto was to create an ultralight trailer with the "lowest possible drag coefficient," and one look at the R Series proves they hit the mark.
This makes for a lightweight, spacious trailer that can be pulled by most vehicles. The retractable roof makes the interior feel far more roomy, but even the fixed-roof model has a sufficient air of comfort.
Learn More
6. nuCamp TAB Teardrop Camper
Dry weight: 1,826 lbs / Length: 15′ 
The TAB is known for its U-shaped seating design that maximizes space, which is scarce in a typical teardrop. You'll have everything you need – table, kitchenette and sleep space – and not much else.
nuCamp's craftsmanship is second to none, and if you don't need the extra space of a larger travel trailer, keeping things simple with a teardrop works great for many campers.
Learn More
7. Little Guy Mini Max
Dry weight: 1,993 lbs / Length: 17′ 2″
Like the TAB above, Little Guy's Mini Max offers a well-designed, if small, space in a vintage-but-modern exterior. It's a bit longer and heavier than the TAB, but for the extra weight you'll get a bit more room to unwind.
We're big fans of the Mini Max's window setup, which lets in more air and natural light than most teardrops on the market.
Learn More
Under 2,500 Pounds
8. Casita Liberty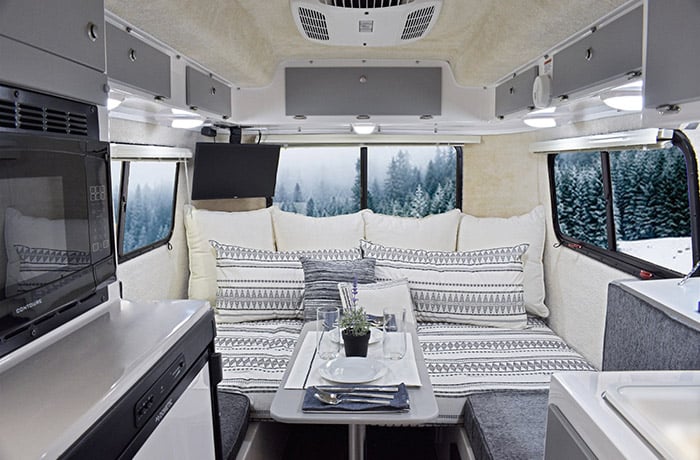 Dry weight: 1,970 to 2,480 lbs / Length: 16′ or 17′ 
The Casita's often compared to the Scamp and both have made design and construction changes over the years to meet demands of both brands' markets. The Liberty is a slightly larger, roomier version of the Scamp and can weigh more depending on upgrades and options.
There's an unending discussion about Casitas vs. Scamps online, so if you're considering either, it's helpful to see feedback from current and past owners of both trailer brands.
Learn More
9. Serro Scotty Trailer
Dry weight: 2,230 lbs / Length: 17' 2"
Two things you need to know here: Serro Scotty's roots date back to the 1950s, when John Serro began building travel trailers by hand in Irwin, Pennsylvania. Second, there's a dog on the side of trailer.
Firmly in the over-2,000-pounds range, the classic Serro Scotty offers a comfortable living space that doesn't feel constrained. At just over 17 feet, it's still agile and versatile enough to tow with an SUV and park in many a campground.
Learn More
10. Hymer Touring GT
Dry weight: 2,480 lbs / Length: 18' 11"
The Touring GT's no-frills exterior and comfortable interior focus on simple, minimalistic living that's easy to customize based on your traveling needs.
The German-based trailer's had decades of success and growth in Europe, but is just now hitting US shores as a popular alternative to similarly small travel trailers. The Touring has all the classic makeup of a vintage trailer with modern conveniences like a pop-up roof, practically designed kitchen and organization galore.
Learn More
11. The 17 Foot Escape
Dry weight: 1,970 to 2,400 lbs / Length: 17′ 
The Escape joins the Scamp and Casita as the "three fiberglass amigos," as they're known in the RV world. We don't know if this is true or not but it sounds okay.
The Escape's 17-foot model offers slightly more room than the 16-foot Scamp and according to some owners, a nicer interior than its competition. Its construction, resale value and overall material quality make it a popular choice among RVers who want more than a barebones trailer but less than "here's my entire house on wheels."
Learn More
12. Forest River r•pod
Dry weight: 2,342 lbs / Length: 18′ 4″
Learn More
Forest River's been in the RV game since the mid-90s, and their r•pod is a more traditionally designed trailer compared to some of today's newer manufacturers.
With tons of floorplans and optional upgrades, you can make this trailer as luxurious or basic as you'd like, and even with extras you can still keep the r•pod under 2,500 pounds.
Under 3,000 Pounds
13. Jayco Hummingbird
Dry weight: 2,535 lbs / Length: 18′ 10″
We are now officially in travel trailer country. Lighter campers can't have everything, so there's a delicate balance between form, function, space and features.
In this weight class, you'll get just about everything you need while keeping your trailer under 20 feet. The Hummingbird might not have the cool factor that more modern, hip trailers have, but it's a practical, well-built camper that'll provide years of reliability on the road.
Learn More
14. Airstream Basecamp
Dry weight: 2,585 lbs  / Length: 16′ 3″
Airstream's departure from larger campers was named RVBusiness™ Magazine's 2017 RV of the Year, and it's opened up Airstream life to a brand new market. Though it's still more expensive than comparable trailers, the Basecamp is more accessible than the brand's larger signature models with its lower price tag and lighter base weight.
The smaller package doesn't exclude much: a kitchen, bathroom, lounge area and sleeping space somehow all work together in this sub-17 foot trailer, and it feels surprisingly roomy for the square footage.
Learn More
15. Lance 1475 Trailer
Dry weight: 2,600 lbs / Length: 19′ 8″
Like the Jayco Hummingbird, the Lance 1475 is a more traditionally designed travel trailer with an upgraded interior and plenty of room to relax.
The standard model is stacked, but options include better interior packages, a backup camera, solar panels and an all-weather package suited for more hardcore travels.
Learn More
Under 3,500 Pounds
16. Starcraft Satellite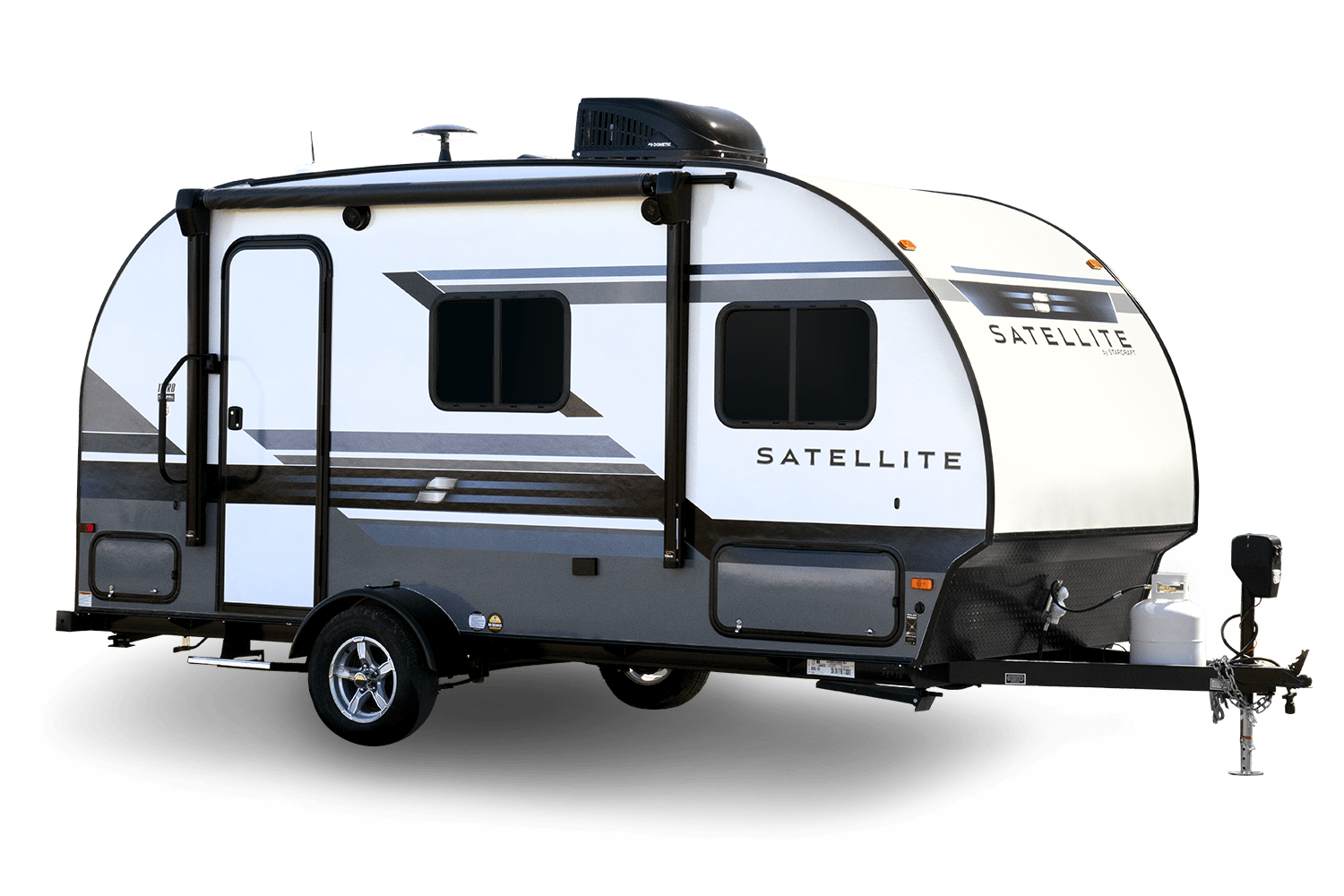 Dry weight: 3,040 lbs / Length: 20′ 2″ 
In this weight range, you can expect 20-foot trailers that are still capable of being pulled with mid-sized and large SUVs. The GVWR of these trailers is typically in the 3,500 to 4,000 range, and the base weights of the three Satellite models range from 3,040 to 3,195 pounds.
The Satellite's about as comfortable as they come at this weight and length, and owners are surprised by the condo-esque feel of the interior. With a TV, stereo, stellar heating and air conditioning, comfort and entertainment are top-notch here.
Learn More
17. Little Guy Max
Dry weight: 3,140 lbs / Length: 21′ 
The Little Guy Max is a larger version of the Mini Max, though it still retains the vintage charm of a teardrop trailer.
As usual, these guys make excellent use of the interior space, and touches like maple cabinetry and 58 cubic feet of storage make this feel more like home than most small campers. The entertainment features with the Max include exterior speakers and TV mount, 3-zone audio and bluetooth capabilities.
Learn More
18. inTech RV Sol
Dry Weight: 3290 to 3375 lbs / Length: 19′
The largest of inTech's models uses a unique "tilt-forward" design that makes use of the space above the trailer's frame. It's a bold move that gives the Sol its signature look and offers more square footage than campers that aren't as structurally efficient.
The interior blows away nearly everything else at this size – you won't be "roughing it" in the Sol, but that's exactly what makes it one of the best small trailers under 3,500 pounds on the market.
Learn More
19. Airstream Nest
Dry weight: 3,400 lbs / Length: 16′ 7″
Airstream acquired Nest Caravans in 2016 and immediately went to work improving the company's sole trailer model. Today, the Nest is a popular alternative to Airstream's bullet-style campers that have come to define the brand, though this little number sports the same quality and craftsmanship.
Two floorplans offer different seating and sleeping arrangements, but both have a kitchen, bathroom and sufficient storage for long road trips. It's a high-end small camper, but for those with the budget, it's hard to beat the unique styling and function of the Nest.
Learn More
20. Oliver Legacy Elite
Dry weight: 3,400 lbs / Length: 18′ 5″
The biggest of our favorite small campers still clocks in under 3,500 pounds, though its GVWR is 5,000 pounds. The double-hulled fiberglass exterior is reminiscent of the Scamp and Casita, though it tends to have more upgraded features than its competition.
The "elite" in the trailer's title means the standard options are ideal for most owners, but optional upgrades include a solar package, better power options and a wifi package to stay connected on the road.
Learn More
Hit the Road
Sign up for Weekend Wanderer to join 10,000+ readers getting epic travel ideas every week.
---
Sours: https://www.territorysupply.com/small-travel-trailers-campers
Last Updated on :
Airstream is a very popular travel trailer manufacturer. It is the Cadillac or Rolls Royce of the trailer industry. With almost 100 years of manufacturing trailers of all types, Airstream has refined the process and explored new territories just so you can have a great trailer to take camping.
In this article, we will compare Airstream trailer with below small travel trailers:
To see how Airstream stacks up against the competition (or other models that people are curious to compare with) just continue to read this article. It provides a side by side comparison of some of the Airstream competitors so you can see how good those trailers really are.
How Airstream started
They say behind every great man stands a woman. In Airstream's case that is true. If it wasn't for the fact that Mr. Wally Byam's wife did not like sleeping on the ground when out camping, Airstream would never have existed.
Her discomfort led to her husband's inspiration as he placed a tent on the early Model T chassis. But perfection doesn't always begin at the beginning and this was not a great idea.
This attempt at creating camping comfort did lead to a better idea where Mr. Byam placed a permanent shelter on the chassis and added an ice box as well as a stove.
From that point, his idea for a trailer became popular so Mr. Byam decided to go into trailer manufacturing full time. It was a good decision as that choice developed into Airstream and its many top quality trailers you see today.
From developing the first hot water heater for trailers and the first hook up system, Airstream has been the standard by which all other manufacturers are measured.
Why are Airstream so popular?
Their legacy, luxury and the quality makes them popular. They last very long, have been in news for many years due to their quality and satisfied users. Airstream has been making RVs since a very long time. This goes back to nearly 100 years. That makes them one of the trusted RV makers.
Why are Airstream expensive as compared to other travel trailers?
Airstream are expensive as compared to other travel trailers mostly because of the luxury and quality with which they are built. They are given a finish that makes them look very different and attractive. The body is made up of special high grade aluminum. Its internal structure is very impressive.
Here is the list of all the travel trailers by Aistream:
Classic starting at 157,400, sleeps upto 5
Globetrotter starting at $96,400, sleeps upto 6
International starting at $91,900, sleeps upto 6
Flying Cloud starting at $78,900, sleeps upto 8
Caravel starting at $62,000, sleeps upto 4
Bambi starting at $49,000, sleeps upto 4
Basecamp starting at $38,000, sleeps upto 4
Comparison caveat
We should say before we get started with all these comparisons is that every effort was made to find a specific trailer for both Airstream and the competition to make a good comparison.
We realize that all trailers are different and again every effort was made to be fair, honest, and close to the facts as possible. Personal preference is noted as are those attitudes where bad experiences have turned people off of Airstream.
Not everyone will like the Airstream but maybe this comparison will change those minds.
Airstream trailers have huge fan base but they do have some flaws as well. Here is a detailed article on cons of airstream trailers.
Airstream vs scamp trailer
In this head to head comparison, we took the 16 foot Airstream sport and a 16 foot scamp trailer standard to make the comparison. So length is the same but the big difference comes in the other dimensions.
| | | | | | | |
| --- | --- | --- | --- | --- | --- | --- |
| Brand | Exterior width | Interior width | Exterior height | Interior height | Exterior length | Interior length |
| Scamp | 6'8″ | 6'6″ | 7'10" | 6'3″ | 16′ | 13′ |
| Airstream Sport | 8′ | 7'7″ | 9'3″ With AC | 6'4″ With AC | 16'4″ | Unknown |
The Scamp standard weighs in between 1750 and 2000 pounds while the Airstream sport comes in at just under 3,000. For sleeping capacity, both trailers can accommodate up to 4 people maximum.
Those people using the Scamp Standard would have to convert a sofa and table to find their beds for the night while Airstream Sport comes with a 48 by 78" bed in the rear of the trailer.
Here is the differences summary between a scamp trailer and Airstream sport for you to decide. Scamp is a fiberglass trailer which is better insulated and suited for extreme weather. They are also lighter than Airstream. Airstream sport is much bigger and wider. It is also equipped with lots of items that come as optional in scamp trailers. Due to the features and items packed, the airstream sport is much more costlier than a scamp trailer.
Resale value goes to Airstream as their trailers, including the Sport, hold their value well. The same cannot be said for the Scamp standard. That may be because the Scamp only has a 12 gallon fresh water tank and there is no mention of how big the black water tank is.
The Airstream Sport has a 23 gallon fresh water tank and a 21 gallon black water tank. As for comfort, the Sport has more features, more amenities than the Scamp contains with a bathroom optional in some Scamp Standard floor plans. The Sport has a bathroom.
Construction : These are fiberglass trailers and therefore are light in weight. A trailer need to be as light as possible. This makes it easy to tow them and the overall pressure on the car or truck mpg is reduced. They are not only light but also aerodynamic in design making the towing further easier. Their construction and lightweight design makes them a good option if you don't want to own a Airstream. Airstream are solid in construction but they also cost a lot more.
Another great thing about scamp trailer is they are easy to park and store. These small trailer also do not need any leveling, you just park and enjoy the camping.
Longevity : Airstream trailer remain usable through your lifetime. That's a big statement but yes, it is claimed that 60% of the Airstream in use were built many many years ago. They remain usable for more than 50 years and even more.
What about scamp trailer? They too are solid and live a lot longer. You can see people using scamp trailers that were built in 1970's. You may need occasion repair, maintenance but that is with all of the RVs. Comparing these two trailers, i think they remain head to head. May be airstream are a little bit well known about there longevity and durability but scamp trailers too are good.
Amenities : Scamp trailer include amenities that are needed for basic RVing experience. A furnace, or a refrigerator, furniture you get almost everything you would need in a good RV. There are multiple layout or floorplan to choose from. Depending on your lifestyle and expectation you can plan for the floorplan.
You get options to select from 6 different models. A 13 feet travel trailer is the smallest one and a longest one is at 19 feet. How does this compare with airstream? Well, Airstream has a much better portfolio of RVs.
They not only have trailer but also offer class B motorhomes. Airstream is a much better established company with high popularity. And therefore, their cost is also very high.
With scamp trailer you can customize based on your needs and add different options in your build. You can select things like awning, TV antenna, front cabinets, water heater and so on. The more things you pack in the more will be the cost.
Weight : Scamp trailer on an average weigh between 1600 lbs to 2000 lbs. Airstream sport on the other hand weighs a little more about 2500 lbs and this varies depending on how you customize it.
To make a fuller comparison view the Scamp specs here and the Airstream specs here. So, which one you like, Airstream or Scamp?
Airstream vs avion trailer
We can only provide approx. Measurements for the Avion as this model and all of Avion models are no longer in production. But despite their age, these trailers do come with nice sleeping quarters and hold up to 4 campers it does have a bathroom with a Dometic toilet.
Brand
Exterior width
Interior width
Exterior height
Interior height
Exterior length
Interior length
Avion
7′
6'2″
6'6″
6'2″
19'7″
15'1″
Airstream
7′
6'4″
8'9″
6'3″
20′
That is one of the problems of comparing an out of production model as the owners tend to change the original equipment for more modern options. The dry weight of the Avion reaches 2490 pounds while the Airstream is a bit heavier at 3500.
The combined black and gray water tank can hold 24 gallons of waste while the Avion does not come close to that amount. The aluminum skin on the Avion is thicker and stronger than the aluminum on the Airstream giving you better overall protection.
Avion is currently defunct, its a trailer by fleetwood. The main difference between the two is modern features in Airstream. Avion trailers are less expensive but yet provide good storage and have good built quality. Avion are heavier than Airstream, are not easily available and may need renovation to fit your lifestyle.
Interior or Amenities : Avion trailers are no longer made, their production is stopped. That means they may not have all the modern fittings inside them. You can go ahead and customize the used ones but that may not be a great match against Airstream. So, if you are looking for modern interiors and fittings then airstream is the better option.
Construction quality : Airstream no doubt have sturdy construction and that's why they last so long. Avion too are solid built and much better in terms of sturdiness. Avion are aluminum finishing and use hardwood furnishing.
Space : Avion trailers are much better in terms of overall storage. Airstream on the other hand lags a little bit with how much you can store.
Price : Airstream are know for the legacy that they have created. Their brand is much bigger than any of their competitor in this space. And due to this the price of Airstream is also very high. Avion is much less expensive then airstream trailers.
Availability : Because the Avion is no longer made you may not find them easily. You will have to look for individual owner who are willing to sell them. Airstream on the other hand have multiple models that are in production. Aisrtream too may not be bought quickly and it takes time to order and actually own them. But, even then Airstream is much better available to buy. Even used Airstream aren't available at less price as they hold their value much better. An old Avion trailer can be bought at much lesser price.
Weight : Avion trailers are sturdier but their weight is also high. Airstream also weigh more but in comparison to Avion they are comparatively less in weight.
The Avions are okay in resale value but nothing to brag about.
Airstream vs escape
Airstream or escape, is another question people ask. Lets see the difference between the two.
The Escape Toad weighs in at about 2600 pounds in comparison to the Bambi that has an approx. Weight of 3,000 pounds give or take 100. For the Escape, the black water tank holds 19 gallons, the grey 26 and the fresh water tank has a capacity of 20 gallons.
Brand
Exterior Width
Interior Width
Exterior height
Interior height
Exterior length
Interior length
Escape Toad
6'8″
8'9″
6'2″
17'8″
13'8″
Airstream Bambi
8′
7'7″
9'3″ With AC
6'4″ With AC
15'11"
The Bambi has a 30 gallon black and gray tank combo while the fresh water holds 23 gallons. For sleeping arrangements, the Toad holds 3 people while the Bambi has room for up to 4. Both have good bathrooms, separate shower, and kitchens to maintain your comfort.
Along with that, both have a 12,000 BTU furnace. The Bambi tops the Toad in the fridge department with a 3.1 cubic foot fridge compared to the 3 cubic foot in the Toad. As for resale value, the Bambi may hold an edge and that would be because of the Airstream name.
Airstream Babmi in comparison to escape is more expensive and have better finishing. This, however, makes them more heavier and expensive. Escape trailers have floorplans that are better suited for most people. They also have fifth wheel in their line up which is not there in Airstream.
Comparing airstream and escape on construction, the airstreams are more sturdier but that makes them much heavier. They have better finish that makes them look good but as a consumer you would find escape trailers better. They have more user friendly approach towards the interiors. This is what most escape users feel.
The airstream cost also makes them one of those RVs you would think twice before going ahead. Escape trailer aren't that costly and also the user reviews talks a lot about how good they are and how people tend to love them.
Floor plans in airstream also arent that user friendly, escape trailer do have better plans that fit most people.
Customization : Airstream are hard to customize because of the way they are built. You cant normally do the customization they way you want it. On the other hand escape trailers can be customized. You would find people discussing on forums about how they modified their trailer to fit in more things or change the interior to better suit them.
Weight : Airstream are heavier than escape making them more costly on day to day basis.
Maintenance and Repair : Airstream may be long lasting but they also need maintenance that can be problematic because of the unique construction and material. Other things could be corrosion issues on the exteriors. Although, they do have high quality aluminum, there are chances of such issues over along period of time. You also need much better storage to Protect them. You are ought to protect them as they cost a lot more.
Airstream nest vs casita
As usual, the Airstream model comes in a bit heavier than its competitor, with the former over 3,000 pounds and the latter reaching only 2200. Both models are compact in size but the Airstream offers you a queen size bed while the Independence on one floor plan has only two twin beds.
Brand
Exterior width
Interior Width
Exterior height
Interior height
Exterior length
Interior length
Casita Independence
6'8″
8'11"
6'1″
17′
Airstream Nest
7'1″
6'10"
9'6″
6'6″
16'7″
The Independence, depending on the floor plan can sleep up to 6 people. The fresh water tank for this model hits 15 gallons as does the black water tank. The gray water tank only reaches 13 gallons in capacity. For the Nest, the fresh water tank has a 23 gallon capacity and the black/gray combo hits 30 gallons.
For features, the Independence does come with standard options that can be upgraded through customizing and paying the higher costs. This model only has 3 windows while the Nest comes with 8.
Casita trailer are smaller in comparison to standard airstream ones. Airstream also makes smaller ones like bambi but their cost is almost twice as that of casita. So, why one would even compare casita to airstream?
Its may be because people want to sell their caista and get another one. Airstream is a popular trailer company and people want to know how that would fit them once they sell their caista.
So, what different things would you compare between the two?
Casita trailer are fiberglass which makes them good for maintenance. They are also less expensive but have less luxuries as compared to Airstream Nest. Aistream has lots of features and much better space.
Space : Aisrtream are certainly bigger and spacious but that is what they are. They are not only trailer but almost like a home. Casita on the other hand are small and are meant for people who want little space and don't want to tow heavier trailer. With casita, you can have mpg of 15 or even more but that may not be the case with standard airstream.
Luxury : Airstream is a luxury and you get a trailer that has finishing of higher standards. Caista is meant to be owned by those who want to spend as little as possible. You wouldn't find fancy things fitted inside them.
Construction : Casita is a fiberglass travel trailer that makes them better at maintenance and you don't have to deal with corrosion and other aluminum issues. This also makes them much lighter.
Cost : Casita are less expensive which is not the case in case of Airstream. Even the smaller models in airstream cost a lot.
Hopefully now you know the answer, Airstream or casita.
Airstream Interstate vs Winnebago Era
The GVWR rating is just over 11,00 pounds for the Era and its hitch weight is about 5,000 pounds approx. The same goes for the Airstream. Inside each vehicle has one or two different floor plans you can choose between but the sleeping capacity is not that great for either. Both vehicles can sleep 2 to 3 people.
Brand
Exterior width
Interior width
Exterior height
Interior height
Exterior length
Interior length
Winnebago Era
6.3'5″
9'6″
6'2″
24′
Airstream Interstate
6'4″
9'7″
6'1″
24′
Holding tanks are small for the Era as the black water is at 8 gallons, the gray at 26, and the freshwater at 25. In the same order, the Interstate holds 13, 27, and 26 gallons. For fuel, both vehicles hold 24 1/2 gallons.
Both class B RVs use the Mercedes Benz V6 and the Mercedes Benz 7 speed transmission. Inside you have a nice galley with fridge and stove as well as 1 bathroom with toilet and shower for the Interstate and the same for the Era although the Interstate has more couches than the era.
Airstream vs Jayco jay flight
One thing the Jayco model enjoys over the Airstream in this comparison is that it has one slide and the Airstream does not. But the Airstream makes up for that lack by being very spacious.
Deciding between Airstream or jayco jay flight shouldn't be difficult once you look at the below table.
Brand
Exterior width
Interior width
Exterior height
Interior height
Exterior length
Interior length
Jayco jay flight
8′
11.1'7″
6'7″
33'4″
Airstream Classic 33
8.5'1″
8'1″
9'9″ With AC
6'7″ With AC
33′
Also, the Jayco is lighter weighing in at just 6,600 pounds while the Airstream reaches over 8,200. Then the Jayco has 2 fresh water tanks holding up to 76 gallons while the one gray and one black holding tanks hold 39 gallons.
The Airstream has one 54 gallon fresh water tank, one gray water tank holding 37 gallons, and a black tank holding 39 gallons. For amenities, the Jayco can sleep ten but only has one bathroom and one small fridge and stove, while the Airstream sleeps up to 5, has a 9 cubic foot fridge, nice stove, a microwave oven and even a desk to write on.
Airstream vs oliver travel trailer
While the Legacy has 6 seats it can only sleep 3. On the other hand, the Caravel has many seats and sleeps 4. The overall weight for the Legacy reaches 3,700 pounds and the Caravel weighs in at 4,000 pounds.
Brand
Exterior width
Interior width
Exterior height
Interior height
Exterior length
Interior length
Oliver Legacy
6'6″
6'2″
9′ With AC
6'1″
18'5″
Airstream
8′
7'7″
9'7″ With AC
6'7″ With AC
19'2″
For comfort, the Legacy has a 30 gallon fresh water tank, a 32 gallon gray tank, and an approx. 19 gallon black water tank. The Caravel goes 23, 29, and 18 respectively. To read up on both travel trailers go to this link for the legacy and this link for the Caravel.
The Oliver model looks like an Airstream trailer in its exterior design but doesn't really match up when you look at the details.
So, which one will you choose, Airstream or Oliver travel trailer?
In case you want to know more about airstream. Here are some common questions people have about airstreams.
How long do Airstream last?
Airstream are known to last very long. They can last more than 40-50 years and even beyond. Their resale value is really good and they hold their value pretty well if proper care is taken. The quality of aluminium body makes this possible.
Do Airstream only makes travel trailers?
No, you also get Airstream touring coaches like interstate.
Do Airstream have slide outs?
Airtream do not have RVs with slide outs. They did make few models previously but have stopped after that.
Pros and cons of Airstream.
Before you decide on going for Airstream check out the advantages and disadvantages of Airstream RVs.
Pros:
They are awesome in quality and built.
Very high resale value. They can be sold ate much higher price even after several years of use.
Enjoy luxury, unique experience with Airstream.
You belong to a community of Airstream owners.
Spacious. Very good living space as they wider.
Cons :
They are costly. Their cost is almost double to comparable trailers.
Overall weight is slightly higher as compared to similar models.
Aluminum body may be subjected to corrosion or rusting if proper care is not taken.
Maintenance is higher as compared to fiberglass RVs
Very Modern features may be missing. Even then, they do remain very competitive.
In Conclusion
When you want a good RV you go with the original. Airstream outlasted the Depression and the Second World War to be one of the best RV manufacturers around.
This is the company all the other RV makers are trying to match or surpass. While all the models for all the manufactures have their good and bad points, you pick the company and model that fits your lifestyle and meets your expectations. Don't forget to look at all the features as some are standard and some are not.
G. Yoganand
A RV enthusiast who spends countless hours researching and learning various things related to RV camping. He believes in spending time doing Outdoor activities.
You Might Also Like
Sours: https://campergrid.com/airstream-vs-other-trailers-scamp-casita-escape-avion-oliver/
OLIVER Travel Trailers better than AIRSTREAM?
.
Vs airstream scamp
.
Casita VS Scamp Why I chose Casita.
.
Now discussing:
.
1283
1284
1285
1286
1287