It's easy to see why property developers are taking an interest in shaping the way people see downtown Spokane's skyline.
Not necessarily by one-upping each other with taller spires of concrete, but instead by offering tenants, residents and the public a view that can only be found at the highest point: the rooftop.
"People like going up there and being exposed to the sun," said Doug Yost, director of real estate investments at Centennial Properties, a subsidiary of the Cowles Co., which also publishes The Spokesman-Review. "With the millennial crowd, younger crowd, you need a place for people to meet that also has things to do."
It's no wonder then that as hundreds of millions of dollars of investment pours into downtown and neighboring areas, one of the check-boxes on some people's lists is increasingly becoming rooftop access.
"If you look at urban buildings in any major area, you'll tend to see rooftop decks as a favored amenity," said Jim Frank, CEO of Greenstone Corp., which has the largest foothold in developing the up-and-coming Kendall Yards neighborhood. "They just cover a wide range of uses."
Here's a look at a few of the rooftops peppering downtown Spokane, some popular, some unknown.
The Saranac Building
The Saranac Building on Main Avenue could easily boast itself as Spokane's "greenest building."Certified with the highest ranking by the U.S. Green Building Council, it has a rooftop garden and large solar panel arrays.
The building looks like it belongs in the heart of Seattle. But it's in one of Spokane's blossoming food and bar corridors, and its rooftop matches the style. The building, which shares spaces with the Community Building, has multiple rooftop spaces available for tenants, featuring tables, chairs and even barbecues.
"Put some dogs on the grill," shouted Warrin Bazile, the building's operations manager, while grilling for a potluck on June 12. "The grill master is here."
Bazile, along with about a dozen other officer workers, stole an afternoon to enjoy the sun and fresh air from the building's second-floor patio area. It's not open to the public, but Austen White, the "maintenance dude" for the building, said people can rent it if they want to.
White takes great pride in the work he puts into maintaining several square yards of garden space blanketing the multitiered rooftop. All of the rain that falls is captured in the basement, where it's reused to water the plants in the drier months.
"None of this is city water," he said. "We capture all of it."
While looking out from the fifth floor, White hypothesized "green" roofs might one day become standard in Spokane.
"You can see the potential," he said. "All of those low-rise buildings would be perfect for these systems."
The Highline Loft Apartments at Kendall Yards
While looking out at the view of downtown Spokane from high above the Centennial Trail in Kendall Yards, property manager Heather Teston remarks how beautiful the skyline is from this angle.
"You don't get this from the freeway," she said.
Which is why she pressured her bosses at Greenstone Homes to add a space at the Highline Loft Apartments usable for all 182 of Greenstone's apartments in the area.
The rooftop space, which also can be rented by the general public, has tables for eating, and chaise lounge chairs for relaxing. There's also a barbecue and even a bathroom so people don't have to leave.
Teston said since the building was built about four years ago the rooftop space has slowly gained in popularity.
"We've had a couple of weddings up here," she said. "People will come up here for Fourth of July. Everything."
She said she hopes in the future they can add other amenities, such as a projector or TV screen for football season, or possibly a fire pit in the winter.
"The only bummer is we only have stairs leading up to it," she said. "But people will bring drinks and stuff and just chill out all day."
The Chronicle Building
"What's up with the gargoyles?" is a question Yost, the director of real estate investments at Centennial Properties, hears often about the rooftop space on top of the Chronicle Building.
When the Chronicle Building converted from office to residential space last year, Yost said the drainage pipes below were failing. So as they were replacing plumbing in the floors below, they decided to update the entire deck.
"We're trying to clean it up, make it more user friendly," he said.
The rooftop, which is available for all office workers in the Spokesman-Review Tower, will also be available to Chronicle residents and will feature all of the amenities residents could expect: tables, chairs and barbecues. He said he'd like to see residents using the space whenever possible, especially to meet new people.
As for the story behind the gargoyles?
"That's a good question," he said. "My understanding is the gargoyles were put there to protect the paper-printing equipment from gremlins getting in there. And it may have worked. To this day, there's never been a missed edition, I don't think."
The Banner Bank Building
Of all the downtown rooftops visible from Google Maps, the Banner Bank Building is perhaps the most noticeable. Not because it's covered in plants, wood structures, or has paintings of giant spiders on it: because it has a fully-functional basketball court.
"It gets used a lot," said Alicia Barbieri, vice president of Goodale and Barbieri, which manages the property.
The court is comprised of hundreds of rubber interlocking tiles laid on top of a thick shock-absorbing mat, so when a game is going on up above, those toiling away at work won't hear the thuds. And it's available for any of the tenants staying in the office space at 111 N. Post St.
It's the brainchild of SRM Development, the company that oversaw the building's remodel in 2008, Barbieri said.
"They just wanted a sport court," she said. "They thought it was a unique feature."
Barbieri said it's not uncommon to see heated games of 1-on-1 and 3-on-3 going on after work. If they last until nightfall, there are spotlights set up around the high fencing, and even a sound system with large speakers wired throughout.
The Paulsen Center's penthouse
The view from atop the Paulsen Center is almost too good to just be office space. In fact, for more than a year, it sat empty as property managers fielded request after request to live there – not work there.
"Probably 90 percent of the calls we get are people who want to rent it as a residence," said Scarlett Stalter, assistant property manager of the Paulsen Center, in a Spokesman-Review story from December 2015.
But today, it's occupied by Bozzi Media, the publishers of Spokane-Coeur d'Alene Living and Catalyst magazines, which moved in February 2016. Before that it was leased by Estate Strategies, which moved to the ninth floor while the building's elevators were replaced.
And before that, it was home to Helen Paulsen, the daughter-in-law of Myrtle Paulsen, widow to mining magnate August Paulsen. Helen Paulsen moved there in 1957 and occupied the space until 2007, when she died.
"It's neat because there's still not many changes to it," Stalter said. "The bathroom still has original fixtures. It's pretty cool."
Local journalism is essential.
Give directly to The Spokesman-Review's Northwest Passages community forums series -- which helps to offset the costs of several reporter and editor positions at the newspaper -- by using the easy options below. Gifts processed in this system are not tax deductible, but are predominately used to help meet the local financial requirements needed to receive national matching-grant funds.
Subscribe to the Coronavirus newsletter
Get the day's latest Coronavirus news delivered to your inbox by subscribing to our newsletter.
Sign up
---
Sours: https://www.spokesman.com/stories/2017/jun/25/here-are-the-5-best-rooftops-in-spokane-city-cente/
Grand Terrace Bar Igloos

Hours:
Winter Igloos | October 28, 2021 – March 2022 (Daily 4:30 – 10PM)
Summer Patio | May – October
Location:
333 W Spokane Falls Blvd, Spokane, WA 99201
Phone:
509-598-4300
Winter Igloos | October 28, 2021 – March 2022 (Daily 4:30 – 10PM)
Igloos will be back for the 2021-2022 season starting October 28th. Reservation link coming soon! 
For a magical evening under the stars, reserve one of our outdoor Grand Terrace Igloos located at The Davenport Grand Hotel. Enjoy charcuterie and appetizers and sip on beer, wine, and signature cocktails served by your private Igloo Butler while taking in views of Spokane's iconic skyline in our luxurious Terrace Igloos.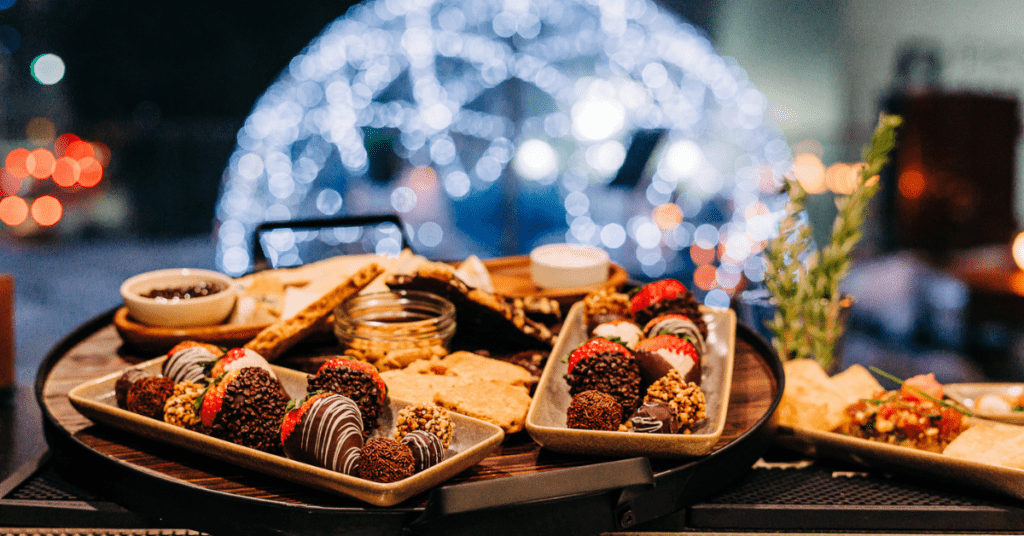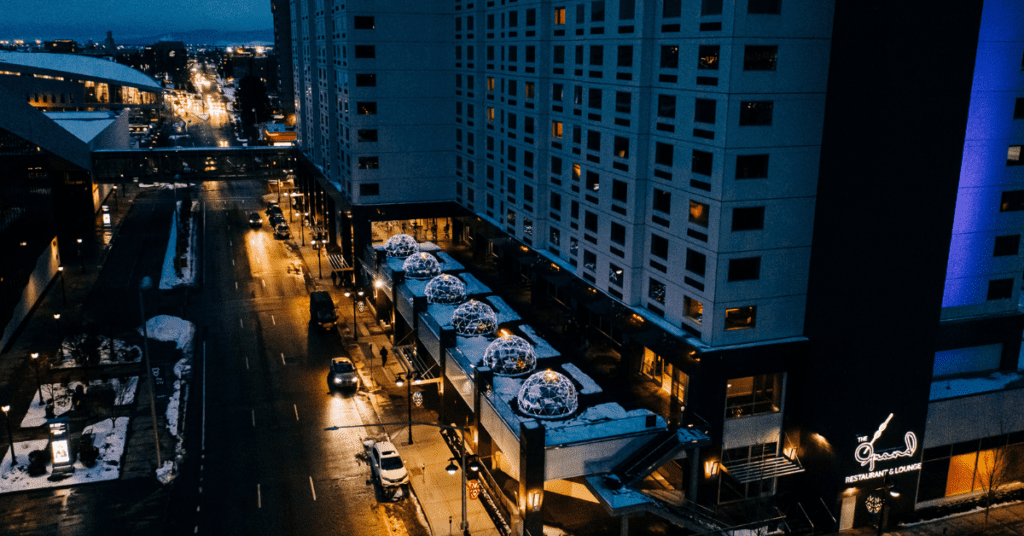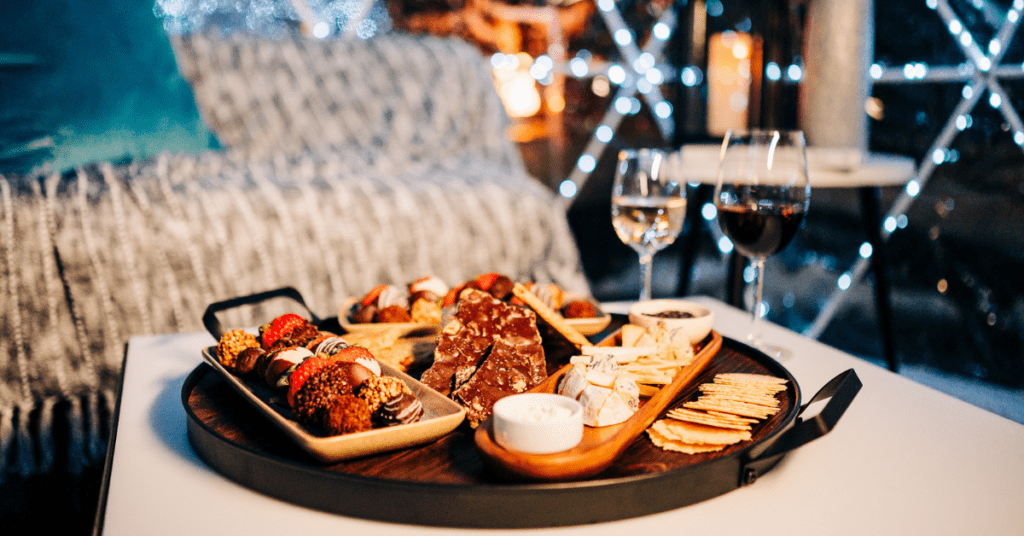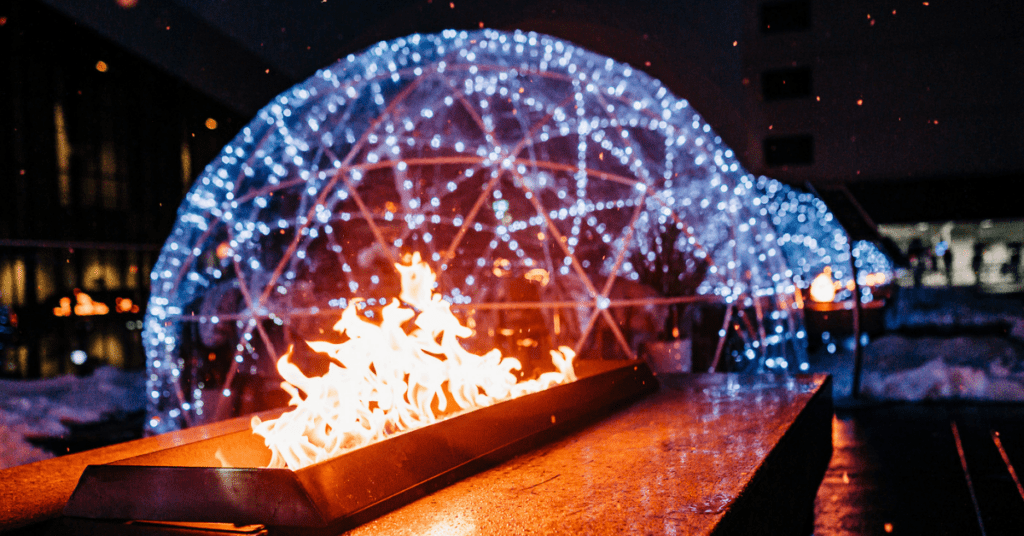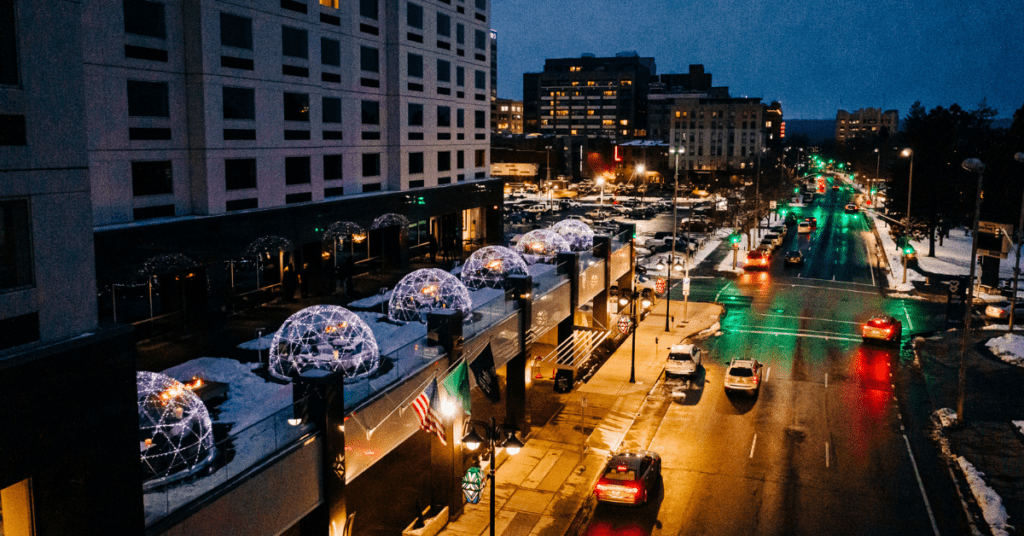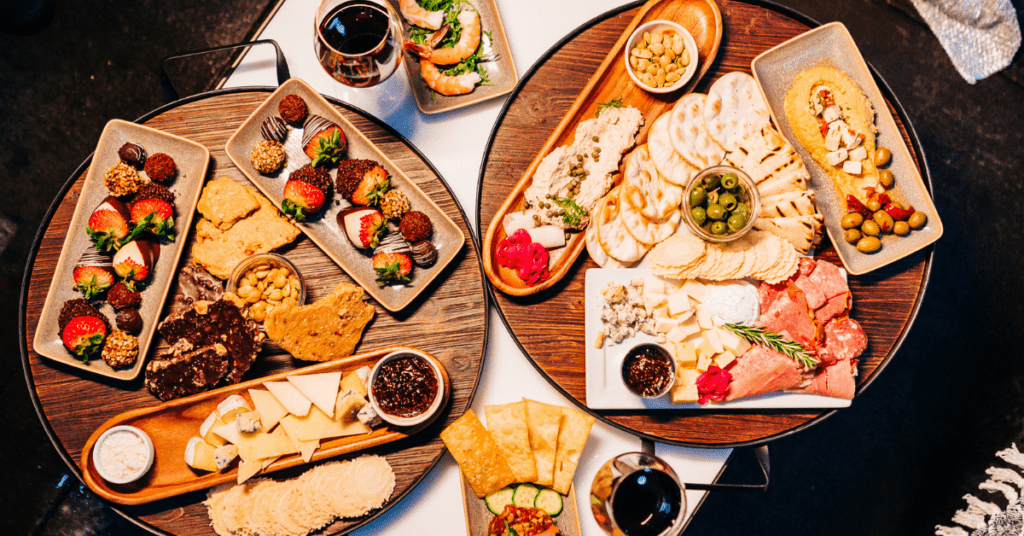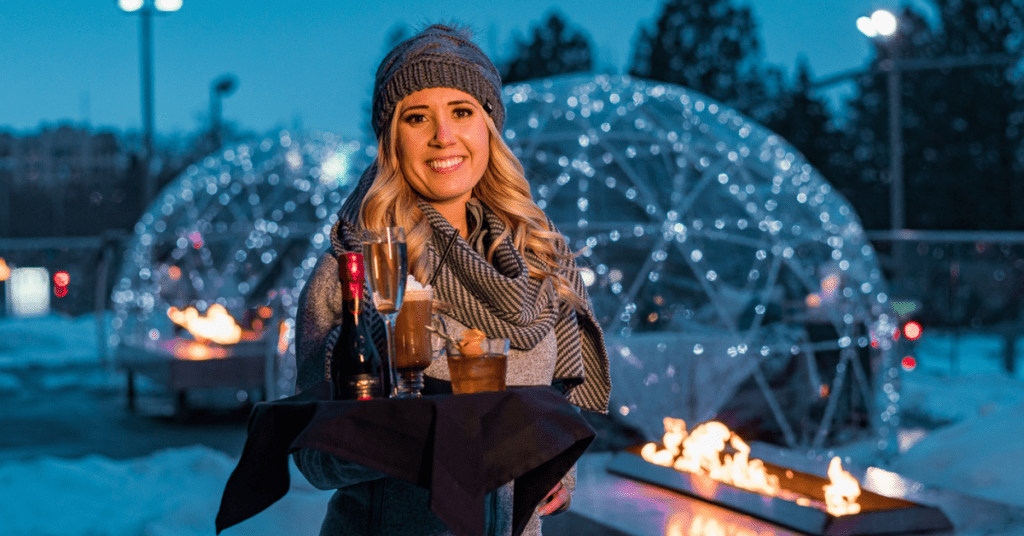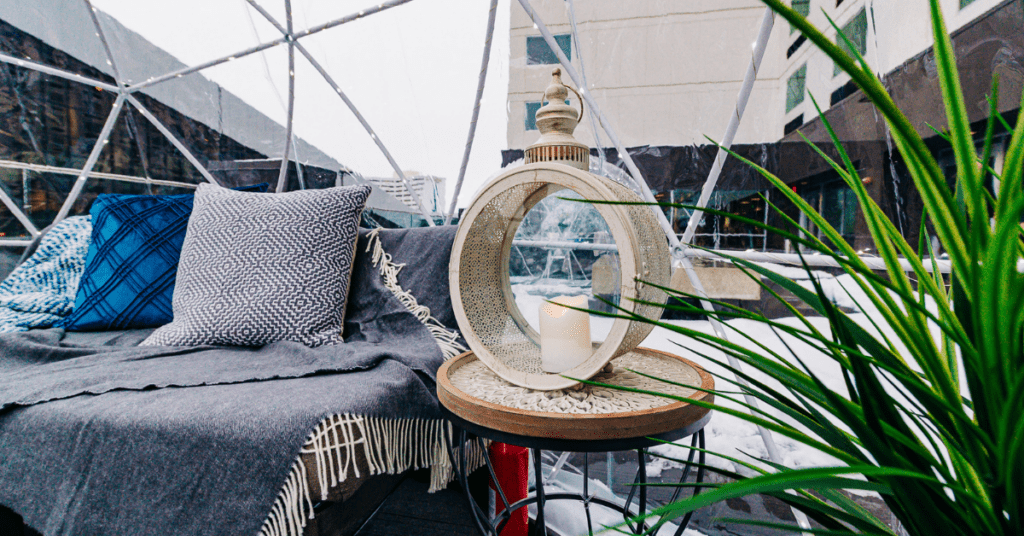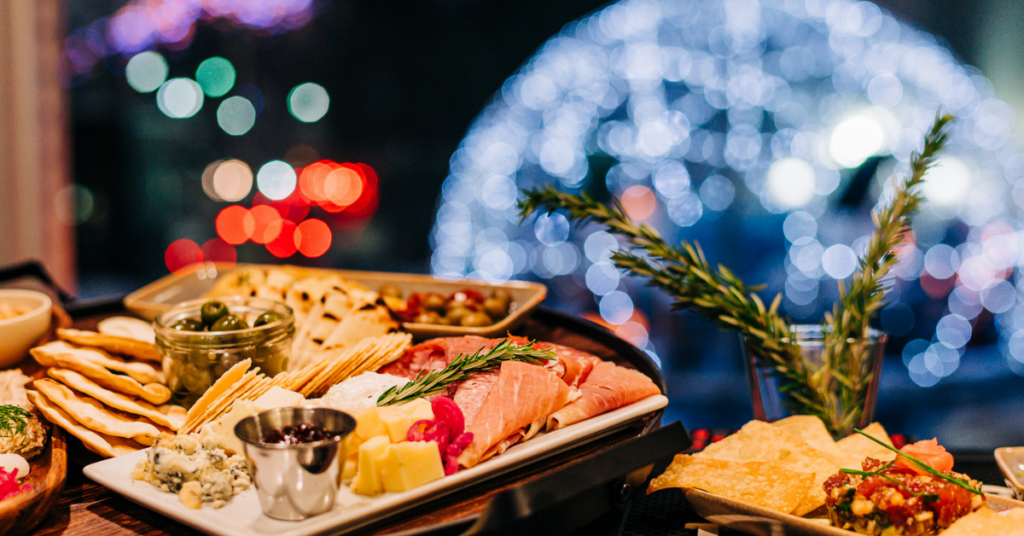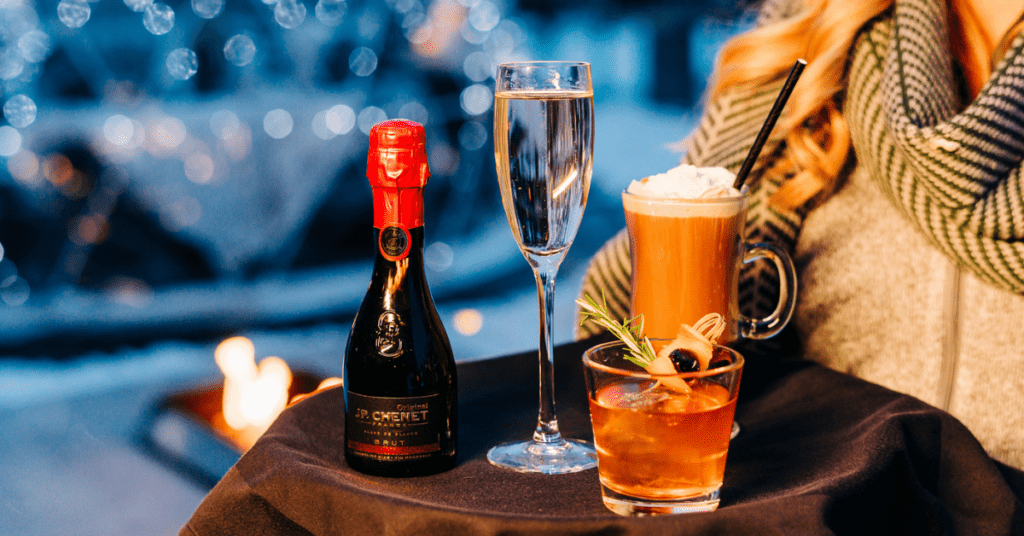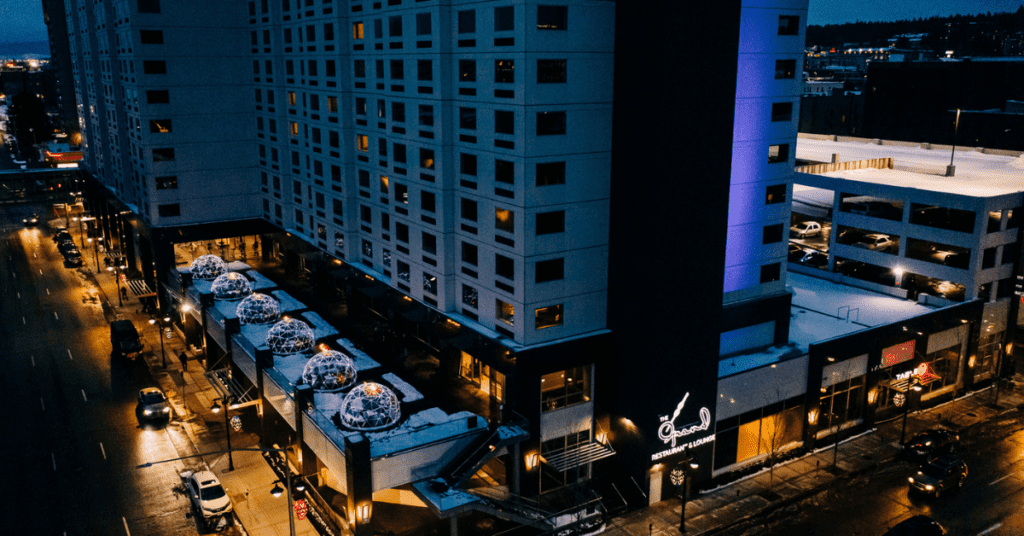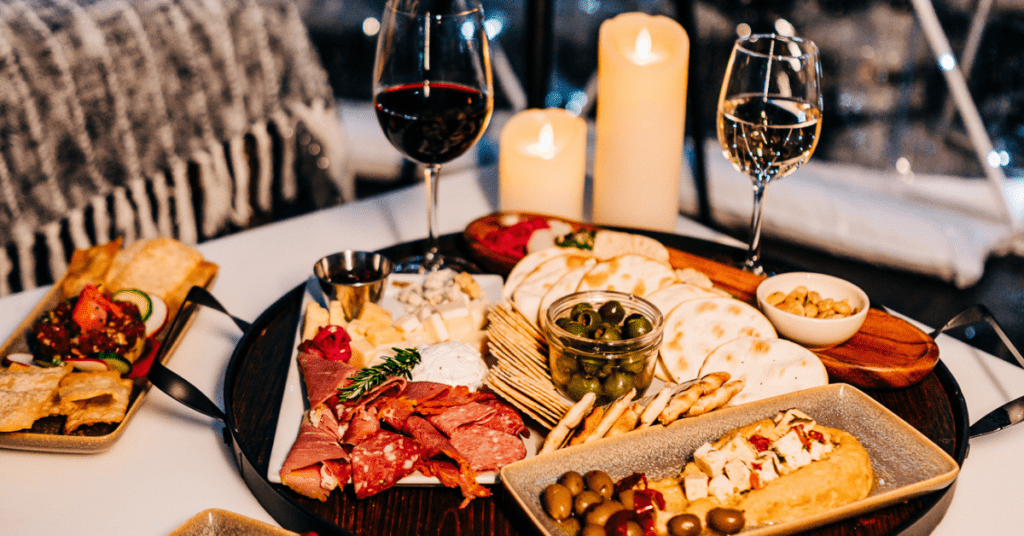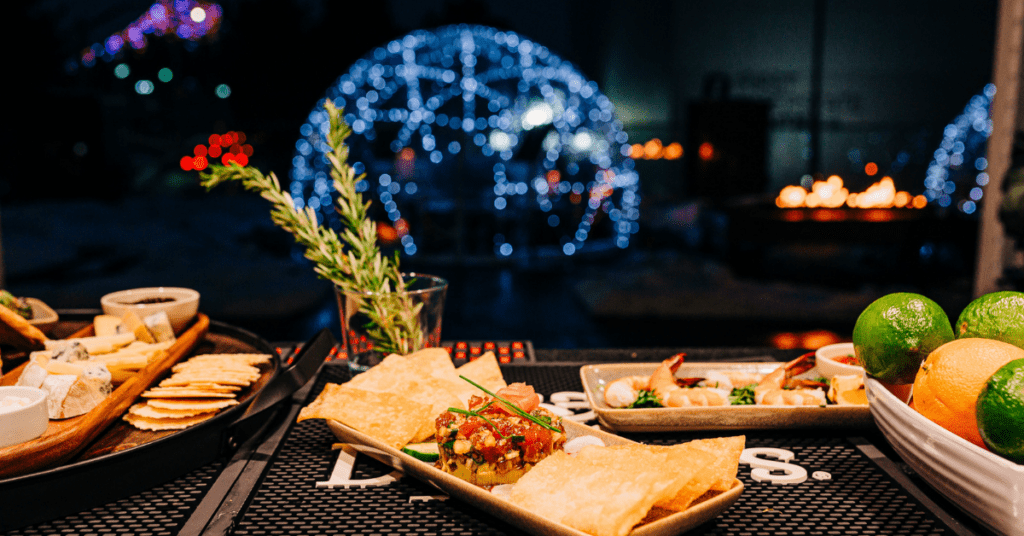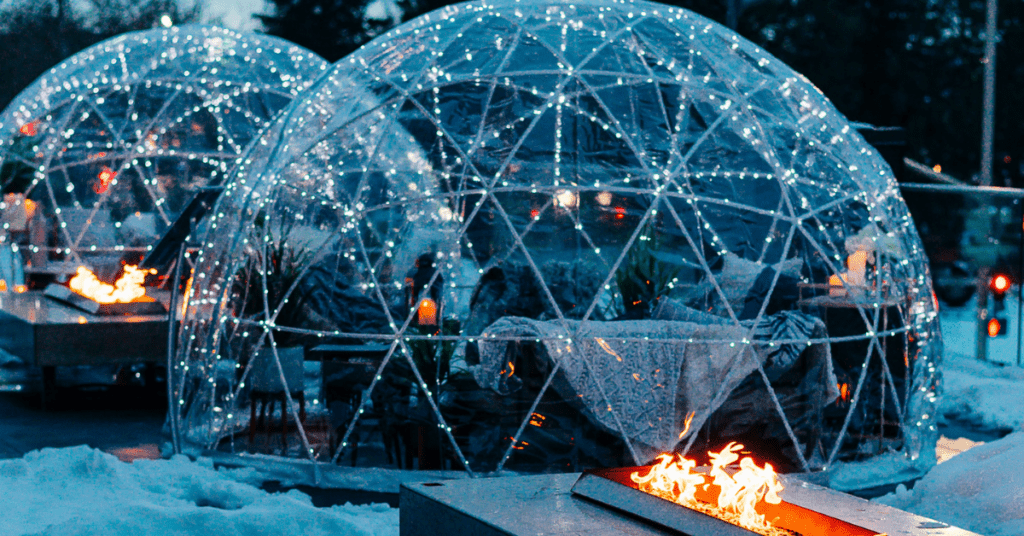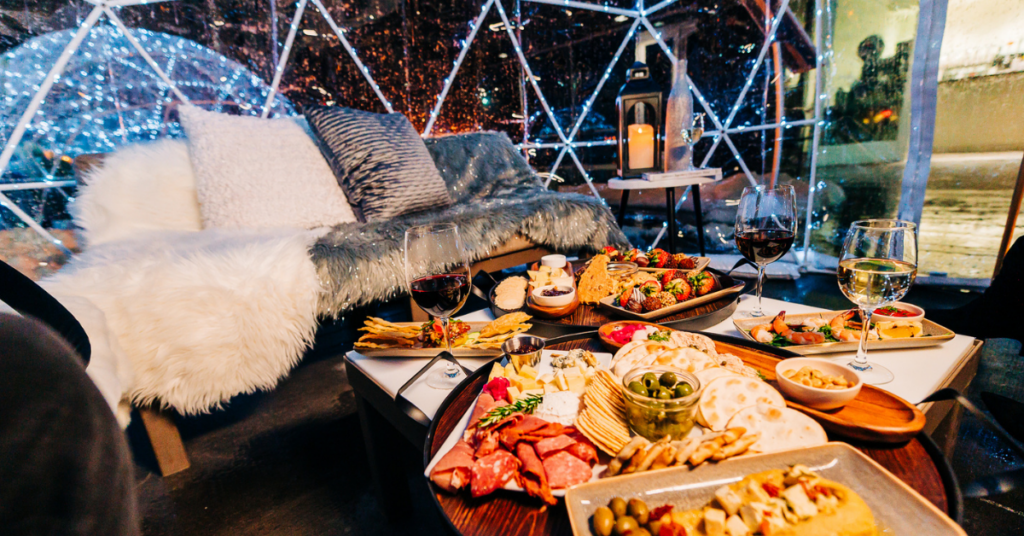 More of Spokane's Best Dining
Whatever flavors you crave, you'll find them at one of the many Davenport Hotels located throughout the city. Diverse and delightfully affordable, everything from fine dining, craft cocktails and a steakhouse to craft beers from our brewery, savory BBQ and a riverside American-style bistro with Northwest flair is waiting for your arrival.
Sours: https://www.davenporthotelcollection.com/davenport-grand/restaurants/the-grand-terrace-bar/
The Roof Garden Terrace Bar (Seasonal)

Hours:
Location:
10 South Post Street, Spokane, WA 99201
Phone:
509-789-6848
Closed for the winter. Check back in the summer!
We're elevating your cocktail experience at The Historic Davenport's new Roof Garden Terrace Bar. Gather with friends while you drink in the views from this rooftop perch. Just one of the many delicious outdoor #davenportdining options in Downtown Spokane, we look forward to having you as our guest soon.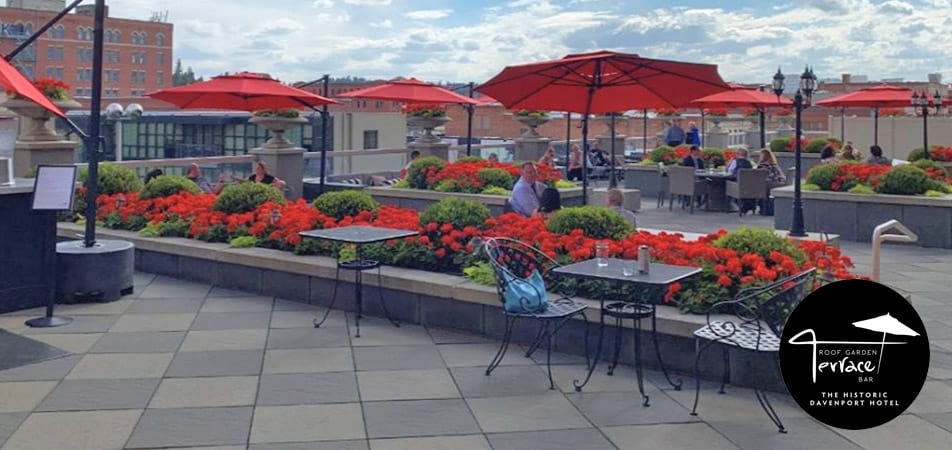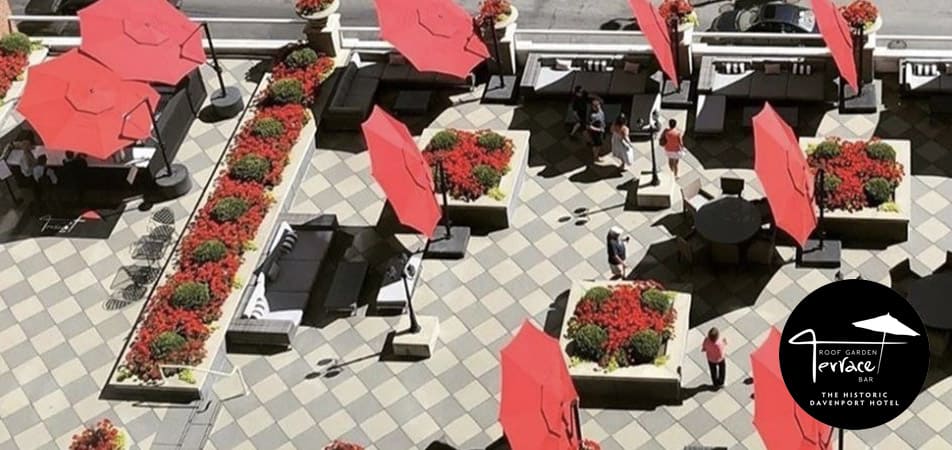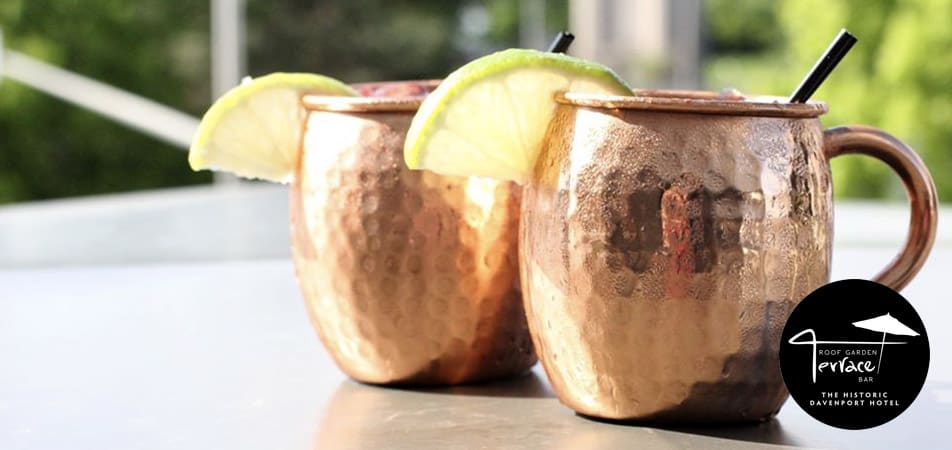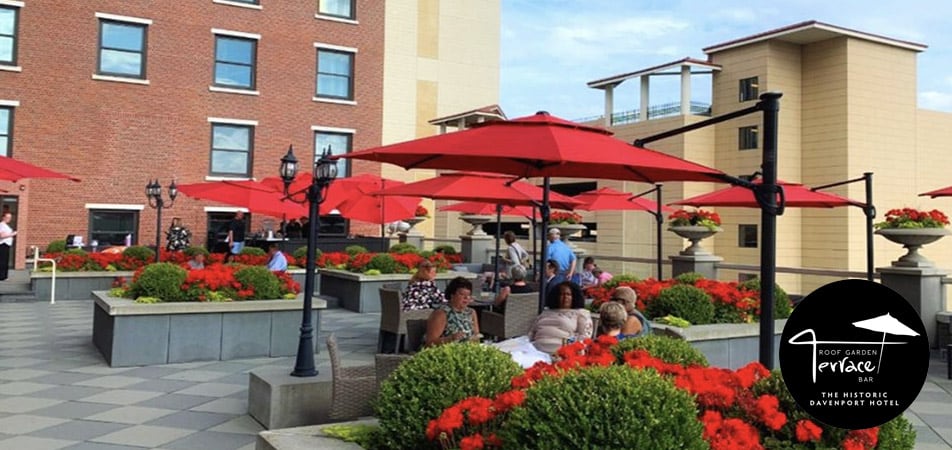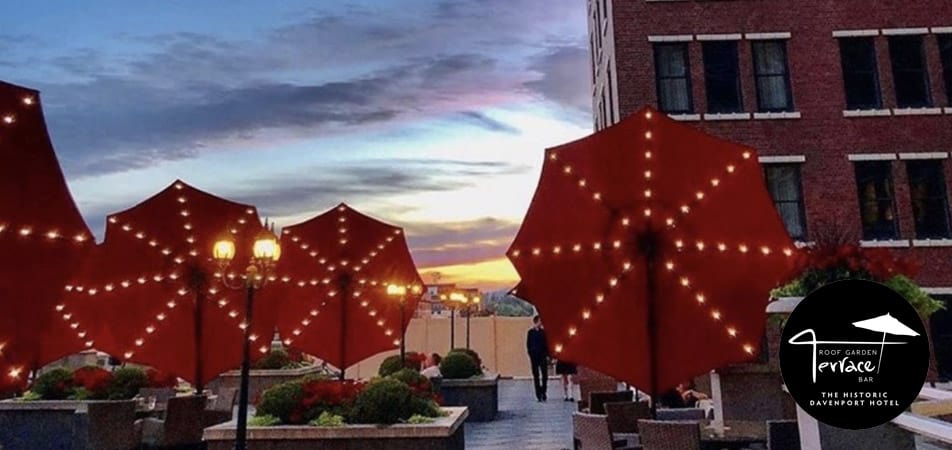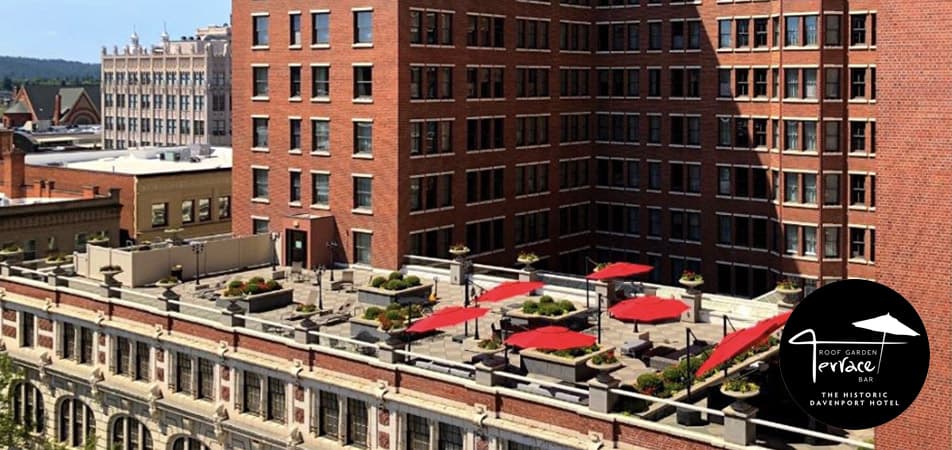 More of Spokane's Best Dining
Whatever flavors you crave, you'll find them at one of the many Davenport Hotels located throughout the city. Diverse and delightfully affordable, everything from fine dining, craft cocktails and a steakhouse to craft beers from our brewery, savory BBQ and a riverside American-style bistro with Northwest flair is waiting for your arrival.
Sours: https://www.davenporthotelcollection.com/the-historic-davenport-hotel/restaurants/the-roof-garden-terrace-bar/
'Rooftop Lounge' - Relaxing Deep House \u0026 Progressive House Mix
Best rooftop bars in Spokane
W
Wanderlog staff
Updated • updatedAug 18, 2021
Many of us are foodies on the Wanderlog team, so naturally we're always on the hunt to eat at the most popular spots anytime we travel somewhere new. With favorites like The Elk, Palm Court Grill Restaurant, and Peacock Room Lounge and more, get ready to experience the best flavors around Spokane.
We scoured through the internet and read through 3 reputable sites and blogs like Time Out Spokane and Downtown Spokane Partnership so you don't have to! We gathered all the results in one place and ranked them by how many times they were mentioned so you know you're getting the best of the best. Just look for the "mentioned by" tags on each place like these:
Curious about the sites we referenced?
---
2Palm Court Grill Restaurant
Bar & grillBrunch restaurant
Upscale American fare, from crêpes to prime rib, served all day in the Davenport Hotel.
The seating spills into the ornate lobby and the eclectic menu features steak, seafood, and a variety of other splendid pasta and dinner dishes. The building's historic architecture and delicious food complement the impeccable service of the Davenport staff. Aside from being a Wine Spectator Award of Excellence recipient winner, The Palm Court Grill also has some famous dishes like the Crab Louis salad.
---
RestaurantAmerican restaurant
Fancy bar at the Davenport Hotel with a stained-glass ceiling for craft cocktails & American bites.
The Peacock Room Lounge has a timeless elegance with a classic style of interior design that showcases the large-stained-glass peacock mural on the ceiling over the bar. Most come for their signature, award-winning double martini's, but others will stay for their sweet tooth fulfilling dessert menu. Open every day at 4 pm, the Peacock Room Lounge is Spokane's classiest cocktail bar.
---
4Steam Plant Kitchen + Brewery
$$$$affordableAmerican restaurantShopping
American restaurant, bar, brewery & event venue in a former steam-generating facility.
---
8Steelhead Bar & Grille
$$$$affordableBar & grillBar
Moody, warehouse-chic destination for burgers, cocktails & whiskey, with couches & a fireplace.
---
9The Onion Taphouse & Grill (Downtown)
$$$$affordableBar & grillBar
This offshoot of a veteran restaurant known for its burgers offers a full bar & other American eats.
---
The Historic Davenport recently opened the Roof Garden Terrace Bar after seeing the success of the Grand Terrace Bar--another rooftop bar with views of Riverfront Park and the clocktower. The Roof Garden Terrace used to have an outdoor pool for visitors to the hotel but, today the patio pavers remain where the bottom of the pool deck landed. This new hot nightlife spot in Spokane opens for the season beginning in May and weather depending will be open through September.
---
13The Wave Island Sports Grill & Sushi Bar
$$$$affordableSushi restaurantAsian restaurant
Airy destination offering lots of sushi rolls, Pan-Asian bites, cocktails & sports on TVs.
---
$$$$affordableBar & grillPub
Brick-walled, kid-friendly tavern offers American pub grub & myriad beers on tap in the Hotel Lusso.
---
16Jimmy'z Gastropub & Red Room Lounge
$$$$affordableBar & grill
521 W Sprague Ave, Spokane, WA 99201, USA
Sours: https://wanderlog.com/list/geoCategory/80442/best-rooftop-bars-in-spokane
Bar spokane rooftop
9 PLACES TO LOUNGE ON A PATIO IN SPOKANE
It's about that time of the year when Spokane evenings become particularly magical. It's right before sunset and that golden hour light shimmers on Spokane like a dream. There's no better way to embrace golden hour than pairing it with good company, good views, and great food. But don't worry, you can actually enjoy these sweet spots at morning, noon, or night!
Here's our rundown of the best outdoor seating spots Spokane has to offer this summer:
CENTRAL FOOD (1335 W Summit Pkwy Spokane, WA // 509.315.8039)
With gorgeous views you can rely on for breakfast, lunch, and dinner, Central Food rises to the top of our list of best patio dining in Spokane. Located in Kendall Yards right above the Centennial Trail and overlooking downtown, Central Food is a go-to summer spot.
Pro tip: After enjoying a Sunday Brunch at Central Food, grab a loaf of their freshly baked bread to go and savor it at home over the week!
2.VERACI PIZZA (1333 W Summit Pkwy, Spokane, WA 99201 // 509.389.0027)
Another Kendall Yards favorite, Veraci Pizza is friendly neighbor to Central Food. This mouth-watering, wood-fired, Neapolitan pizza is great any time of the year, but paired with the captivating summertime views, this place will steal a pizza your heart.
3. THE ELK PUBLIC HOUSE (1931 W Pacific Ave, Spokane, WA 99201 // 509.363.1973)
Whether you're a local or a visitor, The Elk will make you feel right at home with charming neighborhood views. Located in the Historic Browne's Addition, this Public House offers a varied menu of brews and bites. (P.S., If you're a fan of a good Reuben Sandwich, this place is for you).
4. TWIGS BISTRO AND MARTINI BAR (WANDERMERE) (401 E Farwell Rd, Spokane, WA 99218 // 509.465.8794)
A Spokane favorite, Twigs Bistro and Martini Bar offers local and fresh typical American dishes. The Wandermere location boasts a spacious patio along a man-made lake with four waterfalls. Thirsty? Try their guest-favorite Signature Lemon Drop.
5. LUNA (5620 S Perry St, Spokane, WA 99223 // 509.448.2383)
Always fresh, local, and seasonal, Luna offers a stunning fine-dining location. Whether you opt to sit at the open terrace or garden room, you can enjoy natural light along with your meal. Want to learn more about Luna? Here's my rundown.
6. ANTHONY'S AT SPOKANE FALLS (510 N Lincoln St, Spokane, WA 99201 // 509.328.9009)
Situated in the heart of downtown, Anthony's boasts an incredible view of the rushing Spokane Falls and Riverfront Park. Enjoy happy hour daily from 3:00 pm to 6:00 pm and from 9:00 pm to close on the patio of this Northwest seafood restaurant.
7. REMEDY (3809 S Grand Blvd, Spokane, WA 99203 // 509.443.3730)
Looking for a rooftop bar? Look no further. Remedy on the South Hill offers seasonal rooftop and patio seating, and you can even include your kiddos on the fun as they have an extensive mocktail list!
8. NO-LI BREWHOUSE (1003 E Trent Ave #170, Spokane, WA 99202 // 509.242.2739)
Not only does No-Li offer a stacked menu of award-winning beers, but you can even practice your Corn-hole skills on this quaint patio nestled next to the Spokane river. Enjoy a few drinks and eats here while making some sweet summer memories with friends.
9. PERRY STREET BREWING (1025 S Perry St #2, Spokane, WA 99202 // 509.279.2820)
Sweet, Sweet, Perry Street. Featured on the Inland Northwest's Ale Trail, Perry Street Brewing offers a wide range of award-winning light and dark craft beers and fresh, flavorful food. Industrial-style cement flooring complemented with a garage door-style opening to patio seating, PSB boasts a comfortable and friendly atmosphere. Here you can enjoy the charming views of the Perry District, Spokane's newest trendy neighborhood.
To keep this list at a reasonable length, these are just a few of our favorites. Feel free to leave a comment below if you have any honorable mentions to add, we'd love to try them! And if this list brings you somewhere, remember to tell them Spokane Eats sent you.
Share thisFacebookTwitterGoogle+PinterestSours: http://spokaneeats.net/best-patio-spokane/
Rooftop Restaurant \u0026 Bar Music 2021
The Grand Hotel's terrace-top bar opens for the summer season at 4 p.m. Friday.
The Grand Terrace Bar on the hotel's second-floor roof offers views of Riverfront Park and downtown Spokane along with a limited selection of small plates, beer, wine and cocktails.
Bottled beer is $4. Craft beer is $6. Signature cocktails are $12.
Look for the Terrace Sunset with Lunazel, blood orange, cucumber and habanero; the Red Wagon, with citrus vodka, strawberries, mint, lemon and club soda; and The Parkview with gin, St. Germain elderflower liqueur, cucumber, mint and lime.
There are also two kinds of boozy granitas, or slushy frozen drinks. The Sangria Margarita features tequila, lemon, lime, triple sec, cabernet sauvignon and fruit puree. The Key Lime Pina Colada features vanilla rum, pina colada, lime, whipped cream and graham cracker.
Small bites – chips and salsa and hummus with pita bread are cheapest – cost $10 to $16. Share a charcuterie or cheese board for two for $16. Or, try some Chinese-style barbecued pork with sweet hot mustard, pineapple and toasted sesame seeds for $14.
Find the complete menu here.
Hours are – weather permitting – from 3 to 11 p.m. Monday through Friday and noon to 11 p.m. Saturday and Sunday.
The hotel is located at 333 W. Spokane Falls Blvd. Call (509) 598-4200.
On the Web: www.davenporthotelcollection.com.
---
---
Sours: https://www.spokesman.com/blogs/too-many-cooks/2016/apr/27/grand-hotels-rooftop-bar-opens-friday/
Similar news:
.
147
148
149
150
151