Vintage Bicycles
Subscribe to RSS Feed
Budget Bicycle Center has Vintage bicycles from all eras. We sell 1000's of vintage, classic, retro, reproduction, and antique bicycles for the avid collector. If you are looking for a project bike (shop this page) or parts to complete your project, check out our NOS parts for sale pages. If you have a question about your antique bicycle or bicycle parts, we can answer almost any question! Questions?

If you just want to check out some neat bikes in person, our visit our bicycle museum at the used bicycle store located at 930 regent Street. Budget bicycle Center is The largest used bicycle store in the world! Learn more about used bicycles for sale


1973 Schwinn Continental Road Bicycle 24"

Fully overhauled and ready to ride American Schwinn!

CLOSEOUT PRICE$399.00

Your Savings: 20%

1976 Coast to Coast Bicentennial Ladies Bicycle 22"

Highly collectable, patriotic vintage ladies bike!

CLOSEOUT PRICE$449.00

Your Savings: 80%

Tease Lugged Steel Road Bike

Vintage lugged steal road bike from the bike boom era with quality Shimano parts.

Vitus VTT Dural Mountain Bicycle

This is a rare Vitus mountain bike, hand built in France, offers a great ride quality with a mixture of Suntour and Shimano Deore components.

CLOSEOUT PRICE$2,499.00

Your Savings: 32%

1800s Antique Wooden Rim Block Chain Bicycle

Rare antique bicycle with wooden rims and cool accessories!

1890's Men's Wooden Rim Bicycle

An interesting and mysterious 19th century bicycle in surprisingly good condition for its age.

CLOSEOUT PRICE$2,499.00

Your Savings: 40%

1890s Ladies Wooden Rim Antique Bicycle 22"

Amazing collector's piece with numerous antique accessories!

CLOSEOUT PRICE$10,000.00

Your Savings: 50%

1890s New Model Comet Bicycle

Unique early 20th century bike with 28" wheels.

CLOSEOUT PRICE$2,499.00

Your Savings: 34%

1900 Pope Mfg Columbia Shaft Drive Chainless Ladies Bicycle Frame 22"

Rare chainless ladies frame for your collection or restoration project!

CLOSEOUT PRICE$299.00

Your Savings: 65%

1900's Steel Men's Bcycle

Antique lugged steel bicycle from the late 19th century.

CLOSEOUT PRICE$1,599.00

Your Savings: 54%

1917-18 Harley Davidson Bicycle (M)

1917-18 Harley Davidson Bicycle
1918 Mead Ranger Superbe Bicycle
Early 20th century lightweight bicycle from Mead.

CLOSEOUT PRICE$1,999.00
Your Savings: 43%

1918 Mead Ranger Truss Bridge Bicycle 22"
Amazing rare collector's antique begging to be restored. Includes original 1918 catalog!

CLOSEOUT PRICE$1,999.00
Your Savings: 33%
1920's Montgomery Wards Hawthorne Flyer Bicycle
Antique motorbike style bicycle with unique tool tank, metal clad wood rims, and New Departure hub.

CLOSEOUT PRICE$1,999.00
Your Savings: 33%
1920's Rambler Junior Roadster Bicycle
Antique Rambler bicycle with 28" metal clad wooden rimmed wheels and New Departure hubs.

CLOSEOUT PRICE$1,999.00
Your Savings: 48%

1920's Rex Cycle Works Motorbike Bicycle
Antique motorbike style bicycle from Rex Cycles likely built by Schwinn.

CLOSEOUT PRICE$1,499.00
Your Savings: 57%
1920's Schwinn Excelsior Bicycle
Early 20th century Schwinn in great condition!

1920's Vim Bicycle Co "New Model" Bicycle
Antique 28" wood rimmed motorbike style bicycle from Vim.
Sours: https://budgetbicyclectr.com/vintage-bicycles-for-sale.html
Reid City bike - Vintage Ladies Classic
Frame
Custom steel REID
Fork
Steel
Shifters
Shimano Thumbshifter
Rear derailleur
Shimano Tourney
Freewheel / cassette
Shimano 7-speed freewheel
Chainset
REID 42t steel chain pliers
String
KMC
Bottom bracket
Sealed bearing
Brakes
Promax double pivot calipers
Brake levers
Promax alloy comfort levers
Wheel rim
REID double wall alloy
Hubs
Bolted REID alloy
Tires
Whitewall 700 x 32C (26 "x 42cm)
Handlebars
REID Vintage Alloy Curved Style
Rod
Promax alloy fork stem
Handles
REID stitched vintage leather look
Saddle
Tanned women's comfort comfort saddle
Seatpost
25.4mm steel
Pedals
PVC platform, 9/16 "steel axle
Accessories
Chain guards, luggage racks, mudguards and crutches
Weight 
14 kg
Sours: https://www.velo-urbain.ca/en/city-bike-vintage-ladies-classic.html

Karen SilasShopping for a women's bike with a basket for 2021? Here are the best ladies bikes with a basket, both modern and vintage look cycles.
Getting good exercise is even more essential these days, and one great way to get outside AND get moving is cycling. But let's face it – some of us just aren't into bikes that look, well, too sporty, which accounts for the popularity of bicycles with a flowers-and-baguette-in-your-basket vintage vibe.
MORE: 5 simple tips to boost your confidence on a bike
That's why we've put together an edit of the best ladies' bikes with baskets, PLUS some of our favourite bike baskets and accessories.
Women's bikes with baskets: Get inspired!
When it comes to both style and practicality, you can't beat a women's bike with a basket to carry everything you need. We love the vintage style bikes with baskets inspired by Audrey Hepburn, and Anne Hathaway showed how it's done in modern sophistication when she was spotted on set riding a mountain bike with a basket in the streets of New York City.
RELATED:14 benefits of cycling that will make you want to invest in a bike
A new bike is in order whether it is for fun, to get into shape or to use for a socially-distanced commute. Above, Anne Hathaway cycles on set in NYC
It's important to remember that not only are bikes great for exercise, but they're also a great independent mode of getting around that can lessen your time on crowded public transport when you're headed to school or work daily – something that's definitely a plus as social distancing measures will likely be in place for some time.
In fact, in honour of 2020 Bike Week last year, insurance company Urban Jungle revealed that there was a big uptick in people cycling since the pandemic began, with insurance enquiries up 60 percent year on year.
GET FIT: Best cheap treadmills of 2021: Exercise at home without going to the gym
So are you ready to get cycling in style? We've rounded up our favourite ladies' bikes with a basket, and keep scrolling for some great baskets, from pet carriers to retro wicker styles, to add to your bike if you already have one.
Best bikes with baskets for ladies - £350 and under
ROADSTER: Elops 520 City Bike, £299.99/$599, Decathlon
SHOP NOW
If you're looking for an affordable ladies' bike with a basket, Decathlon's 6-speed roadster has a 4.5-star rating, comes in three colours and costs less than £300.
CRUISER: Sunrise Cycles Women's Spring 6-Speed Bike, £324.99, Amazon
SHOP NOW
One of Amazon UK's top-selling bicycles in the Comfort & Cruiser Bikes category, this Sunrise Cycle 6-speed includes a rear pannier rack and wicker style basket on the front.
HYBRID: Cross Lotti Bike, £199.99, Argos
SHOP NOW
The reasonably-priced Cross Lotti bike from Argos looks great because of it's vintage style and pastel colour, but it's also a great basic bike with a lightweight frame, six Shimano gears and a rear pannier.
Kent 26" La Jolla Cruiser Bike, $250
SHOP NOW
If you're looking for a cheap but cute bicycle, the Kent La Jolla Cruiser, which also comes in a 24" version for kids, is one of Walmart's top rated ladies bikes with a basket.
Aurai Trekker Ladies Heritage Bike, £219.99, Amazon
SHOP NOW
This amazing value bike is a good option for a smaller budget. The cream design gives it a classic look and it boasts chic colour-coded mudguards and a half-closed chainguard.
Best ladies bikes with a basket - £350 and up
HYBRID: Pashley Princess Sovereign 8 Speed Womens Steel Hybrid Bike, £944.99/$1,495
SHOP NOW
With it's 1920s-style design, it's hard to find a more classically stylish bike than the Pashley Princess. Despite it's vintage look it has decidedly modern specs, from the light handcrafted steel frame to the eight wide-ratio hub gears.
HYBRID: Pashley Britannia 5 Speed 2021 Women's Steel Hybrid Bike, £824.99/$1495
SHOP NOW
A Pashley women's bicycle with decidedly retro vibes, the Britiannia is the bike brand's tribute to British heritage. Prepared for a great ride, rain or shine, this cool red hybrid features a chainguard, mudguards and weatherproof hub brakes and gears.
HYBRID: Liv Flourish I 2021 Ladies Aluminium Hybrid Bike, £698.99/$610
SHOP NOW
Liv is a cycling brand "created by women, for women" – and we love the features and design of their women's bikes. The Liv Flourish I hybrid has a lightweight ALUXX aluminium frame and will take you from city streets to country roads in style.
HYBRID: Willow Retro Bike with Basket, from £575, Raleigh
SHOP NOW
You'll be hard pressed to choose a colour of the Willow bike from Raleigh, as they're all so Instagrammable; bronze, cherry red or pink, pictured. It has all the classic styling of a vintage bike, including stand and basket, with the workings of a high-tech cycle.
Best electric ladies' bikes with a basket
ELECTRIC: Powabyke Budget City Shopper, £697, Electric Rider
PRE ORDER
If you want to move away from the vintage look, here's an easy e-bike with a low step-through frame, 250W motor and front LED light and electric horn for safety.
ELECTRIC: Creme Eve 'E7 E-Bike, £2,599.99, Electric Rider
SHOP NOW
This cool electric urban cruiser might look retro but it is truly modern, equipped with Shimano's new E5000 motor. In addition to the bike's carrier basket, more handy features in include front and rear lights, a bike stand, bell and rear rack. The bike comes in two colours, Evening Sky, pictured, and Silver Mist.
Best bicycle baskets
If you already own a bike, add a wicker, wire or canvas basket to tote everything from your groceries to your pet!
PedalPro wicker bicycle basket, £9.99, Amazon
SHOP NOW
Barkbay bicycle pet carrier, £59.99, Amazon
SHOP NOW
The PedalPro is Amazon's #1 bestseller
PedalPro mesh bicycle basket, £8.99, Amazon
SHOP NOW
KLICKfix drawstring basket, 9 patterns available, from £50.98, Amazon
SHOP NOW
Best bicycle accessories: a checklist
Once you've got your bike and basket sorted, you'll need the kit too! Check out these accessories and safety gear below.
1) Cycling helmet
Using cutting edge technology, this one-size-fits-all helmet using a unique Enkayse liner so that you can use time and time again despite any bumps you might get along the way, while it is recommended that you should replace standard helmets after one knock. The helmet is available in a variety of different colours, or you can design your very own unique helmet, where you can choose any colour and add any pictures or text you fancy.
Hedkayse helmet, 18 colours and patterns available, £150, Hedkayse
SHOP NOW
2) Waterproof pannier bike bag
There's nothing worse than arriving at your destination with a clammy back, which is why you might want to invest in a pannier. This waterproof bag is perfectly designed to carry your everyday items, and comes in three colours.
Waterproof pannier bike bag, £24.99, Decathlon
SHOP NOW
3) Pannier Rack
Of course, you'll need a rack to fit your new bag on too! This sturdy rack easily attaches to the rear of your bike.
Pannier rack, £28, Halfords
SHOP NOW
KEEP READING: The most brilliant photos of the royals on bicycles that you've ever seen
Most popular ladies bikes with a basket
These bikes are on our must-shop list, but have unfortunately sold out! Keep checking back, or click to check stock or, when possible, sign up for the retailer's mailing list.
HYBRID: Cross Lady Beth Bike, £159.99, Argos
You can't beat the price on this budget women's bike with a basket. The six-speed heritage bike has mudgards, an adjustable seat and rear pannier holder and reviewers rave about this affordable bicycle, with 91% of buyers recommending the Lady Beth.
SHOP LADIES' BIKES AT ARGOS
HYBRID: Pinnacle Californium 1 2020 Women's Hybrid Bike, £350, Evans Cycles
Also available in black, this bicycle has a retro style but with all the modern details you'll need, from Tektro 810C dual pivot caliper brakes to a lightweight aluminum frame.
SHOP PINNACLE AT EVANS CYCLES
HELLO!'s selection is editorial and independently chosen – we only feature items our editors love and approve of. HELLO! may collect a share of sales or other compensation from the links on this page. To find out more visit our FAQ page. This article has been updated with amended price details.
Sours: https://www.hellomagazine.com/healthandbeauty/health-and-fitness/2020052890529/ladies-bikes-with-basket-hybrid-mountain-bicycle/
VINTAGE PEUGEOT BIKE REVIEW - BIKES - REVIEW
Retro Bikes in Australia
At Ivanhoe Cycles, we are passionate about cycling and are home to a large range of retro bicycles. The retro bikes are timeless and well known for offering superior performance. We are confident that you will be able to find the right retro women's bike for you. Browse through our range today!
Women's Vintage Bike
Retro ladies bikes never go out of fashion and we are here to change the way you ride in style. Our bikes emphasize comfort and style - The perfect choice to complement your cycling journey across modern cities. The retro bikes bikes are simple, practical and the ideal choice for both seasoned riders and beginners. Whatever your cycling experience, you will surely find a retro or vintage bike that appeals to you. Check out the Malvern Star and [XDS]](https://ivanhoecycles.com.au/categories/retro-bikes?q=&%5Bprice%5D%5Bprice_range%5D=50&%5Bprice%5D%5Bmin%5D=&%5Bprice%5D%5Bmax%5D=&traits%5Bbrand%5D%5B%5D=XDS)
Visit us in instore and speak to our inhouse experts, or call us at the local store near you.
Sours: https://ivanhoecycles.com.au/retro-bikes
Bikes ladies retro
Classic Ladies' Bikes

Timeless ladies vintage bikes should combine comfort and style, and we've got the measure just right. You'll stand out from the crowd on our vintage look bikes which take popular styling features from the past and mix them with top quality components from the present.
Our vintage ladies bikes enable the rider to sit in a more upright position, helping you to view more of your surroundings and be immersed in your environment. Designed and developed in Nottingham, every inch of the Raleigh vintage range is carefully considered to ensure the best quality and design possible.
Learn More
We offer 0% finance options on all our vintage ladies bikes. From your nearest Raleigh stockist, pick up your new ride using our click and collect service, or take us up on our free UK delivery. Check out our bike knowledge articles for more information on choosing and looking after your bike and see our cycling advice articles for guidance for getting the most out of it.
Sours: https://www.raleigh.co.uk/gb/en/bikes/ladies-bikes/classic-ladies-bikes/
Top 8 Retro Style Bikes For 2021 Exterior and Interior
Affordable, Vintage-Style Bicycles: What's Around Today?
There is nothing more satisfying that cruising on a beautifully restored vintage style bicycle. A true throwback beauty is classic, timeless and gets tons of looks.
The only problem? A genuine vintage or antique bicycle costs a fortune these days!
Table could not be displayed.
We've already looked at ways to find a vintage bike to repair, and how to spruce up its looks without busting the bank.
If neither of those methods work, you might consider a new bike with old-school looks.
Top Three Vintage Retro Style Bicycles
Old is actually new
If you're a fan of vintage style bikes like me, but you have a limited budget, you are in luck. This style is crazy popular and brands are paying attention. There are many beautiful rides available in a gorgeous vintage style, except they're brand spanking new.
Mimicking the lines and features of cycles from days gone by, old style bikes are making a real comeback. It makes sense: people long for a time when life was simple, when carbon fibre and cell phones didn't exist, and when a bike frame had a classic geometry and minimalist good looks.
Here's the problem: because the retro style bicycle frame is so popular, everyone and their dog is jumping on the bandwagon, including lousy manufacturers.
The difference between a home run and a strike? It's all in the details!
This article will be taking a close look at a handful of my favourite vintage-style bicycles for sale today. Primarily, I want to point you to a few rides that are not only good looking, but beautifully functioning too.
So What Defines a Classic Style Bicycle Anyway?
Vintage, classic and retro styles all sort of bleed into one another, especially in the case of the bicycle. There are a lot of different bikes that market themselves in this niche, but they don't all reflect a truly antique silhouette.
So what constitutes a truly retro-styled bike?
Urban / Commuter Use: The original safety bicycle featured a simple diamond frame and was built for general use. That trend actually continued up until fairly recently. There weren't as many purpose-built types of cycles (such as mountain, road, cyclocross, etc), and unless you were a racer you likely sported a standard ride.For that reason, most vintage styled bikes these days are built and intended for commuting and urban riding; if you're hoping to ride trails or race, you're out of luck.
Upright Riding Position: Most classic, old style bicycles had an upright and comfortable riding position; they were intended to get you around town. Most classically-inspired bikes will therefore have a similar stance.One exception is the path racer style, which was the antique equivalent of the modern road bike. These have a more aggressive riding position and low swept handlebars. Path racers are also making a comeback.
Function and Form: In its early years, the bicycle was more utilitarian than it is today. Not everyone could afford a car, so a bike was a simple, cheap and effective means to get to work or grab groceries.Most vintage style bicycles for sale today will therefore feature a lot of functional accessories: integrated baskets and racks, built-in headlamps, and chain guards to keep your nice work clothes from getting greased.
1) sixthreezero Ride in the Park: A stylish yet cheap vintage-style bicycle for sale:
[div class="littlebox"]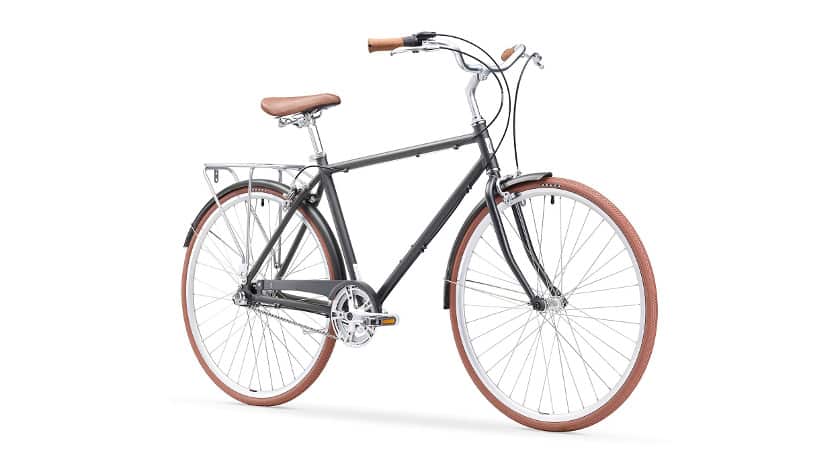 sixthreezero Ride in the Park Men's City Road Bike with Rear Rack
[end-div]
The sixthreezero Ride in the Park is an extremely affordable vintage style bicycle that also looks pretty great. It's not a replica vintage ride and thus it features some modern elements, but the price tag is so low it makes it an affordable, worthwhile choice for vintage enthusiasts.
Let's get into the details. The aptly named Ride in the Park has a traditionally shaped diamond frame that's intended for an upright riding style. It's the perfect shape for a path racer conversion.
Frame:
The frame, fork, and downtube are made out of strong and lightweight aluminum. It's very durable, though a tad heavier than I expected (though not so heavy as to be annoying).
The frame welds are pretty excellent for the price point. It's not a lugged frame, but it still pulls off that retro feel, despite the matte paints. It's a clean-cut frame that will get you some looks.
Shifting & Brakes:
As for shifting and braking, this bike comes with a Shimano Nexus 3-speed internally geared hub, or a 7-speed version with a standard derailleur. The Nexis is a particularly nice hub that shifts quite smoothly, and you can even shift gears on a hill.
Three speeds isn't a ton, but unless your ride takes you over lots of hills, it's sufficient for most commutes. If you're concerned, go for the seven. The shifter for both is a grip-twist style.
It includes caliper brakes on the front and back. When nicely tuned and paired to the machined sidewall rims, this bicycle stops reassuringly.
Details:
The bike is nicely decked out with accessories. There is a simple chain guard which really gives the ride a vintage appeal. There are front and rear fenders, and the seat tube is drilled to accept a bottle holder. The other thing I'd change right away is the vinyl saddle. This is a vintage-style bicycle that would look a lot better with a leather Brooks saddle or something similar. That's just me.
Other details worth noting: The bicycle runs on colorful hybrid tires, and the wheels feature sealed cartridge bearings, so they spin quite well. Oh, and it comes in a Dutch step-through frame style as well.
On the whole, I'd consider the Ride in the Park to be a good vintage-styled bicycle for sale, with the understanding that it needs one or two simple upgrades in order to be a true show-stopper.
2) Raleigh Prim: Among the Best Vintage-Style Bicycles for Daily Use
[div class="littlebox"]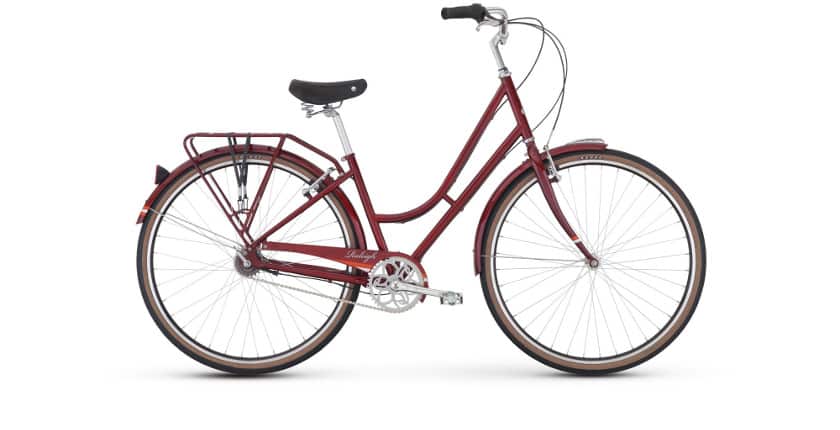 Raleigh Prim Women's City Bike, 3-Speed
[end-div]
For anyone who's looking for a retro inspired bicycle with tons of usability, I'd point you towards the Raleigh Prim. It is a gorgeous yet practical bike with classic lines and modern accoutrements. Raleigh's a great company, and as a result the build quality is quite good.
Frame:
The frame is a classic step-through style, with prominent vintage features. This bike is a stylistic nod to the classic, vintage Dutch bicycles of days gone by, and they do a hell of a job, I really like it. The frame lines draw the eye and create a strong visual interest; you're sure to get tons of comments and looks.
The frame is made out of high tension steel. It's not quite as light as aluminum, but it is very strong.
Shifting & Brakes:
The Raleigh Prim has a 3-speed Nexus rear hub, which gives you a good gearing range for most types of riding.
Like most 3 speeds, it's not the best choice if you live somewhere that's extremely hilly. However, it will work well for most commutes. The Nexus allows you to shift at a standstill, and it's practically noiseless.
It features fairly rudimentary linear pull brakes on the front, and a coaster brake on the rear. They combine to get the job done.
I should mention that this bike has 700 x 35c tires, which are generously wide and capable of tackling some light trails.
Details:
A prominent feature in this inexpensive vintage style bicycle is the chain guard. Chain guards were popular with classic European and Dutch-style bicycles. It's a gorgeous little addition that makes the bike look expensive.
It's also practical, preventing dirt and water from reaching the chain and reducing its lifespan.
My favourite thing about this bike? It includes a rear luggage rack. It is removable and optional, but why wouldn't you keep it? It gives the bicycle even more vintage flair, and it's eminently practical. Pop a basket on that front rack and you're really ready to shop.
What would I change? The vinyl saddle is fine but I'd swap it out for a leather one. I'd also definitely get a good basket or wood storage crate for the front.
On the whole, however, this is a very ridable bike right out of the box. Raleigh offers many vintage-style bicycles for sale for a very good price point, and they're all worth a look.
3) Critical Cycles Beaumont: A Modern Bicycle with Vintage Flair
[div class="littlebox"]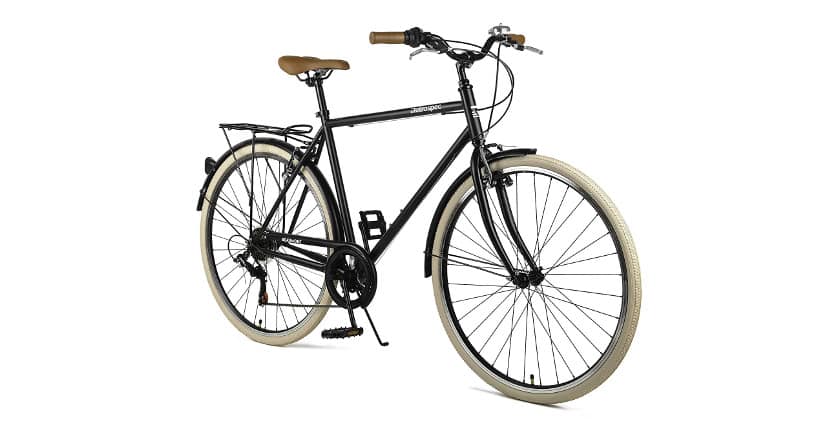 Retrospec Critical Cycles Beaumont Vintage-Style Bicycle, 7-Speed
[end-div]
If you're hoping to find a few vintage style city bicycles with a wider range of gears, you're in luck.
While many have internal hubs limiting them to 3 gears (to maintain a clean chainline), there are quite a few good models that combine classic good looks with a modern derailleur system and many gears.
The Critical Cycles Beaumont is a beautifully minimalist ride with loads of potential for you to customize it. Don't let the simplicity fool you: this is a well equipped bicycle.
Frame:
It has a strong diamond frame constructed of high tension steel. This frame is available in a bunch of different colour combos.
Additionally, it's available in both a male and female frame, the only difference being size and the dropped top tube for the ladies' model.
Despite its throwback looks, it is a fully modern cycle. It has 700c aluminum alloy wheels, which fit a pair of generous 35c tires. You could size up or down a little bit based on your tire preferences.
Shifting & Brakes:
It utilizes front and rear linear pull brakes (V-brakes), which stop the bicycle nicely when they're properly tuned.
The rear derailleur is a pretty basic and common Shimano Tourney, with seven speeds to choose between. It's not exactly high end, but it does the trick.
The shifter itself is a Revogrip Shimano twist. The seven gears give you a ton of versatility, especially if you live in a hilly city.
Details:
The Beaumont includes front and rear fenders, and a rear luggage rack. The rack is removeable, but I think it augments the vintage appeal. Plus it's practical.
The saddle is vinyl, but it does a decent job of mimicking a classic leather seat. I would probably upgrade the saddle and the shifter eventually if you have the funds. I'd also suggest repositioning those handlebars down as far as possible in order to give it a more sporty look.
Probably the greatest advantage is price. This bike, and most other Critical Cycles, are cheap. On the whole, the Beaumont is one of the best vintage-style bicycles for sale today.
Old Style Retro Bikes: Warning Signs and Stuff to Avoid
While I'm pretty excited that the classic bicycle frame geometry has made its way back into the public consciousness, I'm also a bit concerned by what I've been seeing.
Sometimes flash and dazzle is used to snag buyers who don't really know what to look for. It's sort of like buying a fancy looking mountain bike from a department store: it looks impressive, but for any real off-road riding, it's trash.
The same is often true with vintage-inspired affordable road bicycles of all types. The frame and paint job are used to mask shoddy components and poor fit and finish.
Here are a couple of things to be wary of while you're hunting for the perfect fit.
Component Quality: It's a important thing to be aware of. Are the components brand name, or are they nameless? Are the components made primarily out of plastic or metal? What kind of metal? These are all indicators of the quality of the components. If you aren't sure, ask a friend in the cycling world to give it a look-over before buying, especially if you're making the purchase online.
Frame Material & Weight: In most cases, your frame will be made of one of two materials: steel or aluminum alloy. Steel is heavier and cheaper, and aluminum alloy is lighter but more expensive. Why does this matter? Weight is a subtle factor in your riding enjoyment. A heavier bike takes more effort to pedal. Don't believe me? Take a spin on a $3000 carbon road bike and tell me you don't notice a difference!
Best Retro Bike Reviews: The FAQs
What are the best retro bike brands?
BMW
Yamaha
Kawasaki
Bianchi
Suzuki
Cinelli
Honda
De Rosa 
Does Honda make a retro bike?
As one of the oldest brand names in the market, Honda remains a good source of affordable bikes. For example, the Honda Shadow Aero has vintage retro styling. Among some of the outstanding features are the wire-spoked wheel, drum rear brake, and buckhorn handlebar. With this retro bike, you'll be able to ride around town while having fun.
Why are retro styles bikes so scarce?
The reasons are very simple. The first is that not many manufacturers are interested in making new retro-style bikes. Secondly, retro bikes are costly wherever you find them in the market. Consequently, scarcity is the single most influential
How much should I spend on a bike helmet?
An average bike helmet can be sold under $30. On the other hand, high-end durable bike helmets can ost you between $50 and $500. Most times, the price will be dependent on the model, brand and retailer. However, if you are comfortable buying itonline, you can find some of the best bike helmet on Amazon.
Are more expensive bike helmets safer?
When you want a bike helmet that can withstand all sorts of tough use cases, going for the cheapest models might not be your best option. This is especially true if you intend to spend your biking time through some rough mountain bike trails. While reading through some of the best bike helmet reviews, try to get clear information aboutimpact protection and level of comfortability. The key point is that more expensive helmets are not safer. But you don't have to go for the most expensive models.
Thanks for reading, and good luck!
Related: Best Adult Tricycle
Sours: https://bikesmarts.com/top-three-vintage-retro-style-bicycles-to-check-out/
Now discussing:
Why Are Vintage Style Bicycles So Great?
Did you ever wonder why vintage bicycles from the 1930s, 1940s or 1950s come back in style? Why are bicycle companies producing vintage style bicycles? And why do hipsters adore vintage and classic bikes? Vintage and classic bikes are technically simple, so they are easy to repair, while also being extremely comfortable and easy to ride.
Vintage Style Bicycle Frame Styles
Vintage, classic and retro style bicycles are available in three different frame styles. While you can also explore some other styles of the vintage bicycles, the classics are the single speed, the 3-speed, and the 7-speed bikes. No matter which style you choose, these are all quite comfortable and very easy to ride.
If you wish to ride a bicycle with a bit of a different frame, the Mixte style would be a great choice for you. This style's vintage bicycles consists of two slender tubes, which connect the front tube to the rear axle. The bicycle experts consider the Mixte style a robust and stable design, which was quite popular in the European countries during the early twentieth century.
Vintage Style Bicycle Wheel and Tire Types
If you think all vintage bicycles are equipped with the same types of wheels and tires, then just check the wheels of a few vintage cycles in your town. You may be surprised to find some differences. The two most common wheel sizes for vintage style bicycles are the famous 26" and 700c wheel sizes. The 26" wheels are also used on mountain bikes. These wheels are wider and tougher than other type of wheels which is why mountain bikes are also called all terrain bikes.
The 700c wheels on the other hand, are larger in size and slimmer in shape. This type of wheel is very common on road bikes. The 700c wheels can be equipped with larger tires to provide the rider with better comfort and better control on the road.
The vintage bicycle manufacturers have tried to improve the design and performance of the wheels. You can search for the vintage style bicycles with double-wall rims, which are certainly better than the single frame rims of the old bikes. Vintage bicycles look absolutely beautiful when they are equipped with cream wall or white wall tires. Be sure to keep all of these things in mind and buy a vintage bicycle with wheels and tires that are durable and beautiful.
Vintage Style Bicycle Gear Options
People's needs and preferences for different gear types vary when it comes to buying a vintage style bicycle. You should buy a single speed bicycle if you don't want to spend money and time on complicated gear maintenance. The 6-speed bikes and 7-speed bikes are great for riding on hilly roads, especially if you are going to carry a load on the bicycle. The 3-speed bicycles come with an internally geared hub, which requires very low maintenance and offers a nice and clean ride. Gearless vintage bicycles are great to ride on flat roads because you don't need to apply extra power to pedal the cycle.
Vintage Style Bicycle Brake Choices
You should buy a vintage bicycle with v-brakes or dual pivot caliper brakes. Modern bicycles are usually equipped with far more reliable brakes, which are safer and more powerful in comparison to old caliper style's brakes. The dual pivot caliper brakes are the brakes that offer an antique appeal to the vintage style bicycles. The high-quality vintage bicycles used to provide the users with the power of the v-brakes, which were considered the best at that time. You can choose a bicycle with the v-brakes because such bicycles are considered great for regular use.
Vintage Style Bicycle Color Styles
You get many impressive color options when you are buying a vintage style bike. Of course, color matters because it is a great way to express your personality. Vintage green, black, navy, and white are some of the most widely used colors for vintage cycles. These colors provide your bicycle a more subtle and classic appeal. The red, yellow, and green colors provide a more vibrant look to the bicycle. While the primary considerations for buying a vintage style bicycle are its durability and comfort, the color will work to improve the charm of the cycle, so choose wisely.
Vintage Bicycle Accessories
The most necessary accessories for the vintage style bicycles are the pannier racks, mudguards, chainguard, kickstands, and the basket. You should make sure that your chosen vintage style cycle is either equipped with these accessories or compatible with aftermarket accessories. The pannier racks provide an ideal space for to carrying large and heavy items. The full length mudguards protect your clothes from splashes of mud and water. The kickstand is necessary for parking the bicycle. The basket will help you easily carry smaller, lighter things; if you have a puppy or a small dog, you can even bring them along in the basket to enjoy a nice bicycle ride.
Modern But Still Vintage
There several bicycle types that look very similar to original vintage bikes from the 1903s, 1940s, and 1950s. Some look almost as if they were sold 70+ years ago.  But not everyone can afford to spend thousands of dollars on a restyled vintage bicycle. Fortunately, you do not need to buy an expensive redesigned vintage bike to get a bicycle with a classic look and feel. Bicycle types like the Comfort bike, the City bike, the Utility bike, the Track bike and the Cruiser bike are very similar to the original vintage bicycles. They are are well designed with classic, vintage looks and most importantly they are available at very reasonable prices.
With everything we have covered in this post, you should be able to find the best vintage style bicycle for you. That is all you need to know before buying a beautiful and durable vintage bicycle. Now it is time to check out a curated list of some great vintage style bicycle options. We want to help you get out on the road as soon as possible and enjoy a fantastic ride.
Top 5 Vintage Style Bicycles – Comfortable, Easy to Ride and Reasonably Priced
So now we know that vintage style bicycles are good if comfort, easy riding and low maintenance is important to you. Fortunately there are some great quality vintage style bicycles for sale that are cheaper than redesigned vintage bikes. After extensive research and input from bike buyers like you, we have gathered a list of the Top 5 vintage style bicycles for women.
View on Solé
Feeling like purchasing a vintage bicycle of your dreams? The search stops here with the Penmar vintage bike. Its original designs have been created in Venice Beach, California. Whether you travel a short distance or long, there will always be a small part of the country with you.
Features
The women's vintage bicycle comes 90% assembled. The remainder is very doable with simple instructions.
The retro bike comes with free shipping to anywhere inside the country.
The manufacturer offers a month-long warranty period. The customers can return the bike if they are unsatisfied.
The vintage bicycle comes with a kickstand. How convenient is that!
The speed-up does not require any maintenance.
The retro bike comes with brakes at the front and rear end for maximum safety.
Conclusion: Green on a bike may not appeal to everyone. However, it works on the three-speed bike with its modern and sleek design. It may be an excellent addition to your vintage cycle collection.
4. Destiny 26 by Schwinn
View on Amazon
The next on our list of mentioning vintage cycles is Destiny 26. The design revolves around comfortability and elegance without compromising the cycling experience.
Features
The vintage bike is perfect for so many occasions. Other than a joy ride, you can ride it to school and meet your friends.
The women's vintage bike comes with a one-speed feature.
No speed hub makes it easier to stop and ride.
The pedal brake on the retro bike comes with an innovative design that stops the bike instantly.
The vintage style bike comes with a spring saddle at the front. It is perfect for carrying groceries, laptops, and phones.
The spring basked is made from soft material, so it won't hit the knees each time you cycle. It is meant to assist a comfortable ride.
Conclusion: The Destiny 26 vintage bike is the perfect solution to light-hearted cycling activity. It will definitely motivate you to stay healthy and commute efficiently.
5. Hoover by Solé
View on Solé
Lastly on the list is a white and black super elegant vintage style bicycle. It is constructed from durable components that will not give you a bumpy ride either on the road or the way to your secret hideout place.
Features
The bike comes pre-assembled, so you don't have to worry about connecting rods and pipes.
The manufacturer offers one month return if you are not satisfied with the performance.
The balloon tires on the retro bike are made for accelerated speeds.
Are you ready for it? The Hoover bike does not rust. You can store it outside in the shed or leave it on the pathway.
The retro bike will maintain its design throughout its use. Moreover, the glossy white paint will not chip or fall off from random spots.
The vintage bicycle is exceptionally durable and ready for the challenges ahead.
Conclusion: Who would say no to comfort on wheels? The sleek and rust-free design will win hearts from cycle novices to enthusiasts.
Final Thoughts
Vintage bicycles are a very sustainable solution to riding short distances or commuting between work and home. It completely eliminates the carbon footprint while portraying you in style. Riding a retro bike is good for the environment and your health. It is a win-win situation that you simply cannot beat. Best of luck with your search!
You can visit our Vintage Style Bicycle Shop.
Check out our list of best vintage style bikes for men here.
Thank you for reading secretofdiva.com articles. More vintage outdoor posts here.
Sours: https://secretofdiva.com/top-5-best-vintage-style-bicycles-for-women/
240
241
242
243
244