Porting and polishing cylinder heads is something every engine builder knows they should do. However, having the job done by a machine shop can cost a lot of money. Not to mention, you have to take the time to research the best place for the job, so you know that money is well-spent. And speaking of money, porting and polishing cylinder heads can cost hundreds of dollars that you might not have to spend.
So, what about doing it yourself?
Well, let's explore what that would entail. What exactly is porting and polishing? How is it done? What will you need? Let's get an introductory look at exactly how you can teach yourself this new skill.
What Tools Do You Need?
Porting and polishing cylinder heads is one of those jobs that is heavily dependent on the tools you have access to.
First, you'll need a Dremel tool to perform this task, along with the right bits and extensions. Now, the good news is you can purchase Dremel kits that have everything you need to port and polish heads, which is a great way to get yourself started. But keep in mind that these kits generally consist of sandpaper bits. For the port work and for knocking down heavy burs and casting marks, investing in carbide bits and stone bits is going to make your life much easier. (But don't write off those sandpaper bits just yet—they'll come in handy later.)
If you are just working with bits, make sure you have 3-inch and 6-inch shanks. Additionally, a whip extension for your Dremel is going to make getting at hard-to-reach areas much easier. (It's not essential. Though, if you intend on making this a regular process, it's a worthy investment.)
Also, you're grinding up metal—so do not forget eye protection, ear protection, and respiratory protection. Safety first, kids.
You'll also need the proper tools for tearing the head down and reassembling it—namely, a valve spring compressor. Because the head will be disassembled and small fragments of metal can get in the seats and valve guides, you will want a way to clean the heads properly when you are finished. A light oil lubricant like WD-40 should be on hand. It also wouldn't hurt to lap the valves when you are finished.
Porting Cylinder Heads
Porting is the more intimidating step when tackling this job, as you are working to physically enlarge the ports. It's actually something many DIY guys leave behind, but it's really pretty simple. The process starts by securing the intake gasket to the cylinder head and scribing the openings. Then, remove the gasket and gradually open the port up to match the gasket. So long as you gradually taper the port to match the head and don't try to reshape it, you can't really damage anything.
What you're trying to achieve here is matching the port of the intake to the gasket you are using—no larger. Take your time and work gradually around each edge. Because you are removing metal, it's a good time to break out your carbide bits. Using an arrowhead bit is going to help taper the opening to the rest of the port internally. After the carbide bit is used, go back over your work with a sandpaper or stone bit, so you can smooth out any rough spots or burs that may have been left behind.
One thing many people suggest is that once this step is complete, you should stick with the gasket you are shaping the ports to. I definitely recommend this as well, because any variables may change the seal and flow qualities of the port work.
Also, you won't want to do this for the exhaust side, just the intake side. Exhaust headers and manifolds often feature ports on the header or manifold that are larger than the head, which creates a step. This step works to create a low pressure area that helps with drawing air out of the cylinders. Port matching can result in the loss of this low pressure area, which can be detrimental to power.
Polishing Cylinder Heads
Polishing is the easy step in this process but is still time-consuming. When cylinder heads are cast, many of them skate through as-is with a rough finish in the ports and some casting marks or burs. Your goal here is to get in and polish these imperfections to a smooth finish. (This is where you're going to thank yourself for picking up long bits and even a whip attachment for your Dremel tool.)
When you start the polishing procedure, you may still want to keep those carbide bits handy. Start by looking for burs and heavy casting marks, as these are the first things you want to address. Taking the time to knock them down will not only speed up the process but also will save you from having to swap out worn bits.
You want to take your time here and work over these marks gradually. Sandpaper bits and stone bits will be eaten up in this process rather quickly, so having fresh sets to swap through is going to make your life much easier.
You will find that many people like to work around the ports of their cylinder heads in a swirling motion from the outside in toward the valve. This is because the natural wear marks left behind are believed to cause a swirling effect on the air as it moves into the engine. This is favorable to those looking to help better mix the air and fuel before it is delivered to the engine. In either case, you will want to polish every part of the intake all the way up to about half an inch away from the valve seat.
Surface Finish
Now, this brings us back to the level of polish you are trying to achieve. So many people are back and forth on mirror finishes. A good rule of thumb I've found, is that a mirror finish is good for direct injection engines while a semi-rough finish is good for carbureted or throttle body injected engines. This is because the rougher finish is good for atomizing the fuel mixture before it reaches the combustion chamber. However, if no fuel is present in the intake side prior to reaching the cylinders, you might as well make the surface as smooth as possible to speed things up.
I also can't leave out the combustion chamber. You don't want to reduce material here as you can reduce compression. Though, you still want to smooth out sharp edges and remove any casting marks or burs. These areas can soak up heat and cause pre-ignition of the mixture as the engine runs. The idea of polishing this area is to help air flow from the intake port into the combustion chamber. Because you are working close to the valve seat, you may want to throw junk valves in the head to reduce your chances of damaging the seat. Also, you won't want to use your carbide bits here, as they are much too aggressive.
There are many techniques out there of blending out and polishing the combustion chamber and we can really dive down another rabbit hole of what works and what doesn't. But to stay on track, your goal is to just smooth out rough edges here and not remove material.
Why Are We Doing This Again??
Many of you already know why porting and polishing cylinder heads is a favorable trick. So, to save some time, I dropped the meat and potatoes up front. But for those of you who don't know, porting and polishing your heads is beneficial for power and efficiency of the engine. In a lot of cases, because of the increased CFM of the heads, as much as 30 horsepower is typical with good port work.
Just remember, it doesn't come for free. This is a slow-moving job—some people will spend up to 20 hours total perfecting their cylinder heads. While you might not be putting in that kind of time investment, you're still looking at several hours of work. But it's rewarding work, nonetheless, and you're left with a valuable skill in your DIY arsenal as well.
Don't Forget The Intake Manifold
To close, if you want to get the most out of porting and polishing cylinder heads, do not leave out your intake manifold. Before you even go this far, I would have the intake matched to the heads by the machine shop to ensure the perfect match between mating surfaces. Then you follow a very similar process of port matching and polishing the surfaces within. Doing this in combination with polishing the heads is going to get you even more power and efficiency out of your engine.
Related
Sours: https://www.theengineblock.com/tech-corner-porting-and-polishing-your-own-cylinder-heads/
Well, that's a great question. The F-series is Frankenstein's first line of proprietary LSX based cylinder head castings. We have had the pleasure to work on so many great cylinder heads over the past 15yrs that we felt the need to share all the great things we have learned with everyone. There are so many pros and cons to some of the available LS castings on the market. Some have great flow characteristics but poor valve train and durability. Where some have great geometry but lack in overall design of valve placement and spark plug location. We have taken all of the features that make a truly great cylinder head and have engineered what we feel to be the best LSX head in the business. We have spent the past two years designing and testing these heads. We have truly worked toward optimizing the total cylinder head package all in one set of heads.Big flow numbers are not what makes a combo exceed all expectations. It's the complete system and how it works. We first started with the structure of the head. We wanted a product that proved to us it was stronger than the rest. So, we chose to use 357 alloy instead of 356. This 357 alloy is denser and harder than the 356 that most of the aftermarket industry uses. This material is more expensive and harder to find. Then we focused on the cooling capabilities of the head under extreme stress conditions. We found after extensive testing that having a 3/4-1" deck structure on the cylinder head actually had a negative effect on horsepower do to the lack of proper cooling around the spark plug area. The combustion chambers tend to heat soak with such thick deck structures making the combustion chamber resist proper timing requirement. We found that bringing the deck thickness down to 5/8 that it allowed the heat to dissipate faster allowing the engine to use the proper timing effectively. Not only did we see a gain in power, but we increased the overall cooling process.
After the base structure of the cylinder heads were designed we focused on valvetrain geometry. Some don't realize how important this is in all high-performance engines of the 21st century. Along with the advancements in camshafts and power adders, comes the demand to need to sustain the valvetrain under harsh conditions and high RPM demands of the modern engines. We have optimized the valve location and rocker positions to hold up to all abuse from Endurance to drag race. We have specific setups for hydraulic roller and stock rocker use while also having a separate design for solid roller use with shaft rockers. We know from experience that no one valvetrain setup is best for Hydraulic roller and solid roller. We designed the cylinder head with the wide valve cover area so that the valve positions and rocker position could be moved in a way that didn't have to compromise the performance because of a silly stock valve cover. Trying to design the valvetrain to work properly was no easy feat. It took countless attempts trying to find the best happy spot between lower lift and high lift combinations. Like we said before that one valvetrain does not meet all demands. We have a few different valve angles for each LSX platform to ensure we have ample choices to meet your Horsepower needs.
Finally, we get to the final steps of the design, the ports and valve angles. We offer 3 models:
| | |
| --- | --- |
| LS1 cathedral style head | (110 & 112) |
| LS3 rectangle port | (310 & 312) |
| LS7 square port | (710 & 715) |
We then offer different valve angles among each style. The cathedrals and LS3 retailers' ports will be offered in 12.8 degrees and 10 degrees. While the LS7 is offered in 15 degrees and 10 degrees. We have numerous port designs and port volumes based on what your needs are. These port designs are designed for anything from NA to twin turbo and our knowledgeable staff can help you choose correctly. Although flow numbers are not he most important aspect to a great cylinder head it is important. Our ports flow the appropriate amount of air designed for the application. We focused on proper Cross-Sectional Area (CSA) and quality airflow. We have no desire to sell our cylinder heads based on silly flow numbers that any company or individual can falsify. Every flow bench is different and like we've said a million times… When was the last time you saw a flow bench on the track? The real question is, does the cylinder head have quality air that properly atomizes the fuel and enters the combustion chamber efficiently to create the hottest most volatile burn you've ever seen. So, if you want the most engineered LSX heads to hit the market in the past 10 years you're in the right place.
Sours: https://frankensteined.net/
Enhance the performance of your engine with extrude hone porting in San Jose CA
If you are a gearhead, you are most likely already familiar with the benefits of porting intake and exhaust manifolds and other engine components to enhance fuel and air flow. But can you name the number one method for porting?
Hint: it's not hand porting.
It's extrude hone porting in San Jose CA.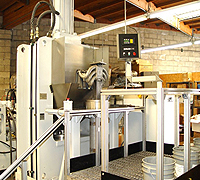 Also sometimes called PowerFlow, the extrude hone porting process was invented by one of our company's founders in 1974. The first engine improved by porting was actually a chainsaw, but the benefits of the process were quickly adapted to all kinds of engines. Today it's used by OEMs like Cadillac and Ford on their top selling models, and it is also being used by hobbyists on:
Racing engines
Muscle cars
Motorcycles
Personal watercraft
High-performance trucks
How Extrude Hone Porting Works
Whereas hand porting can only improve surfaces that hand tools can reach, extrude hone porting in San Jose CA can improve the entire passageway and carries no risk of ripples or unevenness. This is possible because extrude hone porting uses an abrasive-laden polymer that can conform to the exact dimensions of the passage. As the polymer runs through the part, it becomes a flexible slug that sands away material evenly on all sides. Because we understand the physics of the process, we can easily adjust multiple variables to deliver the precise result you want in terms of material removal.
Benefits of Extrude Hone Porting in San Jose CA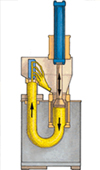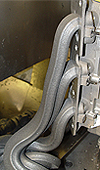 Extrude hone porting in San Jose CA can deliver many benefits for any passage that gas or liquid will be flowing through. The most commonly ported parts are intake and exhaust manifolds, but we can also port engine heads, turbo impellers, housings and pumps, and 2 or 4 stroke cylinders.
The result of the extrude hone porting process is increased flow velocity, not flow volume. This in turn encourages improved combustion in the engine, resulting in:
Increased horsepower
More thrust
More torque
Increased fuel efficiency
Reduced emissions
Typically, extrude hone porting in San Jose CA on a manifold increases flow up to 25 percent. The corresponding improvement in performance will depend on the configuration of your engine.
Why Choose Extrude Hone AFM
At Extrude Hone AFM, abrasive flow machining is our whole business. We're not some hot rod shop that has just purchased an AFM machine for extrude hone porting in San Jose CA--we know the science behind this method and we can guarantee you professional, consistent results that will meet your exact specs.
If you would like a quote on extrude hone porting, please call (562) 531-2976 now.
Sours: https://www.extrudehoneafm.com/service-locations/san-jose-ca/extrude-hone-porting-in-san-jose-ca/
Porting cylinder heads to optimize engine performance - Hagerty DIY
About the Author: Dave Localio is a long-time friend of ours and the owner/operator of Headgames Motorworks, a cylinder head specialist founded in New Jersey in 2001. Dave and his team have amassed a huge amount of experience and expertise and are now creating some of the best performing cylinder head and cam packages for both domestic and import vehicles, be it for street/strip use or full blown race applications.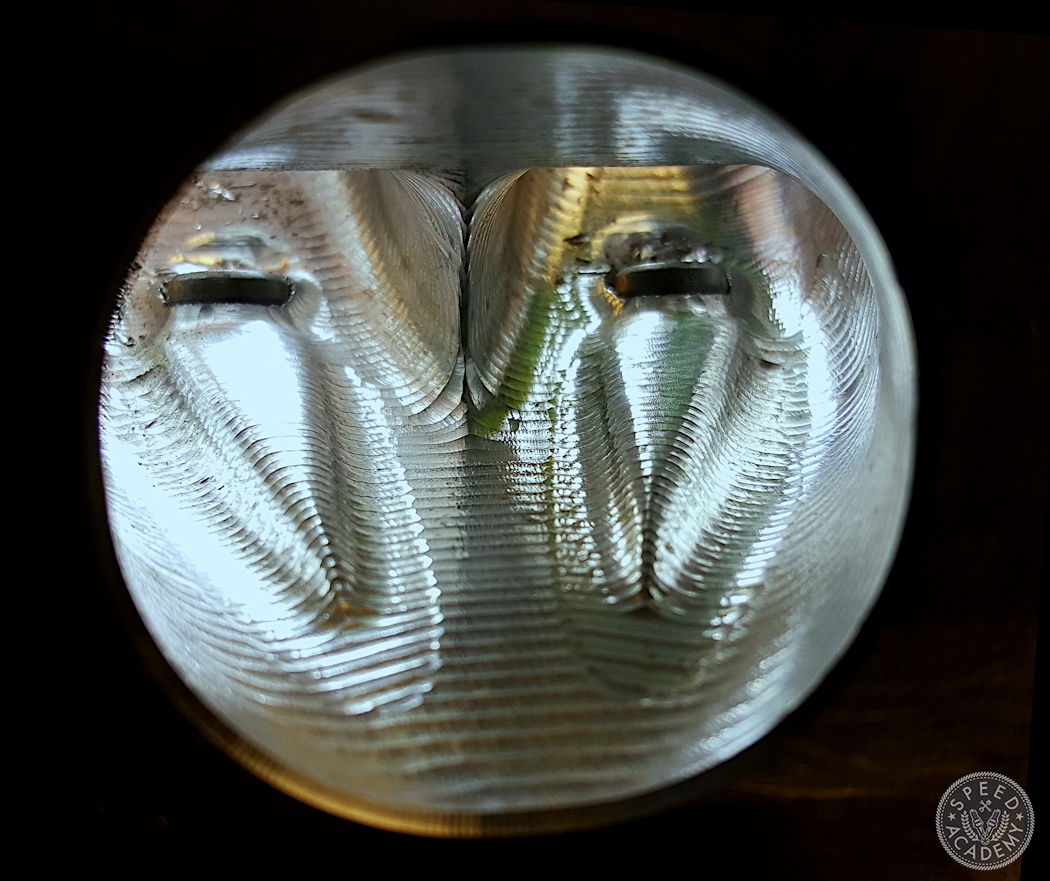 Myth #1. CNC is "better"
This one depends on the piece in the machine. If your making billet heads, the accuracy of the CNC is worth talking about, because you're making something from scratch and making a batch of them ensures that they will all be the same. But when it comes to CNC machining a factory cast cylinder head, talking about the accuracy of the machine is a moot point. I say this because the factory head is cast, which means there will be some variation from head to head because of the imperfections that come from the casting process. That's where the words "core shift" comes into play, because when we get cast heads back from the CNC shops there is not one that is exactly the same. In fact, in the head there is no ports that are the same. You can even see where the CNC did not touch the casting in one port but did in the others. That's because the CNC machine does not know where the ports are, just where they are supposed to be. Meanwhile, a hand knows the center of that port every time. So, what does this mean? 
While a CNC is better than a hand at many things, when it comes to porting your factory cast cylinder head it is really just faster, meaning it's faster than any human could grind and sand your head. So, instead of waiting weeks or months to get it back from the machine shop, someone with a CNC could rip through it in a few hours and have it on the floor ready for machine work. Talking about consistency machining an inconsistent part makes no sense except to market it as the best option. However, because there are cylinder head guys out there who do such a poor job hand porting, seemingly haven taken lessons from a blind person with a hammer and a chisel, they help perpetuate the myth that CNC porting is more accurate or "better".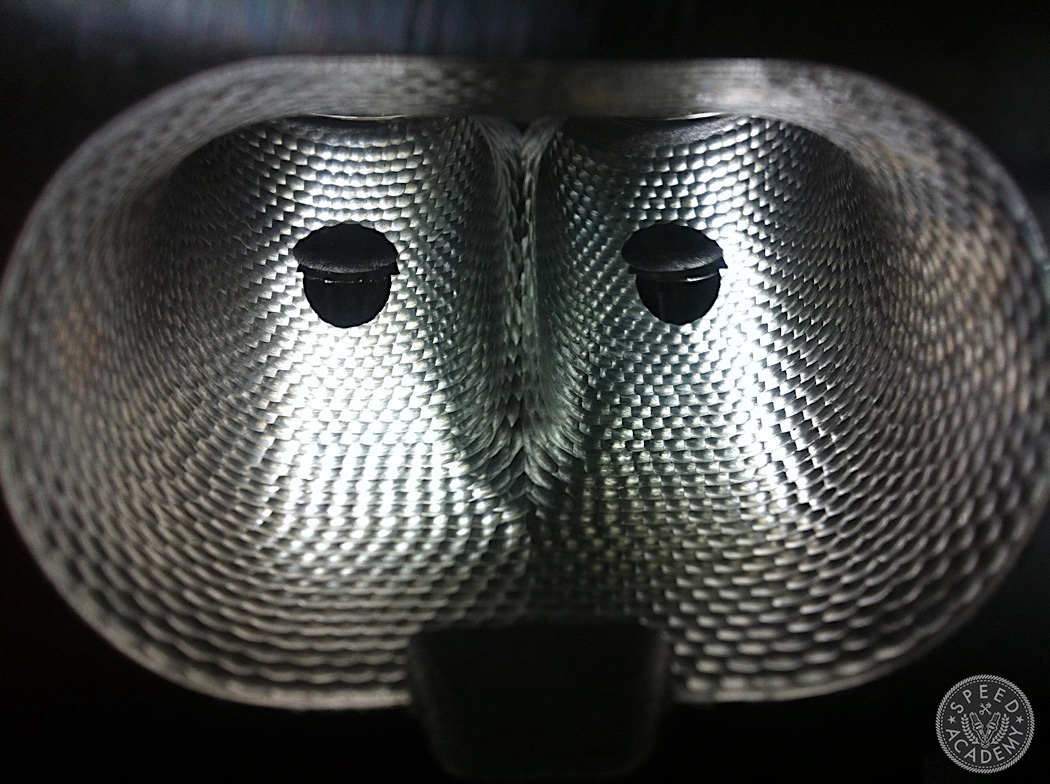 Myth #2. Dimple Ports
While we are on the subject, we should touch on dimple ports. The argument is that it works on golf balls because it creates a boundary layer of air and helps it move the ball faster and farther. In a port, we are looking to create a situation where fuel stays off the wall of the port. So the dimples would (in theory) help create this boundary layer of air that would keep the fuel off the wall and in suspense and atomized. 
First off, more than likely you have an engine with modern fuel injection if your reading this. Modern fuel injectors do an excellent job of atomizing the fuel, especially with todays engines where injector location is engineered very carefully for optimized delivery. So, the only true advantage I see in dimple ports is if you're playing discus with the cylinder head and want to see how much farther you can throw it. If there was any real basis for dimple ports, you'd be seeing it in high-performance factory engines and professional level race engines and that's simply not the case.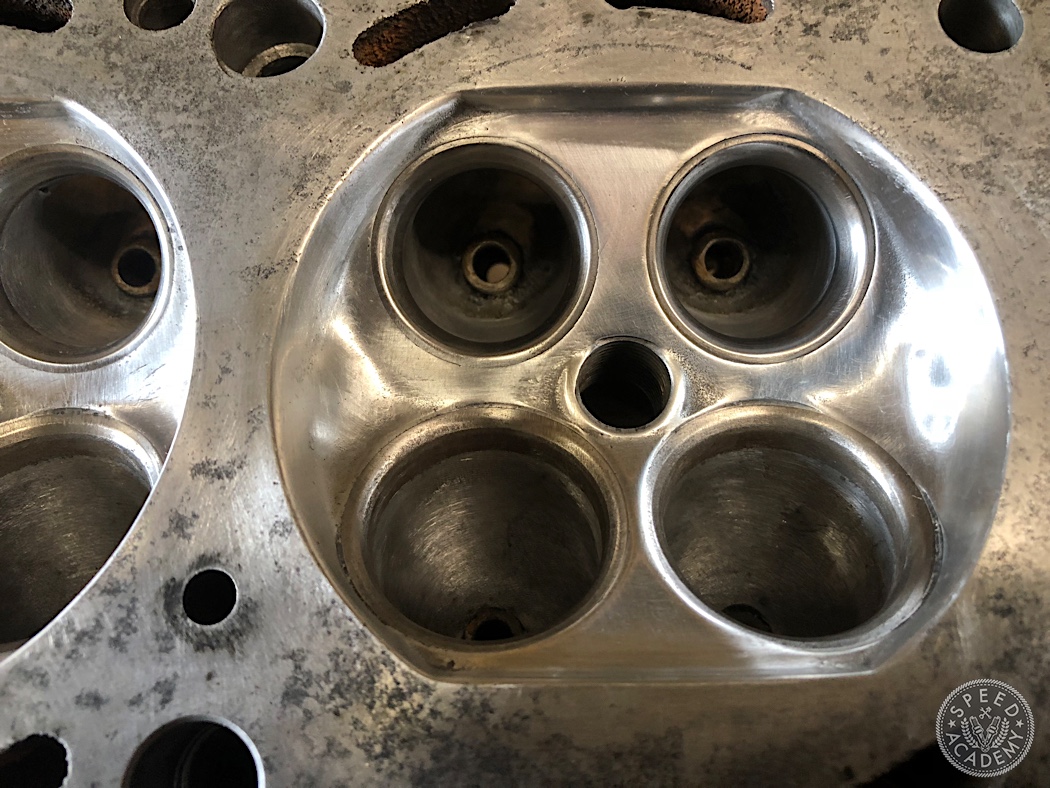 Myth #3. Mirror Polishing
Charlie Kulp taught me how to grind. The man was working with Smokey Yunick back in the 1960s (look that name up on Google if you're unfamiliar with Smokey, he's a racing legend and innovator on a level few others could touch) and when they ran stuff in NASCAR they tried mirror polishing on the heads. It didn't work then and it won't work now. The reason being is that when you make the walls of the port too smooth, the air moves so fast and sticks to the walls of the port such that the fuel falls out of suspension, causing inconsistent fuel delivery to the combustion chamber.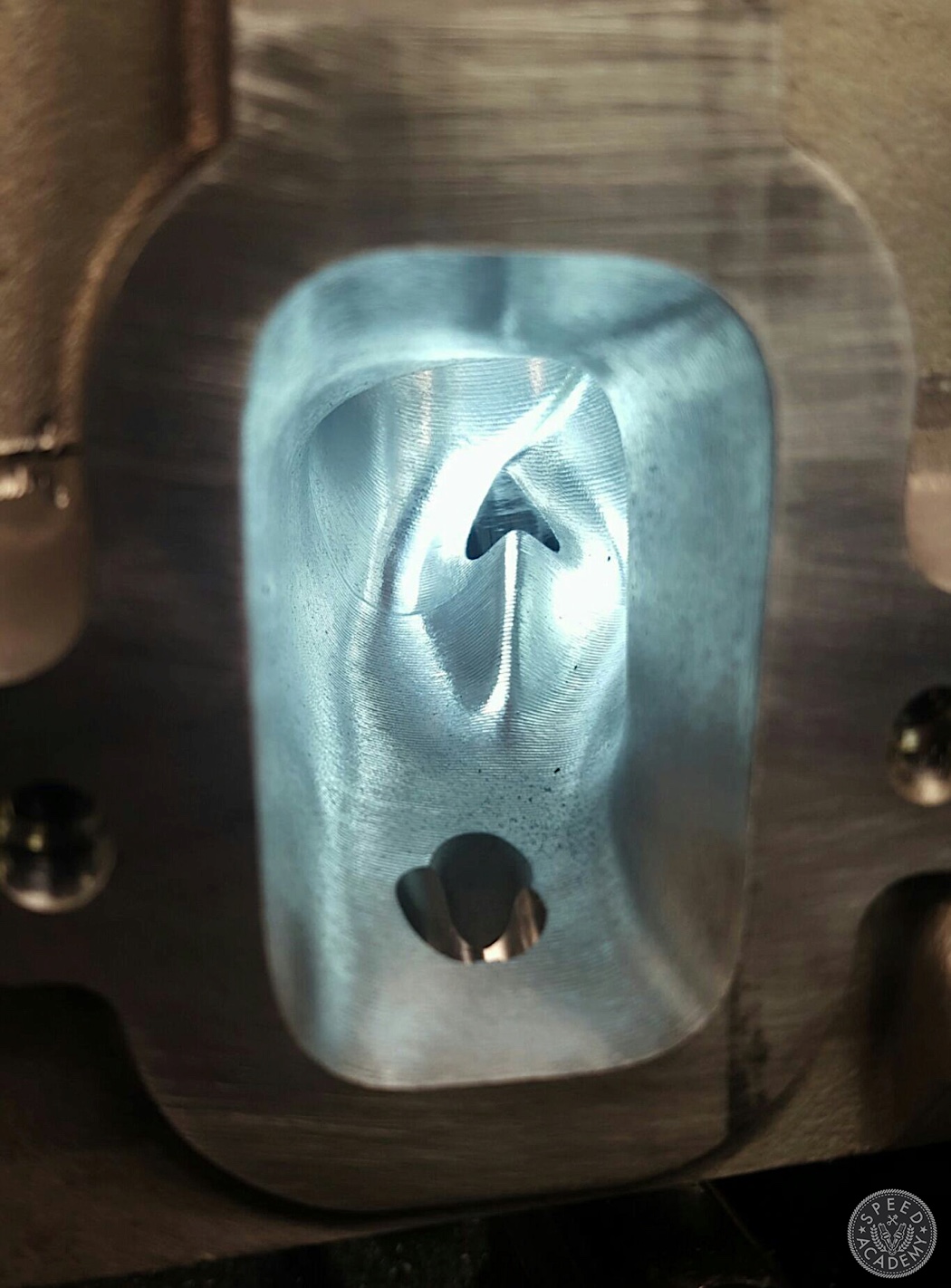 Myth #4. Bigger is Better
It's super easy to make a port as big as it can be. And we all know if it were easy, everyone would be doing it. But, that is kinda the problem. There are more places that believe in this theory than not. So, what you get is an industry full of heads that flow great from .500 lift on but are lazy on the car. Because velocity means more than flow! Air flow means something, and big ports and big valves don't equal air speed. Simply put, the big stuff shines on the flow bench but runs like a dog with flees on the car.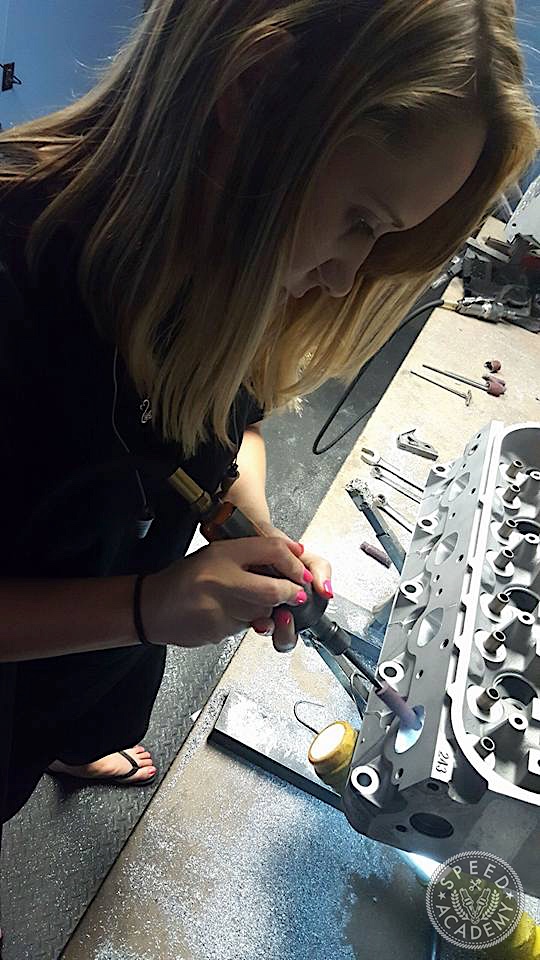 Myth #5. Because It's Ported, It's Good For My Application
Here is a gigantic misconception. With the advent of CNC you have a lot of performance shops and even CNC shops selling heads and selling them in one configuration. All of the them are ported to the max, with an oversize valve and flow insane numbers at max lift. But here's the problem, your making 700 and want more power. You street drive the car a few hundred miles a month. You love beating on it. Put the big head on it and it losses all torque and has a dyno ramp that looks like a ski slope. That's because the head is too big for your application. This is especially true with turbo cars. The max effort head will make the car lazy into boost. It will only make more peak power. That's why asking for a flow sheet is so irrelevant. The dyno mimics the flow sheet in this case. It will make more jam, but where it makes the jam is what you should be concerned with.

Myth #6. Flow Testing
The biggest question we get daily,"What does it flow?" yet this is absolutely the most misunderstood part of cylinder head purchasing. And kind of where the bigger is better theory makes cylinder head sales. As stated above, you have a bunch of humans that don't understand flow testing throwing everything at the head for the mighty CFM number at max lift and forget that it only hits this point once where they should be concentrating their efforts on everything that happens in between. The valve goes up and down through the lift ranges twice. The way the head behaves on the bench is indicative of how it will behave on the car most of the time. Why do I say most? There has been heads we have done that flow like a gangster at a rap party but run like a fat man chasing a banana. You can't always believe the flow bench because there are so many different variables going on in the engine that the bench cannot capture or account for. Things like overlap, lift and duration of the camshaft can play a role. Asking "what does it flow" doesn't necessarily help you make the right decision and often times it adds confusion for the novice buyer.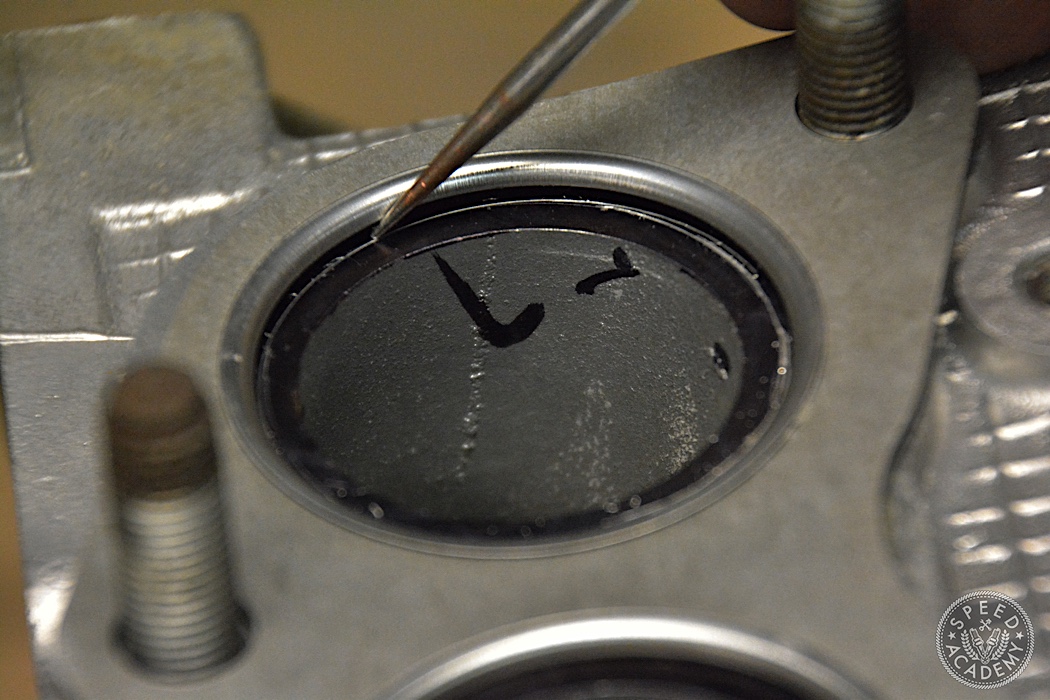 Myth #7. The Gasket Match
This myth started on the domestic side of things. With the old heads, people would open the intake or exhaust port to a particular gasket. This was supposed to be the end-all performance enhancement. Truth is, there is zero thought by gasket manufactures on how big your port is supposed to be. The job of the gasket is to seal, not to enhance flow. When we look at this myth's origins, people where trying to open up the cylinder head at its pinch point which would be the push rod restriction. Sport compact heads don't have this restriction. And, the truth is most heads do not need a gasket match for the performance level they're at. Here at HeadGames we do not usually open anything near the gasket til 1500-whp on 6-cylinder cars and 1200ish on a 4-cylinders. It's better described as a port match and not a gasket match. Port match means that the port size most ideal for the port shape, NOT the gasket.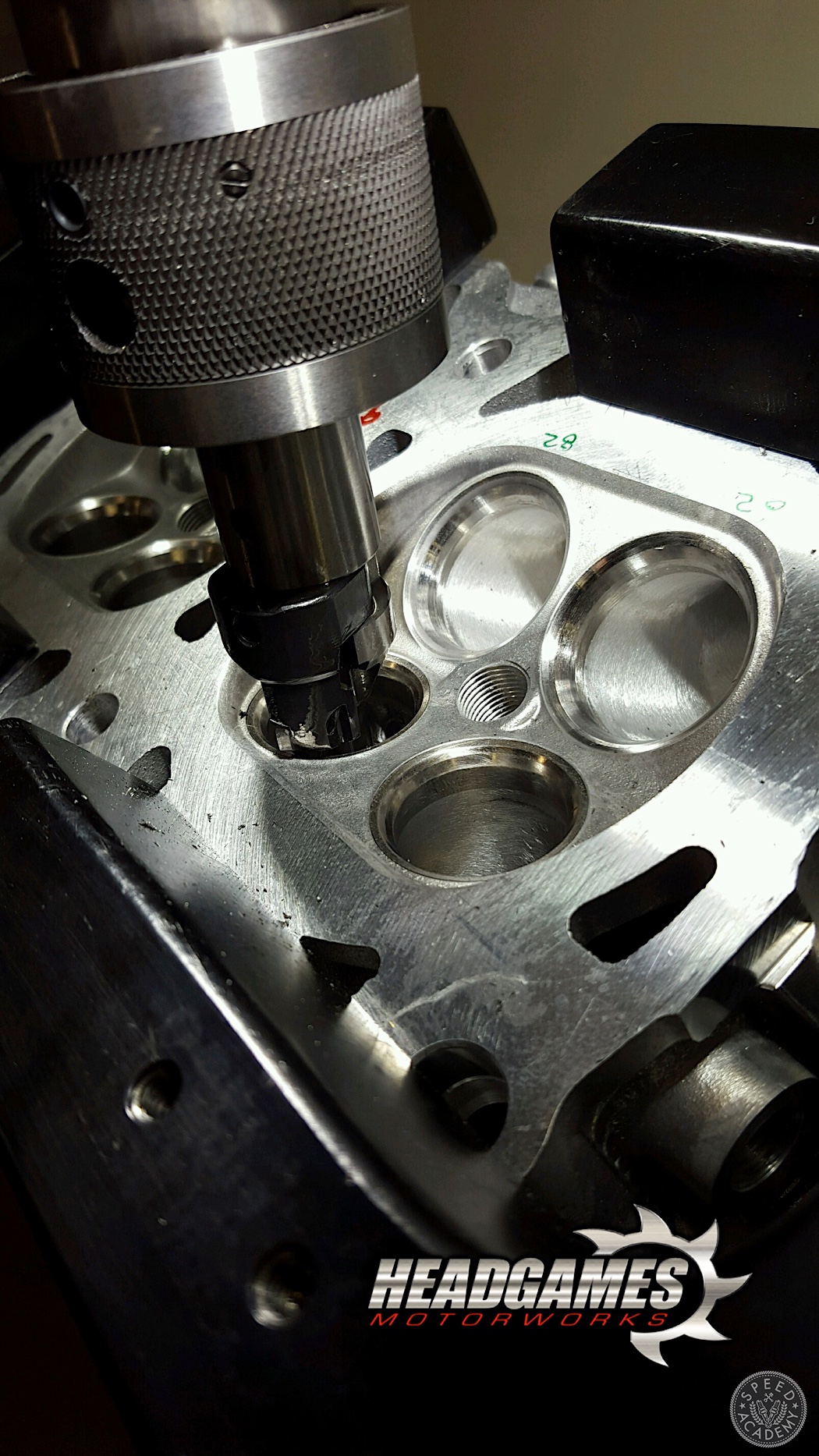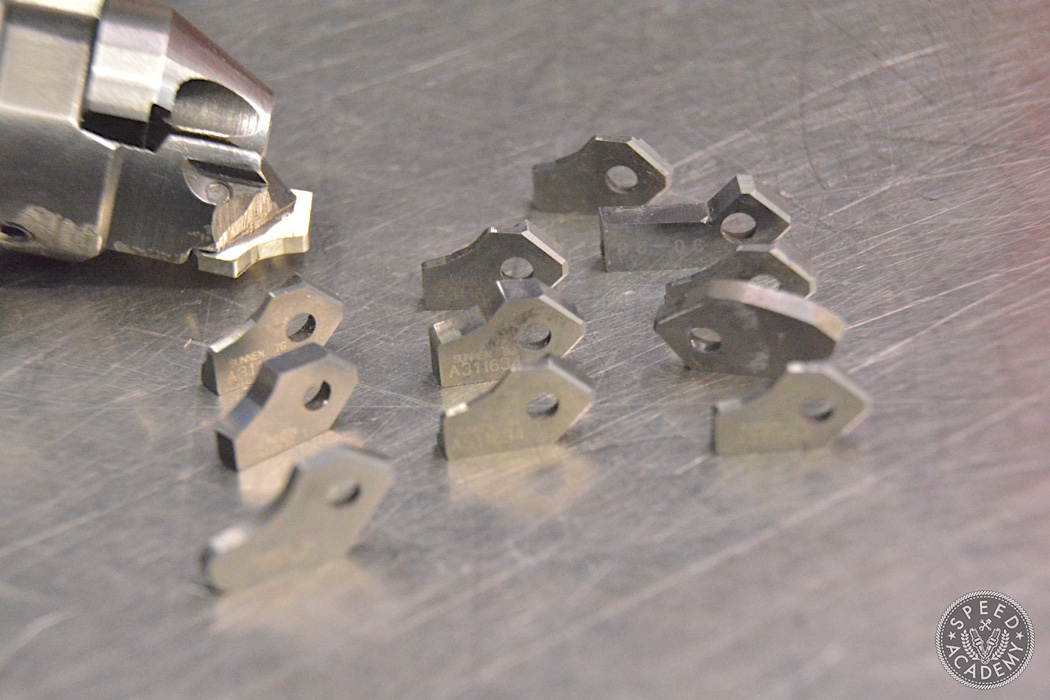 Myth #8. Valve Jobs
Another question we get daily around here, "Do you do a radius valve job?" or "Do you do a 5 angle valve job?". A valve job is not just a valve job. You can't just throw any 5 angles or any angles at a head and expect results. Typically a valve job consists of 3 angles from the factory. Almost any cylinder head on every car since the 1960s has a 45-degree "seat" angle (with the exception of muscle Pontiac and Oldsmobile that had a 30-degree seat angle). We say seat angle, because this is the angle which the valve sits on when it is closed. Then there is a top and a bottom cut. When we add angles, they are added to the bottom of the 45. An example of a 3 angle would be 35-45-60 angles. When we increase the number of angles, we would say 35-45-60-70-90 for a 5 angle. Now, that we have the number of angles, the only way to really know what angles actually like to be on the head, we have to use the flow bench, dyno and on-track testing. We do extensive, labor intensive testing on every head for valve jobs. Not any valve job work just because it has a number of angles. They have to be the right angles for that particular cylinder head.

Also, radius valve jobs are a popular question. Do they work? Sometimes. Do they work on everything? NO. The radius looks great, and feel it up with a finger and you might think this is the most awesome invention since sliced bread. But on the flow bench and on the car it can be a heart breaker. There is more instances than not where a full radius valve job will hurt more than help. This is especially true on an intake seat.  Air doesn't like to turn. It likes straight paths. And it loves angles. But not too many, because too many angles on a small seat can make it a radius.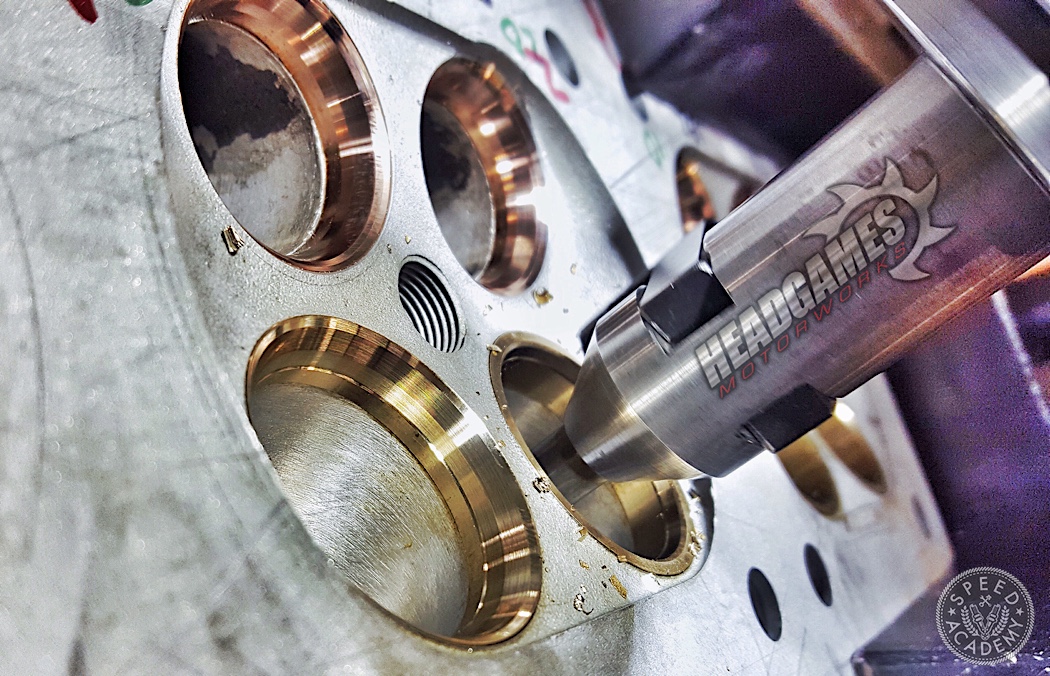 Myth #9. Big Valves
Tied to the subject of valve jobs, larger valves are certainly a big part of why people use them. Here is the deal. In the multi valve community, there are many places that do an oversized valve simply because they do not have valve job technology. But if you don't have valve job technology, then you probably don't know where to put the throat diameter. The area under the valve seat has more potential for flow than almost anywhere else in the head! It also has the biggest potential to hurt flow by being too small or too big!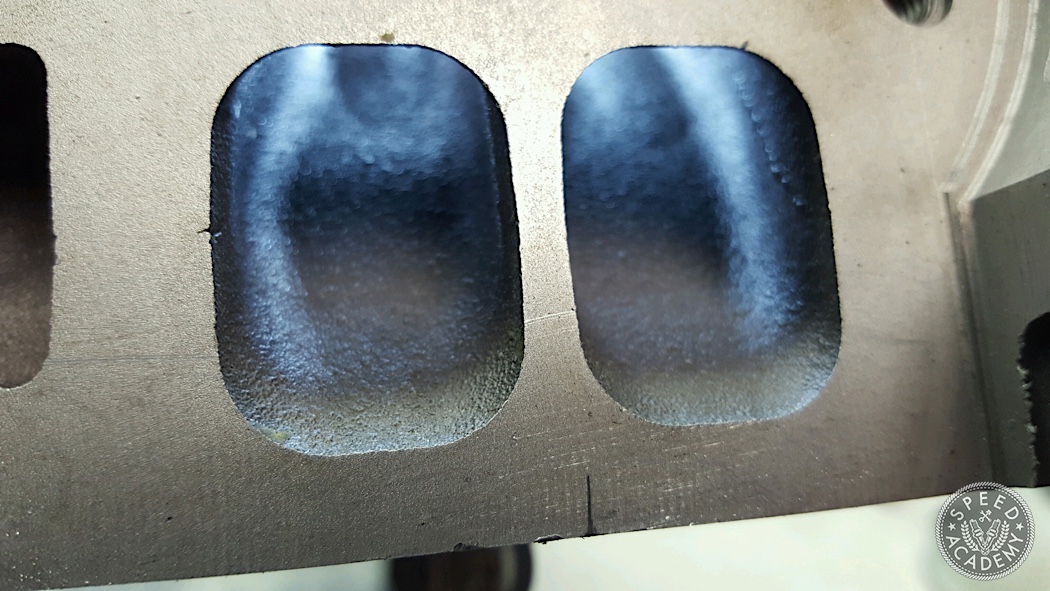 Myth #10. Port Shape
Port shape is the second biggest advantage when it comes to a ported head. When we port heads by hand, a lot of people ask, how do you know when to stop? Well, the answer is in the port shape. Once the shape is mapped out then you just make everyone the same. But, this is where the flow bench can be your friend or your heart breaker, depending on what transpires. It's almost impossible to decipher this unless you have owned a flow bench or see enough ports to know what shapes change flow characteristics on particular cylinder heads.
Best way to show this is by an example we had in our development in the 4-cylinder Mustang Ecoboost head.
When we first looked at this head, it was easy to see how Ford completely separates the two intake ports. No sport compact head does this so far out into the port. The port is very long and small. Seeing other heads on the market, most are knocked back the center of the 2 ports and made it appear to be a larger runner. It looks awesome!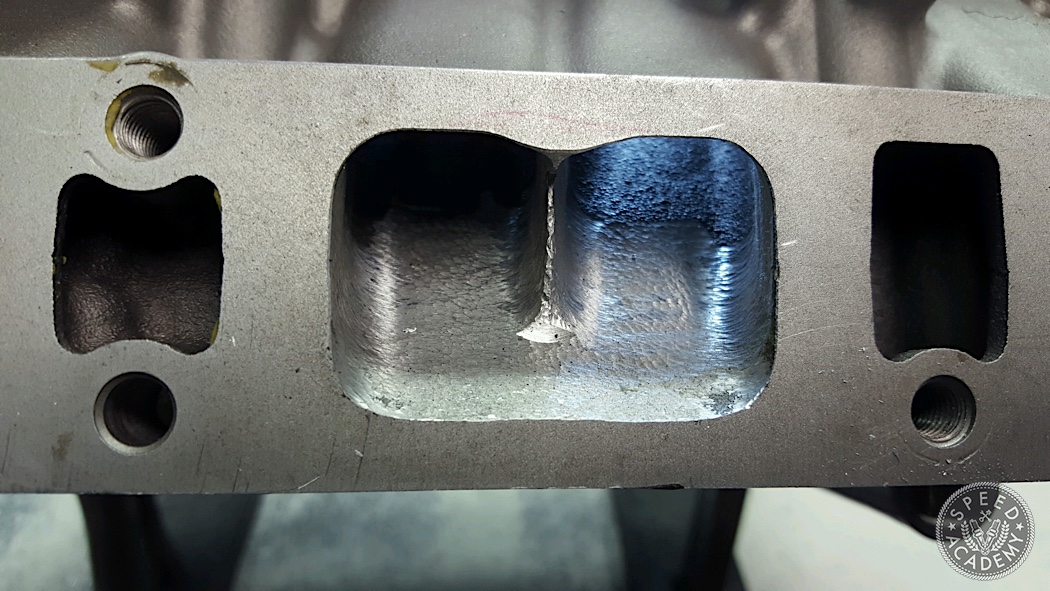 So, we did one port to see what it does on the bench and only did that section of the port to see how it behaved. WELL…it didn't behave well at all. In fact, it lost 40 cfm almost everywhere. Thinking maybe it was the way we shaped it vs the competition, we mimicked their port entrance for the second testing. Same results. It was obvious no one had actually tested this on the flow bench until now. 
So if we were losing so much airflow, where was it going? Well, when you don't know you ask someone smarter. We hit up our friends at McLaren, Dan Archer and Tim "the airflow doctor" Connelly. We went through the port and by using velocity probes learned that the air flow had actually moved to a corner of one port side because of the divider! It looked cool, but didn't work.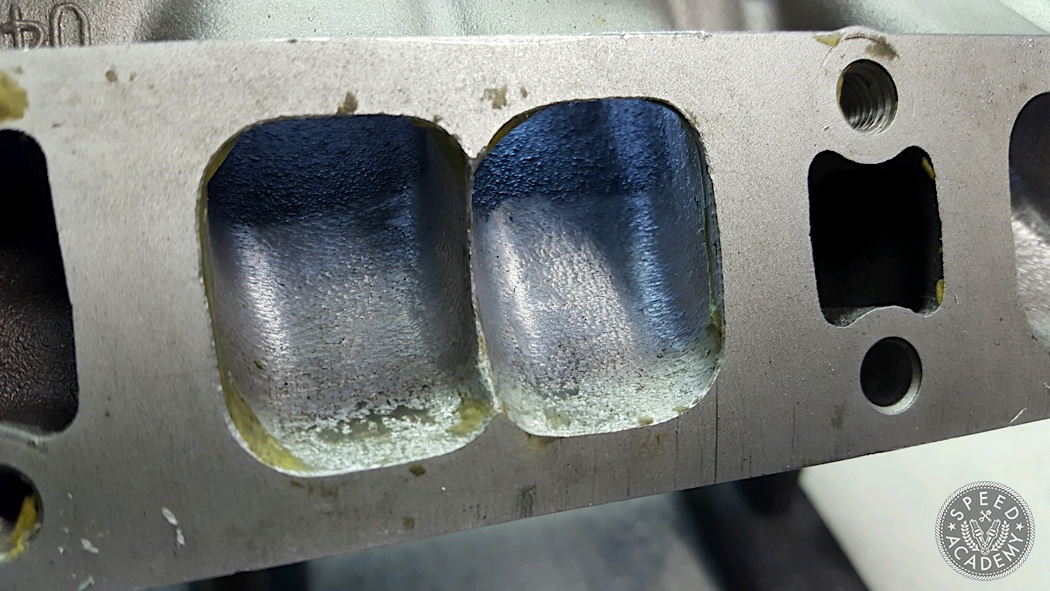 We went back to the drawing board and kept the divider. Ported and just changed the shape of the intake port. 90 cfm gain! And this head went on to set the national ET record.
CNC portingcylinder head portingDave Localiodimple portshand portinghead portinghead porting mythsHeadgamesHeadgames Motorworksmirror polishingport shapeport sizingtruth about portingvalve anglevalve jobs
Sours: http://speed.academy/10-myths-of-cylinder-head-porting/
Me engine porting near
THE A...B...C's OF FLOW TESTING A CYLINDER HEAD CORRECTLY:







CYLINDER HEAD PORTING SERVICES:

The only way to spot a cutting edge cylinder head port developer is to investigate the equipment they have at their disposal. It does not take a grinder, an air compressor, and a garage; it takes expensive, sophisticated, technological equipment along with experienced people to get the job done right!

MMCE is a full service race engine machine shop that utilizes our CAD/CAM software, CNC machining capabilities, Serdi seat & guide machine, Saenz 680 Digital Flow Bench & accessories, among others to supply our customers with the latest and absolute best cylinder heads that the market has to offer!

Several cylinder head porting options are available:

Bowl Port & Gasket Match: This is our minimum recommended porting process. Takes care of the two most critical areas of the cylinder head. (Intake gasket match only.)

Super Modified Porting: Chambers, bowls, intake & exhaust gasket matching. If you're on a budget but looking for the best bang for the buck this is for you!

Full Port & Polish: Full hand porting & polishing of the chambers, complete intake port, & complete exhaust port. (Includes flow sheet.)

Full CNC Port & Hand Polish: Our in house CNC has allowed MMCE to provide the absolute best cylinder heads your hard earned money can buy. Our programs include ports for everything from various Big & Small Block Chevy, Ford, & Chrysler (Specializing in SB2.2, SBC Wedge, 23 degree SBC, conventional & spread port BBC to name a few). We cater to not only the drag racing market but have several ports for circle track applications as well. If we don't have exactly what you need (which is unlikely) we can modify current programs or create an entirely new program to fit your needs! Every process from programming, digitizing, CAD/CAM development and solid modeling are all done in-house under one roof. This alone enables us to tweak any variable to fit your needs.

Cylinder head port development is never complete. Once a company "settles" it is quickly passed by. That is why we at MMCE constantly spend countless hours tweaking, changing, & re-designing existing ports to ultimately end up with best the industry has to offer!



MACHINING OPTIONS TO CONSIDER DURING PORTING:

Race Recondition: Includes Clean & Inspect all Components; Race Valve Job; Grind Valves; Inspect Guide Clearance; Flat Mill; Install 16 Valves to Specified Chamber; Check & Correct Proper Valve Spring Installed Height; Inspect Proper Open & Closed Pressures, Coil Bind, and Free Heights; Install Springs; Vacuum Test Individual Chambers; Assemble Heads. Competition Valve Job: Cut Multi-Angle Competition Valve Jobson Serdi 100. (per pair) A necessity for ported cylinder heads to achieve optimum air flow.

Valve Profiling: Produces dramatic increases in low lift flow for additional horsepower and torque. A good option for ported heads. Includes machining proper back angles on the valves.





INTAKE MANIFOLD PORTING SERVICES:




Intake manifold design & porting is our specialty! From basic hand porting, blending & port machining to ultra-custom 1 off intakes, we have you covered. We have a variety of intake manifold CNC porting programs as well if you want the absolute most power available from your combination.

Port Match: Our opinion.....every engine built needs this process completed. It allows the transition from the intake manifold to the cylinder heads to be seamless thus creating more power.

Port Match & Blend Top: This is the best money spent on an intake manifold as far as porting is concerned. The most bang for the buck! Includes port matching, as above, and blending of the plenum and the intake dividers.

Full Port & Polish: Complements any head porting option for absolute maximum horsepower gains. Includes full porting and polishing of the inside of the intake manifold.

Full CNC Port & Polish: Please contact us for this service.






Sours: https://mmcompetitionengines.com/racing-cylinder-head-intake-porting-services-index.html
David Vizard's PowerTec 10 EP 28 The ultimate youtube head porting video
SHOP SERVICES
MACHINE SHOP
Need a valve job, milling services, welding, cleaning, or other cylinder head machine work? Total Engine Airflow is a full service cylinder head machine shop.
Standard Shop Labor rate $75.00 per Hour
Custom Serdi Valve job $175.00 and up
Grind seats, margins,backcuts on valves $2.00 ea and up
Remove and replace valve guides $4.00 ea.
Diamond hone guide $4.00 ea.
CC Combustion Chamber – $10
CC Intake Port – $25
Bead Blast Head – $10
Drill Bolt Holes to 1/2″ – $25
Head Assembly – $60 (most heads) clean, set spring heights
Angle Mill Heads .100″ – $200
Mill Heads up to .010″ – $65
Mill Heads up to .050″ – $75
Mill Heads up to .100″ – $100
Mill Intake up to .010″ – $50
Mill Intake up to .050″ – $75
Mill Intake up to .100″ – $100
O-ring Heads with .041″ Stainless Wire – $125
Cut Receiver Grooves for Fel-Pro Loc-Wire Gasket – $125
Cut Receiver Grooves for O-ring Block – $125
Vacuum Check Heads – $20
Intake Manifold Port Matching – $300 + necessary intake gasket set cost.
Please call for other Machining Services.
FLOW TESTING
Our flowbench is an extremely important part of our cylinder head production process. As we develop a head, we can obtain data on the volume and velocity of the air flowing through the various parts of the head. The testing is precise enough to allow us to see the airflow around sections of the perimeter of each valve in a head. Remember, a great head doesn't just produce good peak flow numbers… it's all about area under the curve. We can flow test any head, if you'd like to know how your heads stack up.
Flow Head – $75.00 intake and exhaust
Total Engine Airflow cares about your engine build, we want to assist you with technical advise, experience, and skilled machine work. If you do not see what you're looking for, or if you have any questions; give us a call at 330-634-2155
or send us an email at [email protected]
Sours: https://totalengineairflow.com/shop-services
Now discussing:
Enhance the performance of your engine with extrude hone porting in Chicago IL
If you are a gearhead, you are most likely already familiar with the benefits of porting intake and exhaust manifolds and other engine components to enhance fuel and air flow. But have you considered the best way to get your porting done?
Hint: it's not porting by hand.
It's extrude hone porting in Chicago IL.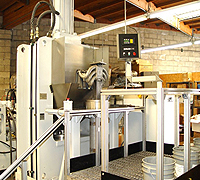 Also sometimes called PowerFlow, the Extrude hone porting process was invented by one of our company's founders in 1974. The first engine improved by porting was actually a chainsaw, but the benefits of the process were quickly adapted to all kinds of engines. We personally demonstrated this technology to Ford in 1992 and today it is used to enhance some of their top models. Extrude hone porting is also commonly used on parts for:
Racing engines
Muscle cars
Motorcycles
Personal watercraft
High-performance trucks
How Extrude Hone Porting Works
Whereas hand porting can only improve surfaces that hand tools can reach, extrude hone porting in Chicago IL can improve the entire passageway and carries no risk of ripples or unevenness. Extrude hone porting uses an abrasive-laden polymer that can conform to the exact dimensions of the passage. Though the media may be almost liquid at first, when it is pushed into the part under pressure it becomes firmer, transforming into a flexible slug that evenly contacts every surface of the hole or passage and grinds away the metal. Our polymer media is designed to allow the abrasive grit to recirculate constantly, so that fresh abrasive is always contacting the surfaces being honed. The process can be controlled with a high degree of precision to ensure that the porting gets done to the exact specs you have calculated will enhance your engine.
Benefits of Extrude Hone Porting in Chicago IL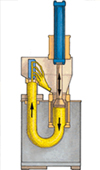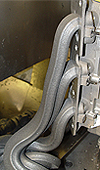 Any passage that fuel or air flows through can benefit from extrude hone porting in Chicago IL. The most commonly ported parts are intake and exhaust manifolds, but we can also port engine heads, turbo impellers, housings and pumps, and 2 or 4 stroke cylinders.
This process does not alter flow volume, but it does improve flow velocity. Fuel is burned more efficiently and exhaust is evacuated more completely. The result is:
Increased horsepower
More thrust
More torque
Increased fuel efficiency
Reduced emissions
The exact benefits you'll see in each of these areas after extrude hone porting in Chicago IL depends on how your engine is configured. Typically, honing the intake manifold results in a 25 percent increase in flow.
Why Choose Extrude Hone AFM
Extrude Hone AFM is a master of the entire process of extrude hone porting in Chicago IL. We have thousands of pounds of polymer media on hand to enable us to start your project sooner and get you enjoying your improved engine performance faster. If you would like a quote on extrude hone porting, please call (562) 531-2976 now.
Sours: https://www.extrudehoneafm.com/service-locations/chicago-il/extrude-hone-porting-in-chicago-il/
287
288
289
290
291