Macquarie Mint under investigation for use of Rising Sun badge on commemorative coin; ceases promotional material using word 'Anzac'
A commercial mint in Victoria is being investigated for its use of a protected defence emblem on its 2015 Gallipoli landing centenary coin and the word 'Anzac' in advertising material.
The Macquarie Mint mailed promotional material to thousands of Australian households in the lead up to Anzac Day, hoping to sell its $10 silver commemorative coin.
The front of the coin is printed with the image of an armed soldier underneath a Rising Sun emblem, a symbol protected by the Department of Defence.
The Rising Sun badge was worn by soldiers of the 1st and 2nd Australian Imperial Force in both World Wars and has become an integral part of the digger tradition.
The department has told the ABC the badge cannot be used in full or in part without express permission from the Government, and it has no record of the Macquarie Mint asking permission to use the symbol.
The Department of Veterans' Affairs has also pulled up the mint over its use of the world 'Anzac' in promotional material for the coin, which the mint has agreed to stop distributing. The word Anzac does not appear on the coin.
It comes just a week after supermarket chain Woolworths sparked social media backlash for using the word Anzac and the phrase 'Fresh In Our Memories' over the images of former soldiers.
"As a protected mark, the Rising Sun badge may not to be renamed, cropped, manipulated or edited in any way, used in part or overlayed with another image," a defence spokesman said.
"It also cannot be used without the written permission of the Department of Defence.
"Defence is looking into this matter and as such, cannot provide any further information at this time."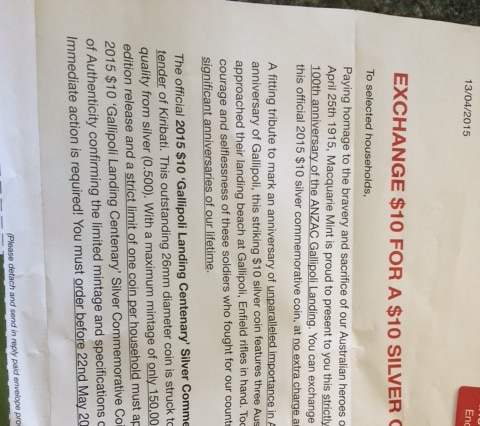 "Macquarie Mint does not have permission to use the word 'Anzac' for this purpose, and was contacted on 21 April 2015 regarding its use in the letter," a Department of Veterans' Affairs spokesman said.
The department said it wrote to the Macquarie Mint earlier this week asking it to immediately stop using the term.
It said companies are liable for up to $51,000 for using the word without permission.
In a written statement, a Macquarie Mint spokesman said they would cease any future distribution of marketing material featuring the coin image and the single piece of marketing material featuring the word Anzac.
"I might add that Macquarie Mint has donated a share of proceeds from sales of our First World War Silver Collection to Legacy Australia over the past four years.
"This has helped contribute over $100,000 to help care for families of incapacitated and fallen veterans."
Macquarie Mint has advertised its 2015 souvenir as the official tender of Kiribati, an island in the central Pacific.
It says only 150,000 coins would be minted.
Each comes with a certificate of authenticity confirming its specifications.
Sours: https://www.abc.net.au/news/2015-04-24/commercial-mint-under-investigation-over-use-of-word-anzac/6416672
Your message has been sent.
ATTENTION: You are currently using an unsupported browser. We recommend switching to Google Chrome or Edge for the best on-site experience.
An error has occurred while processing this page. The site administrator has been notified. We apologize for the inconvenience.
2013 VANUATU 14K PROOF GOLD COIN 0.05 GRAMS MACQUARIE MINT WORLD SMALLEST GOLD COIN
View catalog
Sold:
A$50
Estimate: A$50 - A$100
August 26, 2021
Brisbane, Australia
---
2013 VANUATU 14K PROOF GOLD COIN 0.05 GRAMS MACQUARIE MINT WORLD SMALLEST GOLD COIN
Accepted Forms of Payment
MasterCard, Visa, Wire Transfer
Shipping
Auction House will help arrange shipment of small portable items, at buyer's expense, large quantities, odd sizes and more delicate items we are unable to help buyers, we recommend Albion Pack and Send for these items


We recommend the following local carriers for larger items,
Peter: 0459 305 173
Anything and Everything: 0422 600 415
The Van that Can: 1300 826 226

For interstate removals
Mullumbimby Removals: 02 6684 2198

For items that need to be sent overseas or are expensive, speak to Pack and Send at Albion, Lisa is the contact there, and email is [email protected]
You agree to pay a buyer's premium of up to 18.5% and any applicable taxes and shipping.
View full terms and conditions
Bid Increments
From:
To:
Increments:
A$0
A$99
A$5
A$100
A$299
A$10
A$300
A$599
A$25
A$600
A$1,499
A$50
A$1,500
A$2,999
A$100
A$3,000
A$4,999
A$250
A$5,000
A$9,999
A$500
A$10,000 +
A$1,000
Sours: https://www.auctionzip.com/auction-lot/2013-vanuatu-14k-proof-gold-coin-0.05-grams-macqu_CD0441CB85/
Macquarie looks to sell 450MW solar assets for $300 mn
Around 330MW of these operational solar assets were acquired from Hindustan Powerprojects Pvt. Ltd.
MIRA is hopeful of commanding a premium on the sale of Indian solar assets, given that the off-takers for the electricity generated at a higher tariff from most of these projects are Gujarat state-owned electricity distribution companies (discoms), with a history of timely payments.
The sale process for the proposed deal is yet to start and comes at a time when India's solar power tariffs have touched a record low of ₹1.99 per unit. This, in turn, has resulted in tariff shopping by discoms with India's clean energy space already facing problems such as power procurement curtailment and delayed payments.
A Macquarie Group spokesperson declined to comment.
"The reason why these assets are expected to command a premium is because a large part of this capacity is located in Gujarat, which has a history of timely payments. Also, when solar tariffs have gone south, these projects have power purchase agreements that were signed at a higher tariff," said one of the two people mentioned above, requesting anonymity.
"The process is yet to be launched and there is a lot of interest in these assets. A formal sale process is likely to start sooner rather than later," said the second person mentioned above, who also did not want to be named.
The sale plan by Macquarie comes against the backdrop of India's quasi-sovereign wealth fund, the National Investment and Infrastructure Fund, emerging as the buyer of the hybrid annuity road assets of Ashoka Concessions Ltd as reported by Mint earlier. Ashoka Buildcon Ltd has a 61% stake in Ashoka Concessions, while the remaining 39% is held by MIRA.
In 2012, Macquarie, through its first India-focused fund, had bought the Ashoka Concessions stake for ₹800 crore. It had finalized the deal jointly with State Bank of India.
MIRA and its managed funds oversee investments in 12.4GW of green energy capacity. It is a part of Macquarie Asset Management, the asset management arm of Macquarie Group, which has assets under management of around €339.9 billion.
Never miss a story! Stay connected and informed with Mint. Download our App Now!!
Sours: https://www.livemint.com/industry/energy/macquarie-looks-to-sell-450mw-solar-assets-for-300-mn-11618771373101.html
New at Macquarie Mint: The Great Barrier Reef 5oz Silver Proof Coin (Official WMF Release!)
Legacy receives $200,000 corporate donation from Macquarie Mint
SYDNEY, Dec. 1, 2017 /PRNewswire-AsiaNet/ --
The well-known Melbourne based company, Macquarie Mint (http://www.macquariemint.com/), has given some $200,000 to the famous Australian charity, Legacy.
Photo - https://photos.prnasia.com/prnh/20171130/2004170-1
Legacy began back in 1923 just after 60,000 Australian soldiers lost their lives in World War 1. Ever since then, Legacy has been supporting families left behind by service personnel who have died in action or have given their health.
The $200,000 gift from Macquarie Mint has come from the sale of two very stylish limited edition silver collections. The first collection honours the centenary of WW1 whereas the other commemorates WW2. Macquarie Mint, established in 2005, has been selling these exclusive commemorative collections for the last six years. During all that time, a share of every sale has gone to Legacy with the total now exceeding $200,000.
As the generous gift kept growing and growing, the Chairman of Legacy Australia, Rick Cranna, said, "We would like to thank Macquarie Mint for having donated more than $200,000 over the last six years, helping Legacy to care for the families of those who served their country."
Today, Legacy's compassionate service assists more than 65,000 widows and widowers around Australia as well as some 1,800 children and dependants with a disability through innovative and practical programs.
Legacy is committed to protecting the basic needs of individuals and families as well as advocating strongly for their entitlements, rights and benefits. Legacy representatives particularly assist families to cope with bereavement. And their approach includes helping people to thrive despite adversity and loss.
As a community based company, Macquarie Mint prides itself on assisting customers to find the most exclusive, prestigious and historic numismatic collections available. Whether it is precious metals, ancient civilisations, Australian history or international themes, Macquarie Mint has collections that cater for all interests and are affordable for every budget.
Macquarie Mint is proud to have donated in excess of $200,000 to Legacy over the last six years, and the company also gets behind other good causes such as Kidney Health Australia.
For more information, please contact Macquarie Mint at +61-3-8456-8499.
SOURCE Downies Coins Pty Ltd
Sours: https://www.medianet.com.au/releases/149704/
Mint macquarie
Author
Replies: 22 / Views: 24,932
Macquarie Mint is a mail-order company, that operates along similar lines to Seven Seas and (for those in America) Littleton. I don't know about the truthfulness of their claims for silver bullion performance, but the use of the word "Mint" in their company name is, in my personal opinion, misleading, because Macquarie Mint doesn't actually "mint" anything. They're a coin marketing company. Their business model is simple: buy cheap bullion coins from around the world (though most of what they buy is old Perth Mint stock that didn't sell), find some gimmicky trinket or object to "go-with" it, re-package it all up in Macquarie Mint wrappers and sell the lot to some unsuspecting "investor" for twice the price Macquarie Mint paid for it.
Macquarie Mint is not linked to Macquarie Bank, Macquarie University, Macquarie Radio or any of the other high-profile Australian institutions with "Macquarie" in the name.
My dad found himself added to Macquarie Mint's coin-of-the-month mailing list when he bought me a coin as a present via one of their newspaper advertisements; each month they'd send a coin-with-gimmick package and charge his credit card for it if he didn't return it. He found it less hassle to pay for the coins each month and save them up to give to me each birthday and Christmas than to try to cancel it. Eventually I persuaded him that these coins he was buying me as gifts were perhaps not the best use of his gift money.
Most of what they sell will never be worth much more than bullion, and probably nowhere near what Macquarie Mint's customers originally pay for the stuff (their current rate, according to the ads Craig posted above, is $99.95 per one ounce coin!), but occasionally they might (in their ignorance) send you a sleeper purely by chance. In among the two dozen or so one ounce silver bullion coins I ended up being given by my dad, one of them was a Redback Spider Tuvalu dollar - and those things are routinely selling for over $1000 these days. It is, theoretically, the most valuable coin in my entire collection, even without its original Perth Mint packaging.
Don't say "infinitely" when you mean "very"; otherwise, you'll have no word left when you want to talk about something really infinite. - C. S. Lewis
The Nauru $10 coin scam crustykaz is talking about is discussed here.
Like all Macquarie Mint advertising, the Nauru coins have been advertised in newspapers, magazines, everywhere except places where actual coin collectors are likely to look for coins (like in CAB Magazine, for instance).
Which tells you something about Macquarie Mint's target market. They're not interested in attracting actual coin collectors, but people on the fringes of the hobby - interested newbie speculator/investors and friends/relatives of coin collectors.
Quote:
...After October 31st 2013 the coin has absolutely no value...
Well, I wouldn't go quite that far. Assuming they're not lying about the silver content too, there's $6 worth of silver in those "coins". Just probably not worth the $10 people paid. And, given the non-legal-tender status, they're not really "coins" - "fantasies" would be the correct terminology.
With any luck, Nauru will take Macquarie Mint to court and get them shut down. If that happened, I'd want one of these "coins", as a souvenir of the controversy.
Don't say "infinitely" when you mean "very"; otherwise, you'll have no word left when you want to talk about something really infinite. - C. S. Lewis
Replies: 22 / Views: 24,932
Sours: https://www.coincommunity.com/forum/topic.asp?TOPIC_ID=85091
New at Macquarie Mint: the Original 2c Design High Relief Silver Proof Coin! (Official WMF release)
Downies and Macquarie Mint
As the world's largest distributor of numismatic products for the Royal Australian Mint and Perth Mint, Downies are able to bring the cutting edge of the Australian numismatic industry to their collectors. Downies recognised the opportunity to modernise and improve their online presence for both Downies Coins and Macquarie Mint. After an extensive review process, Downies selected the Magento Commerce Cloud solution and enterprise partner Balance Internet to architect, design and develop a new high-performance platform to meet their requirements. The project focused on improving overall user experience and conversion while streamlining back of house operations through full integration with SAP.
I was the Solutions Architect and was running the project from the requirements gathering and documentation process up until launch as a BA and Product Owner.
Visit Site
Sours: https://commercehero.io/projects/22890-downies-and-macquarie-mint-
Similar news:
.
346
347
348
349
350