Pete and Gerry's Launches a Reusable Egg Carton
The country's leading organic egg brand has created the industry's first reusable egg carton.
If you have zero-waste in mind when you do your shopping, egg cartons may not seem the worst of the waste. Paper pulp cartons can be recycled or composted; PET plastic ones are made of recycled plastic (often bottles) and can be recycled again.
But consider this: Hens in the United States last year produced 95.3 billion table eggs. Assuming those eggs all got dozen-sized cartons and applying some rough math, all those eggs would require around 8 billion cartons a year. That is so many cartons.
The thing about eggs is that they are fragile, and so we rely on that packaging to minimize food waste. The idea of going to the supermarket and buying eggs in bulk using a reusable container seems unworkable – but now, Pete and Gerry's Organic Eggs is making a go of it with the introduction of the industry's first reusable egg carton.
The company says that the initiative is an effort to further reduce the environmental impacts of its packaging and inspire consumers to adopt new behaviors to lessen their carbon footprint.
"While we are confident in the sustainability of our current carton, which is made from 100% recycled plastic and has less environmental impact than the Styrofoam or molded pulp cartons used by conventional egg brands, we continue to challenge ourselves to find even better ways to improve our environmental stewardship," said Jesse Laflamme, Pete and Gerry's Organic Eggs CEO. "Reusable cartons are a logical next step in our ongoing commitment to sustainability, moving consumer behavior from recycling to reuse."
© Pete and Gerry's Organic Eggs
The cartons are made from recycled, durable, BPA-free plastic and cost $2.99. Once a consumer has one, they simply fill it up, over and over again, from the Pete and Gerry's display of loose eggs, as you can see in the top photo. The loose eggs are cheaper that the standard dozen, allowing the reusable carton to pay for itself over time.
It's a great innovation, and if anyone was going to do it, it's not that surprising to see it being done by Pete and Gerry's. As the company explained to me, after college in the 90s, Laflamme returned to his third-generation family farm to find it on the brink of bankruptcy, thanks to industrial-scale egg producers who cornered the market and forced most small egg farms out of business. The solution was to make a 180-degree pivot from the industrial model and go free range and organic, eventually becoming the first Certified Humane egg farm in the country and later, the first farm business in the U.S. to be certified as a B Corp. Now the company partners with a network of 125 small family farmers to produce its eggs. Sustainable packaging was the next logical step.
"Our consumers expect Pete and Gerry's to be on the leading edge of sustainability," says Laflamme. "Like many other consumer packaged goods companies, we recognize that reuse is even better than recycling, and we're proud to be at the forefront of this growing movement to help reduce the impact of packaging on the planet."
The cartons are currently being used in pilot programs at the Hanover Co-op Food Stores of New Hampshire and Vermont – and when I asked about any problems with breakage, Laflamme said it hasn't been an issue. And feedback from both retailers and consumers has been great.
"Initial retailer response to the program has been very strong and we are discussing an exclusive launch with a major US chain in early 2020," he adds.
Reusing an egg carton on its own is one thing a zero-waste advocate can do – but for now that is only going to work at the few places that offer loose eggs, like a farmers market or some co-ops. I know that many will argue that the best egg carton is no carton at all – as in, we shouldn't be eating animal products. But in the meantime, that the country's second largest egg company is going to formalize a program and get loose eggs into major chains is great, and a big step for getting those 8 billion annual egg cartons out of the waste stream.
For more, visit Pete and Gerry's.
Sours: https://www.treehugger.com/pete-and-gerrys-launches-reusable-egg-carton-4855526
Tuff Stuff Reusable Washable Empty Plastic Chicken Egg Carton, 12 Eggs (6 Pack)
200 ratings Write a review
This product is not Fulfilled by Ubuy and can take minimum 10 days in delivery. We might cancel the product from the order and refund you if any issue arise with the delivery of this product.
Note: Electronic products sold in US store operate on (110-120) volts, a step-down power converter is required for the smooth device function. It is mandatory to know the wattage of the device in order to choose the appropriate power converter. Recommended power converters Buy Now.
---
Product Details
Reusable 12-egg carton provides convenient storage for your chicken coup
Simply wash out with water to use again
Made with recycled plastic for eco-friendly alternative
Includes lid for added protection
Great for kitchen storage, crafts, or raising backyard chickens
| | |
| --- | --- |
| Item Weight | 1.1 pounds (0.5 kg) |
| Manufacturer | Tuff Stuff Products |
| ASIN | B07VCB7C3G |
Description
Eggs have universal appeal. They're great for breakfast, baking, and their cartons are great for crafts. Whether you're raising chickens or making crafts, you'll love this reusable Tuff Stuff Plastic Chicken Egg Carton 6-pack. This egg carton holds 12 eggs. Since it holds up to 1 dozen eggs at a time, this Reusable egg carton provides convenient storage for your chicken coup. Each egg divot is perfectly sized for chicken eggs. The egg carton box includes a lid for added protection. You can use this egg container for kitchen storage, crafts, or raising backyard chickens. Use this egg tray over and over. It's washable and reusable. Simply wash out with water to use again. This plastic egg carton is made with recycled plastic as an eco-friendly alternative to single-use plastic and paper egg cartons. Keep your eggs safe for storage and transport in this Tuff Stuff Plastic Chicken Egg Carton.
Customer Questions & Answers
No question and answer found
Customer Ratings
0 customers ratings
5 Star 0%
4 Star 0%
3 Star 0%
2 Star 0%
1 Star 0%
---
Review this product
Share your thoughts with other customers
Customer Reviews
No customer reviews found
Write Your Own Reviews
Only registered users can write reviews. Please log in or register
Sours: https://www.u-buy.vn/en/product/2BOFRJR6-tuff-stuff-reusable-washable-empty-plastic-chicken-egg-carton-12-eggs-6-pack
By Jessica Klein4 minute Read
Reusable shopping bags have become a staple at any grocery store with a conscience. It's easy to take the idea for granted, as an obvious solution to unnecessary plastic and paper waste. But every reusable item had to get its start somewhere, and right now, reusable egg cartons may be getting theirs thanks to Pete and Gerry's Organic Eggs, a family-led farm based in New Hampshire that's one of the country's largest egg distributors.
"As a leading organic brand, we took a look at our footprint and asked ourselves how we could do better," says Jesse Laflamme, the company's third-generation CEO. Inspired largely by reusable shopping bags, Laflamme and his team were thinking of new ways to use sustainable packing material when they kept coming back to the same idea: "The best packaging is no packaging." Since eggs with no packaging would result in a yolky disaster, Pete and Gerry's went for the next best option: cartons customers could purchase once and bring back to their local store every time they needed new eggs.
The cartons sell for $2.99. After that, you bring them back to the store and load them up with eggs directly from the large egg containers they're shipped in. The stores offer a small discount on a dozen eggs if you put them in a container, like when you bring your own mug to a coffee shop.
For six weeks now, Pete and Gerry's has been running a pilot program for its reusable egg cartons across four Hanover Co-op Food Stores in New Hampshire and Vermont. Laflamme says the company has sold around 500 of the reusable cartons , and customers have given positive reviews. "They're loving the idea that [the cartons are] robust, and they can cut down on their waste," says Laflamme.
Retailers are happy. Customers with the reusable cartons are buying just as many of Pete and Gerry's eggs as they were before.
The reusable cartons are made of BPA-free molded, recycled plastic. They're sturdier than the cartons the farm otherwise sells its eggs in, which are made of thin plastic from recycled water and soda bottles.
Meanwhile, people in the U.S. are eating more and more eggs. In the 1940s, the average person in the U.S. ate about 404 eggs per year. After a significant dip, that number has climbed back up to 279 eggs per person per year—meaning a single person could cut back on more than 20 egg cartons annually if they opt for a reusable alternative.
A Certified B Corporation, Pete and Gerry's has been able to maintain its family farm status in the face of large-scale industrial farming. Around when Laflamme was in college, his parents had to compete with a nearby farm boasting five million hens. "It was a struggle," Laflamme says. "When I came back, the farm was on the edge of whether it was going to be viable or not. We switched to organic, and that literally saved our family farm."
Not only did going organic save the farm by offering an alternative to industrial farms, it helped it grow. "Rather than become a factory farm, we chose to partner with other small family farms," says Laflamme. Pete and Gerry's now has a network of about 130 family farms from which it purchases eggs, selling them under Pete and Gerry's branding in about 60% of retailers across all 50 U.S. states.
The company also sells free range but non-organic eggs under the brand Nellie's Free Range Eggs for a lower price. In March, the PETA Foundation filed a class-action lawsuit against Pete and Gerry's and Nellie's after capturing footage showing thousands of hens living in a confined, indoor space at one of Nellie's suppliers. The company has filed a motion to dismiss, and Laflamme says that a PETA operative took that video footage during a public tour of the farm and edited it selectively to obscure outdoor space available to those hens.
Pete and Gerry's has a number of massive retail customers, including Kroger's, Safeway, Publix, and Whole Foods. Laflamme says the company will start sharing the reusable egg carton concept with these retailers soon in hopes that they'll implement their own pilots. He'll just have to talk logistics with them first. The cartons alone will require a separate display case from the eggs in stores, and getting all of that shipped across the country will take time. Laflamme sees Whole Foods as a particularly suitable market for the reusable cartons, which are "more on trend" for the chain's typical, sustainability-conscious shopper.
"It's been better received that we would have imagined," Laflamme says of the pilot overall. "The aim is to excite people about the idea of your reusable shopping bag—bring back the reusable egg carton."
---
Correction: We've updated this story with the correct name of the stores where the cartons are being piloted.
Sours: https://www.fastcompany.com/90443967/egg-cartons-are-the-next-packaging-to-be-replaced-by-reusable-containers
Chicken Condos - Styrofoam Reusable Egg Cartons
Reusable Egg Carton in Pilot
The leading Certified Humane egg brand in America and a Certified B Corporation, Pete and Gerry's Organics LLC of Monroe, NH, has built its business on the humane treatment of animals, sustainable farming practices, and the restoration of the small family farm to the American landscape. These beliefs also extend to its packaging, where for years it has thought outside the (traditional) carton, opting since 2012 to use rPET rather than expanded polystyrene or molded pulp for its packaging.
Now the brand, which supports 130 family farms that supply its organic, free-range eggs, is following in the footsteps of initiatives such as the Loop returnable packaging platform (see related article from Packaging World magazine, "Global CPGs Embrace Transformative Loop Circular Shopping Platform") to pilot reusable egg cartons. "Our environmental stewardship is very important to us, so while we're confident the rPET packaging we currently use is the best available option on the market, we still want to challenge ourselves to continually improve on the practices we have in place," says Pete and Gerry's Organic Eggs CEO Jesse Laflamme, a third-generation farmer and grandson of company founder Les Ward. "We know reusing is better than recycling, and we've seen the popularity of things like reusable bags, so we thought, why not egg cartons?"
In December 2019, Pete and Gerry's began a pilot of its reusable egg-carton concept at the Hanover Co-Op Food stores in New Hampshire and Vermont. Through the program, consumers buy a reusable, recyclable egg carton made from recycled-content polypropylene and fill it with eggs from a display of loose product located in the store's refrigerated cooler.
Cartons are stacked in a branded, standalone corrugated POS display positioned near the cooler. Designed for durability to withstand multiple uses, the plain, white PP carton uses more plastic material than a single-use carton. Because of this, it's priced at $2.99—"significantly more" than Pete and Gerry's standard rPET carton, says Laflamme. To offset the cost, the company has discounted the eggs that go into the carton by 50 cents per dozen. "So the carton pays for itself after six purchases," Laflamme explains.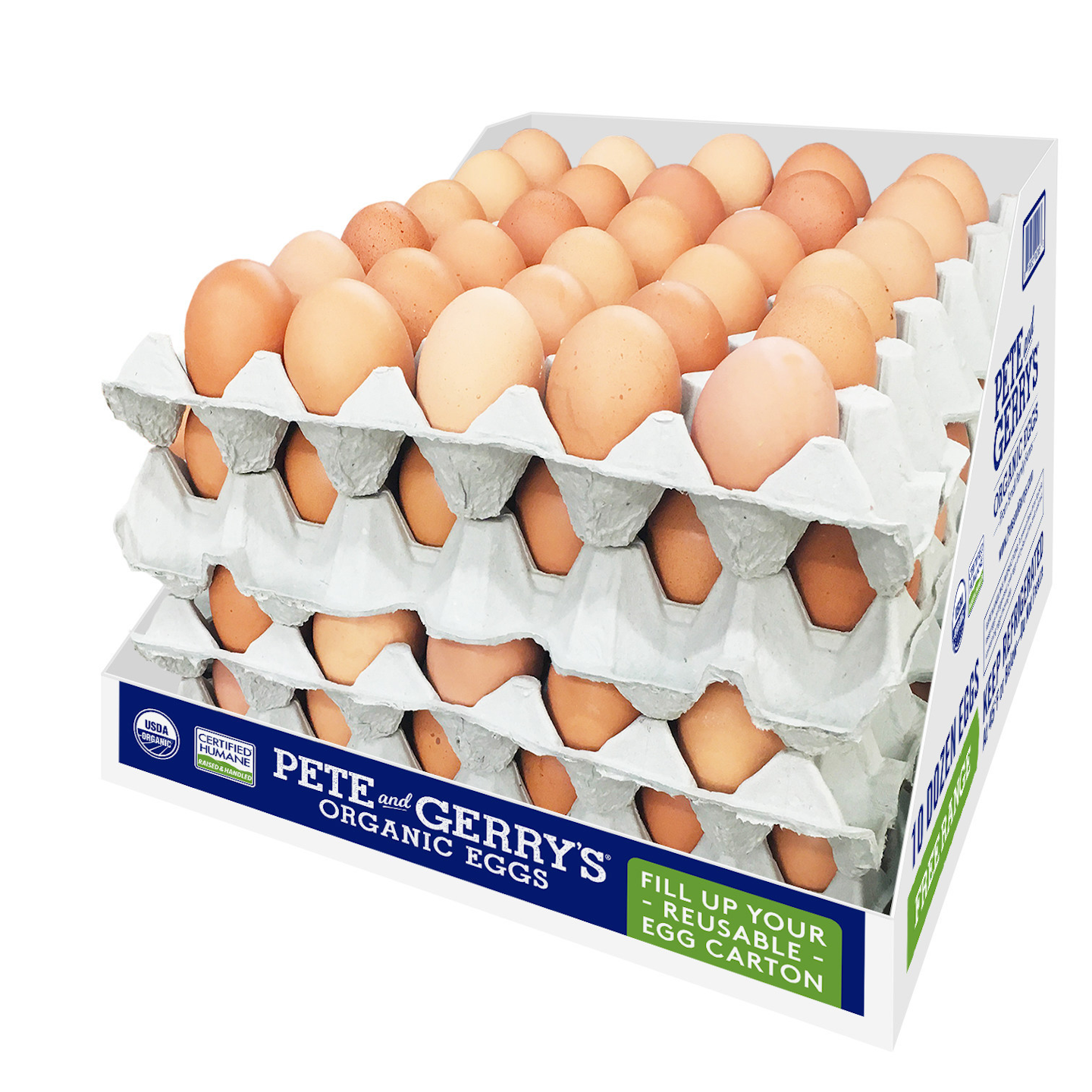 The loose eggs are delivered to the Hanover Co-Op stores in a corrugated, tear-away box that holds 10-dozen eggs packed on pulp flat.The loose eggs are delivered to the Hanover Co-Op stores in a corrugated, tear-away box that holds 10-dozen eggs packed on pulp flats, designed in-house at Pete and Gerry's. Reports Laflamme, "We continue to learn as this item rolls out, but so far we have not run into any major operational issues. Damages have remained low for us."
Pete and Gerry's sees a massive potential in packaging material savings through reusable egg-carton systems. "The average person in the U.S. eats approximately 279 eggs per year, or 23 cartons' worth. Just one person replacing their egg cartons with a reusable carton would save more than 1,800 cartons from entering the recycling and waste stream," the company estimates. "When projected to the approximately 330 million people currently living in the U.S., more than 594 billion cartons would be replaced over a lifetime, enough to circle the globe over 4,000 times, presenting a simple, near-term action we could all take to lessen the environmental impact of our daily food choices."
One challenge is that the program requires active participation by shoppers, who will need to change their behavior. But Laflamme says Pete and Gerry's is confident that as sustainable practices continue to gain popularity in the mainstream, the number of people excited to do their part in reducing plastic waste will grow. "We have to start somewhere," he says.
"We have seen a strong response to the program to date, with same-store sales growing weekly alongside positive responses from local shoppers," Laflamme adds. "Additionally, retailer interest in the program has been well received, and we hope to make the reusable egg cartons available nationally this year."

Sours: https://www.packworld.com/issues/sustainability/article/21123971/reusable-egg-carton-from-pete-and-gerrys-in-pilot
Cartons washable egg
.
Egg Carton Bugs Recycle Craft for Kids
.
Now discussing:
.
364
365
366
367
368