Beginner Spanish Ebook A1 & A2
Description
Our Beginner Spanish Ebook will help you do that.  This ebook will help you move your Spanish from beginner level to low intermediate. It has simple grammar explanations with activities to practice what you learned.
I find these types of books good if you want to get your toes in the water with the language and see what it is about. That's why it is written in English with examples and exercises in Spanish. It is a guide for you to know how you should move through the learning of this language. However, this book is just a tool and it needs to be complemented with audio or video.   Like our Beginner Spanish Course. That way, you'll get the pronunciation right and learn with context.
I suggest you use this ebook as supporting material for your studies.  Not as the only tool you use to learn Spanish. There are many tools on the internet for you to learn more. I will of course suggest our YouTube channel: WhyNotSpanish, especially this playlist for beginner students.
You can also follow native speakers on social media. This will get you familiar with words, and pronunciation. You can follow us on our Instagram account: WhyNotSpanish, where I constantly upload stories showing parts of our life, and tips to learn Spanish.

For the beginner Spanish student
Spanish is a very rich language. There are 21 countries that use Spanish as an official language and millions of people who speak it. As you can imagine, there are variations in the way people speak from region to region. From accents, to words, and expressions.
Thanks to cultural exchanges through movies, TV and mass media, Spanish speakers understand each other when we use a word that someone from another Spanish speaking country might not use. No worries. As you progress through your learning you'll start noticing these things and see what I mean. I am Colombian. (with an O, not with a U) I like to teach the Spanish I heard growing up which is the Spanish I have used all my life. So you will find a more Latin American – Colombian type of Spanish here.  As well as in my Beginner Spanish Course and YouTube videos.
This is a beginner Spanish ebook.
We are going to cover the basics of the language. You are going to learn to introduce yourself and others, talk about what you are doing, and ask basic personal information questions. We'll talk about the routine, quantities, measurements, and confusing verbs. We are going to get familiar with topics like the past and the future towards the end of the book but we won't go deep into them.
This E-book is a self-study book; therefore, you will find the answers to the exercises at the end of it. When you work on an exercise, you can click on see the answer and it will take you to the part of the book with the answer to those activities.
Practice Exercises
In most sections and explanations from this e-book, you will find a list of useful vocabulary in English and Spanish, as well as practice exercises to go along with the explanations of the grammar. You will also find short stories so you can start practicing your reading skills and solidify with examples what you studied in the section. 
We hope that this ebook is useful to you and helps you clarify concepts and confusing subjects about the Spanish language.
Remember this is an ebook that you can store and take anywhere on your electronic devices.  If you want a hard copy all you have to do is print it.
Sours: https://www.whynotspanish.com/product/beginner-spanish-workbook-a1-a2/
Best Spanish Textbooks For DELE Exam! – A1 – C2
Doing the DELE exam can be difficult, but they're definitely worth while, and to make these examinations as easy as possible for you, you need to prepare.
You can prepare in lots of ways; class, reading, watching movies, talking to people in real life, but one of the ways you're probably going to want to practise is by using Spanish textbooks. Which is why we wanted to write our recommendations of the best Spanish textbooks for the DELE exam.
These are the textbooks we would recommend you use to prepare for the DELE exams. In this list we have broken our recommendations down by level and we have also recommended a textbook to learn grammar and then a different textbook to help you work through past papers. We hope this list is useful to you.
The two book recommendations we are giving you are for grammar and past papers. So if you don't want to read our tips in between, you can just scroll down to these two headings.
---
DELE Practise Paper Textbooks
Why are DELE practise papers important?
Practise papers are important because they give you a feel of what the actual DELE exam is going to be like.
You may be confident with your grammar, you may be able to watch television with subtitles or hold a conversation, but unless you practise the skills that are going to come up in the exams, you're just not going to be prepared for the real thing.
How should I use these DELE textbooks?
Don't leave them until right before your exam. I would start trying past papers a few weeks or months before the actual exam. This way you give yourself the time that you need.
If you're working and you can only fit in one a week then that's fine, as long as you give yourself enough time before the actual exam. If you start two months before you could get through eight practise exams and you would be really prepared.
Do try and do the past papers under exam conditions. This means try and time yourself so you take as long as you would in the actual exam, and don't look up words you don't know in a dictionary while you're doing the practise paper.
Once you've finished, by all means go back and check out the new vocabulary but don't do it while you're doing the practise, because the whole point is to get you used to exam conditions and if you don't know a word in the actual exam, you won't be able to look it up.
Instead, you'll have to infer it's meaning from what's written in the rest of the text.
These are the best textbooks we would recommend for doing past papers.
What's in these DELE textbooks?
In these textbooks, you will find past papers for:
listening
writing
reading
speaking
Of course, with writing and speaking you won't be able to do them alone.
But if you have a Spanish teacher, you can ask them to help you with the speaking sections or to take a look at your written work.
Each textbook should also contain a CD, but check the descriptions on the product before you buy.
A1 Practise Paper Exam Textbook
This Spanish A1 textbook has practise papers that you can do before the exam to check you understand the process and to see if you're ready or not to take the Spanish A1 exam.
A2 Practise Paper Textbook
This Spanish A2 textbook contains a series of practise papers to help you practise the four components of the DELE exam.
B1 Practise Paper Textbook
To pass the B1, a Spanish B1 textbook full of past papers for the four different components of the exam is exactly what you need.
B2 Practise Paper Textbook
This B2 Spanish textbook consists of a series of past exams to help you practise your listening, speaking, reading and writing for the B2.
C1 Practise Paper Textbook
As the exams are becoming so much more difficult at this level, a Spanish C1 textbook is vital to help you prepare for the C1 exam.
C2 Practise Paper Textbook
Finally, if you're going to take the C2 exam then you're definitely going to need a Spanish C2 textbook full of past papers to help you adequately prepare for the exam.
Important! These textbooks don't include the answer keys at the back which can be really frustrating if you finish an exam, flick to the back page and find that the answers aren't there. You can often find PDFs of the answer books online but if you can't they do tend to be cheaper than the past exam paper books.
What we would recommend is to buy the answer book with a friend who is also on the course. That way you save some money and you can take it in turns to use the answer book whenever one of you has answered a question. At the end of the exam period you can sell the book and split the money with your friend.
---
Best Spanish Grammar Books
Yes, there are other skills you need for the exams, but a lot of that you don't need the textbook for.
Grammar is one of the things I would definitely recommend buying the textbook for and practising because it's a lot more difficult to practise in the real world than other skills.
Now on a lot of sites, you'll find the books broken down into best A1 grammar, best A2 grammar etc. Which is fine, there are books dedicated to each level. But we have found that these grammar books that cover A, B and C are the most comprehensive and user friendly ones available, making them in our opinion the best Spanish textbooks currently our there.
They are laid out so that the left page of the book explains the grammar point and then the right paid contains exercises.
The information is never too much before you are given a chance to practise it yourself, and the answers are in the back of the book so you can check it yourself when you're done.
A1 – A2 Spanish Grammar Textbook

The A1-A2 Spanish textbook is a great way to get you started. You're at the basics of Spanish and you're ready to get stuck into the grammar.
As I mentioned before, the book gives you grammar information in bite size pieces. You have an explanation, followed by exercises, so you always have a chance to practise what you've learned.
The one recommendation I would make with this book is although I think it is useful and would recommend it, don't get stuck just using the textbook. When you're starting out, it's quite common to find speaking a bit scary and to bury yourself in textbooks instead, but a textbook won't help you learn a language alone.
You need to speak it, and interact with the language too.
B1 – B2 Spanish Grammar Textbook
After you've completed the B1-B2 Spanish grammar book you'll feel like you know the subjunctive inside out. This one starts out with relatively easy grammar if you've just come from A1-A2, but takes you all the way through the subjunctive.
And the great thing is, the change is so gradual, you don't see the book suddenly getting difficult, instead it builds your confidence to a point that each time you encounter a new grammar structure you feel ready to take it on.
C1 – C2 Spanish Grammar Textbook
If you've gotten to the stage where you need this Spanish C1 textbook then I would like to congratulate you. You've really stuck to learning Spanish and it's clearly paid off. This book is laid out just the same as the two previous ones; one on side you have explanations of grammar and then on the other page you have practise exercises.
Even though you're at a higher level, the creators of the book understand that you still need practise so they don't overwhelm you before they give you more information to take in.
If you have worked your way to the end of this book please let us know in the comments below! The team will definitely be impressed with that achievement.
And these are our best Spanish textbooks for the DELE exam.
---
Why take the DELE exam?
We'd be surprised if you'd read our article on best textbooks for the DELE exam but you weren't convinced whether the exam was for you or not.
There are lots of reasons that you could take the DELE exam.
It is the most recognised Spanish language exam currently available and it is necessary to take if you want to:
Study in a Spanish speaking country
Get citizenship in a Spanish speaking country
Work in a Spanish speaking country (in a job that isn't something like an English teacher, where Spanish obviously isn't as needed).
If you still want to look into why you should take the DELE exam, you can read our detailed article here about reasons why you should consider it.
---
DELE Textbook FAQ
These are some of the most commonly aksed questions regarding the DELE exam and textbook use.
Is the DELE exam difficult?
How difficult the DELE exam is to you will depend on how well you have prepared, but yes the exam is meant to be challenging as it is testing your current Spanish level.
What is the DELE test?
The DELE test is the official Spanish proficiency exam that can be used to study and work in Spanish speaking countries.
How long does it take to get DELE results?
DELE results will take approximately three months to arrive, however this can vary throughout the year and may be affected by busier and quieter periods.
How many DELE are there?
There are six levels to the DELE: A1, A2, B1, B2, C1, C2. A1 being the easiest and C2 being the most advanced.
---
Final Thoughts On DELE Textbooks
We hope you've found our best textbooks for the DELE exam useful!
There are other DELE textbooks that you can use, but these are the ones that we think are most relevant or most useful. Please read around before making your decision, but the one thing I would recommend is don't buy too many. Choose one and give it a go, if it doesn't work for you then buy another one.
I find when you go out and buy all the books, it's harder to pick one and get started. But if you choose one and start working your way through it, it's a lot easier to stick to and you'll probably find you end up doing a lot more that way.
If you have any experience with DELE examinations, or if you have other books that you would recommend please let us know in the comment section below. We always want to hear about your experiences, and if there's a better book available then we want to know about it! But we truly believe that these are the best textbooks for the DELE exam.
The DELE exam is difficult, but with enough preparation and practise you should be fine. If you want to get an insider's view on the DELE exam then you can read Leah's experience here about taking the DELE A2 exam. She talks about why she decided to take it, how she prepared for it, how she studied and how she felt it went.
And if you are planning on doing the exam sometime soon then we really do wish you the best of luck, and just make sure that you're prepared and you do some of those past exams!
Article: Best Spanish textbooks for the DELE exam
Filed Under: Blog, Featured, SpanishTagged With: spanish dele textbooks
Sours: https://www.lingopressbooks.com/spanish/best-textbooks-dele-exam/
Many people that want to start learning Spanish wonder what's the best textbook for beginners that they can use. With so many products available, it's difficult to know what option will be the best for you.
For that reason, we've compiled a list of the 5 best Spanish textbooks for beginners. All of these books are great resources for starting to learn Spanish; however, you may find that one style fills your necessities better than others. So in order to help you, we'll provide you with an honest review and summary of these Spanish textbooks.
Before jumping into the list, I want you to know that I personally checked or used these books and in order to choose my winners, I did a lot of research and at least three elimination processes. So like they say, I'm just showing you what I consider to be the best of the best.
Best for people that want to learn Spanish fast
Best for learners that want to get a DELE certification
Best for Spanish learners that love grammar
Best for people that like to practice with exercises
Best for learning Latin American Spanish
Hopefully, by the end of this post, you'll have a Spanish textbook for beginners that you can to start learning Spanish. ¡Buena suerte! 🙂
1. Madrigal's Magic Key to Spanish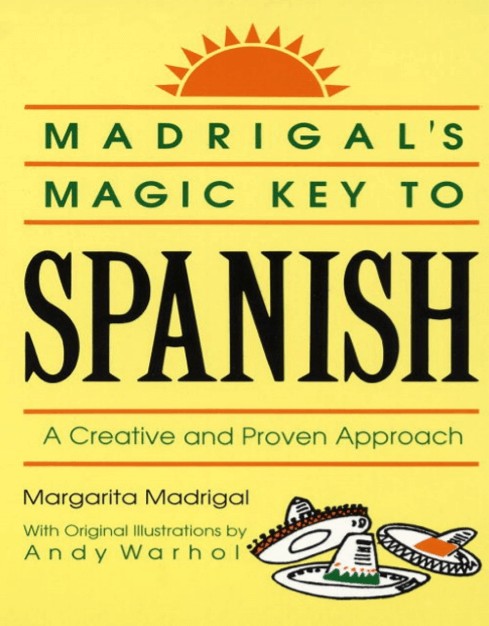 Madrigal's Magic Key to Spanish is a Spanish textbook for beginners written by a Spanish teacher with a lot of teaching experience. This textbook is unique because it contains a method that this Costa Rican teacher used for a long time and that proved to be successful with her students.
The goal of this book is clear: teach you Spanish in just a few weeks. In order to do this, you'll find different vocabulary strategies to form Spanish words based on your English vocabulary. Since you're learning patterns, it will be easier for you to acquire Spanish vocabulary without having to translate all the time.
If you already have some basic knowledge of Spanish or have learned another language, you'll find that this book doesn't seem to follow a 'logical order'. In other words, the grammar elements are organized according to this new method.
So for instance, you'll learn past and future tenses before the present because according to the author past tenses give you more conversation possibilities. As a former Spanish teacher that has worked with languages books for a long time, I found this a little bit shocking. But after thinking about it for a while, I have to admit that she raises a good point.
In addition to the vocabulary strategies and the grammar topics, you'll find different exercises to practice your grammar and comprehension skills. At this point, it's important that you know that the book doesn't offer listening or conversation activities.
To me, this doesn't make much sense since one of the goals is to help you speak faster. So either your teacher or you as the self-taught learner will have to find other resources to practice these skills. If you're willing to make the effort, this book will be a great help for your Spanish.
Content, advantages and disadvantages
As a Spanish teacher, I've seen many beginners get frustrated because they don't fully understand what's going on with their textbooks. In this case, you don't have to worry about this because the book is all written in English.
Madrigal's Magic Key to Spanish has 45 lessons. So as you may imagine, there are a lot of contents, some of them include:
Vocabulary strategies
Learning how to form sentences
Conjugating basic and useful tenses in Spanish
On top of not having listening and speaking activities, this book was written a while ago and hasn't been updated. For that reason, some vocabulary or situations will be a little bit outdated.
One of the advantages of this book is that you'll learn patterns that will allow you to improve your vocabulary faster. Additionally, you'll only learn the most common and useful verb tenses. In general this is a great book to start learning Spanish, if you want you can check its current price here.

I also wrote a more detailed review, if you want to know more about Madrigal's Magic Key to Spanish before buying it.
2. Aula Internacional 1 + Aula Internacional 2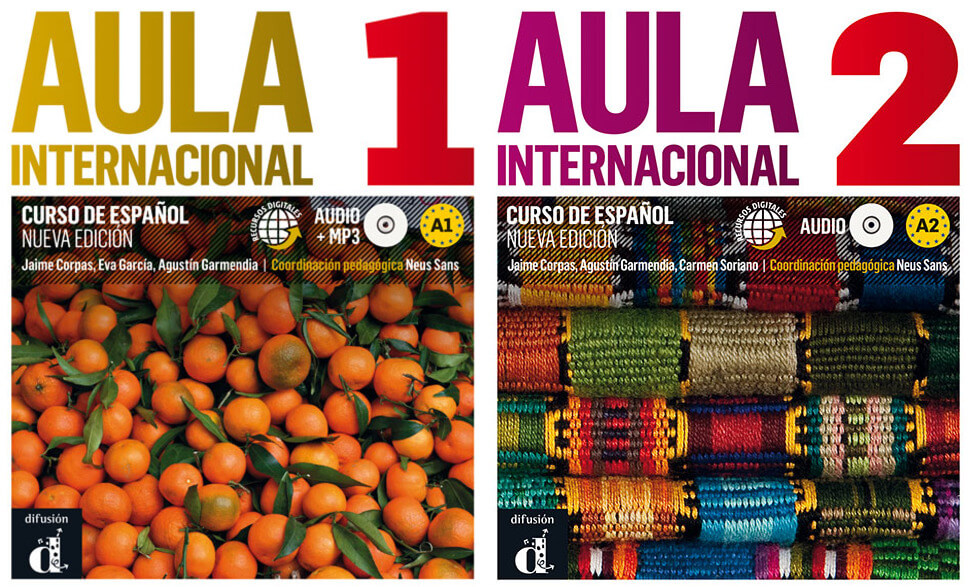 During my years as a Spanish teacher I worked with a lot of textbooks. But the one that I used the most was Aula Internacional 1 which is a super famous Spanish textbook for beginners.
Unlike Madrigal's Magic Key to Spanish, Aula Internacional 1 is a textbook to the T. This means that all the topics are following a syllabus approved by big institutions. It also means that you'll find all kinds of activities to train all your Spanish skills: writing, reading, speaking and listening.
But as with many textbooks, Aula Internacional is meant to be taught or guided by a teacher. In fact, all the text is in Spanish. So if you want to use it as a self-taught and don't know a little bit of Spanish (which you may not because you're a beginner), it may be hard for you to begin.
Since I worked with this book for years, I can give you a lot of details of the things that I loved and the things that I really don't like about it. For starters, the design is beautiful: you'll find a lot of images and cartoons that will help you identify concepts and sections easier.
Additionally, all the lessons contain different sections where you can learn and practice your grammar, vocabulary and new expressions. Like other many books, these topics will be applied to daily-life situations. A huge plus of Aula Internacional is that it has a CD with listening exercises to develop your comprehension.
What I don't like about this book is the huge reading and culture sections (they weren't that long, but they feel like it). A lot of students get frustrated because they don't see a real application of the vocabulary and topics they learn here. And they're right.
Contents, advantages and disadvantages
Aula Internacional 1 had a huge makeover: they have a better design and they include more interactive exercises and activities. But I find a problem with this: some lessons have some activities with suggested videos. To me it's not clear if these videos are free (I haven't found them) or you have to pay for them (I did find some prices for multimedia material).
Despite all of this, Aula Internacional 1 does a good job covering the topics that a beginner needs to learn. Just to give you a quick summary, some things you'll learn are:
Introduce yourself
Ask and provide personal information
Present tense conjugations
Reflexive and irregular verbs
Talk about likes and dislikes
If you want to learn more about the subjects and the goals of this book, I encourage you to read the Aula Internacional 1 review that I wrote. Even though I really like this book a lot, one huge disadvantage is that, in order to complete the beginner level, you will need to have the Aula Internacional 2book.
In the second volume, you'll continue studying present tenses in more advanced situations and you'll learn past tenses conjugations as well as other grammar elements. Seeing that most books offer the whole beginner level in one volume, I find this division a big pitfall.
On the bright side, these books belong to the Aula Internacional book series. So if you want to be methodical about your Spanish learning and later down the road get a certification, this may be the way to go. Even though it's not a perfect book, this is still my favorite Spanish textbooks for beginners. If you're interested in it, you can check its current price here.
3. Gramática de Uso del Español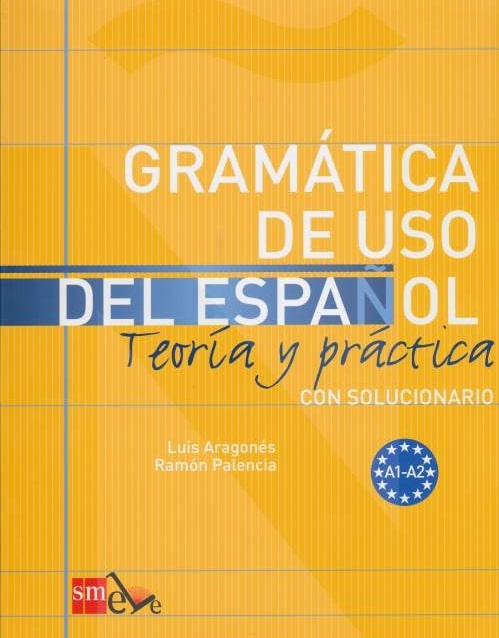 Another good Spanish textbook for beginners is Gramática de Uso del Español A1-A2. Just like other Spanish textbooks, Gramática de Uso del Español A1-A2 works better in a classroom environment.
This doesn't mean that you cannot use it for self-studying, but you will need to put some extra effort into researching further grammar information since some explanations may not be enough.
If you haven't guessed yet, this book is very grammatically oriented. As a result, in each lesson you'll find some theory and grammar elements and a bunch of exercises to practice what you just learned. If you're the type of student who wants to focus on learning how to speak as soon as possible, this book won't make you happy.
As a Spanish teacher and grammar geek, I really like the book because it contains a lot of visual aids to support the grammar explanation. But to be objective, I do need to say that it would be a more complete book if it had listening and speaking exercises. However, it doesn't include these types of activities.
One thing that really bothers me is the fact that you go through each lesson and you just know the grammar element that you'll be learning. You don't have a list of goals, skills or common situations where you can apply your new knowledge.
In my opinion, having these small things help Spanish learners to be aware of the things they're learning. Unlike other books from this list, Gramática de Uso del Español A1-A2 is all written in Spanish. So even though it's a good immersion technique, it may be challenging for some students.
Contents, advantages and disadvantages
If you're familiar with the Common European Framework of Reference for Languages, you may have guessed that the Gramática de Uso del Español A1-A2 textbook will allow you to complete the Spanish beginner level.
In order to complete this goal, this textbook follows a sequential order and its contents are based on the Instituto Cervantes syllabus. So if you want your Spanish learning to be organized and approved by a recognized institution, this book is an excellent choice for you.
Here is a quick overview of some of the topics that you'll learn in this textbook:
Nouns
Articles
Indefinite articles vs definite articles
Present and past tenses
Irregular, regular and reflexive verbs
If you want to have a better idea of the book, I wrote a more full in-depth review.
One of the biggest disadvantages of this book is that it doesn't include any recordings or activities that promote your listening and speaking skills. Since these abilities are extremely important in Spanish, I consider that they should be a must in all Spanish textbooks for beginners.
And just like I mentioned before, the book is written in Spanish and since some grammar explanations are not enough, it would be up to the teacher or self-taught learner to do some extra research.
To be fair, the book does contain a lot of exercises and evaluations so you can test your progress continuously. If you don't like grammar or any repetitive exercises, this may not be the book for you.
Buf if you want to reinforce or learn more grammar and structures, this book is perfect for you. Here you can check its availability and current price.
4. Easy Spanish Step-by-Step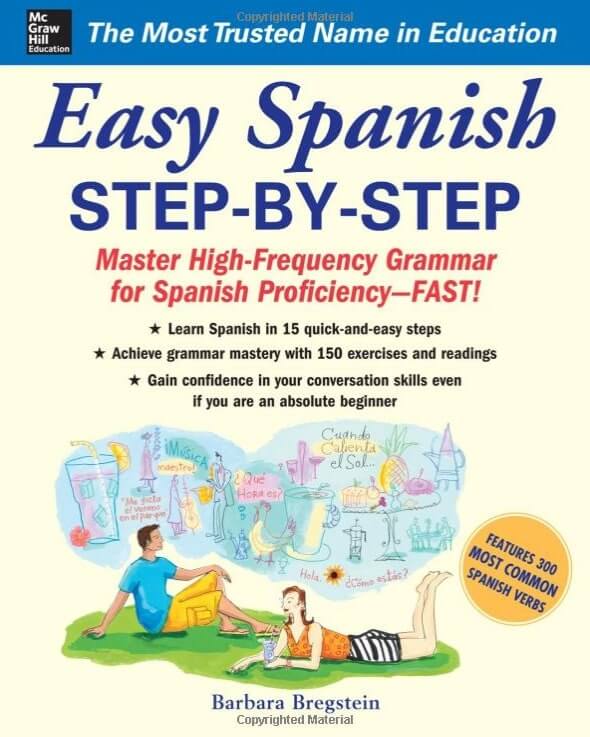 Easy Spanish Step-by-Step is another Spanish textbook for beginners written by a teacher with actual experience teaching the language. As a result, you'll find basic topics organized in a sequential order to make your learning process easier.
This textbook could be easily used in a classroom, but since it's written in English it can also work for people learning on their own. In order to complete the beginner level, you'll have to learn some grammar and complete different exercises.
As it starts, the author promises that the vocabulary used in the book is based on popular vocabulary used by native Spanish speakers. It's true that it contains basic words that can be easily applied on a daily basis. However, if you really want to sound like a native speaker, you'll still need to learn slang expressions and idioms on your own.
Something that I really like about this book is that it has over 150 exercises and some reading activities. Additionally, you'll also have access to the online language lab. If you like interactive activities, you'll find vocabulary and listening resources.
A little heads up: when I first learned about this book the title misled me. There are not actually steps for you to learn Spanish. It's just some sequential lessons that you need to follow to complete your beginner level.
Contents, advantages and disadvantages
Something unique about this book is that it includes some topics that are classified as 'advanced' or 'intermediate', but that are super common in daily situations.
By doing this, the author is not only providing grammatical structures that you actually need, but she's also trying to avoid that you learn and reinforce some incorrect structures in Spanish. As a teacher, I've struggled with this problem before and trust me, it's not easy to fix.
Another thing that I loved was the reading activities. In most books, the reading sections almost feel like filler activities with no clear purpose. But in this case, the readings are valuable because they apply the vocabulary and grammar elements that you're learning.
However, one big downside is that the book doesn't contain listening and conversation exercises. So you'll need to find different ways to develop these skills.
Since this is a beginner-level textbook, most of the content will be focused on basic grammar. Here is a quick overview of the things you'll learn. You can check this Easy Spanish Step-by-Step review for further information.
Body parts
Basic vocabulary
Present tense
Preterite and imperfect
Present subjunctive
Ser vs estar
Even though it lacks some exercises, Easy Spanish Step-by-Step can be an excellent tool for your Spanish journey. Compared to other books, this textbook is very affordable. You can check its current price on Amazon.
5. Spanish for Dummies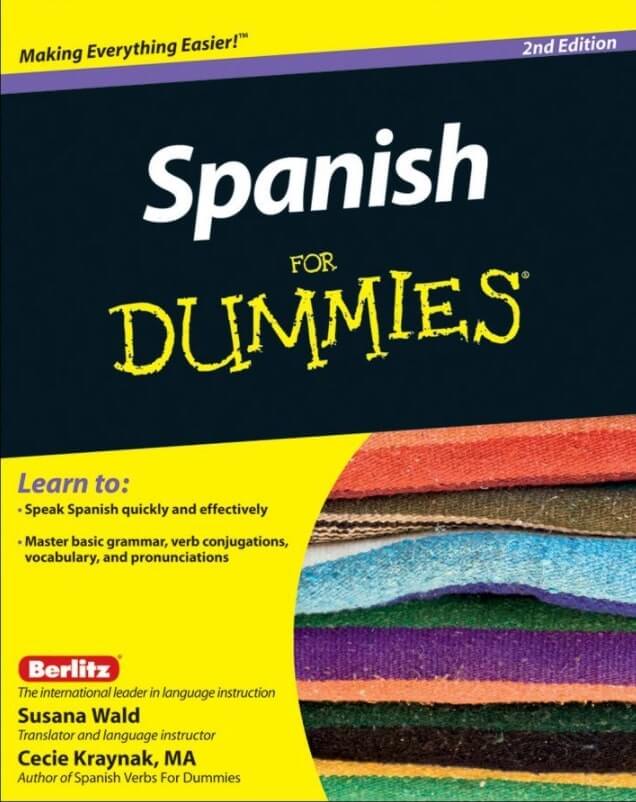 To be honest, I always had mixed feelings about the Dummies book series because I thought they would be super simple and probably not thorough enough. However, Spanish for Dummies proved to be an excellent book for beginners or tourists with very basic knowledge that want to learn to speak Spanish fast.
So since their main goal is to work on your conversational skills, Spanish for Dummies doesn't have a lot of grammar explanations or exercises. So if you're expecting this, you shouldn't get this book. Of course, you'll find some grammar explanations: but just what's necessary so you can start talking.
In addition to this, you'll find lots of vocabulary and expressions to be able to deal with different situations that a tourist might encounter. At this point, I need to mention that Spanish for Dummies is very focused on Latin American Spanish. As a result, the vocabulary and expressions you'll learn won't be very useful in Spain.
For many Spanish learners, keeping a conversation or dealing with simple daily-life situations is one of the most challenging things. For this reason, I find a lot of value on this Spanish textbook. If you want to improve your conversation, this book will be a great resource for you.
Just keep in mind that you may need to complement its grammar with other textbooks. Also, don't forget that it's very Latin American focused.
Contents, advantages and disadvantages
As mentioned before, Spanish for Dummies (at least this version) has the purpose to help tourists and beginners to develop their communication skills. So in order to do this, they include different contexts and grammar elements.
Here are some of the contents that you'll learn.
Asking directions
Handling health problems
Regular, reflexive and irregular verbs
Asking questions
Making a reservation
Going to the supermarket
In this review, you can find more detailed information about this textbook.
Many conversation clubs use topics that are not relevant to the student's daily life. For that reason, I found that the situations presented in Spanish for Dummies are very refreshing and useful. As you may imagine, you'll get different vocabulary and structures that will help you deal with these situations.
On the downside, the design is very simple and sometimes it can be overwhelming because it's a lot of text with no exercises for you to do. Additionally, you may miss some grammar structures that other beginners have learned.
From a conversational point of view, this book is amazing because it will actually give you the tools to have simple conversations on situations that you'll face as a tourist. Of course, you can actually get the book (see current price) as a way to improve your conversational skills. Just keep in mind that you'll need to practice your grammar with other resources.
FAQ's
Here are some common Frequently Asked Questions related to the Spanish language.
How do I start learning Spanish independently?
In order to learn Spanish on your own, it's recommended that you follow the next steps:
Set a time so everyday you practice your Spanish.
Identify your goals and purposes to learn Spanish.
Gather grammar, listening, writing and reading resources as well as exercises so you can practice.
Watch tv shows and listen to music in Spanish.
Practice as much as you can: if possible find a conversation partner to practice your conversation.
Where can I buy Spanish books?
For many students, it's difficult to find a local library with Spanish books. Depending on the type of book that you're looking for you have different online options. Due to its variety and delivery system, Amazon will probably be the best option to find different types of Spanish books.
How do beginners learn Spanish?
In order to make their Spanish learning easier, a beginner should start with pronunciation exercises, simple vocabulary and basic grammar that allows them to keep simple conversations.
A beginner will also need to do different exercises to practice their grammar knowledge as well as to train their listening skills. Even though they may feel embarrassed, it's also recommended that Spanish beginners join a conversation group so they get familiar with different accents and speeds. This will also help them to get more comfortable with their speaking skills.
Wrapping Up
If you're interested in learning Spanish, you may be looking for good Spanish textbooks for beginners. However, among so many options, it's possible that you don't know what's the best book for you.
In this article, I compiled a list of the 5 best Spanish textbooks for beginners. On top of listing my favorite books, I also included some professional opinions about their contents and the skills they will help you develop.
Keep in mind that even though these are all textbooks for beginners, they have different approaches and purposes. I hope you choose the best option for your learning style so you can start learning Spanish right away. Good luck!
Related Resource: Best Online Spanish Courses
Sours: https://www.tellmeinspanish.com/best-spanish-textbooks-for-beginners/
What's the A1 Spanish level? - Español A1
Soldiering through Spanish lessons all by your lonesome?
Want a helping hand?
Then read on to uncover a selection of the best books available in 2021 to help you learn Spanish.
Keep these bad boys on your bookshelves for whenever you need a good study session or a quick fact check.
¡Empecemos! (Let's get started!)
Grammar
Yes, grammar is probably the least fun part of learning any language (although you can use some unconventional techniques to ease the process a bit).
For example, did you know that there are over 10 different tenses in the Spanish language? Don't be scared. All it means is that you need patience and excellent reference books to help you learn what you need to improve your grammar-related skills over time.
Let's take a look at the best books on the market that'll assist you in achieving just that.
1. Best for a complete grammar education: "Practice Makes Perfect Complete Spanish Grammar"
The "Practice Makes Perfect" series is widely known within the language learning community thanks to the very high quality of their books. This edition of the series is a 350-page workbook covering the most important grammar rules for you to understand in order to communicate better in Spanish. It features clear explanations along with lots of realistic examples and free online audio recordings to practice your listening skills, as well.
The good thing about this book is that it offers a wide variety of exercises for different learning styles like multiple choice questions, fill-in-the-blank games and creative writing exercises among other things.
The structure of the book is pretty easy to follow since it's well organized, so you can use it at your own pace. I would recommend you just pick what you want to learn and then focus on that by practicing with the exercises.
2. Best for intermediate to advanced learners: "Advanced Spanish Step-by-Step"
This book goes over intermediate- to advanced-level Spanish grammar in an easy, progressive manner.
You'll first start with a review of the basics (which you should know before you pick up the book) before diving into the grammar rules needed for confident communication. Lessons cover important Spanish grammar topics like complex verb tenses, parts of speech, sentence structure and more. Along the way, you'll be taught plenty of vocabulary words that you're likely to use in real conversation.
Before you decide to use this book, you should make sure that you've at least reached an intermediate-level understanding of the Spanish language. Otherwise, you may get a bit overwhelmed by the content and exercises, as they're admittedly quite detailed and extensive.
3. Best for advanced learners: "Practice Makes Perfect: Advanced Spanish Grammar"
This is kind of the 2.0 version of the previous book. This is one that really goes into the intricate details of the Spanish language and is aimed at intermediate to advanced Spanish students (if you're just starting out, this version might be too specific for you).
It features a lot of practical exercises which specifically aim to help you communicate more naturally. These break free from the ready-to-use sentences found in other books and get you to create more sophisticated phrases of your own as you go along.
If you already have a good grasp of the Spanish language and want to go far beyond the fundamental principles, this edition of the "Practice Makes Perfect" series is a great option for you!
Vocabulary
One of the things that beginners complain about the most when they start learning a new language is lafalta de vocabulario (missing vocabulary). Of course, sitting down with a dictionary in order to learn it all by heart isn't always an option (I tried it, don't do it). So, how can you increase your vocabulary as quickly as possible without spending endless hours reciting words from a dictionary?
One extremely effective way is by using FluentU.
FluentU takes real-world videos—like music videos, movie trailers, news and inspiring talks—and turns them into personalized language learning lessons.
There are also many other methods out there to try.
Just reading in Spanish on a regular basis is one excellent example.
But a couple of very well-made books also exist to help you learn vocabulary almost effortlessly. Let's examine what they can do for you.
4. Best for visual learners: "Oxford Picture Dictionary English-Spanish"
This book is a bilingual picture dictionary. This means that every single term in this dictionary is illustrated with contextual drawings (it's pretty handy, believe me!).
It's organized into 12 themed units which cover a wide variety of different aspects of life (people, housing, food, recreation, etc).
The dictionary features stories, role plays, clear visual descriptions of words and dialogues to help you learn new vocabulary quickly. The cool thing is that this isn't a classic dictionary, so you can easily read a page per day and get a lot out of it. Plus, it's all visual so it'll take you three to five minutes to do so!
5. Best for absolute beginners: "See It and Say It in Spanish"
This isn't quite a picture dictionary, but this book does teach level 1 Spanish vocabulary through pictures. It uses two very specific techniques to help you integrate your new vocabulary into your existing Spanish knowledge.
First and foremost, it uses the word and picture method: Each new word or sentence is accompanied by a line drawing that instantly explains its meaning.
Secondly, the ready-made vocabulary presents you with everyday Spanish words and phrases that look and sound like their English equivalents in order to ease you into conversational Spanish. These two methods together pack a powerful punch and are pretty effective.
When going through the book, you can notice right away that it doesn't focus on your typical touristic phrase. Instead, it gives you the vocabulary you need to start expressing yourself quickly and meaningfully in Spanish. A propósito (by the way), it's super cheap.
6. Best for building a core vocabulary: "2000 Most Common Spanish Words in Context"
You've probably heard of the idea that, once you learn a specific number of words in a language, you can understand a majority of native-level text or speech. In accordance with that point, this book focuses on teaching you the top 2000 common Spanish vocabulary words.
Every word comes with example sentences that show how you can actually use it in conversation. This is a critical feature that'll likely serve as the most helpful asset to your learning. It's one thing to learn words and their meanings in isolation, but it's a different (and very necessary) matter to learn how you can actually apply them in speech.
The format of this book is very simple, making it easy to read and understand. It can work well in setting a foundation for your Spanish vocabulary before you move on to more advanced terms and phrases.
Conversation
If you've fully committed yourself to learning Spanish, you definitely want to be able to maintain a basic conversation with somebody in Spanish as soon as possible.
Now, it can sometimes be a little tricky to improve your speaking skills if you don't have anybody to speak Spanish with on a daily basis (although you can use Skype for this purpose). With the right tools, you can still gain the knowledge and confidence you need for holding conversations.
FluentU is one such excellent tool that can boost your Spanish-speaking ability. With its vast video catalog, FluentU can not only teach you useful, common vocabulary, but also give you exposure to the language as it's used in real-life situations. That means you can hear and see the workings of Spanish conversations in all kinds of contexts.
But believe it or not, you can also get better at speaking by reading specific books that were designed to help Spanish learners with their conversational skills. Learn speaking by reading? Let's take a look at how these books work.
7. Best for mastering everyday conversations: "Practice Makes Perfect: Spanish Conversation"
Yet another "Practice Makes Perfect" book listed in this article. This edition's goal is to get you to develop a confident and spontaneous speaking style by training you with real-world examples and engaging exercises.
It's organized into 12 units that present realistic conversational situations like making introductions, giving opinions, having a date or telling a story. Each chapter starts off with a dialogue (which is uncommon for books in this series but makes sense for a book on having conversations!), followed by a variety of exercises to put what you learned into practice.
This edition is full of clear instructions on correct pronunciation, syntax, word usage and how to employ conversation-ready phrases. Note that an English to Spanish and Spanish to English glossary is also included to help you along.
This book is aimed at aiding intermediate Spanish learners, although you might get some great benefits by having it even if you're just a beginner—or an advanced learner with lagging speaking skills (which is quite common).
8. Best for audio-enhanced learning: "Living Language Spanish, Complete Edition"
This product is a huge multimedia Spanish learning program that features three books (for beginner, intermediate and advanced learners) along with nine CDs which are to be followed with the books (three CDs for each level). If you want to be able to speak Spanish quickly, this "Living Language" edition is for you.
The product is well organized with topic-based chapters (instead of lesson-based chapters like in most courses) and the goal here is to teach you conversational Spanish more than anything else.
The CDs work together with the books—they're really the main feature of this course, rather than just a gimmick (as is the case with some products out there). They're high-quality, clear and well-modulated recordings with the speaking rate set at a learner-appropriate speed. Things pick up as you progress through the chapters and CDs until you're learning more fluent conversation.
You'll learn new words, sentence structures and conjugations in each chapter. And here's the icing on the cake: It's pretty darn barato (cheap) for the amount of material you'll be getting. Jump on it!
9. Best for conversation practice: "Collins Easy Learning: Spanish Conversation"
The book is separated into 12 units, each focusing on a certain situation and the Spanish (whether formal or informal) typically involved in it. They include contexts such as school, home, social media and business. All the key phrases are compiled at the end of each unit, forming an accessible, quick-access glossary.
Of course, when learning conversation, you'll need to do more than just memorize sentences. The book also provides quick grammar and verb lessons to help you break down the phrases. Plenty of example sentences are also provided to illustrate points.
The book can be a great resource that gets you comfortable with the essentials and expectations of Spanish conversation. It can work well as either a stand-alone reference book or as a supplement to any other learning books you use.
Reading
Finally, getting your hands on a Spanish reader or two is an absolute must if you want to dramatically improve your reading skills. Readers have a couple of advantages over your typical Spanish language books which are written for natives.
In a nutshell, readers are specifically crafted for Spanish learners and, therefore, it's just easier to get acclimated to the language of the text. Secondly, they more often than not include a glossary which saves you from carrying a massive dictionary around (or having to constantly open up a dictionary app and get distracted) every time you want to read some Spanish.
Lastly, Spanish readers usually employ different techniques to help integrate the Spanish language into your mind as smoothly as possible. This may be done through short and direct sentences, vocabulary lists, grammar footnotes and practice exercises, to give you a few examples of what you might expect.
Now, which Spanish reader should you get? Recommendations below!
10. Best for quick reading spurts: "Spanish Short Stories for Beginners: Easy Spanish Stories"
Narrative-based texts can give you the engagement and context you need to improve your comprehension skills. That's why short stories are an incredibly fun way to get reading practice. This book features 20 bite-sized stories that aim to make Spanish studies seem less like a chore!
Every story in the book is formatted to teach you specific Spanish language concepts. Summaries are provided in both Spanish and English to provide you the basic plots. At the end of every tale, a glossary and questionnaires are provided to help you review and practice what you've learned.
Although the title states that the book is for beginners, it may actually be more suitable for intermediate-level learners. The Spanish used in some stories can be a bit challenging, so the book may not be the best first choice for novices to the language.
11. Best for mystery lovers: "Spanish Novels: Muerte en Buenos Aires"
This reader relates a detective story taking place in Buenos Aires. It features lots of short chapters written with simple grammar, vocabulary and sentences so that everything stays really easy to read. You'll learn lots of useful vocabulary about different topics (like greetings or talking to friends and strangers, etc.).
Read one chapter per day and you should improve, ¡muy rápido! (very quickly!) If you're getting bored of studying isolated sentences in Spanish, this book has your name on it. Put all your known Spanish vocabulary into a natural context, and pick up new words through the surrounding context. Awesome, right?
12. Best for advanced readers: "A Second Spanish Reader: A Dual-language Book"
This is a dual-language book. What's that, you ask? It means that, in this book, there's one page written in Spanish and one page written in English. The English page is a direct translation of the previous page written in Spanish.
This is pretty effective for learning since you'll never get stuck because of a word or sentence you don't know. This particular book features plays, lyrics, narrative verses and prose text coming from 50 excerpts of classic and modern Spanish literature.
Please note that this reader is more suitable for intermediate to advanced Spanish learners. To give you an idea, it's at times comparable to reading Shakespeare in Spanish. You'll need to have a solid grasp of the Spanish language to get the most out of it.
So, there you have them! Pick some books to start with from our list or your own picks according to your main learning concern and use the advice in this article in order to get the most out of each title.
Best of luck in your Spanish learning endeavors—and never stop reading!
Download: This blog post is available as a convenient and portable PDF that you can take anywhere. Click here to get a copy. (Download)
If you liked this post, something tells me that you'll love FluentU, the best way to learn Spanish with real-world videos.
Experience Spanish immersion online!
Sours: https://www.fluentu.com/blog/spanish/best-books-to-learn-spanish/
Book a1 spanish
Spanish A1 Graded Reader Collection
Stories in this collection:
¿Dónde Está Maurice?
La Otra Mujer
El Albañil y el Ladrón
El Hombre Del Tiempo
¿Quién es mi Padre?
Improve your Spanish with this A1 Graded Reader Collection. The five short stories have been written for you to dip in and out of so you can practise Spanish at your leisure. Each story contains the grammar and vocabulary graded to an A1 level.
LANGUAGE: SPANISH
GRADE: A1
BUY: SEE ON AMAZON
Or read for FREE with Kindle Unlimited
---
AUTHOR: ANA MARTÍN
Ana is the first author to publish under Lingo Press with her collection of Spanish graded readers. Ana's goal is to write Spanish language books that are fun and engaging whilst still being accessible for the level you're currently at. The Spanish A1 Graded Reader Collection was the first book that Ana released. She is currently working on her A2 and B1 series of Spanish graded readers.
Ana uses the CEFR framework to grade her books rather than just using the common beginner, intermediate and advanced grading. They are broken down into language level grades (A1 to C2), and some books are slightly more difficult than others while still staying within the same grade boundary. This is because Ana believes that there can be great differences between beginner learners and equally great differences between intermediate languages. It takes a long time to learn a language and some people need more help than others. Therefore by using this graded method, Ana hopes that her Spanish books are more accessible for learners of different levels.
-SEE ANA'S AMAZON STORE-
Check out all of Ana's Spanish graded readers here.
Filed Under: Spanish BooksTagged With: spanish a1, spanish books for beginners, spanish graded reader
Sours: https://www.lingopressbooks.com/spanish-books/spanish-a1-graded-reader-collection/
EASY SPANISH LISTENING PRACTICE, Spanish Book Reading - Spanish After Hours
Spanish books for learners (24 stories and novels)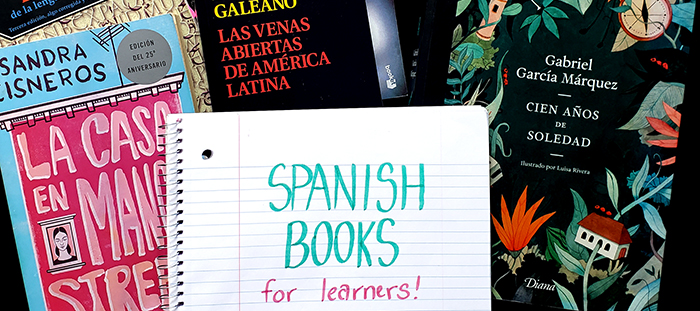 For many Spanish learners, the emphasis during classes is always on speaking–so there is almost no information online about Spanish books for learners. (Especially beginners!)
Every book on this list was hand-picked by me, a polyglot, who has actually read them!
To help you out, this article is separated into two key parts:
How Spanish language learners should pick out their next book.
A huge list (divided by language level) of books for language students to choose from.
By combining the info these two sections, you'll be able to confidently pick out your next Spanish book (whether you're a beginner learner or an advanced speaker) to enjoy or improve your Spanish!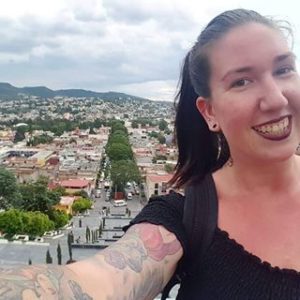 After years of working as a journalist and content creator, I moved to Mexico to learn Spanish. My biggest frustration was finding that I hit a HUGE plateau by relying on conversations and classes alone! Reading Spanish books for learners to supplement my studies was the magic key to unlocking fluent Spanish. (And since then, I've continued on to reading books for native Spanish speakers (many of which are featured on this list for upper-level Spanish students).
How Spanish language learners should pick a new book (START HERE)
I made some HUGE mistakes when I first started trying to read books in Spanish.
Out of all of the (super frustrating) errors I made as a Spanish student, the worst were:
Trying to start books that were way too hard for my level and forcing myself to keep going with them
Thinking children's books would be easier (only to find words like goblin, dungeon, fairy, and dragonfly… which adults never use in conversation and I had never heard before!)
Not having any background information on historic or culturally-relevant books
Either looking up every single new word I came across… or not looking up any of them.
Reading inconsistently. Putting down a whole day to try to get through a few chapters… then forgetting about the book entirely for 3 months.
This list of Spanish books was curated by me to make sure you don't repeat my same errors when reading!
Now,  I'm currently working on a guide about how Spanish learners can pick the best next book for themselves.
Until that's all put together, here's the quick guide for how to better use this list:
(1a) Estimate your current reading level. This list of Spanish books for learners is listed by CEFR level based on difficulty of vocabulary, length, and complexity of their plots.
(1b) Don't know your current reading level? If you've never read a book in Spanish before, start at the A1-A2 level. If you've read some short stories before and want to try something more difficult, go to B1. If you're truly fluent in Spanish, start at B2. (The C-level books are all written with college-educated native speakers in mind.)
(2) Confirm you're picking the right book by looking at the first page. Ideally, there should be less than 6 words you don't know there, or less than 2% of all printed words. (You can always go down a level and then work your way up.)
(3) Check out my reading notes. These Spanish books are all organized with learners in mind, but some might require background knowledge (or a certain edition) to really get the most out of them.
(4) Make a to-read list. To really maximize your ability to learn vocabulary, keep reading books by the same author or in the same genre to really drill in the new things you're learning.
(5) Build a habit. Check out my free reading tracker so you can chart your progress long term.
Easy to read Spanish books for learners (A1-A2 level)

This section will largely focus on extremely easy to read books in Spanish written for students. If you've never read any book in Spanish before, this is where you should start!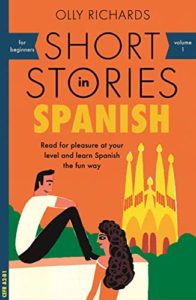 Spanish Short Stories (Olly Richards)
Pages: 238 • Country: n/a • Genre: Mixed •Read the first page
About: These 8 tiny stories in a variety of genres have built-in text and phrase help for the very beginner learner. Although they're monolingual in Spanish, teachers and students will find their built-in vocabulary lists and quizzes helpful.

Notes: This is by far the easiest Spanish book on the list, but also the one that's most removed from Spanish-speaking cultures. Richards takes his handful of stories and has them translated across a variety of languages, which is great for the very beginner reader, but might be too easy for anyone who is higher than A2.
Stories from Mexico
Pages: 125 • Country: Mexico • Genre: Folk Stories • Read the first page
About: These 16 tiny stories will offer readers a quick glimpse into Mexican folklore in a way that's set up for Spanish learners.

Notes: Before every story you'll get some context and help (in both English and Spanish), plus get to read the story lado a lado (side by side) between the two languages. The stories are short and simple, but culturally relevant. Finally, there's a bilingual dictionary at the back for any teachers or students who want to work through it independently of the text.
Intermediate Spanish books for learners (B1 level)
This section will help Spanish learners bridge the gap between too-easy stories for language students and too-hard novels for natives. If you feel like you're in this gap, regardless of skill level, this section is for you!
Mexican Short Stories
Pages: 240 • Country: Mexico • Genre: Mixed (Short stories) • Read the first page
About: These 9 bilingual stories will help readers make the leap from brand-new-students to budding Spanish readers. Published between 1843-1918, readers will get a fun taste of realism, drama, and romance in a way that centers itself around Mexical culture and history.

Notes: Because this is a bilingual book, I highly recommend getting it in paper so you can take notes and flip between pages more easily. These stories are longer and more challenging than the ones listed earlier up in the A2 section, plus more culturally relevant, so it'll be a fun challenge!
Love Poems (Pedro Neruda)
Pages: 90 • Country: Chile • Genre: Poetry • Read the first page
About: This pocket-sized collection of 19 poems will be a fun break from novels for anyone who wants to try exploring some Spanish poetry. This specific collection is bite-sized and bilingual, plus features Pedro's floral (but simple) writing style, perfect for break-through readers.

Notes: I highly recommend getting this tiny book in paperback! Give yourself a fun challenge and try reading a poem every night for 19 days.
Como agua para chocolate (Laura Esquivel)
Pages: 256 • Country: Mexico • Genre: Young Adult • Read the first page
About: This novel tells a story of a family of women, spanning over 12 chapters, 12 months, and 12 recipes.

Notes: After you've tried some short stories or made-for-students books, this is a great first novel for Spanish learners. It's vocabulary is largely based around the home and daily life, so it's a good read for heritage language speakers and language students who might already be familiar with the vocabulary.

(This particular book might actually be more popular in the United States than in Latin America, since it was the go-to book for AP Spanish classes in most high schools in my region!)
La Casa on Mango Street (Sandra Cisneros)
Pages: 112 • Country: USA • Genre: Young Adult • Read the first page • Second Third pages
About: Esperanza guides readers through her life on Mango Street in Chicago, with every chapter full of the details of daily life, ranging from extreme excitement to absolute dread. The stories each sit on their own as a short cuento, but are strung together like pearls on a neckless to create a complete narrative about what life on Mango Street looks like.

Notes: Although this book was originally written in English and is better known in the US than it is abroad, it is a thoroughly Latinx story. Featuring characters whose families come from Mexico, Puerto Rico, and elsewhere, it's a beautiful reminder that the US really is part of the Americas. This is a good first novel for readers since each chapter can be read like their own short stories, but is full of slang and a variety of dialects–so be ready for a challenge.
Herencia Maldita (Ángeles Goyanes)
Pages: 300 • Country: Spain • Genre: • Read the first page
About: A millionaire who is a firm believer in reincarnation finds out his death is immient. A firm believer of reincarnation, he becomes obsessed with the idea of regaining posession of his fortune when he's reborn in his next life, and devoates the remaining time he has on Earth to assure comfort in his future life–and not repeat the years of impoverished childhood he had to withstand in this one.

Notes: This is the only novel on the list written specifically for students. It's made to challenge your vocabulary and comprehension skills (and it will), but won't be as hard as novels written for natives.
Easy novels for beginners (B2 level)
This section of Spanish books for learners are for students who already have experience reading plays, the news, or short stories in Spanish. These novels are short and have straight-forward plots, but will require skill to read. (If you've never read a book in Spanish before, scroll up to the intermediate Spanish books section.)
El Túnel (Ernesto Sabato)
Pages: 160 • Country: Argentina • Genre: Philosophic Fiction • Read the first page
About: In this short novel, artist and protagonist Juan Pablo Castel becomes obsessed with the only woman who he feels can truly understand him. But can anyone really, truly know who we are?

Notes: This 20th-century classic has a largely straight-forward plot, lots of repeating scenes and vocabulary, and little slang. It could be compared to The Stranger in its length and themes or the novels of John Fante in its energy and worldview. (TW: machismo.)
Mi Arte, Mi Vida (Diego Rivera)
Pages: 238 • Country: Mexico • Genre: Autobiography • Read the first page
About: In the official autobiography of Diego Rivera (aka Frida Kahlo's husband), the mural painter weaves tall tales about himself and his life. Set to the backdrop of quickly changing post-Revolution Mexican cultural landscape, it's a must-read for anyone who wants to understand Mexican national identity.

Notes: This book is strangely hard to find in Spanish (sorry I can't find a link!), although English translations are much much easier to get your hands on. Put it on your to-find list the next time you head to a used- or foreign-language bookstore.
Los Niños Tontos (Ana María Matute)
Pages: 144 • Country: Cataluña/Spain • Genre: short stories • Read the first page
About: This collection of microstories illustrates moments in the lives of children with color and character.  Following themes of violence, joy, hope, and the surreal, Matute's works are considered some of the most iconic to come out of the post-war period in the peninsula.

Notes: If you really love short stories, there are some jewels in this collection. However, if you're like me (and much prefer novels) I would skip this collection. Either way, if you're a Spanish teacher or a Spanish learner looking for new lesson ideas with your tutor, some of these would be PERFECT for lessons–they're bite-sized, layered, and full of interesting language. (The above "read the first page" link even has an excerpt of a few of them for free.)
Jorge Luis Borges)
Manual Para Mujeres de La Limpieza (Lucia Berlin)
Pages: 432 • Country: USA • Genre: semi-autobiographic short stories • Read the first page
About: This collection of short stories was released following the death of its author, who had never found fame during her lifetime. The many stories illustrate many small slices of life throughout the US, Latin America, and the borderlands of those two worlds. It's available in both English and Spanish for bilingual readers.

Notes: These short stories are a bit harder to read than other ones on this list, and if you buy the Spanish edition alone you won't have the help of a bilingual book. (Although you can certainly buy both editions.) Berlin is the only non-Latina on this list, and the bok was originally written in English, but the translation is wonderful and I think readers will connect with her experiences inside the Spanish-speaking world.
Los Detectives Salvajes (Robert Bolaño)
Pages: 609 • Country: Mexico • Genre: Mystery / Comedy / Existentialism • Read the front page
About: This energetic NY Times bestseller follows modern-day students and amateur detectives as they try to solve the disappearance of a post-Revolutionary writer. Full of interesting characters, slices of life, romance, betrayal, and just a touch of strangeness, it's an entertaining read.

Notes: Although the plot of this novel is relatively straight forward, it's a long one. I would recommend it to someone who has already read other shorter novels and worked on their stamina for reading in Spanish but is a little intimidated by really large books.

(The cover in this photo is also obviously from the English edition, which I read before I spoke Spanish, but I added it here since it's identical to the Spanish cover. I eventually went back and read the Spanish edition, and it was even better the second time.)
Advanced Spanish books for learners (C1)
These Spanish books are for students who have read shorter, easier books and want a challenge. They are longer novels with complex or surreal plots and very specific language. (If you've never read a book in Spanish before, I suggest scrolling up to an easier category.)
Elena Poniatowska)
Pages: 368 • Country: Mexico • Genre: oral history/non-fiction • Read the first page
About: This oral history documents the real experiences of everyday people during El Movimiento de 1968 in Mexico. From famous actresses to working-class students, these snippets of interviews plunge the reader into the realness of history through a patchwork of illustrations.

Notes: The vocabulary in this book is around B2 since oral language is generally much more simplified than written language. But because it requires a certain level of stamina to get through because of it's writing style, this might be a good break-through book for Spanish learners trying to tackle harder to read texts. Before you start reading it, I suggest you read a bit about the movement on Wikipedia first (since the author would assume the reader has some knowledge of the basics). (TW: state violence)
Las Venas Abiertas de America Latina (Eduardo H. Galeano)
Pages: 379 • Country: Uruguay • Genre: history / non-fiction • Read the first page
About: In the single most important popular history book of the 20th century, Galeano uses poetry and prose to paint the story of America Latina. Full of rich imagery and good journalism, it will challenge not only readers' vocabularies and but their sense of place in the world.

Notes: If you have a really large vocabulary in English and a general idea of Latin American history, this book should flow well. In my life in Latin America, I found that not only was this book regularly referenced in conversation, but that people seriously appreciated that una gringa had taken the time to know it. (TW: genocide, slavery, sexual assault, ecocide.)
La Vida es Sueño (Pedro Calderón de la Barca)
Pages: 116 • Country: Spain • Genre: Theatre • Read the first page
About: Written in 1666, this classic play investigates the balance between freedom and destiny through the humans who try to navigate between the two.

Notes: Do you one day wish of reading Don Quijote? You'll be surprised how much easier it is for language learners to read 17th Century Spanish literature than it is to read something like Shakespear! The language hasn't changed nearly as much as English during the same time period, and this is a great warm-up book if you're considering really strengthening your skills as a reader.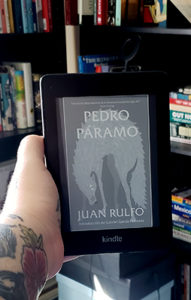 This is exactly the version of the book you should NOT get. Get the paper one, since it's easier to read seeing it written and spaced correctly.
Pedro Páramo (Juan Rulfo)
Pages: 144 • Country: Mexico • Genre: Magic Realism • Read the first page
About: When Juan Preciado tries to fulfill his mother's dying wish by finding his father, he stumbles into a world farther from anything he could have ever imagined.
Notes: Magic realism is probably the most beloved genre of Latinx literature, and this tiny book is a good start. The reason that this book is listed up here at C1 verses lower on the list is because (no spoilers) there are several plots going on at the same time, and little chronological order.

Help for readers: The book is broken up into small fragments (not chapters), so here is the advice I wish someone gave me before I started it. (1) Get the printed book, not the electronic version or audiobook. (2) Make sure you fully understand one fragment before continuing onto the next. (3) If you don't understand the fragment, try to figure out where/when it is and who it features. The where/when/who of every section is really the key. (4) Familiarize yourself with the briefest overview of the Mexican Revolution just so you understand the time period, but Wikipedia is enough to do it.
Pages: 128 • Country: Cuba • Genre: Magic Realism / Historic Fiction • Read the first page
About: Written just before the Cuban revolution, the novel explores the Haitian Revolution through the eyes of enslaved Haitians with all of their hopes, dreams, and fears for the future.

Notes: Another book that pioneered Magic Realism, it's vocabulary is more complicated than Pedro Páramo (listed above) but plot a bit easier to follow. I would suggest reading up on the Haitian revolution first so you have an idea of the historic moment, as well as generally checking out some maps of Hispañola (the island shared by Haiti and the Domincan Republic).
Isabel Allende)
Spanish reading books for expert learners (C2)
Have you cracked reading books in Spanish? Do you want difficult plots, technical language, or historic dialects? (Or are you preparing for the C2 test?) If you want some truly advanced reading material, this section is for you.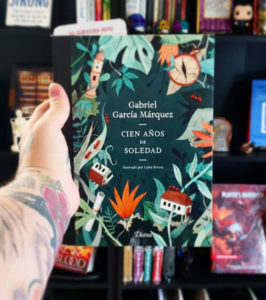 At C2, you're no longer reading Spanish books for learners but rather Spanish books for educated natives to really challenge yourself with
100 Años de Soledad (Gabriel García Márquez)
Pages: 496 • Country: Colombia • Genre: Magic Realism • Read the first page
About: This Nobel Prize-winning novel follows generations of the Buendía family and the village of Macondo. Blurring the lines between history and myth, love and abuse, and the real and unreal, it's one of the literary jewels of not only Latin America but human history.

Notes: This might be the hardest piece of contemporary fiction written in Spanish. It's incredibly beautiful and rich, but the plot is fast-moving; has a huge host of characters you need to remember; the relationships between those characters are complex; and you have to be able to understand the fine differences between the real and unreal. If you're studying for the C2 test, this will be a great test of your abilities.
Pages: 700 • Country: Argentina • Genre:  Experimental / "Antinovel" • Read the first page
About: Full of fast-paced travel, devastating blows, luxury and poverty, Rayuela ("Hopscotch" in English) is an aesthetic-heavy adventure into the main character's tumultuous life.

Notes: This book is particularly adjective-heavy and will be a good tool in preparing for a C2 exam. But Spanish learners should already have a study foundation in reading the language before starting this book.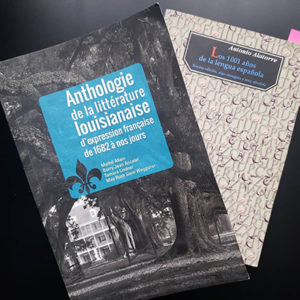 1000 Años de la Lengua Española behind another book (which can be found on my French list). I wish I had a better picture of 1000 Años, but at the time of this writing, it's being borrowed by a friend.
Los 1000 Años de la Lengua Española
Pages: 372 • Country: Mexico • Genre: Non-Fiction • Read the first page
About: This historic narrative examines the fundamental questions many advanced Spanish learners might have about the language. When did Latin become Spanish? Where do these other words come from? Are Catalan and Portuguese dialects of Spanish? Where did the ñ come from? And what is going on with stuff like el agua / las aguas or all these words for to become?

Notes: This is one of my all-time favorite books about languages. It's easier to read than other books up here at C2, but because it's so detailed and technical I wouldn't recommend it to anyone other than Spanish learners really dedicated to the language.
Pages: 256 • Country: Spain • Genre:  short stories • Read the first page
About: Cervantes (writer of Don Quijote fame) published these 12 stories in 1613 as the very first examples of novelas ("novels" in English) in Spanish language history.

Notes: If you're trying to build yourself up to reading Don Quijote one day, these shorter stories are a great way to get used to Cervantes' style and the 17th century Spanish. I would take a moment to refamiliarize yourself with feudal vocabulary both in English and Spanish before diving in, just to make sure you understand the context, but you'll be surprised at how little the Spanish language has changed over 400 years.
El Poema de Mio Cid
Pages: 256 • Country: Medieval Spain • Genre:  Epic Poem • Read the first page
About: This epic tale sings the praises of the adventures of a warlord and nobleman, full of fantastic myths and real historic fact. It's one of the earliest pieces of Spanish language literature (around the year 1200 and right at the birth of the Spanish language) and a must-read for anyone who truly wants to read the Spanish language literary canon.

Notes: The links in this description are to a bilingual Amazon edition, which I highly recommend. Advanced Spanish learners might alternatively want to find a monolingual Spanish book annotated in Spanish, but this epic poem requires some help to read. It's the last book on this list because while "higher than C2" isn't a recognized language level, this book should be placed up there.
My only asks are that:
They be at the A2-B1 level, either graded readers or books that are less complicated than novels
You've actually read them and vouch for them
Most Spanish books written for students are boring, and most interesting Spanish books aren't written for students (and much too hard!)
But if you have anything you think should be added to this list, I'd love to check it out and consider it since new ones are published constantly.
Sours: https://relearnalanguage.com/spanish-books-for-learners/
Similar news:
.
48
49
50
51
52