Jefferson Nickel Values
Coin Values Moving with Precious Metals: Up-Dated 10/11/2021: Gold $1755 | Silver $22.68
First minted in 1938; the early years of the Jefferson nickel series are drawing a premium value. Many date and mintmark combination are worth 25 cents or more depending on condition. Follow the steps below; images and descriptions identify how much your coin is worth.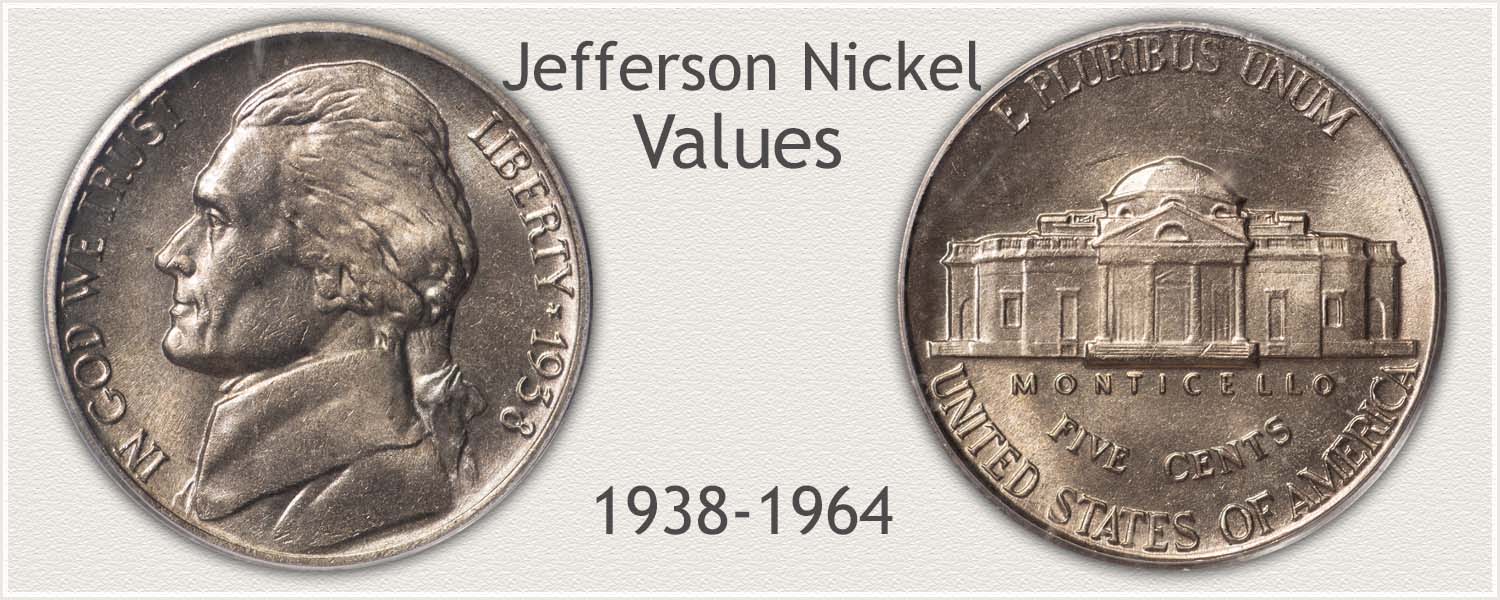 Steps Leading to Value:
Step 1: Date, Mintmark and Variety - Accurately identify different varieties, dates, and mintmarks of the Jefferson Nickel Series.
Step 2: Grading Condition - A key factor to value, condition is graded comparing to images and descriptions.
Step 3: Special Qualities - Find added qualities that appeal to collectors and potential value.
Jefferson Nickels are gaining in popularity as the series continues. A stunning "Mint State" piece, such as the one pictured above, is the type of coin eagerly sought by collectors.
The above are wholesale coin values. Computed from dealer's price lists with various mark-up factors figured in. They reflect closely the value you would expect to receive when selling.
Variations in value do occur subject to subtle grading points, collector demands and dealer needs. For more background information, see how value listings in the Coin Value Guide are determined.
Step 1: | Date and Mintmark Plus Variety are Identified
Jefferson nickels began production in 1938 along-side the last of the Buffalo nickels. Introducing a new design featuring Thomas Jefferson on the obverse with Monticello, his Virginia home, as the reverse design. These nickels retained the deep relief of design elements as the previous Buffalo nickel; Jefferson's portrait is raised high above the field of the coin.
Jefferson Nickel | Nickel-Copper Alloy
Jefferson nickels are made of a nickel-copper alloy (25% nickel with 75% copper) the same metal used since the first five cent nickel denomination was introduced with the Shield nickel in 1866. A very durable metal proven by longevity of surviving in circulation.
Three mints struck Jefferson nickels throughout the years. San Francisco mint, Denver mint in Colorado, and the Philadelphia mint. All varieties are valued separately.
San Francisco Mint Jefferson Nickel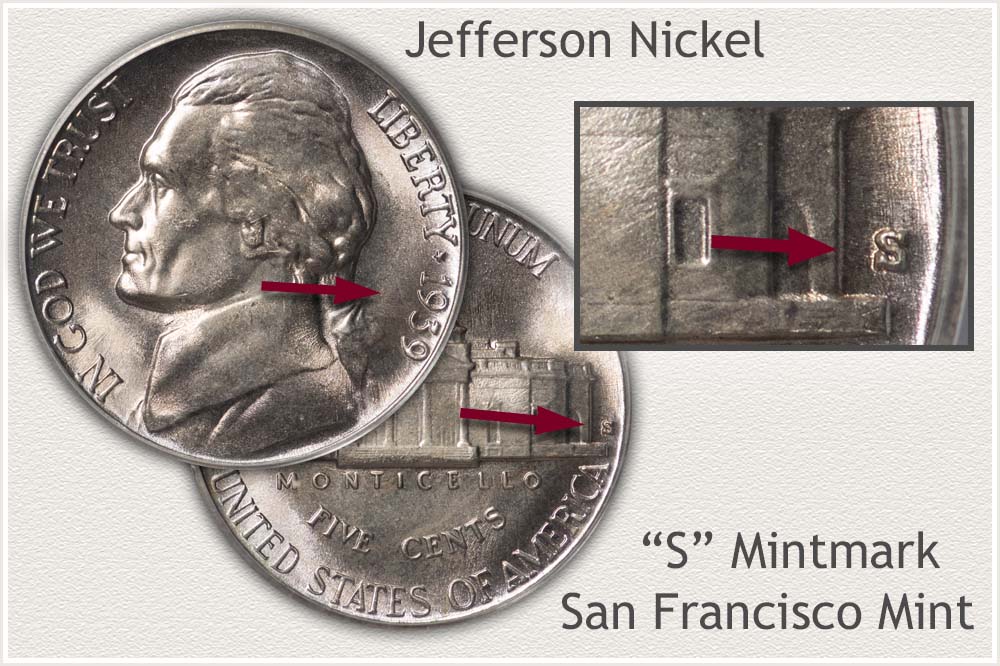 San Francisco struck the fewest Jefferson nickels of the three mints throughout the early years; 1938 to 1964. A total just over 230 million nickel-copper alloy coins. Low mintages signal to collectors a less available coin and in general values follow with slightly higher premiums.
Mintmarks were placed on coins to identify branch mint production. San Francisco used an "S" mintmark on nickel-copper Jefferson nickels 1938 through 1964. Find the small "S" mintmark on the reverse, to the right of Monticello, and next to the rim.
Lowest mintage year is 1938, some 4 million struck in San Francisco. A sought-after coin, worth is above face value in circulated condition.
Denver Mint Jefferson Nickel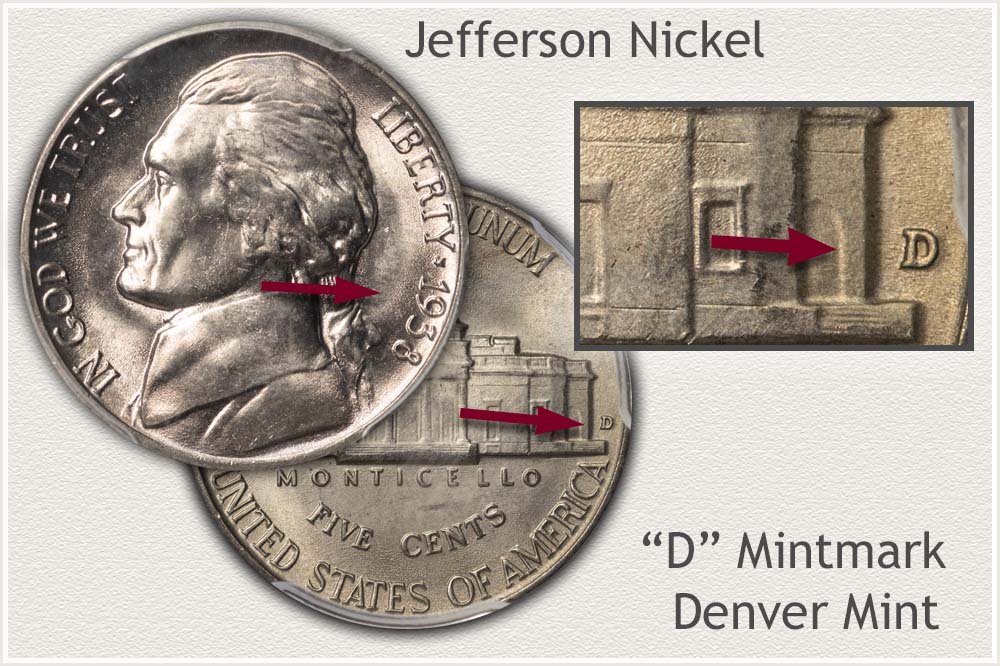 The first few years of production of the Denver mint 1938 to 1942 started slow. Just under 120 million struck. 1938 and 1939 are notable for low mintages and above average values. Numbers of coins struck in the 1960's increased and Denver through 1964 struck the largest total of nickels, more than Philadelphia and San Francisco combined.
Denver uses a "D" mintmark to indicate its production. The "D" is placed to the right of Monticello next to the rim.
Despite Denver's total mintages compared to the other mints, many individual years are modest in numbers. 1950 stands out as the lowest of the entire series, just over 2.5 million struck and a premium find in any condition.
Philadelphia Mint Jefferson Nickel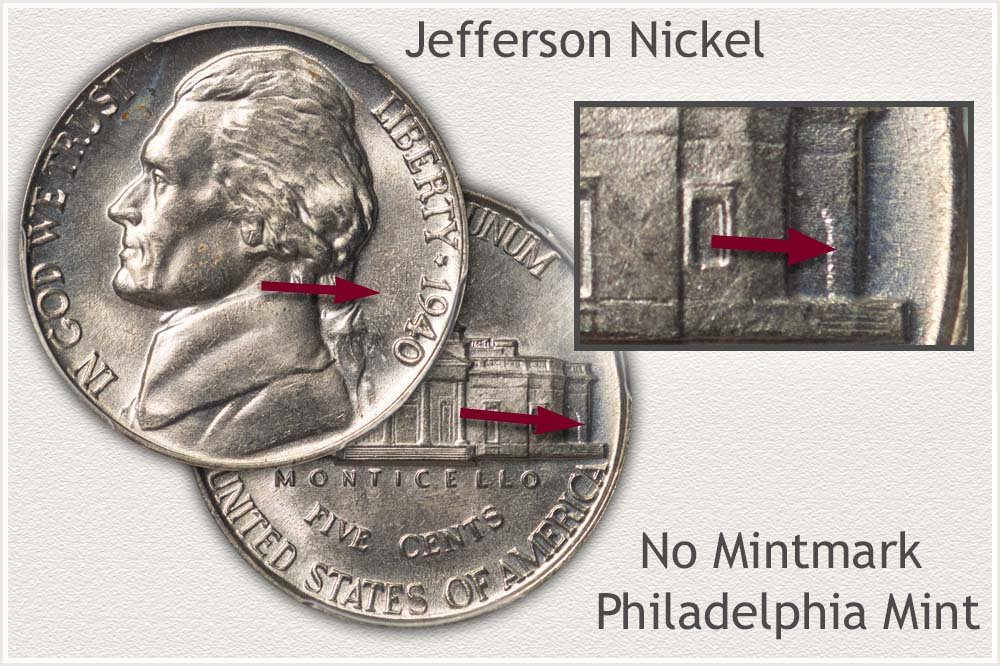 Philadelphia mint placed into circulation over 2.7 billion nickels of the nickel-copper variety spanning the years 1938 to 1964. Quantities are available today and collecting of the variety is focused on high condition examples.
Philadelphia did not place any mintmarks on these nickel-copper alloy pieces. Those dated 1938 through 1968 without any mintmark are Philadelphia nickels.
Lowest production year from the Philadelphia mint of the nickel-copper variety is 1955 with 7.8 million struck for circulation.
Jefferson Nickel 1942 to 1945 Silver Alloy Variety
Unique to the entire five cent nickel denomination are the silver alloy nickels of 1942 to 1945. These represent a distinct variety and are very popular with collectors. Because they contain silver, each is a premium value nickel. Production of the new alloy coins - 35% silver, 56% copper, and 9% manganese began in October 1942 creating a new variety for the year.
Large mintmarks were placed on all silver alloy nickels to indicate the alloy change. This is the defining difference and confirmation of the variety.
Silver Jefferson nickel values of circulated examples are tied to movements in the price of silver. Most circulated examples are traded by roll quantities (40 coins) or larger.
San Francisco Mint Silver Alloy Jefferson Nickel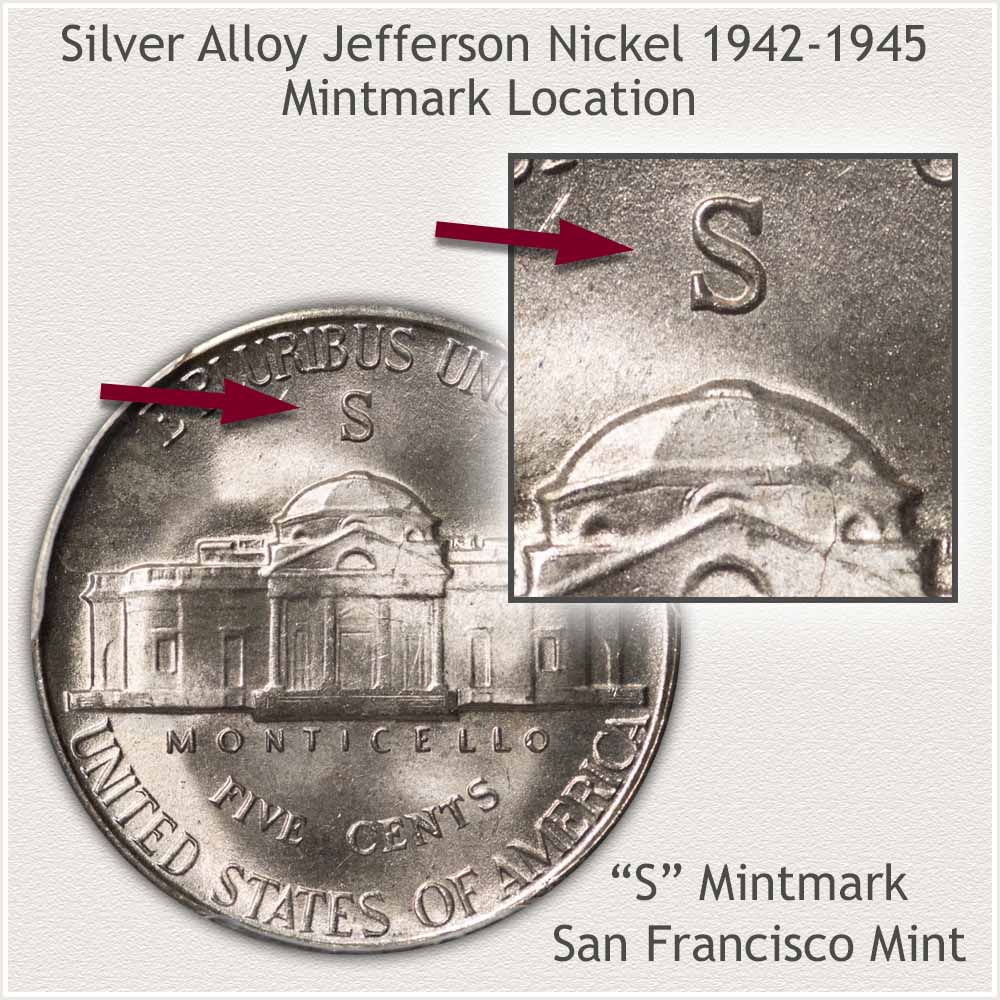 Large "S" mintmark above Monticello confirms the silver alloy nickel. San Francisco produced over 217 million pieces and all are premium value coins because of silver content.
Denver Mint Silver Alloy Jefferson Nickel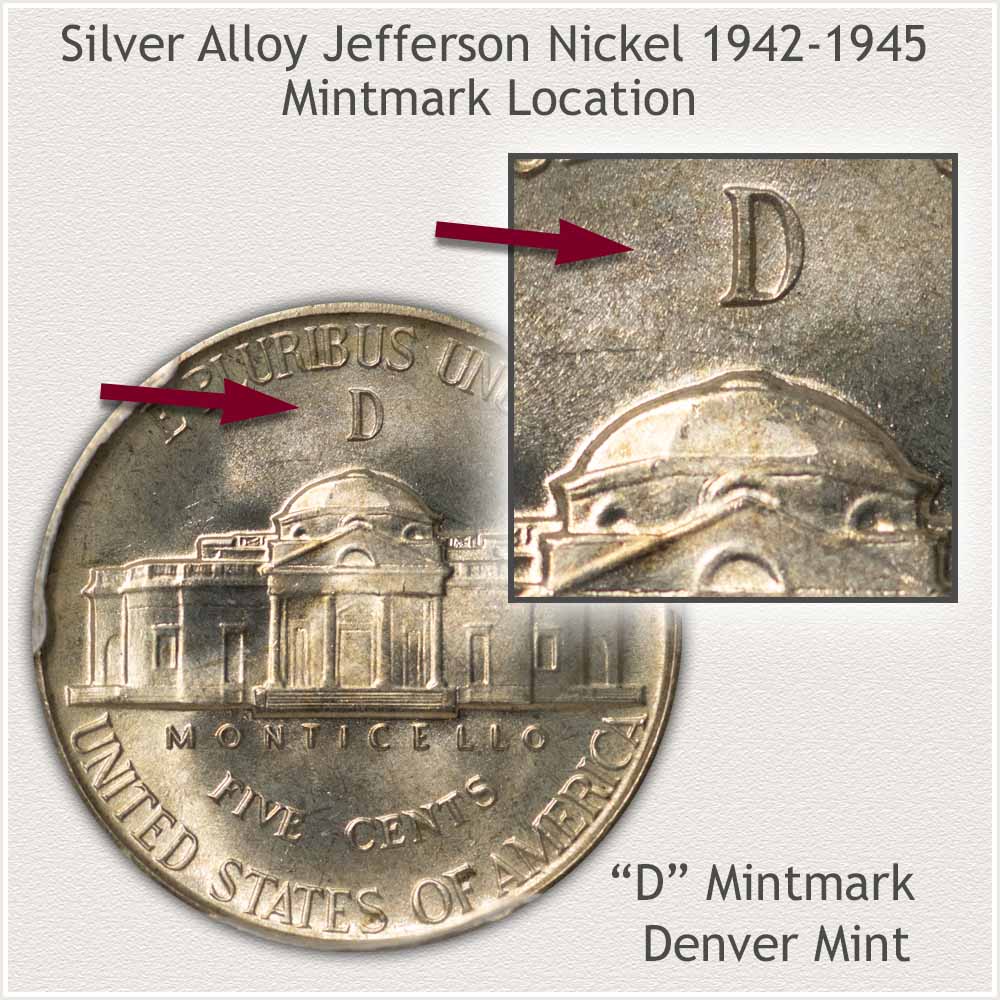 Large "D" mintmark above Monticello confirms the silver alloy nickel. No production of 1942 silver alloys nickels from Denver. Total production of Denver silver nickels over 84 million.
Philadelphia Mint Silver Alloy Jefferson Nickel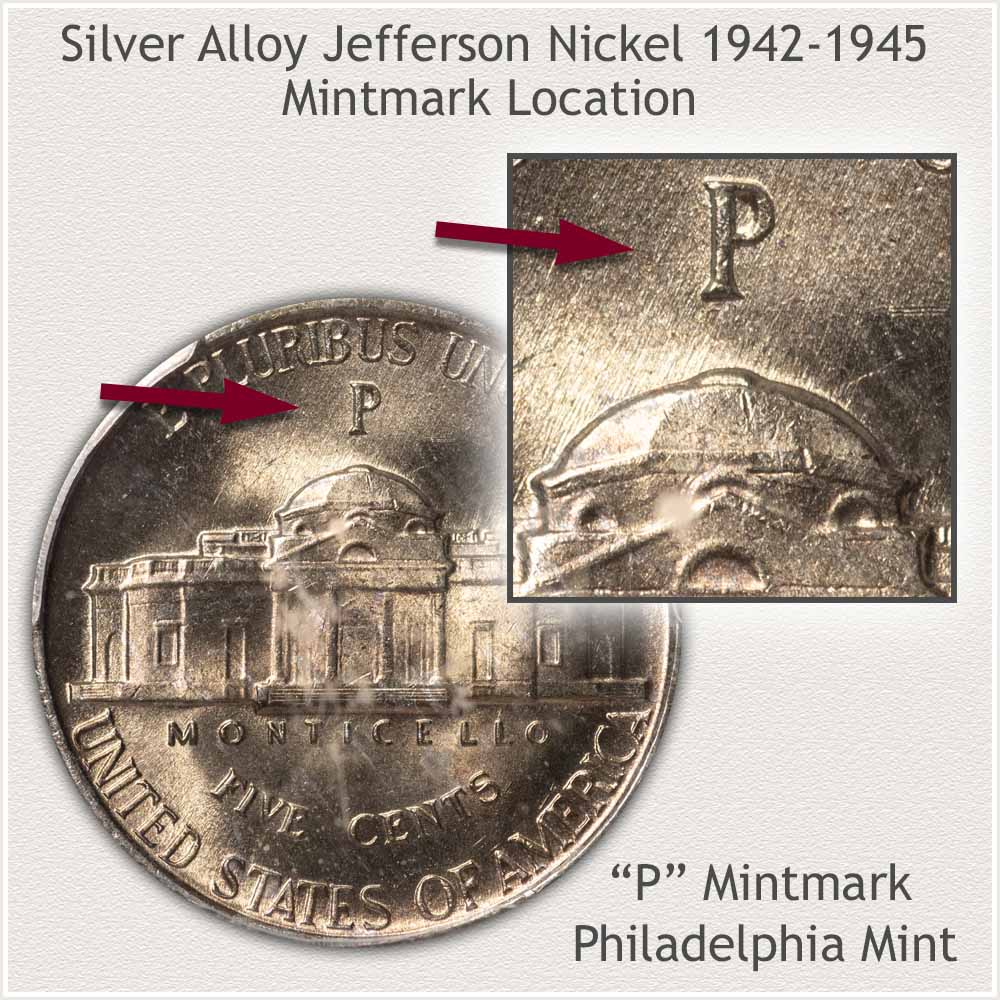 1942 silver Jefferson nickel is the first time Philadelphia used a mintmark on coinage. A large "P" over Monticello confirms the silver alloy nickel. Over 567 million struck during the four years of the variety, the majority stayed in circulation until the mid-1960's becoming well worn.
Step 2: | Grade Determines Value of Jefferson Nickels
After identifying your coin by date and mintmark, determining its "Grade" is the next greatest influence on value. A better state of preservation the more desirable to a dealer, the more it is worth to a collector. To accurately determine your Jefferson nickel values, compare your coins to the images below and assign each coin a grade.
Jefferson Nickel Values are Conditional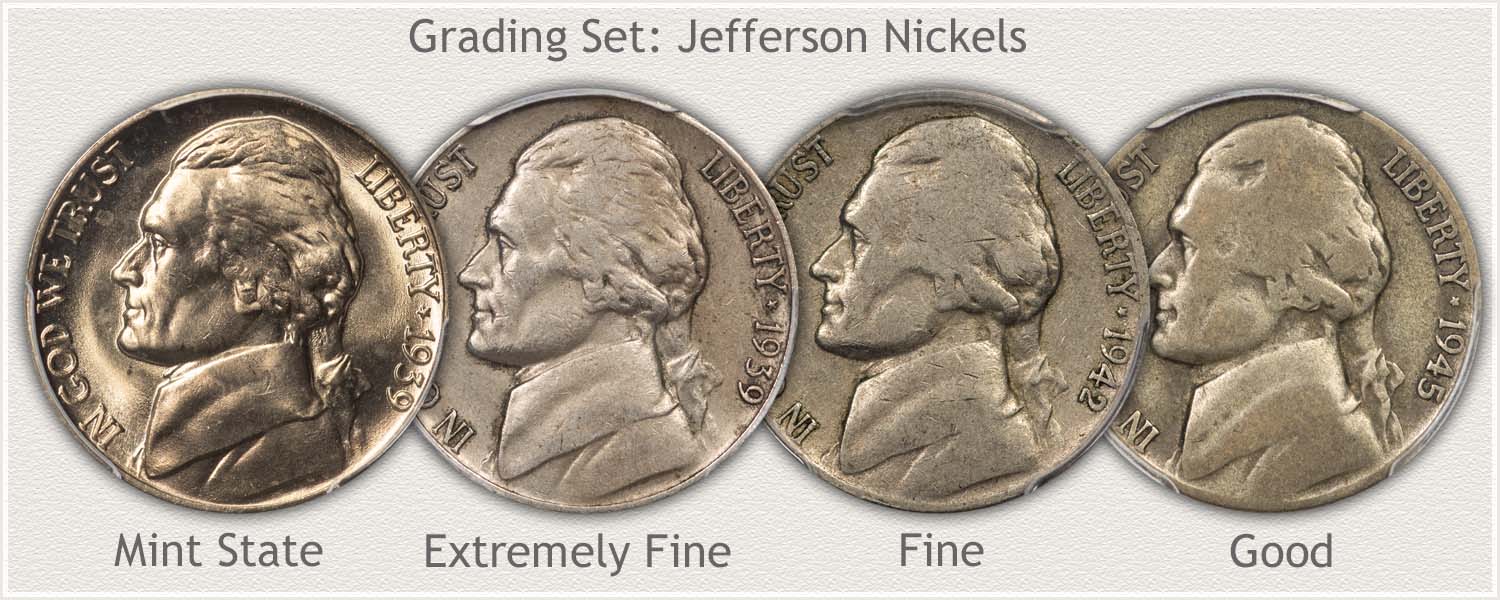 Mint State Grade: Jefferson Nickel
An overview of your coin begins with an inspection of Jefferson's home Monticello on the reverse. Four central pillars showing, separates a nickel in "Fine" condition from one where Monticello is worn smooth and in "Good" condition. If all the details on the obverse and reverse are crisp and sharp, with slight wear, your coin is approaching "Extremely Fine" condition and needs further inspection.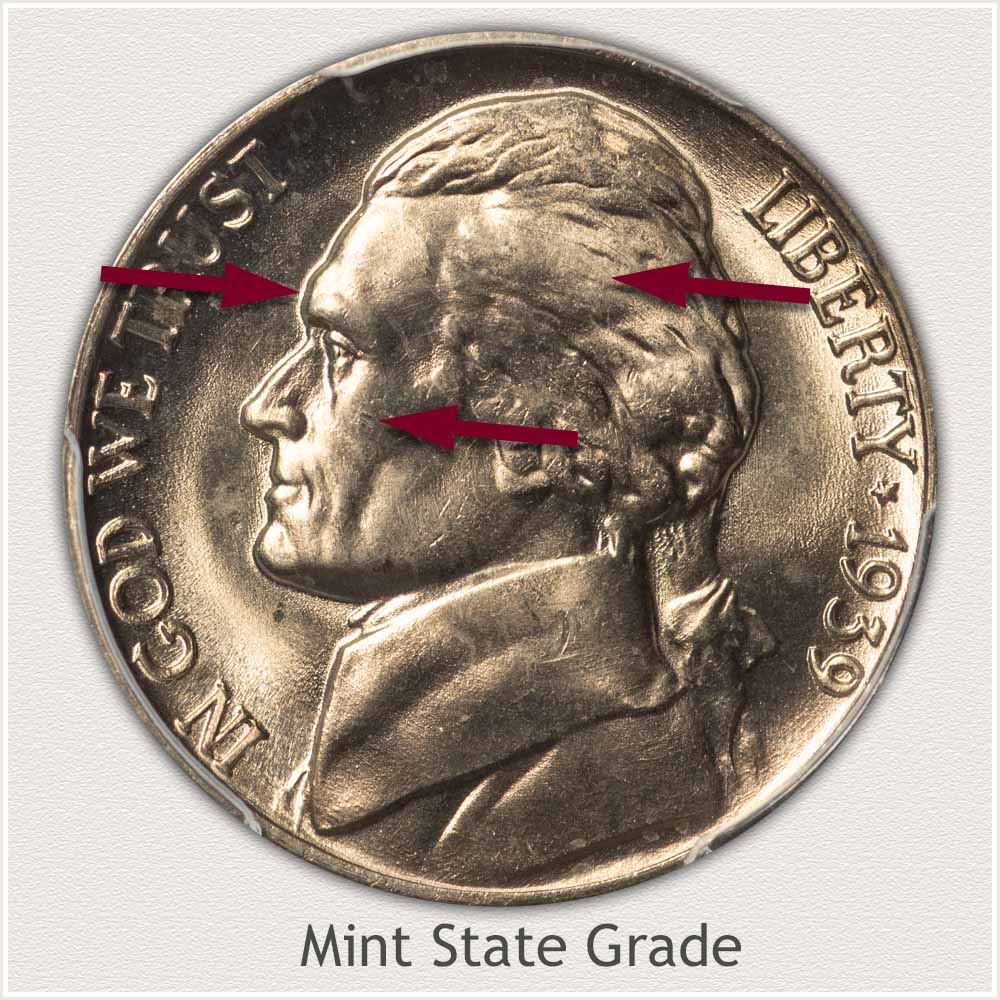 Obverse: Features Identifying Mint State Grade: No wear to the surface defines a coin in Mint State grade. A few minutes viewing the highest points of the design determines the grade.
Jefferson's cheek and eye brow are high areas wear occurs first. Minting imparts a delicate grain to the metal producing the luster, the shimmer of a freshly mint state coin. When worn luster is removed and the metal takes on a different, smooth texture and a different color.
Compare Jefferson's cheek area with surrounding metal for a consistent appearance.
Also, waves of hair are high and low in relief, all contours must have a similar luster and texture.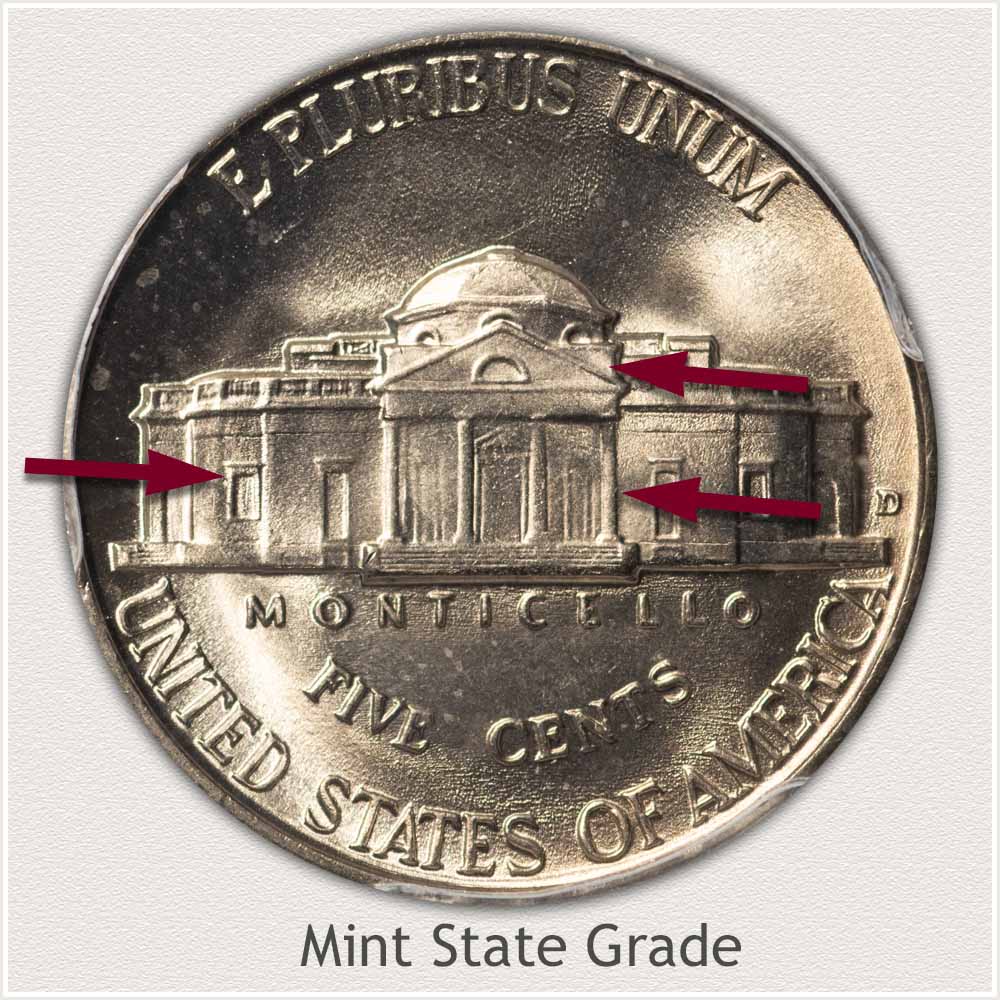 Reverse: Features Identifying Mint State Grade: The reverse features Monticello with the central area highest in relief.
Columns are slightly rounded with an exposed surface. Looking closely, original luster is present and a bright surface remains. Dulling of the metal indicates slight wear.
Leading edges of the triangular roof lines are also inspected; absence of wear leaves these areas without any flattening from wear.
Vertical lines of the building next to the windows remain crisp and of a similar look as nearby metal.
Extremely Fine Grade: Jefferson Nickel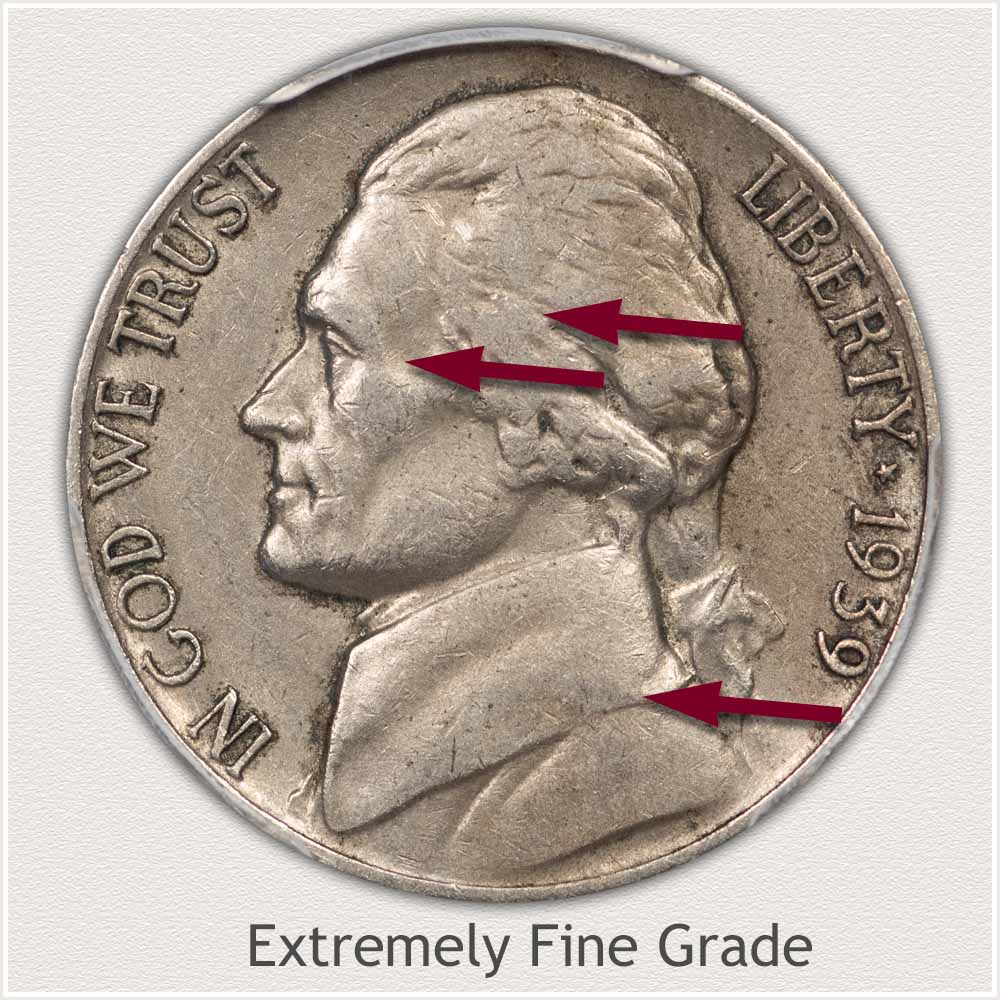 Obverse: Features Identifying Extremely Fine Grade: Light wear is beginning to smooth small portions of waves of hair.
Small spots of flat areas a confined to just the tops of hair waves. This evidence of wear is seen concentrated just above Jefferson's ear. Smoothness must remain disconnected and minor.
Wear is light to the high area of cheek near Jefferson's eye. A flattening is seen limited to an area smaller than his eye. His eye brow is also just beginning to show smoothness and slight flattening.
Lower line of collar is strong and separated from coat along the majority of its length.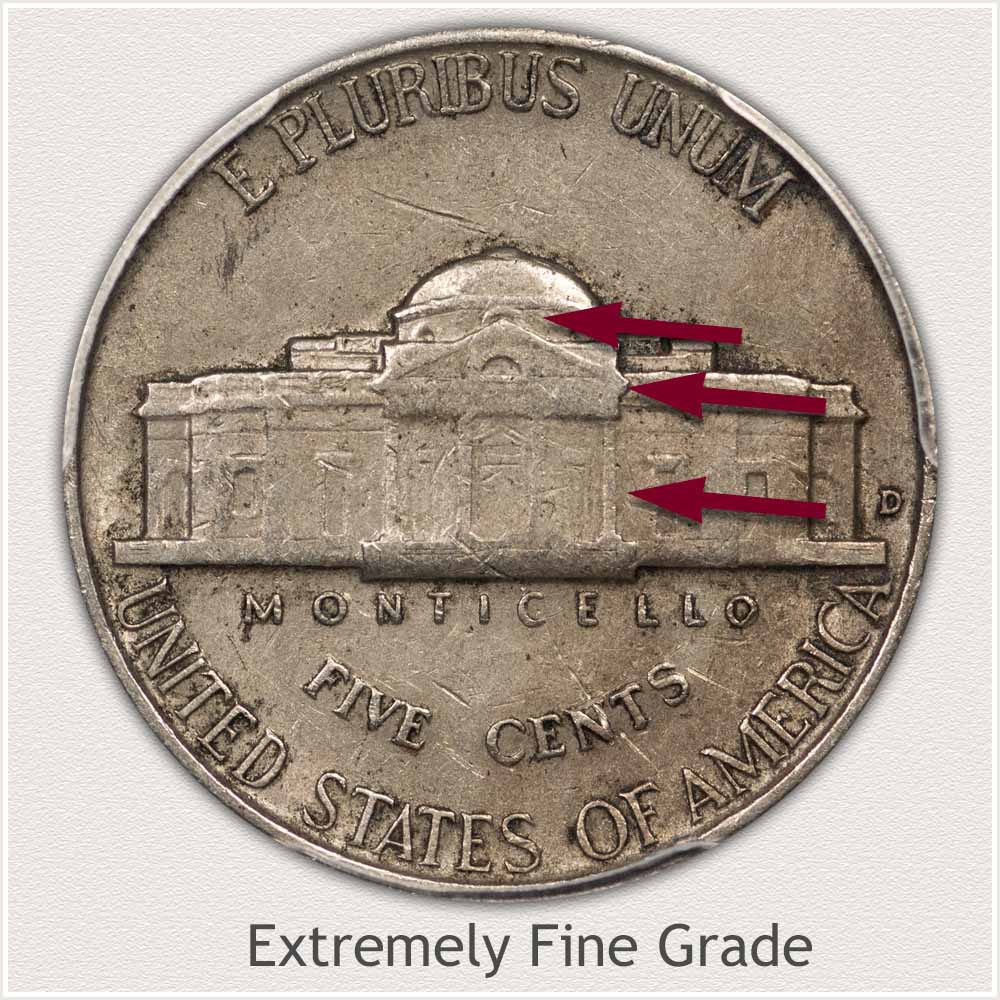 Reverse: Features Identifying Extremely Fine Grade: Monticello, because of its high relief position, begins to lose minor detail quickly.
A triangular arch, above the pillars, must show upper defining lines. These upper lines are faint but remain.
Pillars themselves are faint, however, each side of the pillars is clear. Fading of the defining lines is beginning, but definition places the coin solid in the Extremely Fine grade.
Notice a base line to the triangle is just visible. Wear is extensive and a close look is needed. Tilt the coin under a light helping bring out these subtle details and correctly identifying a grade.
Fine Grade: Jefferson Nickel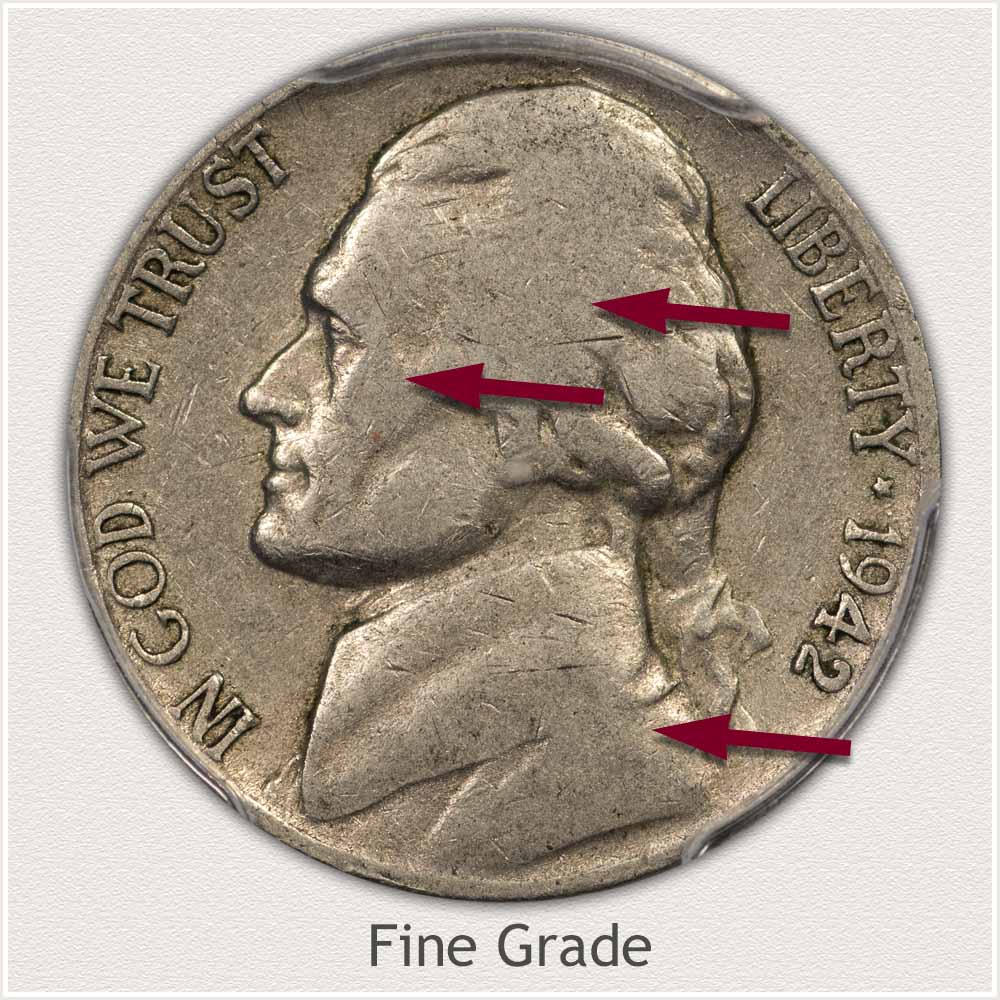 Obverse: Features Identifying the Fine Grade: Wear is heavy in the central areas creating large flat zones.
Above Jefferson's ear is a smooth plane extending to the top of his head. This flatness has removed the part in his hair through the center. Just traces of hair waves along the back and above collar remain.
Jefferson's cheek and eye brow is worn flat and connecting this flat area is also connecting with his hair. A small separation is noted between his cheek and the jaw area below.
Shoulder along the rim is flattened and without contour. No longer is a full connected line separating the collar from the coat.
Reverse: Features Identifying the Fine Grade: Heavy wear has removed all traces of fine detail of Monticello.
Traces of pillars remain, very weak. The central area of Monticello is just slightly raised with partial indications of pillars.
Peak area of the triangular arch is visible with only minor connecting with the dome above.
Windows show on either side of the central pillar area. Four windows, two on each side of pillars helps place a worn Jefferson nickel in the Fine grade.
Good Grade: Jefferson Nickel
Obverse: Features Identifying the Good Grade: Wear now covers the entire design smoothing details to outlines.
Jefferson remains outlined. Hair is now fully connected with his forehead at temple.
Eye brow plus cheek is connected with hair forming flat areas covering Jefferson's face.
Rim is beginning to merge with tops of lettering.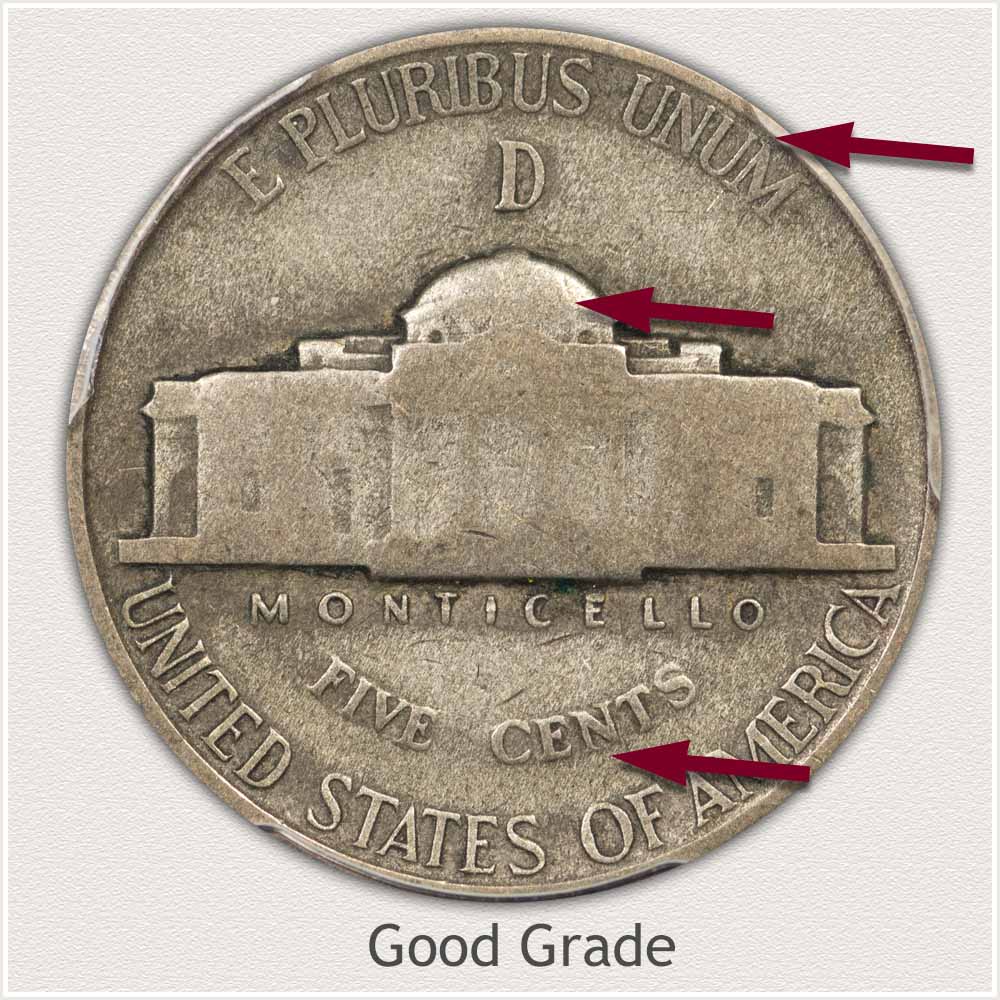 Reverse: Features Identifying the Good Grade: Heavy wear leaves Monticello as a featureless flat surface.
Dome is now a flat area and fully connected and forming an outlined Monticello.
Letters along the rim are readable, faint along tops and often merging with the rim.
"Five Cents" in a protected area, is now becoming faint in comparison with letters of upper and lower legend.
How to Video: Grading Jefferson Nickels
Grading condition separates the collectible Jefferson nickels from those worth face value. In the Jefferson series special attention is given to the mint state grade. Follow the grading practices used in the video and compare your coins to images and descriptions.
Video, Images and Descriptions | Grading Jefferson Nickels
Step 3: | Special Qualities Enhancing Jefferson Nickel Value
Collector preference drives the market in Jefferson nickels. Premium values in the Jefferson nickel series are quality mint state grade coins. Ample supplies are available of most date and mintmark combinations. Special qualities within the mint state condition set coins apart in desirability.
Second market is lightly circulated examples, affordable and sough by beginning collectors studying the series and developing collecting skills.
Both groups of collectors are seeking quality coins in their category to add to collections. Qualities of nice color, mark free surfaces, and well struck examples are preferred.
Recognizing Collector Preference
Surface Quality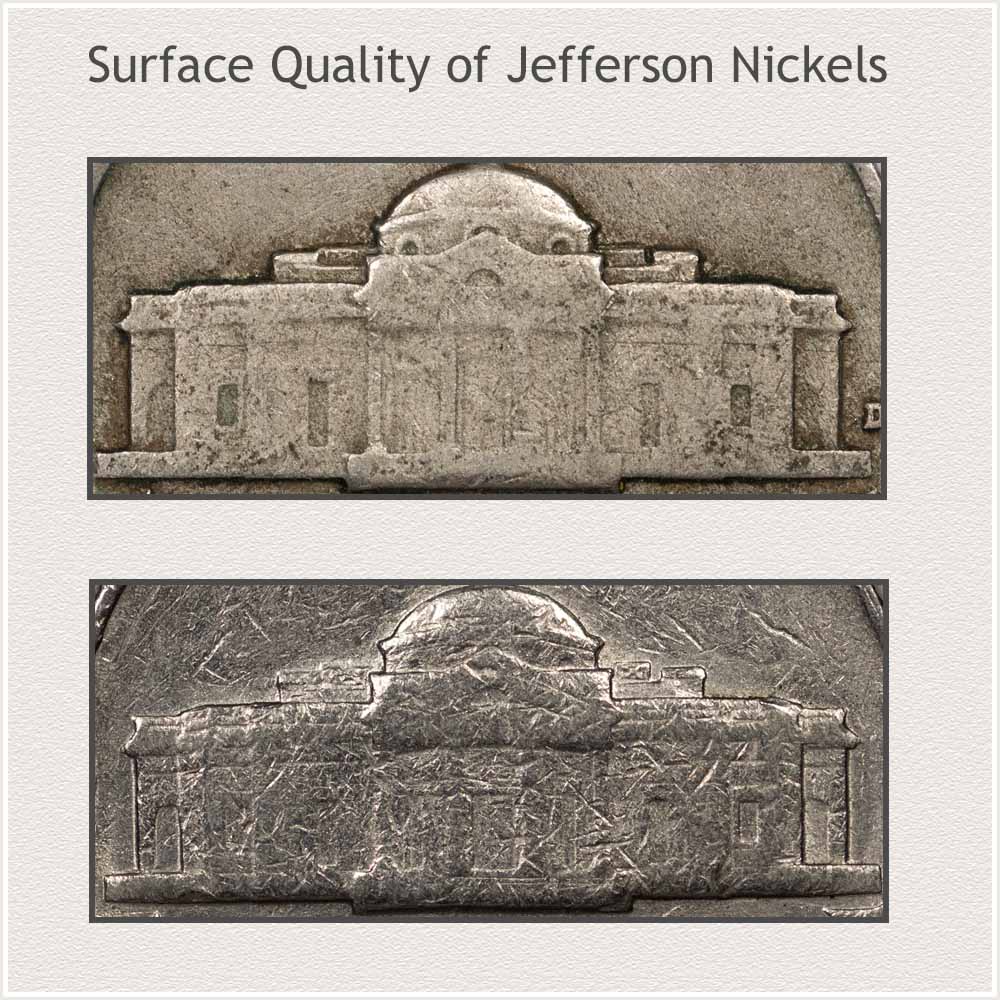 One of the first steps in evaluating a coin is quality of its surface. Circulated coins pick up marks and abrasions. Circulation wear plus noticeable marks are considered by all collectors as lowering desirability. Overly abraded coins fall out of collectible range.
Preservation Quality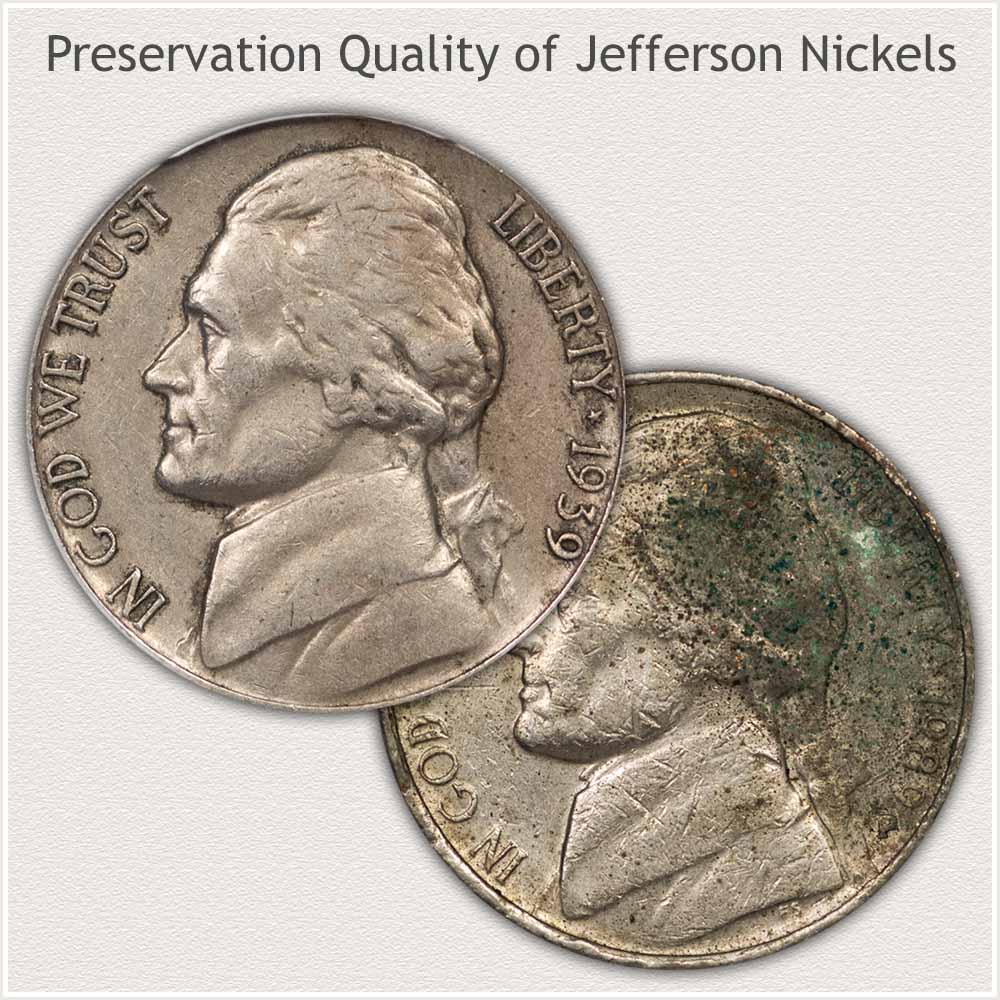 How a coin is stored over the decades has a visual result to the surface. A slightly worn example properly kept is a collectible quality Jefferson nickel. Humidity and elements are beginning to show discoloration and deterioration to the surface of the nickel; result, no longer any collector value.
Strike Quality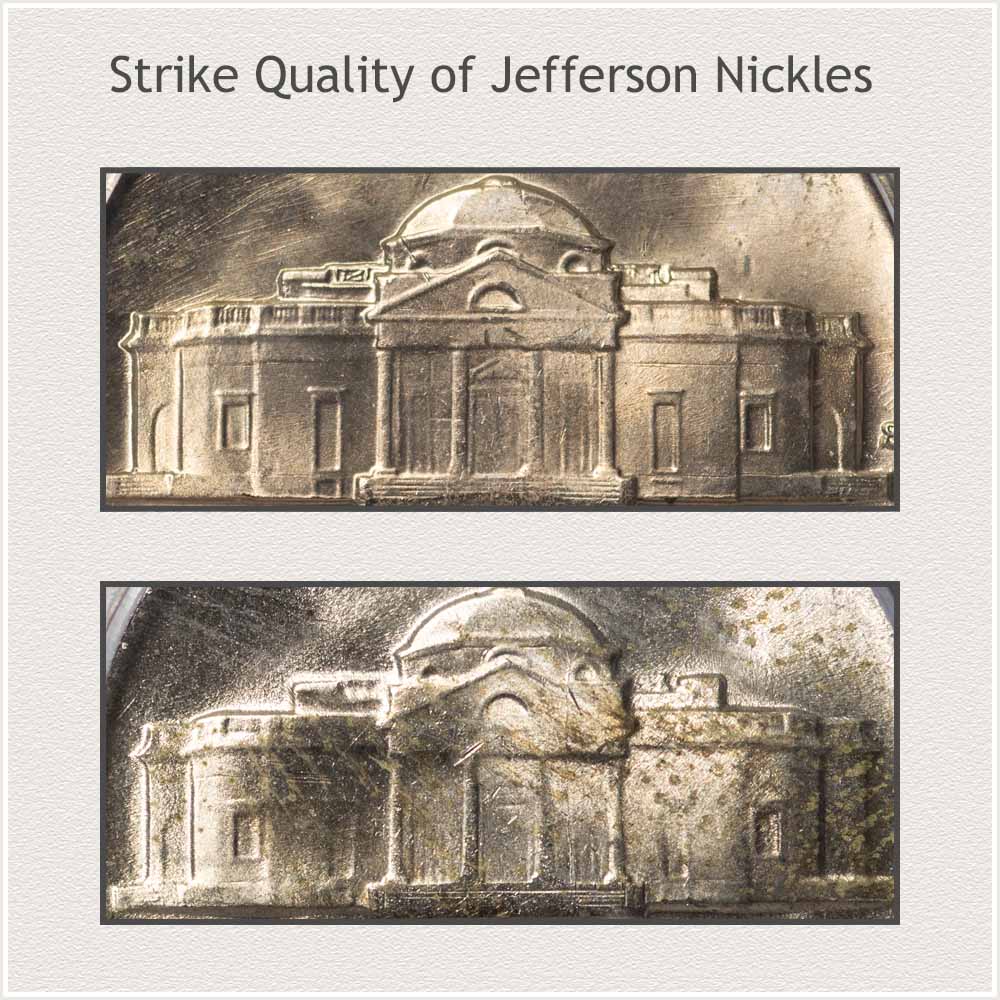 A subtle difference is detected when comparing the two reverses. Jefferson nickels occasionally suffer from a weak strike when minted. A small change in strike quality is picked up by advanced collectors and their preference is a strong strike.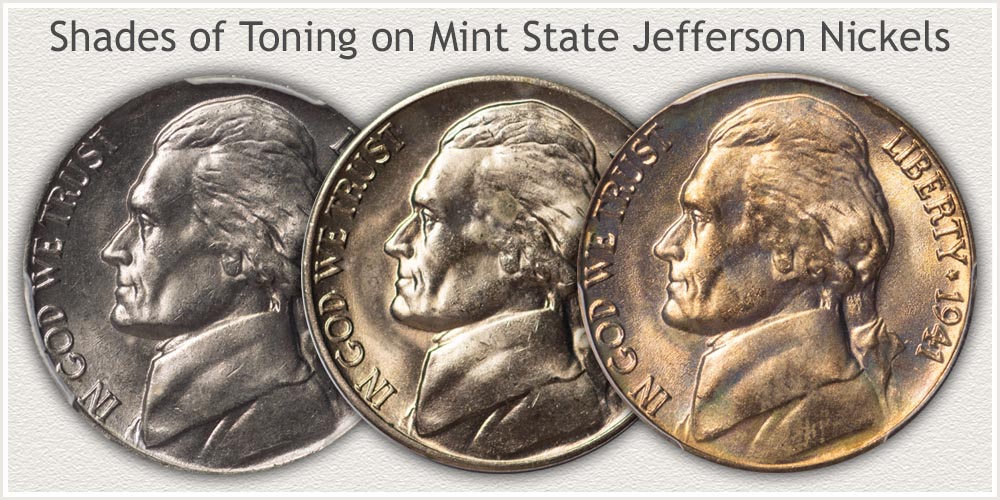 All three nickels represent eye appealing mint state coins. Bright as minted, slight toning enhancing devices, and surfaces toned colors are all appealing to the different preferences of collectors. Missing from the examples are eye distractions such as spots, uneven or mottled toning, any of these lowers quality.
References
US Mint. 1954 US Mint Annual Report. https://nnp.wustl.edu/library/book/343
US Mint. 1939 US Mint Annual Report. https://nnp.wustl.edu/library/book/514143
US Mint. 1943 US Mint Annual Report https://nnp.wustl.edu/library/book/336
Coin Values | CoinStudy Articles
Date by Date
In Depth Jefferson Nickel Values
1938 to 1964
Understanding today's collector market for Jefferson nickels is key to realizing the value of your coin. Popular with collectors are nickels in mint state grade, most others have minimum value below this mint state condition.
Although the Jefferson nickel series is extremely long running, dating back to 1938, their values are in their infancy. The series remained basically unchanged throughout the first 65 years. However, the recent new designs introduced in 2004 are beginning to attract attention to nickels.
With this renewed interest comes a rise in the number of collectors and a rise in value is sure to follow.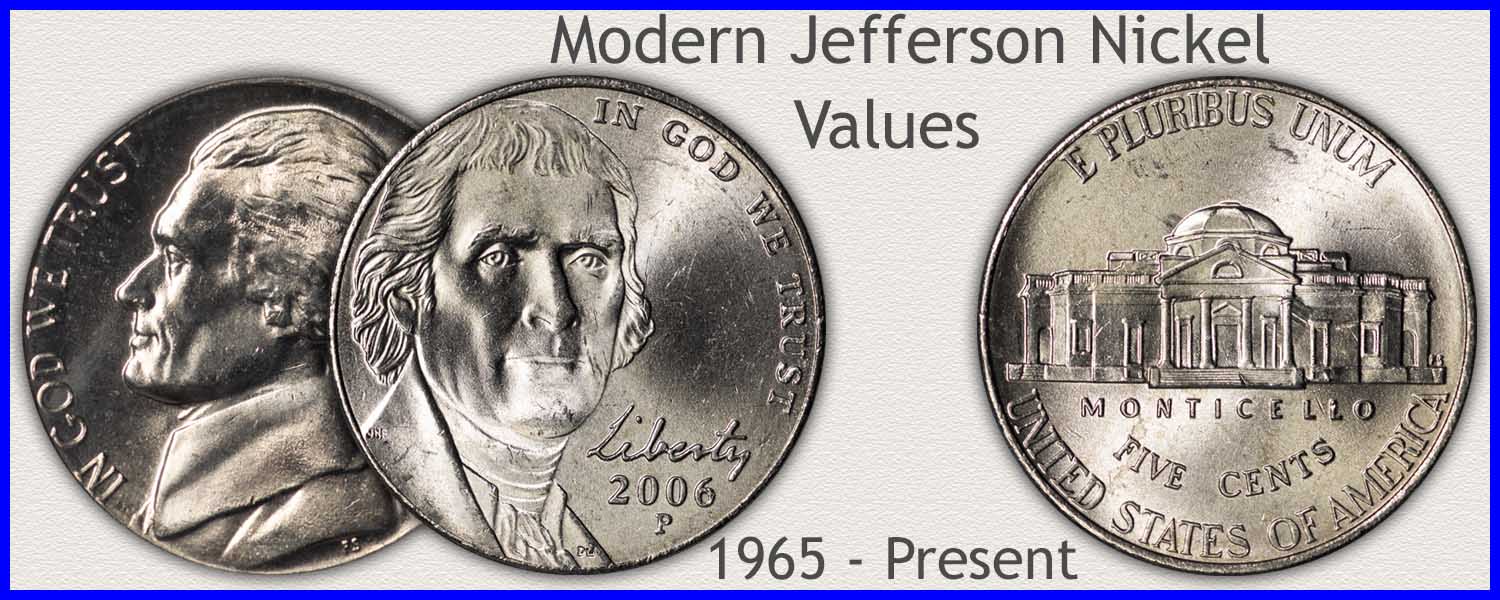 Today's Modern Jefferson Nickel Values
New era nickels are collected in top condition. It is in Mint State preservation added premium value and higher prices are found. Important to compare you coins to the condition images to separate the worn from those with no wear.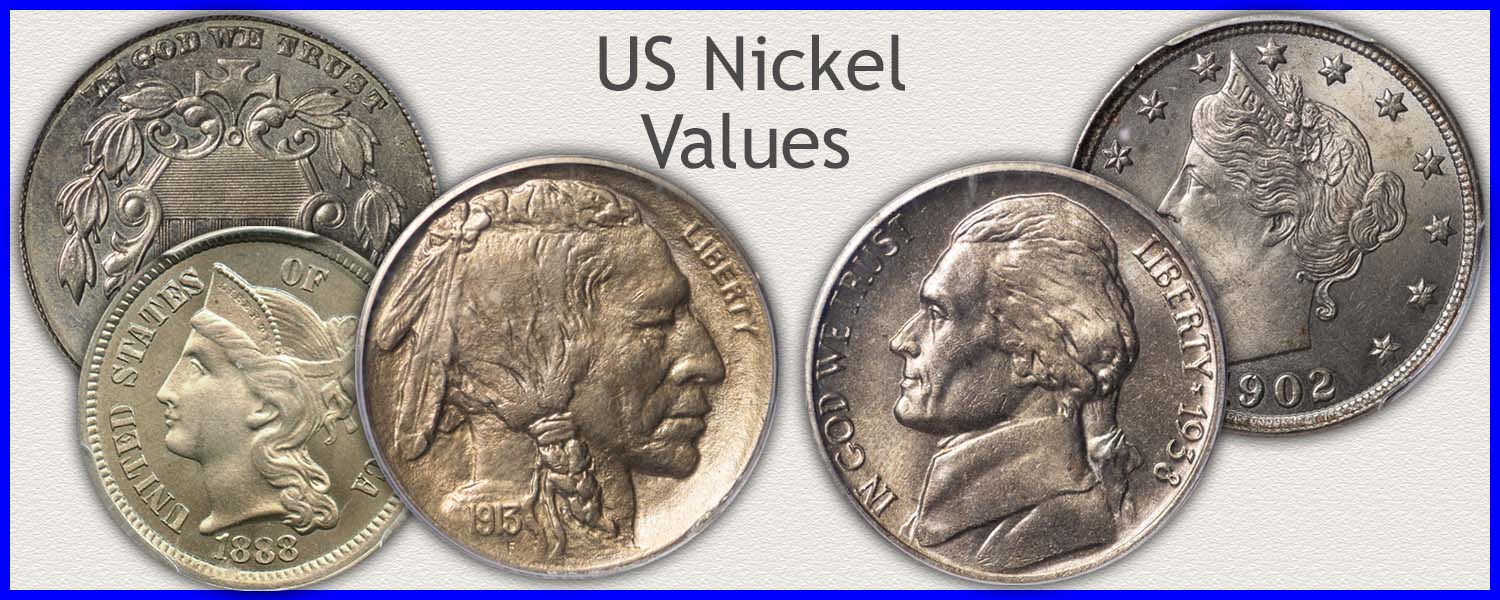 More Old Nickel Values
Return to the index page of Shield, Liberty, Buffalo, and Three Cent Nickels. Match your coins to the grading images and value charts, discover your rare coins.
Grading Old Nickels | Video Series
Videos, close-up images and descriptions, give insight into the details to accurately grade the condition of your old nickels. Judge carefully to find the true potential value.
Do you have other denominations?
Coin Value Guide | How to Value a Coin Collection
A step by step method combined with the coin value online guide identifies how to value a coin collection. Discover how much your box of old coins is worth.
★Coin Values Discovery... finds Jefferson Nickel Values and...
All old US coin values. It is an excellent index with images and text links to all coin series, from Cents to Gold. Value charts, grading images and descriptions uncover how much your box of old coins is worth.
Print the Coin Values Worksheet to list your Jefferson nickels and record their values. Should you decide to sell... use the worksheet as an invoice and packing slip when sending coins through the mail to dealers. It indicates you have done your coin values homework.
Sours: https://www.coinstudy.com/jefferson-nickel-values.html
About Jefferson Nickels
The first Jefferson nickels were coined in 1938 and remain in production to the present. The nickel was designed by Felix Schlag, whose artwork for the coin was selected in a competition in which 390 artists submitted designs; Schlag's entry won him an award of $1,000.

While the Jefferson nickel is among the nation?s longest-running coin series, it offers very few major regular-issue rarities. The 1939-D and 1950-D issues are the scarcest coins in terms of overall mintage, though these are relatively affordable in all circulated grades and even in most uncirculated grades. Among the significant business-strike varieties are the 1939 Doubled Monticello, 1942-D Over Horizontal D, 1943-P 3/2, 1943-P Doubled Eye, 1945-P doubled reverse, 1954-S S Over D, and 1955-D D Over S.

The 1971 No-S proof Jefferson nickel is a rare variety that crosses into four-figure territory on the higher end of the grading spectrum, while the 1994-P and 1997-P special strikes are among the most valuable issues from recent years. From 2004 through 2005, the series was used as a canvas for special bicentennial issues honoring the 200th anniversary of the Lewis and Clark Expedition. When the regular design was resumed in 2006, a new three-quarters profile of Jefferson by Jamie Franki and sculpted by Donna Weaver debuted on the obverse.

Regular-strike Jefferson nickels featuring five or six full steps across the bottom of Monticello are significantly scarcer than examples showing softness in the strike across this area of the reverse. So scarce are these so-called Full Steps Jefferson nickels that none are known for some dates above MS65.
Sours: https://www.greysheet.com/coin-prices/series-landing/jefferson-nickels
Value of Old Nickels
The term nickel is used to refer to any five cents coins dated from 1866 and later.  The most popular coin series from this group is likely the buffalo nickel.  Certainly the most famous nickel of all time is the 1913 V Nickel.  There are a few other coins in the mix that you will want to be aware of.
Shield Nickels (1866-1883) – There are two types of shield nickels.  The ones dated as 1866 and some 1867s have a reverse showing stars and rays surrounding a large five.  The other 1867s and all shield nickels from 1868 to 1883 have a back design without the rays.  1879, 1880, and 1881 shield nickels all have mintages under 100,000 and they are rare no matter what.  Any shield nickel in perfect condition will be worth $100 or more.
Liberty aka V Nickels (1883-1913) – With exception of the famous 1913 nickel, the 1885 and 1886 are by far the rarest V Nickels in the series.  The other dates are all extremely common.  The 1913 Liberty Nickel was never released for circulation.  If you have one from 1913, then it is either completely fake or the date has been altered.  If you can't see the date on your nickel then the value is about ten cents as a curiosity item.
Buffalo Nickels (1913-1938) – These nickels are sometimes called Indian Head nickels.  This is a popular series with lots of varieties.  The 1937-D three leg version is desirable and always worth at least a few hundred dollars.  Some over-dates from the teens are also elusive.  The rarest standalone year/mintmark combo is the 1913-S.  The 1921-S is also a rare coin.  The majority of buffalo nickels are very common though.  You can buy heavily circulated coins like these with ease for about 25 cents per coin or less.
War Nickels (1942-1945) – Most Jefferson nickels are just worth face value.  The exceptions are the nickels from 1942 to 1945 that have the mint mark above Monticello on the reverse of coins.  Those trade based on the price of silver.  As an example, when silver is at $16, one war nickel is worth about 90 cents.
We are always interested in rare or high grade nickels.  Please contact us if you need an offer.  [email protected]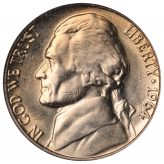 Jefferson Nickel (1938-2003)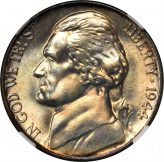 Jefferson War Nickel (1942-1945)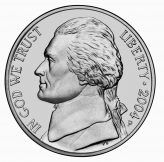 Westward Journey Nickels (2004-2005)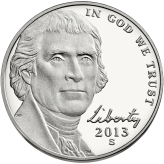 Return to Monticello Nickel (2006-Present)
Sours: https://coinappraiser.com/coin-category/nickels/
5 VALUABLE NICKELS TO LOOK FOR IN CIRCULATION - RARE NICKELS WORTH MONEY
The 15 Most Valuable Jefferson Nickels: Complete Price Guide
Below is a list of the most valuable Jefferson nickels, presented in ascending order. Prices have been updated to reflect the current market.
Decades of experience from numismatic experts informed the research for this list. The images and explanations are a great way to learn more about modern coin collecting!
All values are for coins grading Mint State 65 (MS65). Higher grade examples and those with the Full Steps designation will exceed these prices.
15. 1942-P Proof (silver): $136 in MS65
1942 proof Jefferson nickel. Image: PCGS
The 35% silver "War Nickel" proof issued in 1942 is worth twice as much as its non-silver counterpart from the same year.
14. 1954-S (S Over D): $150 in MS65
The "S over D" variety of the 1954-S is another example of a mintmark error. You will typically find the bottom of a "D" jutting out from below the "S."
Back then, branch mints would simply stamp over an existing mintmark on a die when necessary. Circumstances such as a tight production schedule or a worn-out die might have forced a mint to do so.
13. 1939-P Proof (Reverse of 1940): $168 in MS65
1939 (Reverse of 1940) Jefferson nickel. Image: PCGS
The sharper reverse design used for these proof coins was introduced in the middle of 1939. It was unchanged until 2004.
12. 1955-D (D Over S): $228 in MS65
This is an example of an overpunched mintmark. As the rest of this list will reveal, it's not a particularly uncommon type of error.
In the photo above, you can see the faint shadow of an "S" behind the outline of the "D" mintmark. It is found on the right side of the reverse.
11. 1940-P Proof (Reverse of 1938): $254 in MS65
Because it was struck using the old reverse die of 1938, the proof 1940 Jefferson nickel shows less detail than later issues.
Despite being a proof coin, which generally exhibit higher quality strikes, these 1940 Jefferson nickel proofs show softer details due to using worn-out dies.
10. 1945-P (DDR): $286 in MS65
Like the spooky "Doubled Eye" nickel, this is another doubled die error. It appears on the reverse design. (It's also the last year silver nickels were produced.)
The most famous doubled die variety on a U.S. coin is the 1955 Lincoln cent.
9. 2005-D ("Speared Bison"): $325 in MS65
2005 "Speared Buffalo" Jefferson nickel. Image: PCGS
The most modern coin on the list features what looks like a spear running through the bison's back due to a die gouge.
This one-year issue was part of the new set of "Westward Journey" designs minted from 2004 to 2006.
8. 1943-P (Doubled Eye): $358 in MS65
Doubling errors are typically some of the most well-known and easy to notice visually.
Yet as the image above shows, it's not an especially recognizable error with the naked eye.
The 1943-P is also a silver war nickel, adding to its appeal.
7. 1949-D (D Over S): $481 in MS65
Like its 1942 counterpart, this coin features another overpunched mintmark.
Numismatic insiders often evaluate an error coin's rarity by researching two areas:
How many existing coins with the error are known so far?
How many coins were struck by the die that had the error?
Accurate data for these two questions is not always forthcoming. A lot of sleuthing may be required! Values are based on the best possible estimates.
6. 1943-P (3 Over 2, "Fishhook"): $585 in MS65
Here is another variety of the 1943-P 35% silver nickel. The "3 Over 2" or "3/2" variety is an example of what is often called an overdate error.
Usually, it was easier for the mint to replace one digit of the date rather than use a whole new die. However, in this case, the entire date (all four digits) has been stamped over the previous year.
5. 1971-S (No S): $780 in PR65
Proof Jefferson nickels were only minted in San Francisco in 1971.
However, some 1,655 proofs were mistakenly struck without the "S" mintmark. This is a tricky "error by omission." To date, only a few hundred of these "No S" 1971 Jefferson nickel proof coins have been graded by NGC and PCGS combined.
Such errors have cropped up on other denominations, as well. One prominent example is the 1922-D "No D" penny that's missing its intended mintmark.
4. 1946-D (D Over Inverted D): $1,350 in MS65
1946-D (D Over Inverted D) Jefferson nickel. Image: PCGS
Interestingly, this repunched mintmark coin shows an upside-down "D" that was initially struck backwards!
In this case, the "D" mint mark was struck upside down before being struck over with a D in the correct position. You can see the curve of the inverted D to the left of the vertical part of the regular D.
3. 1939-P (Double Monticello): $1,500 in MS65
Monticello is the iconic estate designed by Thomas Jefferson. It appears on the reverse design of all Jefferson nickels, with the exception of the Westward Journey subset (2004–2006).
The doubling effect is on the word "MONTICELLO" and other inscriptions (shown above), not on the building itself.
2. 1942-D (D Over Horizontal D): $4,620 in MS65
The strange horizontal alignment of the "D" (above) is difficult to miss once you see it!
The fact that mintmarks were still hand-punched onto working dies for much of the 20th century made this type of error possible.
On the popular Numista forum, the user edduns points out:
"1989 was the last year of the hand-punched mint-marks on US coins."
This coin is by far the most desirable Jefferson nickel variety. It's estimated that roughly 20,000 examples exist.
The "Full Steps" designation is given to sharp, well-struck 1942-D (D/D) coins. This small subset (perhaps 500 examples) sells for a significant premium, with prices up to $10,000.
1. 1964 SMS: $8,750 in MS65
Available only in 1964 Special Mint Sets, it is believed that less than 40 examples of this sharply struck matte proof exist. Its existence was unknown until a 1993 Stack's auction. The 1964 SMS remains one of the rarest Jefferson nickels.
1964 SMS Jefferson nickel. Image: PCGS
The extraordinary sharp strike on this matte proof 1964 SMS Jefferson nickel is even more impressive than typical proof coins. It was part of a prototype Special Mint Set that was never released.
Honorable Mentions
1994-P (Special Frosted Matte Uncirculated): $30 in MS65
This was the first frosted matte finish coin issued in the Jefferson series.
The finish gives the coin a beautiful matte appearance that is the result of sandblasting. Small sand particles impart a "frosty" look to the surface.
Most proof coins and special mint specimens from the U.S. Mint were produced with a similar style of matte finish before the mid-20th century.
1997-P (Special Frosted Matte Uncirculated): $65 in MS70
This is the second—and sole other—frosted matte issued in the series. It is often seen in MS69 and even MS70 grades. You'll notice it has a considerably higher value than the 1994 version.
That's because the 1997 issue had a limited mintage of only 25,000. Compare that to 167,703 minted for its predecessor.
1942-P (35% silver): $70 in PR65
The proof version of the 1942-P Jefferson nickel is distinct from the other early proof coins.
During WWII, nickels were briefly struck from an alloy of 35% silver. Other metals had to be rationed as part of the war mobilization.
These silver "war nickels" are distinguished by the placement of the mintmark above Monticello on the reverse design. Non-silver nickels put the mintmark to the right of the building.
The usual mintmark location was changed beginning in 1968, moving it to the rim of the obverse design.
1941-P, 1942-P (each): $100 in PR65
Each of these coins were pre-war proofs. They were made by the mint prior to the U.S. getting involved in World War II.
At auction, they tend to garner similar prices.
As proofs, only tens of thousands were minted rather than tens of millions. This relative scarcity supports the higher price.
1939-D: $125 in MS65
By contrast to the last entry, the 1939-D nickel is a regular circulation issue.
So why is it so valuable? It has the lowest mintage (3,514,000) of any standard-issue within the Jefferson nickel series. You can consider it a "key date" for collectors.
1938-P, 1939-P, 1940-P (each): $130 in PR65
This group includes the earliest proofs in the series. The observation earlier about a much lower original mintage applies.
You can combine these three coins with the 1941 and 1942 issues to make a complete set of pre-war proofs.
Collecting Jefferson Nickels
There are abundant opportunities for collecting Jefferson nickels.
Most of the high prices on this list relate to rare error coins. Aside from these rarities, the Jefferson nickel series is very affordable and accessible.
You can even kickstart your collection simply by merely sifting through pocket change! It's one of the nice advantages of collecting a modern circulating series.
Nickel collectors can also dive into the recent Westward Journey circulating commemorative series. Released from 2004 through 2006, these coins (above) featured the first new designs on the five-cent coin since the Jefferson theme debuted in 1938.
Posted In: blog
Sours: https://www.gainesvillecoins.com/blog/15-most-valuable-jefferson-nickels
Values nickels coin
Early Jefferson Nickel Values 1938 - 1964
Jefferson nickels minted between 1938 and 1964 are not very popular amongst coin collectors. In fact, you can still pluck most of these coins right from your pocket change. Therefore, this series rarely gets the respect that it deserves from intermediate and advanced coin collectors. However, you will find that collecting Jefferson Nickels can be very rewarding and challenging.
Jefferson Nickel History and Design
The Jefferson nickel was first minted in 1938 and replaced the Buffalo (or Indian Head) nickel that was minted since 1913. Felix Schlag designed the Jefferson nickel and was paid $1,000 for winning a design competition amongst 390 different artists. However, officials at the United States Mint did not like the style of lettering he chose for the coin and his rendering of Monticello (Jefferson's home). The winning design had a view of Monticello coming from the corner of the house. The mint officials wanted a head-on view of the iconic building.
This was the third circulating coin that United States Mint eliminated a symbolic figure from the coin, such as Lady Liberty or an American Indian, and replace the portrait on the obverse with a former president of the United States. Previous coins that were redesign included Abraham Lincoln was featured on the penny in 1909 and in 1932 George Washington began being featured on the quarter.
The coin weighs 5 grams and is composed of 75% copper and 25% nickel. Approximately halfway through 1942, in an effort to save raw material for the war effort, the composition was changed to 56% copper, 35% silver, and 9% manganese (.05626 t oz ASW). This silver composition continued until the end of 1945. The Jefferson nickel has a diameter of 21.2 mm and has a plain edge.
Market For Jefferson Nickels
Jefferson nickels are still being made at the U.S. Mint and are actively used in commerce. Therefore, most circulated specimens are worth only face value. However, there are a few specimens that are worth a little more. Jefferson Nickels made between 1942 in 1945, are also called War Nickels and consisted of 35% silver. This means they are worth more than face value and most of them have been removed from circulation. An easy way to identify these more valuable coins is to look on the reverse. If there is a letter (P, D or S) over the dome of Monticello, then it is a silver coin.
Key Dates, Rarities, and Varieties
The following Jefferson nickels in any condition, are worth more than common coins that you can find in your pocket. Therefore, look at the coin carefully or have the coin authenticated by a reputable coin dealer or third-party grading service.
1939-D
1942 to 1945 - Wartime Silver Alloy
Note: If the mint mark on the reverse is above the building (see the "Mint Mark Location" photo below), the coin contains 35% silver or about 0.0563 troy ounces of pure silver.
1943 P 3/2 - Doubled Die Obverse
1949 D D/S - Re-punched Mint Mark (or RPM)
1950 D
1954 S S/D - RPM
1955 D D/S - RPM
Condition or Grade 
If your coin is worn and looks similar to the one illustrated below, it is considered a circulated coin.
If your coin looks similar to the one illustrated in the link below and has no evidence of wear due to being in circulation, it is considered an uncirculated coin. Remember to look at the details and not the "shininess" of the coin when determining if your coin is circulated or uncirculated. Cleaning a coin to make it shiny will not increase its value. In fact, it will decrease its value because clean coins are worth less to a coin collector than an unclean circulated coin.
Mint Marks
As illustrated in the photo below, the mint mark is located on the reverse of the coin, right next to Monticello for coins dated 1938 to 1942 and 1946 to 1964: Philadelphia (no mint mark), Denver (D) and San Francisco (S). Beginning in 1942 and lasting until 1945, the Mint used an alloy of 35% silver and made the mint mark larger and moved above Monticello. During this time coins minted in Philadelphia had a "P" for a mint mark, while coins minted in Denver and San Francisco continued to use a "D" and "S" respectively.
Average Prices and Values
Thebuy price is what you can expect to pay to a coin dealer to purchase a Jefferson nickel. The sell value is what you can expect a coin dealer to pay you if you sell the coin. These are approximate retail prices and wholesale values. The actual offer you receive from an individual coin dealer will vary depending on the agreed-upon grade of the coin and a variety of other factors that determine its worth.
Date & Mint
Circ. Buy
Circ. Sell
Unc. Buy
Unc. Sell
1938
$0.30
$0.15
$4.50
$3.50
1938-D
$0.90
$0.50
$5.50
$4.50
1938-S
$1.20
$0.70
$5.50
$4.00
1939
$0.13
F.V.
$3.00
$2.00
1939-D
$3.00
$1.50
$55.00
$47.00
1939-S
$0.60
$0.35
$18.00
$14.00
1940
$0.06
F.V.
$2.50
$1.70
1940-D
$0.10
F.V.
$3.50
$2.50
1940-S
$0.10
F.V.
$4.50
$3.50
1941
$0.07
F.V.
$2.50
$1.50
1941-D
$0.10
F.V.
$4.50
$3.50
1941-S
$0.10
F.V.
$5.00
$3.50
1942
$0.08
F.V.
$5.00
$3.70
War Time Silver Alloy
1942-P TII
$1.50
$1.00
$7.00
$5.00
1942-D
$1.50
$1.00
$19.00
$13.00
1942-S
$1.50
$1.00
$6.00
$4.50
1943-P
$1.50
$1.00
$5.00
$3.50
1943-P 3 over 2
$35.00
$25.00
$300.00
$250.00
1943-D
$1.50
$1.00
$4.00
$3.00
1943-S
$1.50
$1.00
$4.50
$3.50
1944-P
$1.50
$1.00
$5.50
$4.00
1944-D
$1.50
$1.00
$7.00
$5.00
1944-S
$1.50
$1.00
$6.00
$4.00
1945-P
$1.50
$1.00
$5.00
$3.50
1945-D
$1.50
$1.00
$5.00
$3.50
1945-S
$1.50
$1.00
$4.50
$3.00
Resume Copper Nickel Alloy
Date & Mint
Circ. Buy
Circ. Sell
Unc. Buy
Unc. Sell
1946
$0.06
F.V.
$1.70
$1.00
1946-D
$0.06
F.V.
$1.70
$1.00
1946-S
$0.06
F.V.
$1.70
$1.00
1947
$0.06
F.V.
$1.30
$1.00
1947-D
$0.06
F.V.
$2.90
$1.90
1947-S
$0.06
F.V.
$3.00
$2.20
1948
$0.06
F.V.
$1.30
$1.00
1948-D
$0.06
F.V.
$2.30
$1.60
1948-S
$0.09
F.V.
$2.70
$1.80
1949
$0.09
F.V.
$1.90
$1.00
1949-D
$0.09
F.V.
$1.90
$1.00
1949-D D over S
$28.00
$13.00
$190.00
$120.00
1949-S
$0.30
$0.15
$2.20
$1.50
1950
$0.10
F.V.
$1.70
$1.00
1950-D
$6.00
$3.00
$12.30
$8.30
1951
$0.10
F.V.
$2.80
$1.90
1951-D
$0.10
F.V.
$3.30
$2.30
1951-S
$0.17
F.V.
$3.70
$2.50
1952
$0.07
F.V.
$2.80
$1.90
1952-D
$0.10
F.V.
$4.00
$2.70
1952-S
$0.10
F.V.
$2.00
$1.00
1953
$0.10
F.V.
$1.30
$1.00
1953-D
$0.10
F.V.
$1.30
$1.00
1953-S
$0.10
F.V.
$1.50
$1.00
1954
$0.10
F.V.
$1.20
$1.00
1954-D
$0.06
F.V.
$1.00
$0.64
1954-S
$0.06
F.V.
$2.20
$1.60
1954-S S over D
$4.90
$2.50
$41.00
$28.00
Date & Mint
Circ. Buy
Circ. Sell
Unc. Buy
Unc. Sell
1955
$0.18
F.V.
$1.00
$0.70
1955-D
F.V.
F.V.
$1.00
$0.59
1955-D D over S
$5.50
$2.90
$48.00
$33.00
1956
F.V.
F.V.
$1.00
F.V.
1956-D
F.V.
F.V.
$1.00
F.V.
1957
F.V.
F.V.
$0.75
F.V.
1957-D
F.V.
F.V.
$0.75
F.V.
1958
F.V.
F.V.
$1.00
F.V.
1958-D
F.V.
F.V.
$0.75
F.V.
1959
F.V.
F.V.
$0.50
F.V.
1959-D
F.V.
F.V.
$0.50
F.V.
1960
F.V.
F.V.
$0.50
F.V.
1960-D
F.V.
F.V.
$0.50
F.V.
1961
F.V.
F.V.
$0.50
F.V.
1961-D
F.V.
F.V.
$0.50
F.V.
1962
F.V.
F.V.
$0.50
F.V.
1962-D
F.V.
F.V.
$0.50
F.V.
1963
F.V.
F.V.
$0.50
F.V.
1963-D
F.V.
F.V.
$0.50
F.V.
1964
F.V.
F.V.
$0.50
F.V.
1964-D
F.V.
F.V.
$0.50
F.V.
Complete
Date-Mint Set
Total Coins: 71
$32.00
$13.50
$275.00
$200.00
Complete
Date Set
Total Coins: 27
$10.00
$3.00
$55.00
$40.00
*= See the section above "Key Dates, Rarities and Varieties" for more information on these coins.
F.V. = Face Value
Sours: https://www.thesprucecrafts.com/early-jefferson-nickel-values-3884282
Most Valuable Jefferson Nickel Variety Found In Change - SELLS LIGHTNING QUICK!
U.S. Nickel Value Guides
The U.S. nickel values and price tables listed below have coin values and prices based on how much you can realistically expect a dealer to pay you for your nickels if you wanted to sell them today. When you try to determine the value of your nickels (or any other coins), keep in mind the difference between price and value. There is nothing worse than counting on your collection being worth a certain amount of money, and then getting a very rude awakening when you go to sell it, all because you consulted the wrong type of coin value guide when you made your appraisal.
Jefferson Nickels
Jefferson nickel's values are so low that I feel they represent an excellent investment opportunity in the highest grades. Additionally, Jefferson nickels are one of the best coin types for new collectors because you can just about complete the entire Jefferson Nickel series right from circulating coinage! However, this beginner's collection is fun to assemble but it will not make a great investment.
The only ones you won't usually find in pocket change are the silver wartime issues, from 1942 to 1945. If you're looking for investment-quality coins, consider purchasing high-grade coins encapsulated by third-party certification companies. If you know a young person who might enjoy coin collecting, why not learn how to start a coin collection on $4.
Buffalo Nickels
Buffalo nickels, on the other hand, are very popular, but I still feel they are somewhat undervalued. Buffalo nickel values are disproportionate to the mintage figures in many ways; in other words, just because fewer Buffalo nickels were made one year doesn't necessarily mean that year's nickels are more valuable. I feel that low-end Buffaloes are valued too high, but on the other hand, I feel that the highest-grade Buffaloes are a good investment. Unless you are an expert grader, make sure you purchase nickels that have already been encapsulated and graded by third-party certification companies.
Liberty Head or V Nickels
Liberty Head or V-Nickel values are slightly more in line with what you would expect for coins of that period, but expert numismatists believe they are undervalued. They also think that there are a lot of errors and die varieties still to be found in this series, since other coin types from this period exhibit many interesting varieties.
In fact, the most expensive nickel ever sold was a liberty head nickel. There is also great mystery and deception surrounding this most valuable nickel. Couple this with the history of this coin series and you have everything that makes collecting these nickels worthwhile.
I have always been a big fan of the reverse design on V-nickels for some reason. I don't know if it's because I like the directness of the big V, or I am drawn to the general art style of the reverse. Regardless, V-nickels are my favorite nickel.
Shield Nickels
The Shield nickel is an interesting type, having no portrait and a big "5" surrounded by stars on the reverse. However, most coins start at least $20 for very worn out (G-4) specimens, so they are too expensive for most beginning coin collectors. But, you may want to purchase a type coin for your collection. This classic unique design will certainly enhance any type collection of United States coins.
However, intermediate and advanced collectors may find this United States coin series challenging and interesting. The United States Mint produced all Shield nickels at the Philadelphia facility. Therefore, a date set would only consist of 16 coins. In the average circulated condition, it would cost approximately $2,000 to assemble a complete set of circulated coins. Finding the 1883 "2 over 3" variety may be a little challenging, but doable.
The Top 10 Most Valuable Nickels of All Time
Nickels were first minted in the United States in 1866. At that time most coins were made out of silver or gold. The United States made lower denomination coins out of pure copper. Although the nickel is silver in color, it has no silver in it. Nickels lack the glitter of silver and gold and are not popular amongst coin collectors. However, there are some very expensive nickels that every coin collector would love to own. Here are the top 10 most valuable nickels:
1913 Liberty Nickel - The Olsen Specimen: $3,737,500
1918/7-D Buffalo Nickel - Doubled Die Obverse: $350,750
1926-S Buffalo Nickel: $322,000
1916 Buffalo Nickel - Doubled Die Obverse: $281,750
1913-D Buffalo Nickel - Type 2: $143,750
1917-S Buffalo Nickel: $138,000
1920-D Buffalo Nickel: $138,000
1867 Shield Nickel - Proof with Rays: $132,250
1918-S Buffalo Nickel: $125,350
1927-S Buffalo Nickel: $125,350
Sours: https://www.thesprucecrafts.com/us-nickel-value-guides-768745
You will also be interested:
.
552
553
554
555
556