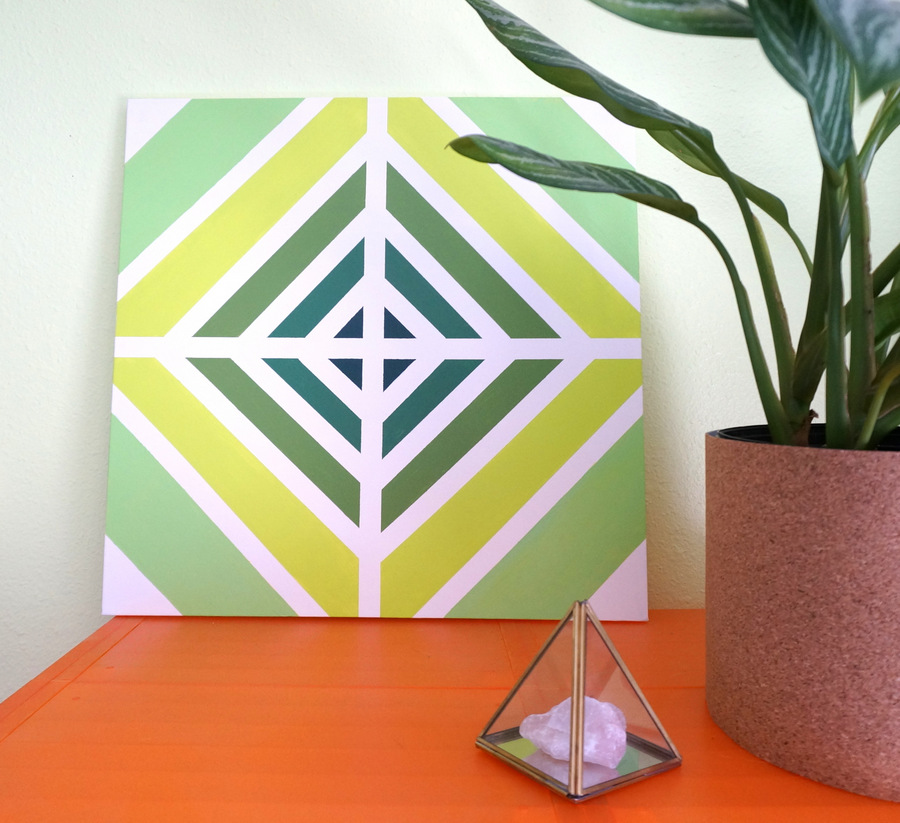 Looking for an affordable DIY wall art solution? This retro-style painting is perfect for modern spaces that incorporate a bit of the past. Kate here, and this weekend I created the painting above after one of my 1980s prints fell from the wall (the glass of the frame was shattered). The design for the project was inspired by '70s and '80s geometric motifs. Read on for details on how to create your own DIY painting with retro flair…
Supplies
Here's what you'll need to get started:
a canvas
acrylic craft paint in white, plus the colors of your choice
painter's tape
foam brushes
one small paintbrush
a container for the paint
a ruler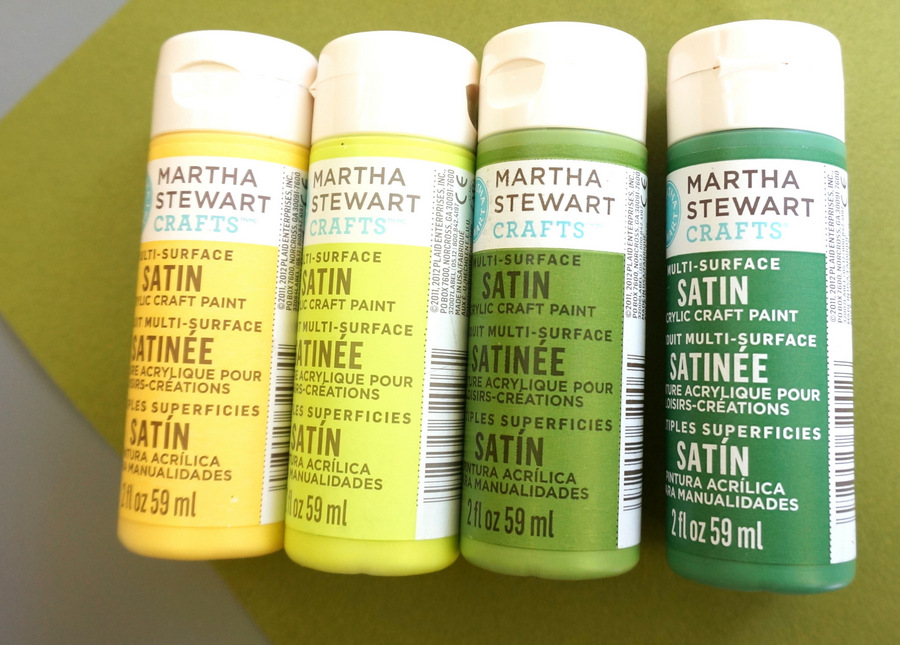 I was lucky to purchase the canvas with a 40% off coupon, so I got it for around $10! The Martha Stewart craft paint was also on sale, which was a bonus. I love the way Martha's paints are so thick. That means fewer coats are required to get the job done! This project has the potential to be a very affordable one. Ready to get started?…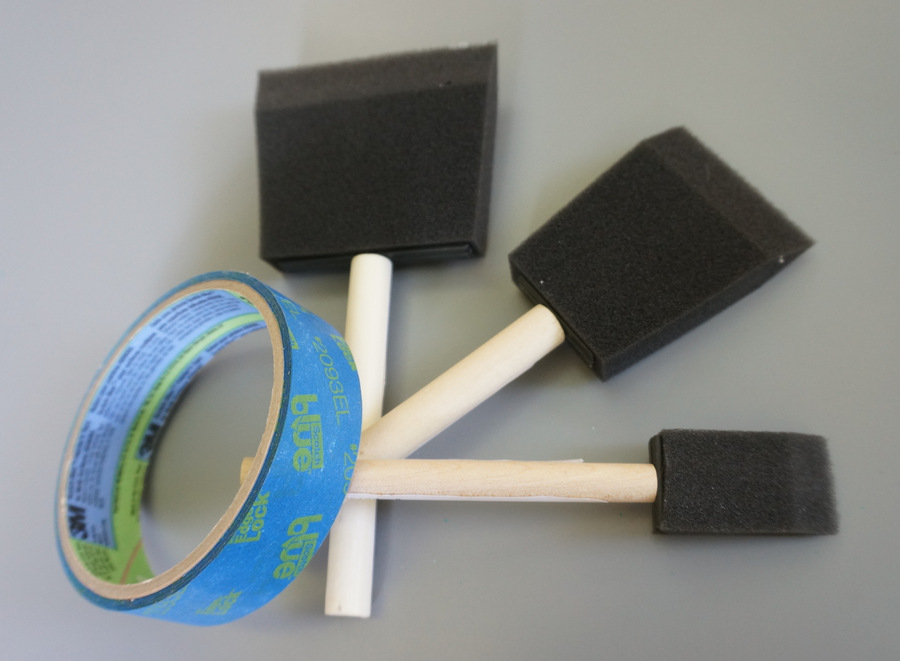 Project Steps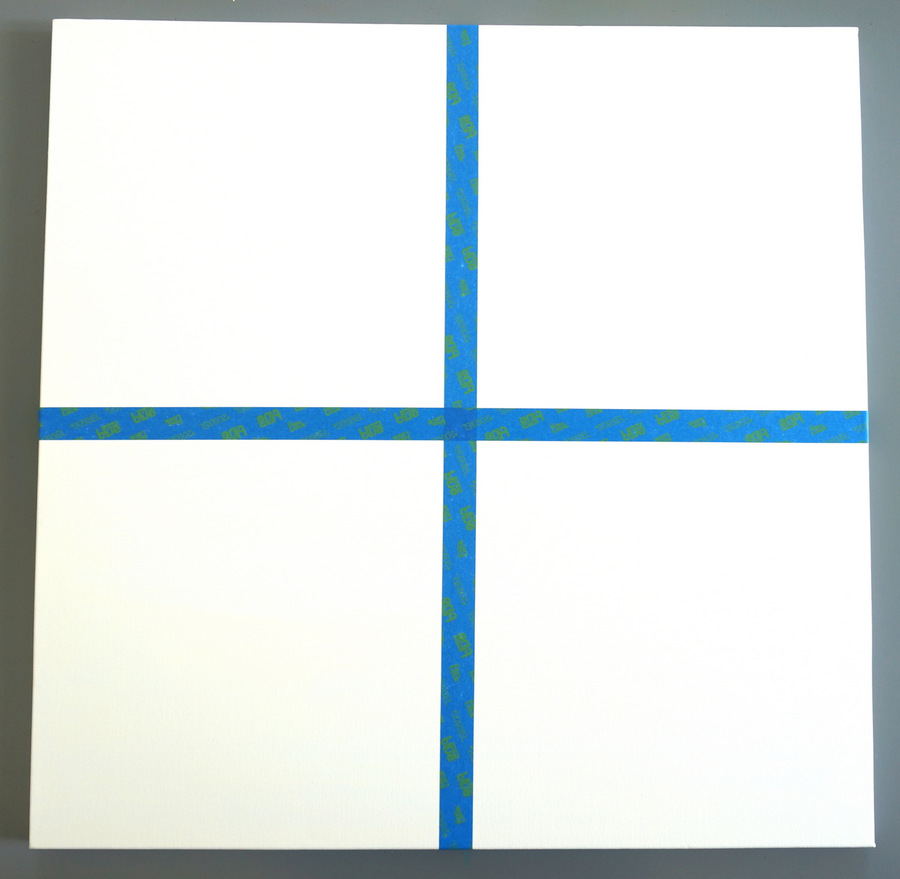 Step 1: Paint the canvas white
This step is optional. I knew I wanted a white background, and I didn't want it to look like I just painted stripes onto a white canvas. Plus, I went with a slightly off-white shade for added richness. A large foam brush was the perfect tool for accomplishing this step.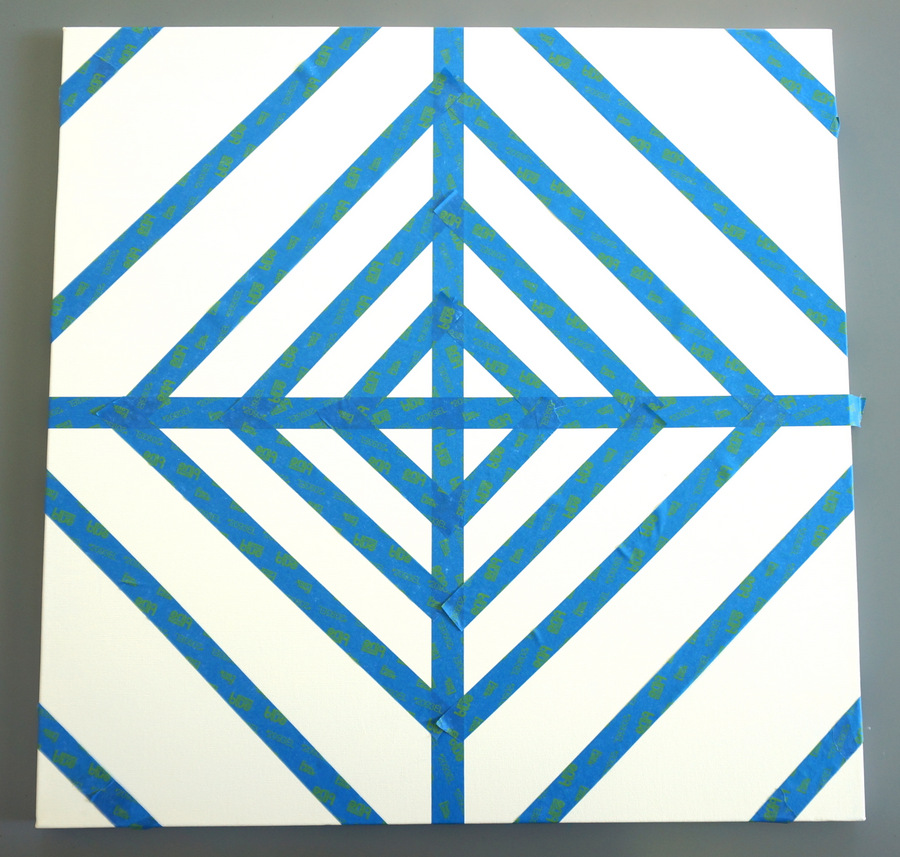 Step 2: Use painter's tape to create the design of your choice.
As mentioned, I was inspired by '70s/'80s design motifs. In fact, I find a great deal of inspiration on the Tumblr Supreme Interiors. So many amazing visuals here! I began by dividing the canvas into four sections with one vertical line and one horizontal line. I then created a series of diagonals, intentionally making the white stripes larger and larger as I moved toward the edges of the canvas. Don't forget to run your fingernail along the edges of the tape before you start painting to prevent bleeding.
I used a ruler to ensure that the painter's tape was evenly spaced overall, but I didn't agonize over making this project perfect. You've gotta have a little bit of fun, right?!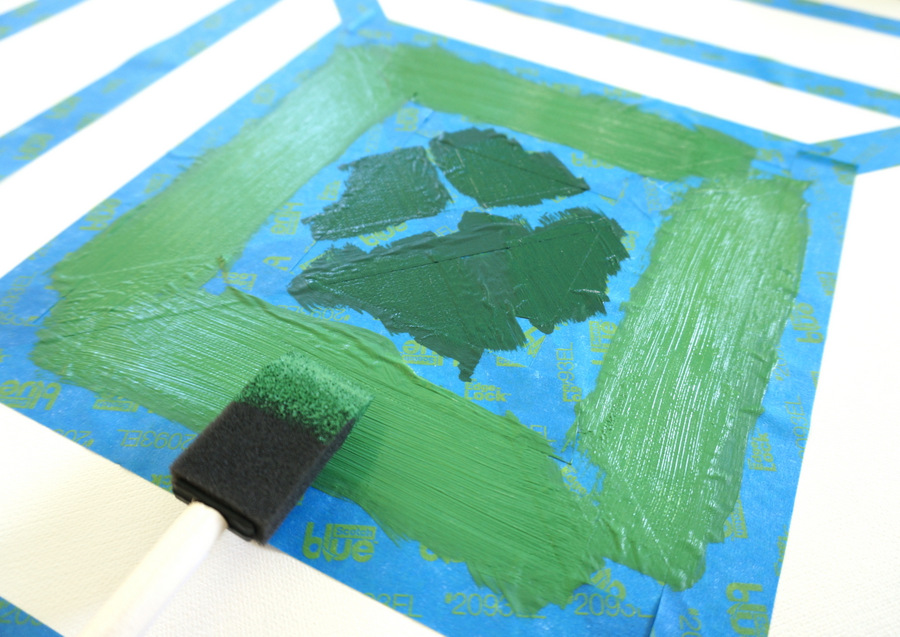 Step 3: Apply paint in shifts, removing the painter's tape as you go.
I started at the inside of the canvas and gradually moved toward the outside. I used two coats of paint for each section, and for the most part, I removed the painter's tape while the paint was still wet. In fact, I removed the tape as I went (instead of waiting until the very end). This was easier, because there was unpainted canvas for me to rest my hand on while I worked on pulling the tape off. I know much smudging was prevented by this technique!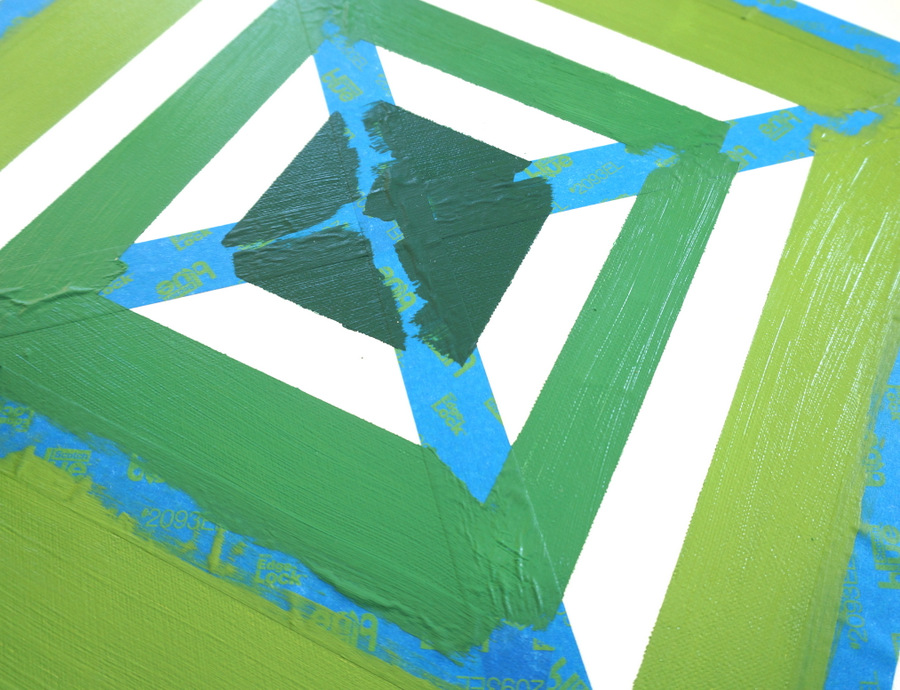 Let's talk more about painter's tape! As mentioned, many crafting experts say you should remove the tape while the paint is still wet to prevent peeling, and it's a good idea to pull at a 45-degree angle as you go. However, some of the paint was nearly dry when I took the tape off (due to the nature of the painting's design), and that didn't present any problems.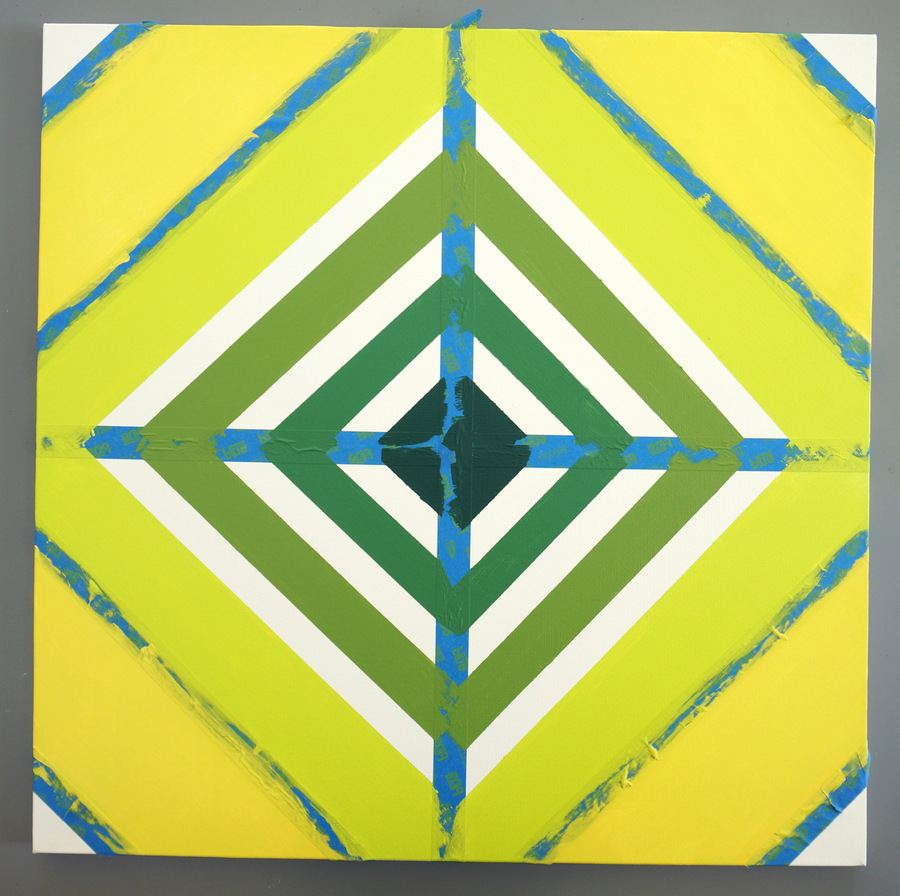 Here's what the design looked like once all of the tape was removed: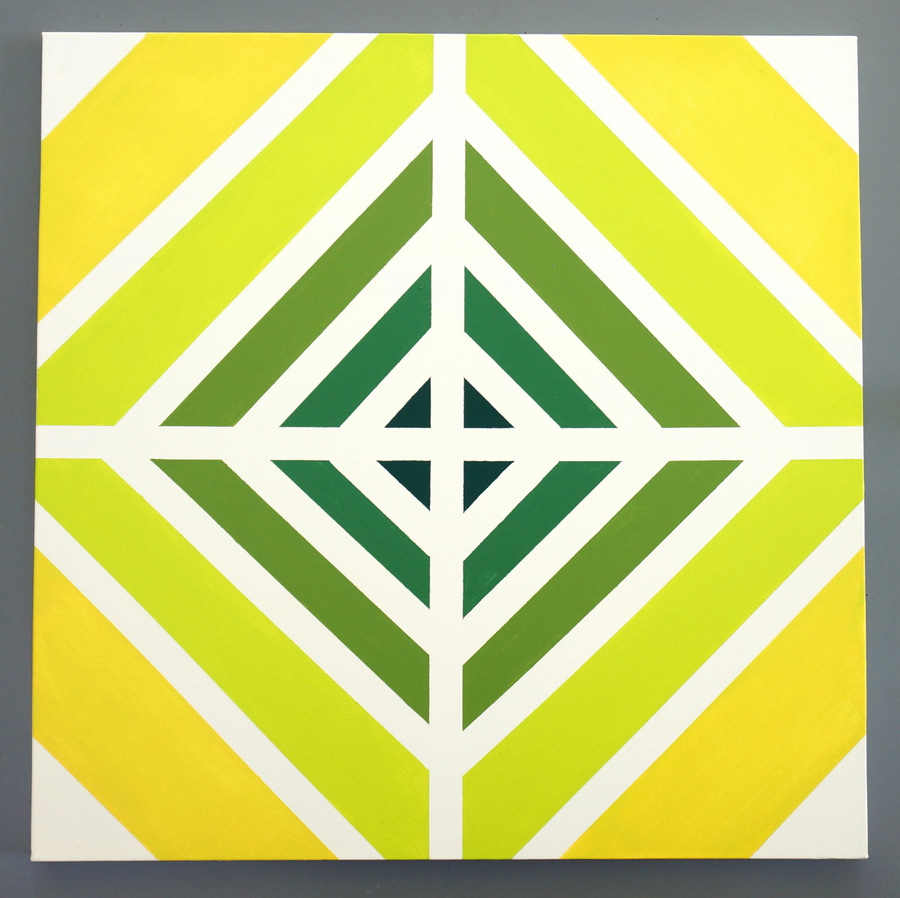 Step 4: Correct splotches and unevenness with white paint.
No matter how careful you are with the painter's tape, chances are there will be smudges and other inconsistencies when you pull the tape off. Don't fret! Simply take a paintbrush to the artwork and paint over unwanted markings in white!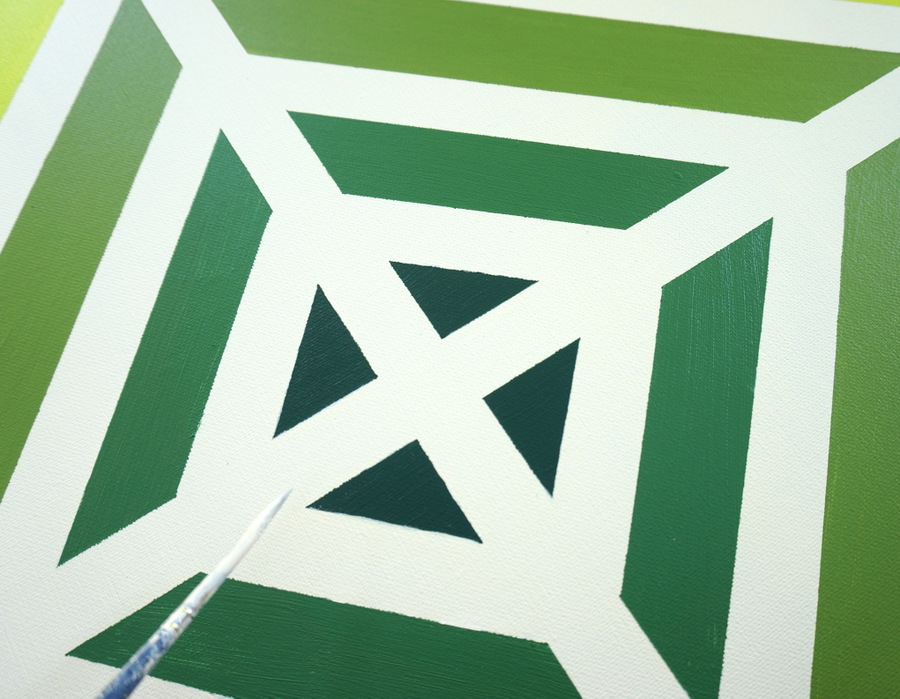 The lines may not be 100% perfect when you finish, but a look of overall smoothness will result if you take the time to fix any obvious blobs: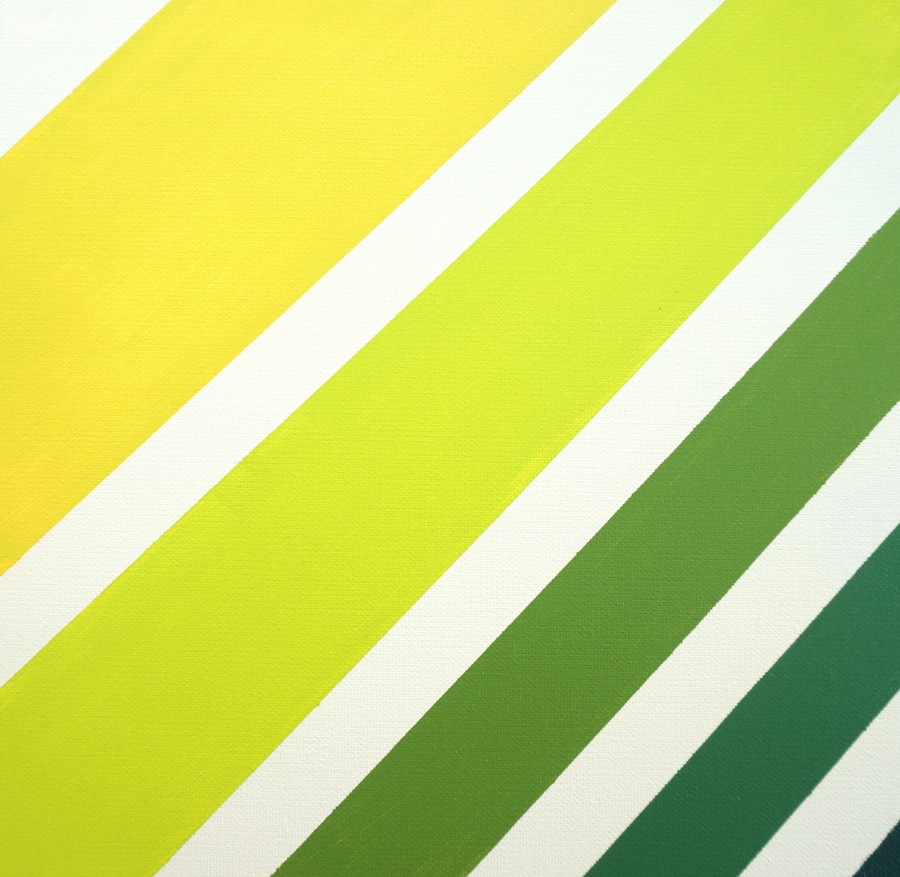 Lessons Learned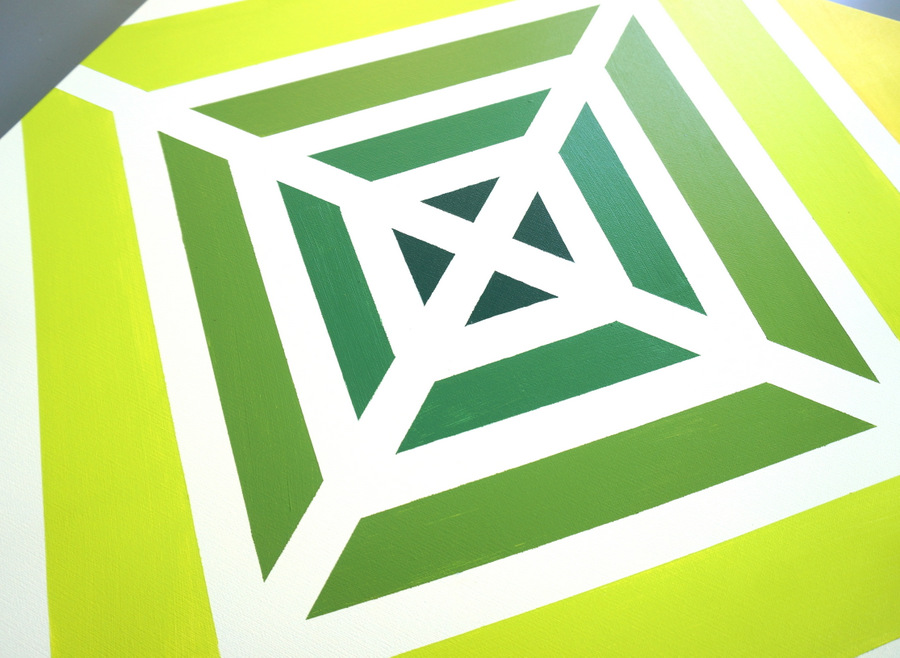 I learned many lessons from this project! For starters, a painting involving bright colors and geometric forms will make a powerful statement in your interior. If you're not wanting an attention-grabbing painting, go with a more simple design (perhaps one that doesn't cover the whole canvas), and use paint in lighter colors.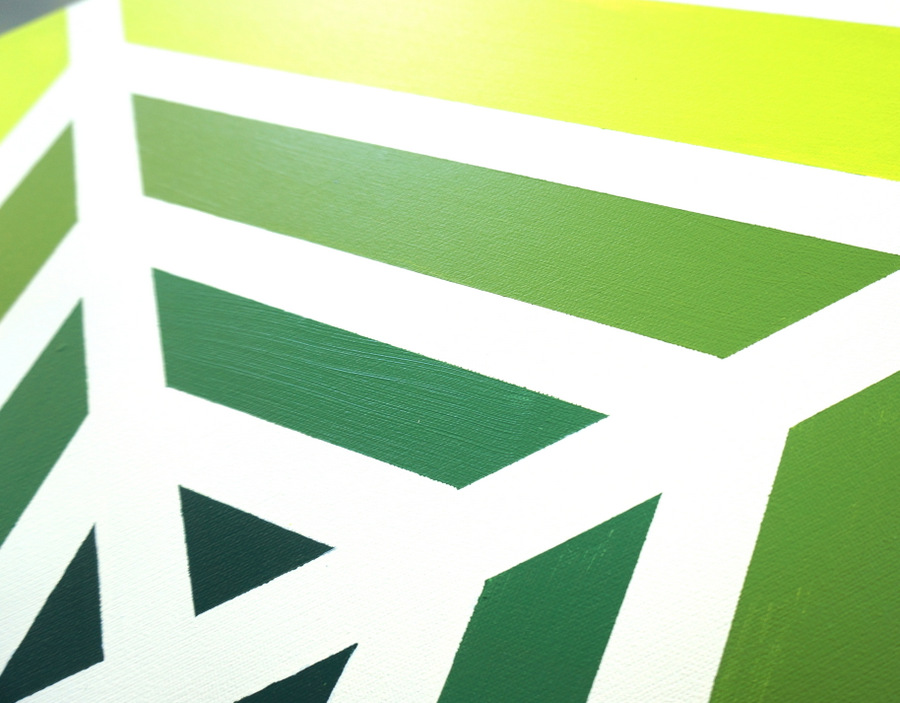 Also, this project is easy but takes patience. Being careful with the arrangement of the painter's tape is key, as is taking the time to do more than one coat for good coverage.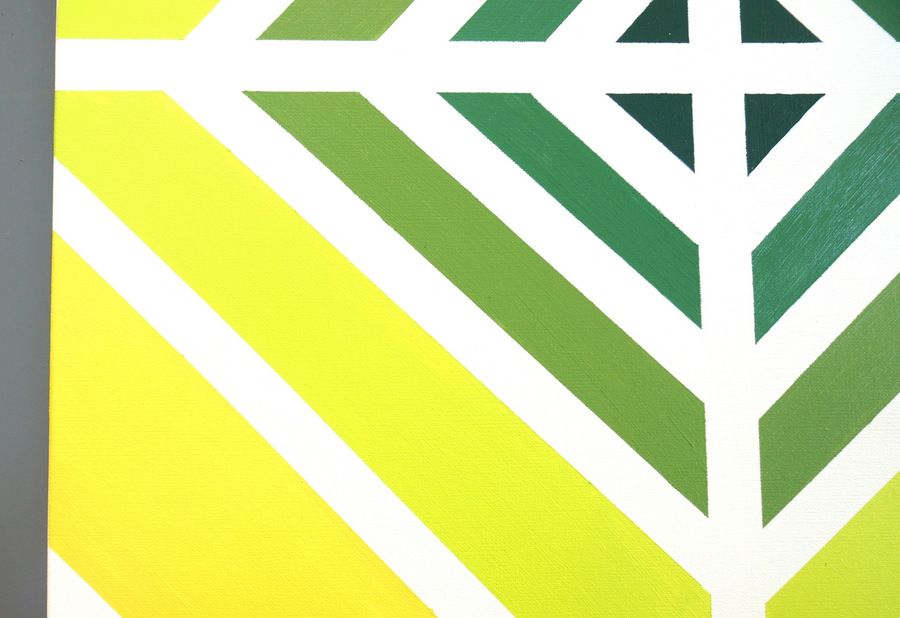 Finally, give yourself permission to change your mind about the end result! For example, above we see that the outer stripe of the painting was originally bright yellow. But then I decided that the yellow was a little bit too bold for my interior, so I painted over the large outer stripes with a shade of green, as shown below: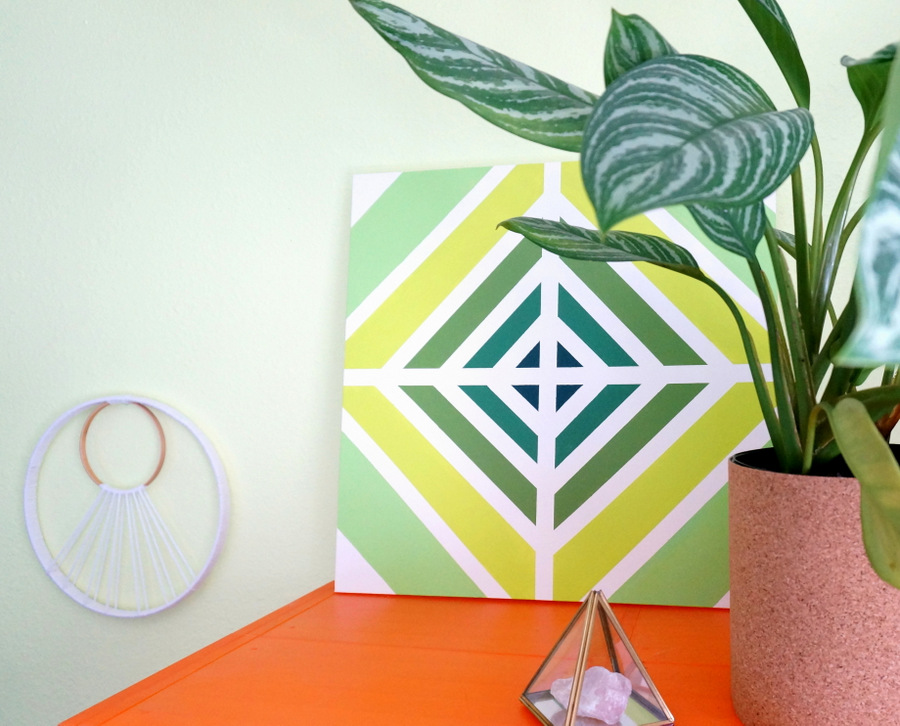 Also, the painting was originally intended for my dining room, but I found it to be a much better fit for the office. I'm currently working on two more of these paintings for my dining space, and I will be using thinner painter's tape, as well as very light colors (in minty shades) for a subtle effect.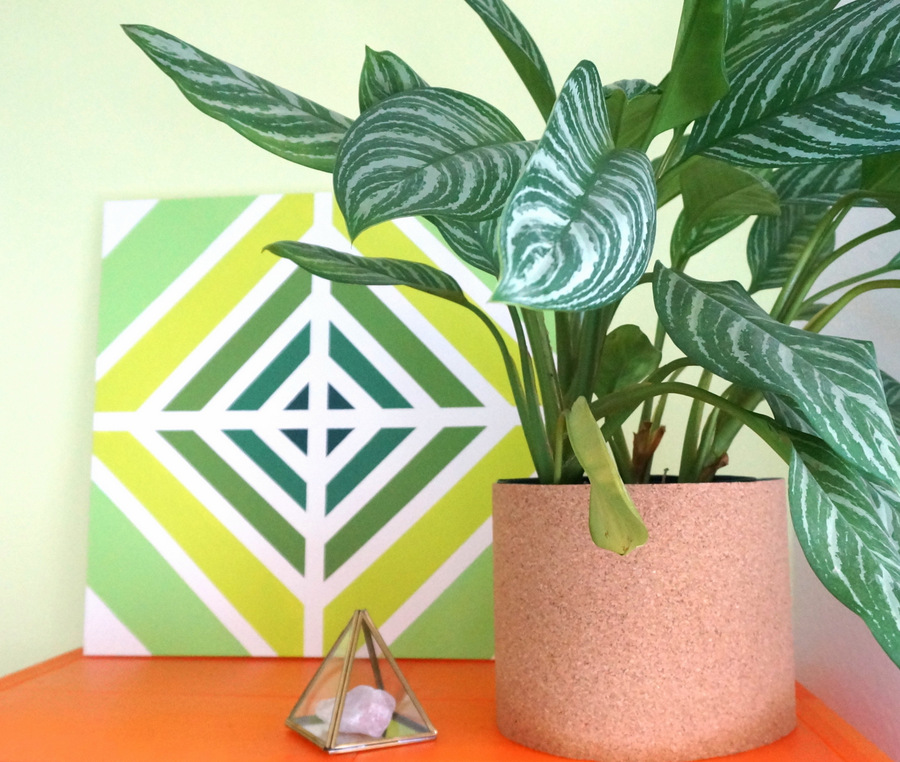 If you try this project at home, enjoy the process. And let your creativity unfold as you go! Thanks for letting me share my latest DIY endeavor with you. Stay tuned for more crafty fun this fall at Decoist…
Sours: https://www.decoist.com/diy-painting-retro-style/
When you move into a new home, there's always that moment when you stare at your blank walls, wondering how you'll fill them and give them personality. And as fun as it is to track down wall art from retail stores, we'll suggest another way to dress up your living room or bedroom walls: DIY artwork you can create yourself. It might sound kind of intimidating, but we're here to tell you that lots of DIY paintings, embroidery pieces, and abstract artwork isn't as hard to make as you think and can create a striking accent wall in your home. Actually, many of the projects we're sharing here from some of our favorite DIY bloggers around can be made in a weekend, an afternoon, or even an hour! Handmade ideas are also the perfect solution for adding interest to a gallery wall.
Making DIY wall art can also be a lot easier on your wallet too. Instead of springing for that expensive piece you spied in a catalog, you can create an oh-so-similar version for a fraction of the price, and you'll have the satisfaction of knowing you made it yourself. So block off some quality alone time, gather up your friends, or ask your little ones to join in on the fun, because it's time to make some DIY wall art.
Sours: https://www.countryliving.com/home-design/decorating-ideas/g31153820/diy-wall-art-ideas/
14 Unexpected Ways to Decorate with Vintage Art
Whether purchased from antique shops, found at flea markets, or pulled from the attic, vintage art makes a timeless addition to your wall decor. Ornately framed portraits, landscape paintings, and vintage posters or prints introduce a sense of history and provide an opportunity to showcase your unique personality. Many antique works can be purchased ready to hang, but there are also plenty of creative ways to transform flea market finds into art. To create your own charming display, use these ideas for decorating with vintage art.
bedroom with teal walls botanical gallery wall
1. Botanical Vintage Art
Curate an assortment of botanical-themed vintage art for a gallery wall inspired by Mother Nature. Start by gathering prints and paintings of flowers, leaves, and other natural elements at flea markets or antique stores. Supplement the display by framing real pressed flowers and dried leaves. Arrange your vintage art above the headboard in your bedroom or a living room sofa.
Kitchen with white tile wall and wooden shelving
Credit: Stacy Zarin Goldberg Photography LLC
2. Vintage Art in the Kitchen
Vintage art makes ideal wall decor for farmhouse-style kitchens. This antique portrait stands out in sharp contrast against sleek subway tile walls. A burnished metal frame ties in with the rustic style of bracketed wood shelves and butcher-block countertops. To safely hang art on tile, use self-adhesive picture hanging strips ($8, Target) for damage-free decorating.
stacked style display open shelves
3. Open Shelving Art Display
Showcase dishware by hanging small paintings behind stacks of bowls and plates on open kitchen shelves. To draw extra attention, choose vintage art that will pop against your existing kitchen color scheme. Floral prints in mismatched frames add texture and character to this white kitchen.
staiway gallery nature pictures
4. Stairway Vintage Art Gallery
Eclectic nature paintings line this staircase to create a striking gallery wall. Mismatched frames keep the look rustic, but the similar paint-by-number style keeps things compatible. Certain themes, including horses and water scenes, also recur throughout the arrangement for a consistent look.
color coded antique wall art
5. Color-Blocked Vintage Art
Thrifted prints gain new life with a fresh coat of paint. Use painters tape to protect portions of the picture and frame, then spray with your favorite spray-paint color. Play with different angles and colors, then group together for an eye-catching vintage art collection.
6. Large-Scale Vintage Print
Enormous artwork can be difficult to display without overpowering a space. This larger-than-life poster is certainly the room's focal point, but an acrylic console table and entryway accessories help break up its dominance. A pair of sconces add symmetry.
antique illustration prints hanging grid
7. Grid Art Display
Gallery walls can end up looking cluttered or disarrayed, but this four-by-four grid of same-size prints garners major style points. For this look, a little math goes a long way. Use a measuring tape to find the center of the wall, then begin hanging art at equidistant points.
floral botanical prints on clips
Credit: Kathryn Gamble-Lozier
8. Floral Vintage Art
Turn a flea-market find into stunning wall art with this clever DIY project. Tear out pages from an old book, then print floral images onto the pages. Sew the pages to a frayed linen mat for a textured background. Hang your vintage art in a row with simple clips.
black and white photos ledges
Sours: https://www.bhg.com/decorating/home-accessories/wall-art/unexpected-ways-to-decorate-with-vintage-artwork/
70's MURAL TUTORIAL
Awesome Retro Wall Paint Designs
Retro style is a mixture of contemporary forms and old 50s to 70s prints. Retro-inspired designs are admired for eye-catching styles. You can use bold colours like violet, purple, blue, silver and gold to make the interior more prominent. It is fun making to apply retro wall paint designs in kitchen and drawing room or living room to get an experience of quite different ambiance. Simple, stylish and attractive retro décor gives various creative options according to your taste. You may also see Green Wall Designs
26+ Interior Design Company Templates - Microsoft Word (DOC) Adobe Photoshop (PSD), Google Docs, WordPress, Adobe InDesign (INDD & IDML), Apple (MAC) Pages, Microsoft Publisher, Adobe Illustrator (AI) - START DOWNLOADING
Bright Purple Retro Wall Paint Design
behruzstudio.com
Blue Retro Wall Paint Design
sullivandesignstudio.com
Kid's Bedroom Retro Wall Paint Idea
Design by JAC Interiors
In past, it was a trend to apply excess of lively patterns and bright colours. Brown and orange colours in skinny and wide stripes were used to give an illusion of classic retro style. Unassuming furniture and trendy lamps were admired to give pleasant touch. You may also see Accent Wall Paint Designs
Retro Dining Room Wall Paint Design
paulagracedesigns.com
Retro Wall Paint for Nursery Room
suzannkletzien.com
Unique Retro Wall Paint Design
Photo by Richard Lee
Light Blue Retro Wall Paint Idea
Photo by Kimberley Bryan
Colorful Bedroom Wall Design
thephotositake.com
Retro Wall Bedroom Design
craigdenis.com
Small Living Room Retro Wall Design
erinwilliamsondesign.com
Cool Retro Wall Design for Bedroom
remodelwithus.com
Each year new trends are introduced to make your homes more beautiful. Wall paint designs of 2016 are based on contemporary materials and traditional designs. Stylish and innovative wall designs are available in aluminum, steel, wood and bamboo material. 3d effect of wall panels changes a simple room into unusual lavish living area.
Exterior Retro Wall Paint Idea
Design by Earth Art Landscapes
Contemporary Bedroom with Retro Wall Design
i3design.ca
Retro Floral Wall Design Idea
Photo by Rikki Snyder
Simple Retro Wall Paint Idea
Design by Echelon Custom Homes
Yellow Wall Design for Kid's Room
Photo by Lindsay von Hagel
Retro Bathroom Wall Paint Idea
amidesigns.com
Small prints on a wall with repetitive pattern are best for those who desire to introduce retro designs in a delicate way. Bright colours with fascinating designs attract kids. There is a variety of wallpaper images to give personal touch to kids' room. Latest retro wall paint designs reflect your mood. These days fabric material on walls, leather wall panels and brick wall exposed designs are used to brighten up interiors. You may also see Bedroom Wall Paint Designs
Related Posts
20+ Bedroom Decorating Ideas, Designs - Premium ...

41+ Wall Designs, Ideas - Premium PSD, Vector ...

21+ Home Office Decoration Ideas, Designs ...

17+ Ethnic Living Room Designs, Ideas - Premium ...

18+ Master Bedroom Designs, Ideas - Premium ...

21+ Master Bedroom Interior Designs, Decorating Ideas Design ...

21+ Green Dining Room Designs, Decorating Ideas ...

15+ Pink Bathroom Designs, Decorating Ideas ...

18+ Asian Wall Art Designs, Ideas - Premium PSD ...

25+ Cool 3d Wall Designs, Decor Ideas - Premium ...

30+ White Brick Wall Interior Designs Home Designs Design ...

21+ Bohemian Dining Room Designs, Decorating Ideas Design ...

24+ Bedroom Hanging Lights Ideas Bedroom Designs Design ...

21+ Office Color Designs, Decorating Ideas ...

21+ Gothic Bathroom Designs, Decorating Ideas ...
Sours: https://www.designtrends.com/arch-interior/home-designs/retro-wall-paint-designs.html
Ideas retro painting
.
How To Paint Using Sponging Techniques - The Home Depot
.
You will also be interested:
.
836
837
838
839
840